Szymon Gebert
---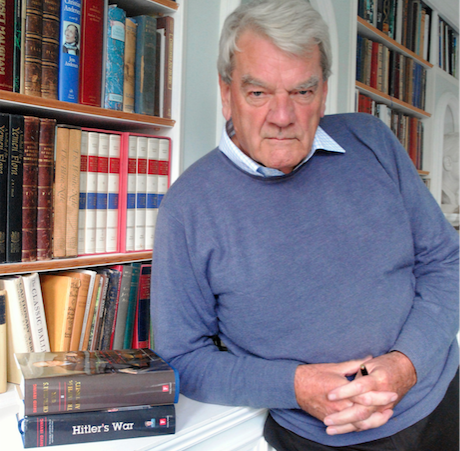 By Allan warren – Own work, CC BY-SA 3.0, https://com..
W 2010 roku wizytę w Polsce Davida Irvinga (na zdjęciu), historyka, który twierdził, że Hitler nic nie wiedział o Zagładzie Żydów, Instytut Pamięci Narodowej uważał za niebezpieczną i ją monitorował. Dziś Arkadiusz Wingert, wydawca jego książek na polskim rynku, jest wicedyrektorem Wydawnictwa IPN
Zapytaliśmy Instytut Pamięci Narodowej o okoliczności zatrudnienia Arkadiusza Wingerta, wydawcy książek Davida Irvinga, który dowodził, że Hitler nie wiedział o Zagładzie, a rozmiary Holocaustu są wyolbrzymiane.
8 września 2017 Instytut odpowiedział, że wybór Wingerta nastąpił w oparciu o jego doświadczenie. "Prezes Instytutu brał pod uwagę jego dotychczasowe doświadczenie w branży wydawniczej i znajomość specyfiki rynku księgarskiego".
IPN napisał też, że książki Davida Irvinga nie łamią polskiego prawa, a Wydawnictwo Arkadiusz Wingert nie wydawało ich jako jedyne. "Wydane przez nią [tę oficynę wydawniczą] w latach 2009-2011 cztery tytuły tego autora były jedynie drugimi i trzecimi wznowieniami książek, które wcześniej publikowały takie wydawnictwa jak: Muza SA, Prima, Galion, Adam Rachocki" – napisał IPN.
Arkadiusz Wingert wydał cztery książki Davida Irvinga:
w 2009 roku "Wojna Hitlera", najgłośniejsza z książek Irvinga,
w 2011 "Wojnę Milcha",
w 2015 "Wojna Goebbelsa" oraz "Wojnę Goeringa".
Wśród publikacji wydawnictwa dominowała tematyka historii II wojny światowej, plus kilka książek o homeopatii i żegludze. Wingert wydal też Helmutha Nowaka, który pisał o swym doświadczeniu jako żołnierza Wehrmachtu, ale nie podawał informacji, że Nowak nigdy nie istniał, a jego "wspomnienia" są wymyślone.
Wydawnictwo AW publikowało też książki autentycznych żołnierzy SS (Schutzstaffel): "Utracony honor, zdradzona wiara. Relacja żołnierza Leibenstandarte SS Adolf Hitler" Herberta Maegera, "Kto sieje wiatr… Opowieść żołnierza dywizji SS Totenkopf" Herberta Brunneggera, a także "Żydowscy żołnierze Hitlera" Bryana Rigga.
Inna praca, "Mord w Jedwabnem" prof. Jana Chodakiewicza, amerykańskiego historyka polskiego pochodzenia, podważała ustalenia Jana Grossa i polskich historyków, dotyczące okoliczności udziału polskiej ludności w tej zbrodni na Żydach.
Wydawnictwo AW wydało też książki Józefa Becka, generała Józefa Jaklicza, czy rosyjskiego historyka Vadima Birsteina. Arkadiusz Wingert na przełomie 1989 i 1990 roku pracował w Głównej Komisji ds. Ścigania Zbrodni Przeciwko Narodowi Polskiemu, która dziś jest częścią IPN. W Instytucie został zatrudniony w lutym 2017 roku jako doradca prezesa. Od końca maja jest wicedyrektorem działu wydawniczego.
Kim jest David Irving
David Irving to historyk, w latach 60. i 70. jeden z najpopularniejszych badaczy II wojny światowej. Od czasu wydania jego "Wojny Hitlera" w 1977 roku stał się jednym z czołowych negacjonistów Holokaustu.
Irving twierdzi m.in. że:
Adolf Hitler nie wiedział o Zagładzie Żydów i jej nie nakazał;
ofiar Holokaustu nie było 6 milionów, a wielu Żydów uznanych za ofiary, wielu żyje w Izraelu w ukryciu;
w Auschwitz nie było komór śmierci, zbudowali je dopiero po wojnie Polacy;
Polacy byli wyjątkowo okrutni wobec niemieckich żołnierzy i ludności cywilnej, a Jan Paweł II, jako młody ksiądz, brał udział w tzw. masakrze bydgoskiej.
Wielokrotnie zaprzeczał Holokaustowi, a noc kryształową nazywał "antyhitlerowską prowokacją". Publicznie określał siebie jako "przeciwnika Żydów". Dowodził też, że przyznanie po II wojnie Polsce tzw. Ziem Zachodnich było całkowicie bezprawne.
Sąd uznał go za antysemitę i rasistę
W 2006 roku David Irving za swoje kłamstwa dotyczące Zagłady został skazany przez austriacki sąd na trzy lata więzienia, ale po odsiedzeniu roku zwolniono go przedterminowo. Wcześniej wyroki w podobnych sprawach wydały na niego sądy w Niemczech i Wielkiej Brytanii, skazując go na grzywny.
W 1998 roku przegrał proces przeciwko wydawcy Debory Lipstadt, amerykańskiej historyczki, którego oskarżył o zniesławienie w jej książce "Denying the Holocaust" (Negowanie Holokaustu).
Lipstadt określiła go jako zwolennika Hitlera i jednego z najniebezpieczniejszych negacjonistów, co po jednym z najgłośniejszych procesów dekady potwierdził angielski sąd, całkowicie dyskredytując wszystkie osiągnięcia Irvinga (opowiada o tym film "Kłamstwo" w reżyserii Micka Jacksona, z Rachel Weisz w roli Deborah Lipstadt).
W mowie końcowej sędzia mówił:
"Z własnych ideologicznych pobudek systematycznie i celowo manipuluje i zniekształca dowody historyczne. (…) Z tych samych powodów przedstawia Hitlera, całkowicie bezzasadnie, w korzystnym świetle, zwłaszcza w związku z jego stosunkiem i odpowiedzialnością za traktowanie Żydów. (…) Aktywnie neguje Holokaust, jest antysemitą i rasistą współpracującym z ekstremistami skrajnej prawicy, promującymi neonazizm".
Wyrok przed angielskim sądem doprowadził Irvinga do bankructwa. Źródłem nowych dochodów miały dla niego być m.in. wycieczki po dawnych obozach Zagłady na ziemiach polskich, czy sprzedaż książek polskim czytelnikom. Jego zapowiedziana obecność na Targach Książki w Warszawie w 2007 roku wywołała skandal, który zmusił organizatorów do usunięcia go z grona gości. Uznano wówczas, że jest propagatorem nazizmu.
Gdy w 2010 roku Irving miał przyjechać do Polski, aby przygotować program swoich wycieczek, ambasada RP w Wielkiej Brytanii zaalarmowała Instytut Pamięci Narodowej i Agencję Bezpieczeństwa Wewnętrznego.
---
---