Elder of Ziyon
Tłumaczenie: Małgorzata Koraszewska
---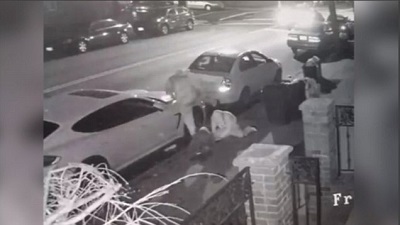 W "New York Times" jest dobry artykuł o antysemickich przestępstwach nienawiści w Nowym Jorku.  
Wbrew panującym przekonaniom antysemickie incydenty stanowią połowę wszystkich przestępstw nienawiści w Nowym Jorku w tym roku, jak informuje wydział policji. Aby ustawić te dane w kontekście: było czterokrotnie więcej przestępstw motywowanych uprzedzeniami do Żydów – w sumie 142 – niż uprzedzeniami do czarnych. Przestępstwa nienawiści wobec Żydów 20-krotnie przewyższają liczbę przestępstw nienawiści wobec ludzi transgender.

To jest alarmująca statystyka. Statystyka przestępstw nienawiści FBI pokazuje, że antyżydowskie przestępstwa nienawiści z łatwością przewyższają wszystkie inne antyreligijne przestępstwa nienawiści w całym kraju  i że tak było, od kiedy prowadzi się takie statystyki, ale że przestępstwa wobec czarnych są dużo częstsze w całym kraju. Nowy Jork jest jedynym miastem, gdzie Żydzi są najczęściej ofiarami wszystkich przestępstw nienawiści.
Same liczby są jeszcze bardziej osłupiające. W 2017 r. było 151 zażaleń na antysemickie przestępstwa nienawiści, w odróżnieniu od 34 przeciwko czarnym i 40 przeciwko gejom.
Następnie artykuł ujawnia coś, co jest niemal nie do pojęcia dla każdego, kto polega na nagłówkach medialnych, by ustalić, co jest największym zagrożeniem Żydów w Ameryce:
Przez minione 22 miesiące nie złapano lub zidentyfikowano ani jednej osoby jako napastnika w antysemickim przestępstwie nienawiści, która byłaby związana z skrajnie prawicową grupą, powiedział mi Mark Molinari, oficer dowodzący wydziałem policji Siły Specjalnej ds. Przestępstw Nienawiści.
22 miesiące to czas, od kiedy Donald Trump jest prezydentem.
Nie powinniśmy minimalizować prawicowego antysemityzmu. Zbyt wiele jednak relacji medialnych w następstwie Pittsburgha minimalizowało wszystkie inne postaci antysemityzmu. Muzułmanie atakujący Żydów i czarni atakujący chasydów są "akceptowani" jako część krajobrazu, niemal niewarci wzmianki. W artykule jest sucha wzmianka:
Kiedy chasyd zostaje zaatakowany przez kogoś w Nowym Jorku, postępowe grupy głównego nurtu na ogół nie wysyłają e-maili wzywających do protestu i braterstwa, ani nie ma czuwania ze świecami na Union Square, jak to często robią, kiedy ludzie zostają poszkodowani z powodu swojej rasy lub grupy etnicznej, lub tego, jak identyfikują się w kategoriach płci lub seksualnej orientacji.
Współczucie jest rozdzielone nierówno. Niewiele go jest w stosunku do fundamentalistów religijnych jakiegokolwiek rodzaju, które docierają do uświadomionej klasy widzów dyskusyjnego forum "Pod Save America". Mówi się o nich tylko wtedy, kiedy wydarzenia wydają się potwierdzać istniejące przekonanie o zacofaniu – hordach dzieci sprowadzanych na świat przez rodziny, które odmawiają zaszczepienia ich i utrzymują je w półanalfabetyzmie.
Anti-Defamation League prowadzi własną statystykę i w zeszłym roku poinformowała, że dziewięć z 12 fizycznych napadów na Żydów uznanych za przestępstwo nienawiści w stanie Nowy Jork było popełnionych w Brooklynie i dotyczyło ofiar, które łatwo rozpoznać jako członków tradycyjnych, ortodoksyjnych społeczności. Poza tym światem byli niemal niezauważeni.
Żydowskie życie liczy się – ale, jak się wydaje, tylko wtedy, kiedy jest atakowane przez nikczemnych, wygolonych na pałę, neonazistowskich łotrów. Kiedy Żyda atakuje człowiek kolorowy, muzułmanin lub "propalestyński aktywista", wówczas współczucie "postępowego" tłumu znika. Motywacja czarnego antysemity przeciwko "bogatym żydowskim właścicielom domów" lub muzułmanina przeciwko "syjonistycznym uzurpatorom" czyni, że te przestępstwa są jakoś mniej interesujące i ofiary mniej warte współczucia. Pogrom w 1991 r. na Crown Heights, gdzie tłuszcza ludzi kolorowych zaatakowała Żydów, media przedstawiały, jak gdyby obie strony walczyły ze sobą, a to nadal boli.
Mówiąc wprost: wypadki, w których ludzie atakują Żydów, nie są równie pikantne, kiedy atakujący nie są neonazistami.
Fakt, że realny, codzienny antysemityzm daleko przekracza wszystkie inne przestępstwa nienawiści, nie interesuje nowojorskich liberałów. Nie ma wśród nich oburzenia, kiedy co parę miesięcy pojawia się wideo z religijnymi Żydami bezlitośnie atakowanymi we własnej dzielnicy.
Gdyby ci tak zwani "postępowi" byli uczciwi wobec samych siebie, przyznaliby, że nie chcą sympatyzować z tymi żydowskimi ofiarami, ponieważ w głębi duszy uważają, że ci Żydzi na to zasłużyli – że ci Żydzi są ciemiężcami, nie zaś ciemiężonymi, na Olimpiadzie Ciemiężonych. Jeśli atakujący jest czarnym lub muzułmaninem, nagle pojawia się instynktowne współczucie i sympatia wobec atakującego, niezależnie od faktów.
Śmiertelne ataki i poważne groźby terroru wobec amerykańskiej społeczności żydowskiej pochodziły przez ostatnie trzydzieści lat mniej więcej równo od skrajnej prawicy i od muzułmanów. Postępowy tłumek zazwyczaj nie bierze bezpośredniego udziału w strzelaniu ani podkładaniu bomb. Nie znaczy to jednak, że lewica jest mniej antysemicka niż ktokolwiek inny. Ich selektywne oburzenie na ataki na Żydów zależnie od tego, kto jest atakującym, pokazuje, że ich rzekomo pryncypialne stanowisko przeciwko antysemityzmowi jest w rzeczywistości wymówką, by pokazać oburzenie wobec ich ideologicznych wrogów – żydowskie ofiary redukuje się do rekwizytów dla głównego programu nienawiści do Trumpa.
Uprzedzenie u podstaw jest takie samo, jak uprzedzenia tych, którzy atakują Żydów.
Jeśli chce się zasadnie obwiniać Donalda Trumpa za tworzenie środowiska, w którym ekstremistyczni prawicowcy czują się swobodnie atakując Żydów, to trzeba także obwiniać liberalne media i "postępowy" tłumek za systematyczne minimalizowanie znacznie liczniejszych ataków antysemickich, kiedy atakującymi są czarni, muzułmanie lub "antysyjoniści". Są równie winni tworzenia środowiska, w którym bezkarnie można atakować Żydów.
Pittsburgh powinien był zjednoczyć ludzi w zrozumieniu rzeczywistości antysemityzmu w dzisiejszej Ameryce. Nurty antysemityzmu istnieją w każdej grupie – na prawicy, na lewicy, wśród czarnych i białych, muzułmanów i chrześcijan. Zamiast tego, rzeź Żydów Pittsburghu zamieniła się w kolejny występ w konkursie plucia między grupami, które wszystkie są do pewnego stopnia winne umacniania nienawiści do Żydów.
---
Elder of Ziyon – Amerykański bloger, którego blog jest jednym z najlepszych źródeł dokumentujących współczesny antysemityzm.
---
---