Kolejna bitwa w wojnie o kulturę w Izraelu
Vic Rosenthal
Tłumaczenie: Małgorzata Koraszewska
---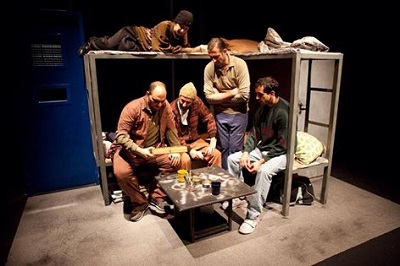 Zdjęcie ze sztuki "Czas równoległy", której pozytywnym bohaterem jest terrorysta.
W Knesecie znajduje się propozycja prawa "Lojalność w kulturze" przedstawionego przez minister kultury i sportu Miri Regev.
Tak, nazwa proponowanego prawa (hebrajski tekst tutaj), po przetłumaczeniu na angielski [i polski, MK] brzmi nieco orwellowsko. A jego przeciwnicy powiedzą wam, że jest to atak na wolność słowa godny dyktatury, do jakiej ich zdaniem aspiruje rząd Netanjahu. Co więc dokładnie mówi to prawo?
Daje ono Ministrowi Kultury prawo zredukowania lub odebrania finansowania rządowego artystom, teatrom, pisarzom, wykonawcom – każdej osobie lub organizacji, która tworzy lub propaguje sztukę lub rozrywkę, a dokonuje jednej z następujących pięciu rzeczy:
Zaprzecza istnieniu państwa Izrael jako żydowskiego i demokratycznego państwa.
Podżega do rasizmu, przemocy lub terroryzmu.
Popiera walkę zbrojną lub terroryzm przeciwko państwu Izrael przez wrogie państwo lub organizację terrorystyczną.
Traktuje Dzień Niepodległości lub dzień założenia państwa jako dzień żałoby.
Niszczy lub okazuje braku szacunku dla flagi lub symboli państwa.
Regev nie wymyśliła sobie tych kryteriów. Na to płacą podatki (wysokie) wszyscy obywatele Izraela. Wśród dobrze znanych przykładów jest grupa teatralna wystawiająca sztukę, której pozytywnym bohaterem był arabski terrorysta, który zamordował żołnierza IDF, obchody dnia nakba, "spektakl", podczas którego "artysta" wpychał sobie do odbytnicy naszą narodową flagę*, krótki film, w którym "artystka" wypróżniała się na flagę, a jest takich przykładów dużo więcej.
Decyzje w sprawie tego, co uważa się za złamanie tych kryteriów, mają być podejmowane przez komitet, w skład którego będą wchodzić przedstawiciele Ministerstwa Kultury i Sportu, przedstawiciele Ministerstwa Finansów oraz personel z biura doradcy prawnego rządu. Przewodniczyć będzie Minister Kultury i Sportu.
Przeciwnicy nazywają tę propozycję prawa "cenzurą" i mówią, że "wprowadza politykę do kultury", ale zwolennicy odpowiadają, że nie jest to cenzura wyrazu artystycznego, a tylko ustalanie, do jakiego rodzaju artystycznego wyrazu państwo może dopłacać.
Fakt, że uważa się takie posunięcia za konieczne, jest wskazówką zażartej wojny polityczno-kulturalnej, prowadzonej dziś w Izraelu między małą avant-garde akademików, artystów i ludzi z mediów, a resztą izraelskiego społeczeństwa. Ta avant-garde charakteryzuje się skrajnie lewicową polityką – często antypaństwową i sympatyzującą z antyizraelskimi Palestyńczykami oraz pogardą dla ludzi religijnych (a przynajmniej dla żydowskich ludzi religijnych) i dla żydowskich mieszkańców Judei i Samarii. Jej członkowie wierzą w swoją wyższość intelektualną nad resztą populacji, którą oni widzą jako głupie, zabobonne, rasistowskie owce, manipulowane przez prawicowych polityków i rabinów.
Chociaż określają innych jako rasistów, sami gardzą Żydami z Afryki Północnej, z krajów arabskich i z Etiopii. Niemniej przewodzą ruchowi przeciwstawiania się repatriacji nielegalnych afrykańskich imigrantów, którzy niszczą dzielnice południowego Tel Awiwu, gdzie członkowie avant-garde nie bywają.
Mimo tego, że są nieznaczną mniejszością, niemal całkowicie dominują izraelskie media, szczególnie telewizję i kinematografię. Izraelski przemysł filmowy jest głównie finansowany przez kilka założonych specjalnie w tym celu NGO, które otrzymują pieniądze od rządu i z darów prywatnych z Izraela i z zagranicy. Kosztowne filmy są często "współprodukowane" z innymi krajami. Około jedna trzecia funduszy na izraelskie filmy pochodzi zza granicy, głównie z Europy. Produkt przemysłu filmowego jest solidnie lewicowy, a także antyizraelski, co Miri Regev także próbowała zmienić i co spotkało się z ostrą opozycją społeczności filmowej.
Intelektualna elita uważa zwycięstwo Menachema Begina w 1977 roku i zwrot na prawo w polityce Izraela za katastrofę (dziwię się, że nie mówią o tym nakba), ale katastrofa w bezpieczeństwie, jaką spowodował proces Oslo, porzucenie południowego Libanu i wyjście z Gazy wypatroszyły polityczną lewicę, pozostawiając avant-garde bez bazy politycznej. Niemniej nadal ściśle dominują intelektualne, kulturalne i medialne instytucje w Izraelu, coraz bardziej doprowadzani do szału przez utratę kontroli politycznej nad państwem.
Atak Regev na monopol ekstremistów w kulturze jest paralelny do walki Minister Sprawiedliwości Ajjelet Szaked o zmianę izraelskiego establishmentu prawniczego, włącznie z metodami wyboru sędziów Sądu Najwyższego i prawnego doradcy rządu, urzędnika, który nie odpowiada przed społeczeństwem, ale ma olbrzymie wpływy. Sprzeciwianie się establishmentów kulturalnego i prawniczego woli wyborców doprowadziło do sytuacji określonej niedawno przez Ministra Edukacji Naftalego Bennetta, przywódcę partii Żydowski Dom, jako sytuacji w której ludzie "głosują na prawicę, ale otrzymują lewicę".
Przeciwko Regev i Szaked ostro występują ci, którzy widzą, że ich samozwańczy autorytet i władza są podważane. Często wyrażają opinie, że "zagrożona jest izraelska demokracja". Nie jest krzywdzące i niesprawiedliwe powiedzenie, że ci ludzie bardzo cenią demokrację jako abstrakcyjne pojęcie, ale są bardzo niezadowoleni z konsekwencji stosowania go w praktyce.
Wstyd, że trzeba ustalać zasady takie jak w tej propozycji ustawy. Czy rzeczywiście jest tak trudno zrozumieć, że sztuka gloryfikująca mordercę jest niestosowna? Czy trudno jest zrozumieć, że umieszczanie naszej narodowej flagi w odbytnicy nie jest "sztuką", ale infantylnym i obraźliwym popisywaniem się?
Byłoby lepiej, gdyby nasza klasa twórców nie uznawała za konieczne zmuszanie nas do popełniania kulturalnego (a czasami rzeczywistego) samobójstwa razem z nimi, a wtedy nie byłoby potrzeby powstrzymywania ich. Niestety tak nie jest. To prawo powinno zostać uchwalone.
* Niektóre media informowały, że Ariel Bronz użył w swoim przedstawieniu białej flagi, ale co najmniej podczas jednego spektaklu widać, że jest to białoniebieska flaga izraelska.
---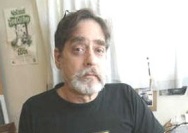 Vic Rosenthal – Zajmował się rozwijaniem programów komputerowych. Studiował informatykę i filozofię na University of Pittsburgh. Mieszka obecnie w Izraelu. Publikuje w izraelskiej prasie. Jego artykuły często zamieszcza Elder of Ziyon.
---
---