Martin Sherman
Tłumaczenie: Małgorzata Koraszewska
---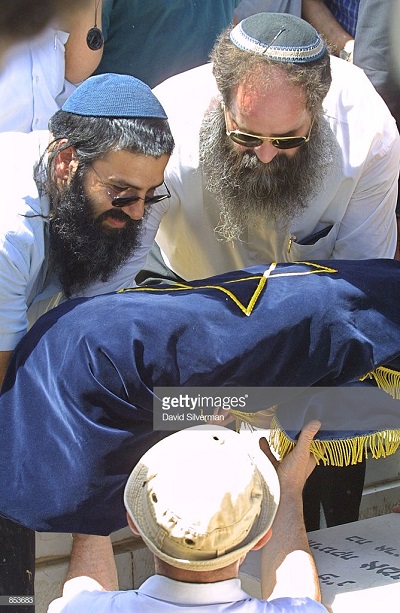 Źródło: Getty Images. Pogrzeb izraelskiego dziecka zabitego przez palestyńskiego snajpera
Dwudziestego listopada był Międzynarodowy Dniem Dzieci, brytyjska grupa, Campaign4Truth, zorganizowała spotkanie, na którym upamiętniono izraelskie dzieci zamordowane lub okaleczone przez arabski terror od 1920 r. Organizatorzy poprosili mnie o napisanie krótkiego tekstu na to to spotkanie. Oto, co napisałem:
Terroryzm jest zawsze ohydny – ale jest jeszcze bardziej odrażający, kiedy kieruje się przeciwko dzieciom.
Choć każde stracone życie jest tragedią – dla bliskich ofiary rozpada się cały świat – brutalne zabicie dziecka – i odebranie życia, umyślne jego zakończenie na długo zanim można wiarygodnie przypisać mu postrzeganą winę za jakąkolwiek rzeczywistą lub wyimaginowaną niesprawiedliwość – zawsze wydaje się o tyle bardziej bezsensowne i bezduszne.

Niestety, izraelskie dzieci – nawet niemowlęta – są regularnie umyślnym celem palestyńskich organizacji terrorystycznych. W rzeczywistości mordowanie izraelskich dzieci było i jest nie tylko wymierzone w przypadkowe ofiary, ale i zamierzone.

Jednym z najbardziej chyba przerażających wypadków terrorystycznego dzieciobójstwa było zamordowanie dziesięciomiesięcznej Szalhewet Pass, której palestyński snajper strzelił w głowę, kiedy była w wózku na spacerze z rodzicami.
Skazując jej mordercę, Mahmuda Amru z frakcji Tanzim Fatahu, po tym, jak aresztowały go izraelskie służby bezpieczeństwa, sędziowie wyrazili zaszokowanie brutalnością tego morderstwa:
"Wystarczyła jedna kula wystrzelona z karabinu snajpera, by zakończyć życie niemowlęcia Szalhewet Pass…Zdjęcie zabitego niemowlęcia wryło się w nasze umysły i nie daje spokoju naszym duszom. Nie możemy zrozumieć ani zaakceptować nieznośnej łatwości, z jaką zabójca zdecydował zranić tak bezbronną osobę… nie dostrzegamy w tym niczego innego niż obraz pełen nienawiści i krwi. Nie wolno nam zaakceptować tego obrazu i musimy zrobić wszystko, co możliwe, by go potępić … "
Niemniej, z niemal nie do opisania zdeprawowaniem, pracownik stacji radiowej Autonomii Palestyńskiej, Głos Palestyny – w próbie odcięcia tej organizacji terrorystycznej od dokonanej potworności – twierdził, że informacja o śmierci niemowlęcia od kuli snajperskiej jest kłamstwem i że to matka dziewczynki sama zamordowała swoje dziecko!
Niezamierzone szkody – włącznie z dziecięcymi ofiarami śmiertelnymi – zawsze są godnym pożałowania wynikiem działań wojennych, ale bardzo rzadko świadome mordowanie dzieci – i ich mordercy – są celebrowani jako bohaterowie, tak jak są celebrowani w społeczności palestyńsko-arabskiej.
Historia barbarzyństwa palestyńskiego terroryzmu pełna jest drastycznych przykładów świadomego obierania dzieci za cel terrorystycznego ataku – na przykład, w Kefar Chabad w 1956 r. palestyńscy terroryści zastrzelili 5 dzieci; masakra w 1974 w Ma'alot w Galilei, gdzie zamordowali 22 dzieci; makabryczne zarżnięcie nożami i ukamienowanie dwóch chłopców w Gusz Ecjon w 2001 r.; napad na jesziwę Mercaz HaRav w Jerozolimie w 2008 r., gdzie 7 uczniów straciło życie; porwanie i zamordowanie trzech nastoletnich chłopców w 2014 r. w Gusz Ecjon – żeby wymienić tu tylko kilka przypadków.
Nie tylko jednak mrożąca krew w żyłach brutalność tych czynów powinna powodować zaszokowanie i odrazę, ale także sposób, w jaki są one celebrowane przez większość społeczności palestyńskiej.
I tak, na przykład, masakrę w jesziwie Mercaz HaRav chwalił nie tylko Hamas, ale – według palestyńskich sondaży – popierało ją 84% palestyńskiej populacji!!!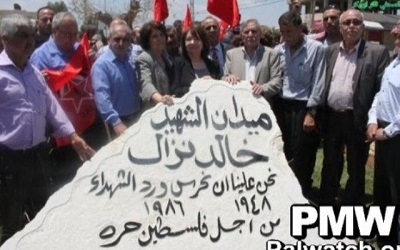 Pomnik dla "męczennika" Chaleda Nazzala na placu w Jenin noszącym jego imię
Jeśli jednak chodzi o rzeź niewinnych dzieci, zachowanie rzekomo "umiarkowanego" przewodniczącego Autonomii Palestyńskiej, Mahmouda Abbasa, jest nie mniej oburzające. Niedawno Abbas, mimo energicznych protestów z Izraela, twardo upierał się przy wzniesieniu pomnika w mieście Jenin, upamiętniającego osławionego Chaleda Nazzala, organizatora masakry w Ma'alot, w której z zimna krwią zamordowano 22 dzieci szkolnych, kiedy terroryści z Demokratycznego Frontu Wyzwolenia Palestyny otwarli do dzieci ogień z broni maszynowej i wrzucili granaty do szkolnego budynku w północnym Izraelu.
To więc jest prawdziwe oblicze nieludzkiego terroru, z jakim spotykają się codziennie Izraelczycy. To jest mrożący krew portret, który trzeba wbić w świadomość i obudzić sumienie świata.
---
---