Andrzej Koraszewski
---
Amerykanie rozpisują się ostatnio o śnieżynkach, istotach studiujących głównie nauki nieścisłe, domagających się bezpiecznej przestrzeni, gdzie nic ich nie dotknie. Śnieżynki są młode i piękne, chociaż czasami mają buzie wykrzywione złością i przechodzą od wrzasków do rękoczynów. Bojkotują nauczycieli, czasem domagają się ich zwolnienia, wypraszają sobie podejmowanie tematów, które rażą ich dusze, chcą bezpiecznej przestrzeni, takiej, w której nic nie będzie ich niepokoić. Śnieżynki są daleko, za oceanem, dowiaduję się o nich z drugiej ręki. O różnych rzeczach dowiaduję się z drugiej ręki. Nie zawsze jestem pewien, czy informacje są poprawne, chociaż czasem nie mam powodów, żeby wątpić.
Na nowych butach firmy Nike komuś na podeszwie pojawił się Allah. Może się w Polsce pojawić na szybie Matka Boska, to niby dlaczego nie ma się Allah pojawić w Ameryce na podeszwie? Szyba to szyba, można zrezygnować z umycia, a przeznaczeniem butów jest chodzenie w nich po ziemi, a to oczywiście naraża podeszwę na wdepnięcie w to i owo, a tam Allah.
Allah jest wyraźny jak byk. Stanowi fragment odwróconej do góry nogami nazwy AIRMAX, trzeba tylko odpowiednio odwrócić i właściwie spojrzeć. Poniżej jest dowód rzeczowy – zapis słowa "Allah" po arabsku i zdjęcie podeszwy nowej serii butów Nike. Sami widzicie, nie ma żadnych wątpliwości. A żeby nas dobić, to dokładnie pod tym właśnie zdjęciem jest płatna informacja: "Jak prosić Boga o pomoc. Sprawdź, co Bóg chce ci dać". Już miałem otworzyć, ale jakiś głos mnie ostrzegł, że to może być wyjątkowo wredny wirus.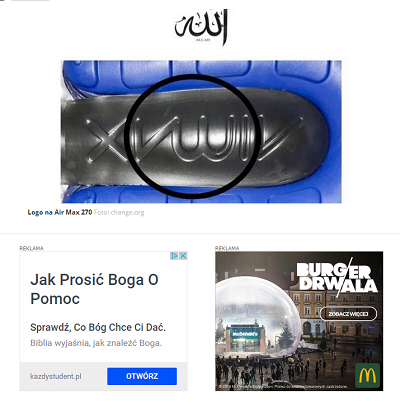 Tysiące osób podpisało petycję, żeby te buty firmy Nike wycofać i zniszczyć. Firma broni się, przysięga, że nie miała żadnych złych intencji, ale nikt nie wie czym, to się skończy. Diabli wiedzą, co Bóg chce nam dać. Czasem zranione uczucia religijne eksplodują i wtedy Bóg daje nam popalić.
Żyjemy w czasach, inni też żyli w czasach, ale w innych. Nasze czasy charakteryzuje głębokie przekonanie, że znamy prawdę i mamy prawo do oburzenia na tych, którzy jej nie znają. Wojny religijne toczyły się o prawdę, którą znały obydwie walczące ze sobą strony i obydwie strony były równie głęboko przekonane, że druga strona uległa podszeptom szatana i odrzuciła prawdę, wybierając zło. Człowiek, który odrzuca prawdę i sprzymierza się z szatanem, nie jest tak do końca człowiekiem i zasługuje na śmierć. Chodzi oczywiście o prawdy absolutne, czyli te pochodzące od samego Boga. 
Od samego Boga pochodzą prawdy, które sam Bóg przekazał osobie stosownie namaszczonej. Z biskupem się nie dyskutuje, biskup jest pasterzem, więc na biskupa można się tylko powoływać, bo biskup przekazuje słowa Boga.
Na stronie "Dziewuchy dziewuchom" gorąca dyskusja wokół wypowiedzi biskupa Mieczysława Cisło, który obwieścił, że "każda kobieta jest powołana do macierzyństwa. Jeśli nie odda się opiece nad dzieckiem, powinna ofiarować się Bogu". Ucieszyłem się nawet, że biskup daje współczesnym Polkom Matkę Boską jako przykład. "Młoda dziewczyna powiedziała Bogu swoje fiat, zgadzając się na wypełnienie Jego woli. Chociaż po ludzku przyjęcie woli Bożej krzyżowało Jej młodzieńcze, dziewczęce plany, to przez Jej łono przyszedł na świat Zbawiciel" – powiedział biskup, a ja w głowę zachodzę od kogo biskup się dowiedział o planach matki boskiej, zanim została matką?
Dyskutujące o biskupim obwieszczeniu dziewuchy nie zatrzymały się przy tych dziewczęcych planach późniejszej matki boskiej, irytując się raczej na to powołanie w formie macierzyństwa lub zakonu. Doradzały biskupowi, iżby się raczej o rozum pomodlił, albo zajął erotycznymi wyczynami księdza Jankowskiego, piekliły się w licznych komentarzach, nie zostawiając suchej nitki na starszym panu w skromnej czarnej sukni bez dekoltu.
Moją uwagę zwrócił wpis wzywający do rzeczowości: "Ja bym była bardziej dumna ze środowiska polskich feministek, gdybym mogła przeczytać rzeczową krytykę takiego zachowania oraz zobaczyć pomysł, jak temu przedstawicielowi płci przeciwnej wypowiadającemu się w sposób skandaliczny odpowiedzieć z klasą. Bez wulgaryzmów, i rozsądnie". 
Nie jestem feministką, a zaledwie gorącym zwolennikiem równych praw i partnerskich relacji, więc nie do mnie to wezwanie, ale i tak się zgadzam, że byłoby lepiej odpowiadać rzeczowo, niż reagować (skądinąd uzasadnioną) irytacją. Tu jednak pojawia się kilka pytań, czy biskup zniżyłby się do rozmowy, czy w takiej rzeczowej odpowiedzi musimy zakładać, że mówimy sami do siebie, bo ta nasza odpowiedź do biskupa nie dotrze, a gdyby nawet dotarła, to mamy powód, by podejrzewać, że nie ma większej szansy na komunikację? Gdzie zacząć taką rzeczową odpowiedź? Jedna z pań zapytała drwiąco, czy bóg, tworząc pierwszą parę, od razy powiedział: Ewa do kuchni, Adam do rządzenia światem? Samo słowo "powołanie" wydaje się mówić, że ktoś powołał, a więc mamy do czynienia z boskim rozporządzeniem, a jak o boskich rozporządzeniach dyskutować?
Pojawia się tu również zasadnicze pytanie, czy świecka idea praw człowieka jest zasadniczo sprzeczna z religijnymi koncepcjami na temat tego, do czego człowiek jest powołany i przez kogo? Świecka moralność opiera się na empatii, na ochronie człowieka przed cierpieniem, przed głodem i chorobami; świecka moralność mówi o wolnościach i godności, ba, nawet o szczęściu. 
Religijna moralność nie musi wykluczać równości płci, ale robi to często ze względu na tradycję, na przekonanie, że kobieta została stworzona do pomocy mężczyźnie. Kiedy jednak patrzymy na nasze relacje nie przez pryzmat pism świętych, a raczej wychodząc od biologii, od ewolucji gatunków, rozwoju społeczeństw i kultury okazuje się, że odmienne założenia prowadzą do odmiennych wniosków.
Mężczyźni są więksi i fizycznie silniejsi, co oczywiście ułatwiało powstanie kultury patriarchalnej, religie stały na straży tej kultury, były wręcz jej centralnym filarem. W efekcie, nawet jeśli, jak w przypadku chrześcijaństwa, wspierały monogamię, wspierały również systemową dyskryminację. Kobiety pozbawiono dostępu do nauki, nie miały prawa rozporządzania sobą, rozporządzania własnością, nie miały prawa udziału w życiu publicznym. To powołanie do macierzyństwa lub służby Kościołowi to nie jest nowy pomysł. Przeciwnie polski biskup w XXI wieku powtarza bardzo stare dogmaty.
Trwająca przez tysiące lat dyskryminacja kobiet była jednym z hamulców społecznego rozwoju. Dziś wiemy, że te założenia o intelektualnej i moralnej niższości kobiet były nie tylko nierozsądne i szkodliwe, ale również nieludzkie. Zmiana nie nastąpiła jednak w wyniku jakiegoś religijnego olśnienia, ale wbrew bardzo stanowczym sprzeciwom przedstawicieli bez mała wszystkich religii. 
Dyskryminacja nie ograniczała się do odmawiania równych praw ze względu na płeć, do dyskryminowania każdy powód był dobry, a i panie w procesie dyskryminowania uczestniczyły masowo. Poniżej jest zdjęcie pierwszej czarnej pilotki w amerykańskiej armii. Dziś Millie Bailey ma sto lat.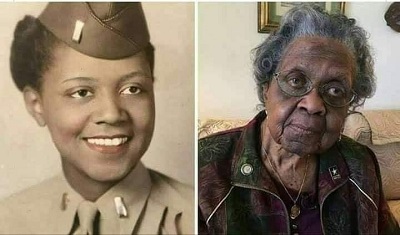 Wspomina jak kiedyś, będąc na przepustce, szła w mundurze oficerskim ulicą Alabamy i jakaś kobieta splunęła jej pod nogi krzycząc "czarna dziwka". Millie Bailey nie zareagowała, bo jak mówi, byłoby to nierozsądne, wtedy ciągle zdarzało się, że czarnych linczowano. Cieplej jednak wspomina historię na dworcu, kiedy jej oddział wsiadał do pociągu, pierwszy przy drzwiach wagonu był generał, który dostrzegł ją, cofnął się, mówiąc "proszę, pani porucznik, pani wsiada pierwsza".
Przez ostatnie 150 lat dokonała się niesamowita rewolucja, rewolucja, która ograniczyła prawa bogów i znacząco powiększyła prawa ludzi. Feminizm był niesłychanie ważną częścią tej rewolucji i nie tylko niczego nas mężczyzn nie pozbawił, ale dał nam więcej, niż wielu z nas zdaje sobie z tego sprawę.
Czy w spokojnej, rzeczowej rozmowie nasz dobry biskup byłby to w stanie zrozumieć?
Nie jestem o tym przekonany, obawiam się, że te nasze śnieżynki w sutannach, podobnie jak tamte amerykańskie śnieżynki, po prostu nie są w stanie zrozumieć, co to jest rozmowa i na czym polega partnerstwo. A prawdziwe partnerstwo (w szczególności partnerstwo między kobietą i mężczyzną) to wspaniała rzecz. Obawiam się, że pana biskupa idea równości rani równie mocno, jak tę kobietę w Alabamie, która najwyraźniej przeżyła dławiący szok na widok czarnej dziewczyny w oficerskim mundurze. Najwyraźniej ludzkie odruchy nie są sprawą łatwą ani małą.
---
---