Maciej Czarnecki
---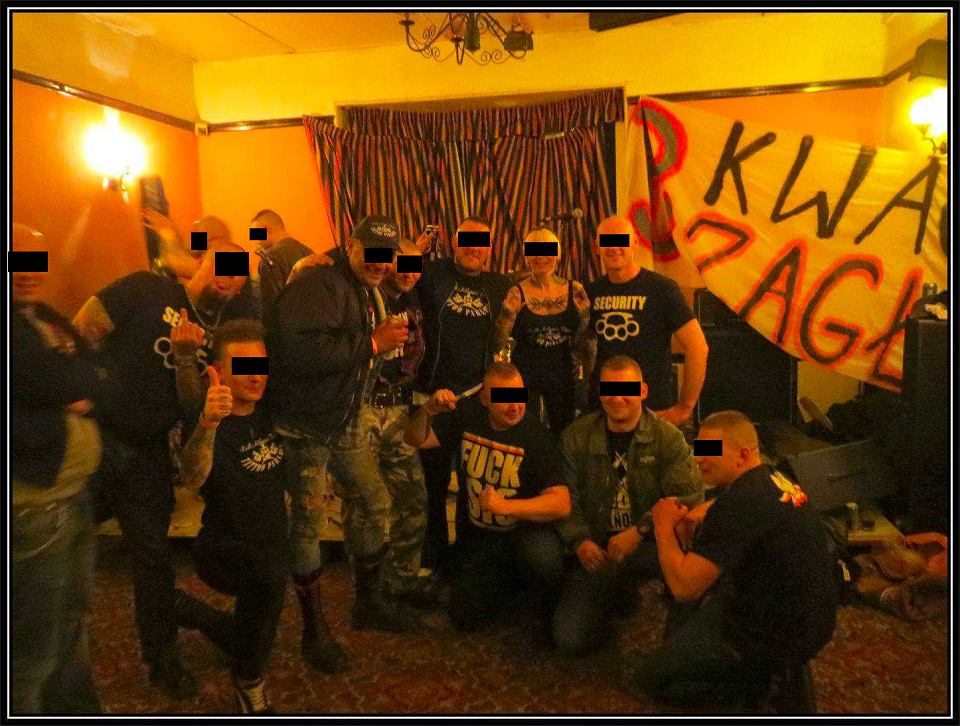 Sala śpiewa o honorze i dumie, a następnie unosi dłonie w geście hitlerowskiego pozdrowienia. Dotarliśmy do materiałów pokazujących bogate powiązania polskich neonazistów na Wyspach.
Co więcej, odkryliśmy powiązania z organizatorami wydarzeń, które skierowane są do ogółu Polaków żyjących w Wielkiej Brytanii.Chodzi o nagrania z koncertu w Londynie z marca 2017 r. Widać na nim, jak uczestnicy unoszą ręce w hitlerowskim pozdrowieniu, śpiewając: "Biały honor, biała duma, biała walka". To przebój polskiego nazi rocka z repertuaru nieistniejącego już zespołu Konkwista 88 (ta liczba, odnosząca się do "h", ósmej litery w alfabecie, oznacza "Heil Hitler"). Wśród osób tłoczących się pod sceną są członkowie Stowarzyszenia Patriotycznego "Ogniwo", które na swojej stronie na Facebooku promuje głównie treści historyczne, oraz zakazanej w niektórych krajach (np. Niemczech czy Hiszpanii) neonazistowskiej grupy Blood & Honour. Na zdjęciach mężczyźni pozują razem. Widać, że się znają.
Narodowcy w polskiej szkole
Jednym z nich jest Michał N., skazany w listopadzie 2017 r. na 20 miesięcy w zawieszeniu za udział w starciach z antyfaszystami w Liverpoolu w 2016 r. Na zdjęciu na stronie Polskiej Szkoły Przedmiotów Ojczystych im. Juliana Tuwima w Harlow, wymienionej w zeszłorocznym tekście "Guardiana" o możliwych związkach polskich placówek ze skrajną prawicą, N. pozował z b. wiceprezesem Ruchu Narodowego Marianem Kowalskim. Dyrektorka szkoły Iwona Schulz-Nalepka tłumaczyła wówczas, że wizyta tego ostatniego była "nieplanowana".
Na koncercie pojawił się też Krzysztof Jastrzembski z Komitetu Obrony Polski, organizator zeszłorocznego Marszu Niepodległości w Peterborough, w którym obok polskich mieszkańców z okolicy maszerowali narodowcy z wielu stron Wielkiej Brytanii.
– Człowiek zapraszający na imprezę polskie rodziny bawi się z neonazistami – kwituje nasze źródło.
Znowu swastyka z wafelków
Na jednym ze zdjęć, do których dotarliśmy, widać, jak obecny na koncercie polski sympatyk Blood & Honour pozuje w mieszkaniu przy torcie z wafelkami ułożonymi w kształt swastyki (nazistowski symbol zakryto emotikonem, ale nadal jest widoczny).
Polscy neonaziści w Wielkiej Brytanii pozują do zdjęcia z tortem, na którym ułożono swastykę z wafelków. Zdjęcie pochodzi z Facebooka, portal zakrywa tego typu symbole emotikonami.
Podobny smakołyk pojawił się w głośnym reportażu "Superwizjera" TVN o środowisku polskich neonazistów. Dziennikarze stacji nagrali wówczas również okrzyki "Sieg Heil!" podczas festiwalu fundacji Orle Gniazdo we wsi Kępy w centralnej Polsce. Na plakacie koncertu w Londynie widnieje logo właśnie tej fundacji.
Organizatorzy propagowali koncert własnymi kanałami, więc o imprezie wiedzieli tylko wybrani. Miejsce trzymano w tajemnicy. Koncert polskich kapel Nordica (utworzonej przez byłych muzyków grupy AgreSSiva 88) i All Bandits oraz brytyjskiej Antonella's Klasse Kriminale zorganizowano, by zebrać pieniądze na leczenie choroby jednego z członków środowiska kibolsko-narodowego na Wyspach.
Na imprezie zjawili się m.in. dwaj polscy sympatycy Combat 18, terrorystycznego ramienia Blood & Honour, wymienieni w najnowszym raporcie organizacji Hope Not Hate. Według raportu Lucas Cox i Szymon Partyka nielegalnie handlują sterydami "na przemysłową skalę".
Niebezpieczne związki neonazistów
Polscy ekstremiści na Wyspach mają silne powiązania z brytyjskimi. Na jednym z nagrań organizacji Britain First jej wiceprzewodnicząca Jayda Fransen chwaliła się, że "First rośnie w siłę dzięki wsparciu wielu polskich członków i aktywistów". Założona w 2011 r. Britain First sprzeciwia się imigracji, multikulturalizmowi i "islamizacji" Wielkiej Brytanii. Jej członkowie urządzali "chrześcijańskie patrole" w dzielnicach, w których mieszkają muzułmanie, próbowali rozdawać w meczetach Biblię, paradowali wojskowym land roverem po wieloetnicznej Brick Lane w Londynie, kolportując ulotki wzywające do zakazu burek i meczetów, na Facebooku podżegali do nienawiści wobec mniejszości. Zanim portal zablokował stronę Britain First, zdążyła przyciągnąć ponad 2 mln obserwujących.
"Spędziłem niesamowity czas z polskimi patriotami, maszerując przeciwko islamowi. Polska duma to coś innego" – pisał na Twitterze po Marszu Niepodległości w Warszawie w 2017 r. współzałożyciel antymuzułmańskiej English Defense League Tommy Robinson, najbardziej znany skrajny prawicowiec na Wyspach. Po aresztowaniu (za naruszenie reguł relacjonowania procesu grupy muzułmanów) broniła go m.in. posłanka PiS Krystyna Pawłowicz.
Kogo wspiera ambasada
Do Wielkiej Brytanii regularnie pielgrzymują przedstawiciele polskiej skrajnej prawicy, np. b. ksiądz Jacek Międlar, którego jednak Brytyjczycy nie wpuścili, gdy chciał wziąć udział w wiecu Britain First i Biegu Wilczym Tropem w Slough.
W zeszłym roku echem odbiły się rewelacje BBC, że organizowane przez brytyjski oddział organizacji Polska Niepodległa "targi książki" w Slough w 2017 r. dofinansowała ambasada RP w Londynie.
Podczas imprezy prelegenci znani z szerzenia mowy nienawiści dyskutowali o zagrożeniach, które wielokulturowość i islam stanowią dla Europy, "ojczyzny białego człowieka", jak określił to jeden z mówców.
Ambasada broniła się, że wsparcie imprezie w Slough przyznano "w dobrej wierze jako projektowi dla polskiej społeczności" i że niemożliwe jest monitorowanie wszystkich twierdzeń, które wygłaszają goście.
---
---