Daled Amos
Tłumaczenie: Małgorzata Koraszewska
---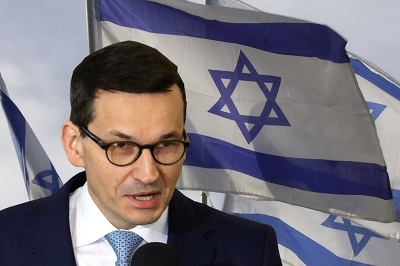 Na początku roku spojrzeliśmy na kontrowersję wokół jednego aspektu z szeregu sukcesów dyplomatycznych Netanjahu: więzi, jakie budował między Izraelem a Europą Wschodnią. Odpowiedź na pytanie Why Are Jews Being Drawn To Europe's Right Wing Parties? [Dlaczego Żydów przyciągają europejskie partie prawicowe?] okazała się dość pragmatyczna. W grudniu ubiegłego roku Węgry wstrzymały się od głosu, kiedy Zgromadzenie Ogólne ONZ odrzuciło uznanie przez USA Jerozolimy jako stolicy Izraela. Następnie do Węgier dołączyły Republika Czeska i Rumunia, by zablokować oświadczenie UE, krytykujące USA za przeniesienie ambasady do Jerozolimy. W zamian kraje Europy Wschodniej – dzięki przyjaźni z Izraelem – otrzymują pewną tarczę przeciwko oskarżeniom o antysemityzm i etniczną supremację.
Jednak inny aspekt tych sojuszy może dotykać kwestii rozwijającego się poczucia tożsamości Izraela.
Ivan Krastev, przewodniczacy Center for Liberal Strategies, napisał niedawno w artykule dla "New York Times" o tym, Why Do Central European Nationalists Love Israel So Much? [Dlaczego nacjonaliści z Europy Środkowej tak bardzo kochają Izrael?]. Pisze on, że istnieje więź między Europą Wschodnią a Izraelem, która wychodzi poza politykę krótkofalowych interesów.
Mają wspólną historię.
Wielu założycieli państwa żydowskiego pochodziło z Europy Środkowej i Wschodniej i wpłynęły na nich kraje ich pochodzenia, jak również polityka wokół nowo odzyskanej niepodległości tych krajów po I Wojnie Światowej. Ze swej strony, Europa Wschodnia obserwowała rozwój Izraela i podziwiała to, co widziała.
I nie mówimy o kibucach:
Tym, co dzisiaj pociąga wschodnioeuropejskich populistów w Izraelu jest realizacja ich dawnego marzenia: Izrael jest demokracją, ale etniczną demokracją; definiuje się jako państwo dla Żydów w ten sam sposób, w jaki Wschodnioeuropejczycy myślą o swoich krajach jako o kraju polskim, węgierskim lub słowackim. Izrael zachował bohaterski etos poświęcenia w imię narodu i nacjonalistyczni politycy chcą tego dla własnych społeczeństw.
Ale Europa Wschodnia może zanadto wybiegać naprzód – uczucie może nie być odwzajemnione.
Mimo wszystkich podobieństw te kraje nie zauważają unikatowej sytuacji Izraela jako państwa żydowskiego. Jako żydowska ojczyzna Izrael otwarł się na zagranicznych imigrantów z bardzo różnych krajów na całym świecie – coś, czego te same podziwiające kraje Europy Wschodniej za nic nie chcą zrobić.
Krastev pisze, że fascynacja krajów Europy Wschodniej Izraelem jest także spowodowana przez fakt, że mimo małych rozmiarów Izrael jest ekonomicznym i militarnym mocarstwem, które gra w pierwszej lidze.
Nawet w tym miejscu jednak tożsamość Izraela ma więcej wspólnego z krajami takimi jak Indie, które również mają do czynienia z regionalnymi, egzystencjalnymi zagrożeniami niż z krajami Europy Wschodniej, które cieszą się pokojem i bezpieczeństwem w Unii Europejskiej.
Poza tym istnieje jeszcze naturalna nieufność Izraelczyków, kiedy natykają się na rodzaj szowinistycznego nacjonalizmu, który przypomina czasy Szoah.
Matti Friedman pisał o tej nieufności w zeszłym roku w artykule What Happens When a Holocaust Memorial Plays Host to Autocrats, kiedy opisywał mieszane uczucia w Jad Waszem wobec nowych przyjaciół Netanjahu.
Friedman pisze także, że ci przywódcy wschodnioeuropejscy nie widzą Izraela w taki sam sposób, w jaki Izrael widzi siebie:
Izrael, jaki widzą, nie jest liberalną, kosmopolityczną enklawą stworzoną przez socjalistów, ale państwem narodowym spójnej grupy etnicznej, podejrzliwej wobec ponadnarodowych fantazji, twardej potęgi militarnej i szańcem obronnym przed światem islamskim.
Choć Izrael rozwinął się od swoich socjalistycznych, kibucowych początków w Kraj Startupów – te kraje widzą w Izraelu rozwijające się państwo nacjonalistyczne, a to stoi w konflikcie z postępowcami, szczególnie w USA, którzy inaczej widzą Izrael.
Tak więc, z jednej strony Jad Waszem stoi przed propozycjami prawicowych krajów, takich jak Węgry i Polska:jak ma kraj pamiętający Zagładę spowodowaną częściowo przez etniczną supremację, kult osobowości i pogardę dla prawa zachowywać się wobec rządów flirtujących z tymi samymi ideami? Tymczasem lewicowi postępowcy wydają się mieć inny system wartości, który wyrażają w tym, jak rozumieją lekcje Szoah i cele syjonizmu.
Jak to ujmuje Friedman:Amerykański liberał, na przykład, może powiedzieć, że lekcją są uniwersalne wartości humanistyczne – rodzaj wartości, które wielu z nas błędnie zakładało, były wznoszącym się trendem na świecie po wojnie. Tradycyjnie syjonistycznym podejściem było, że choć te wartości są pożądane, nie obronią one Żydów po Szoah, tak jak nie obroniły, kiedy trwała Zagłada, i że musi istnieć wystarczająco silne państwo, by bronić Żydów w brutalnym świecie.Nie trzeba mówić, że nie jest to cel syjonistyczny, z którym postępowi Żydzi czują się dobrze.
Postępowi Żydzi nie zawsze jednak sprzeczali się z wynikami osiągniętymi przez narodowy syjonizm. W końcu, to ten właśnie narodowy syjonizm z jego gotowością do zawierania sojuszy z innymi krajami o wspólnych interesach doprowadził Izrael – pod przewodem ni mniej ni więcej tylko Menachema Begina – do podpisania porozumienia pokojowego z Sadatem, tym samym Sadatem, który był kiedyś zwolennikiem nazistowskich Niemiec.
Izrael, podobnie jak syjonizm, nie jest prosty.
Niektórzy z najbardziej prawicowych przywódców Izraela byli na czele podejmowania śmiałych kroków i czynienia kompromisów w imię pokoju.
Tymczasem Friedman wskazuje na zupełnie inną ironię, że te liberalne demokracje, które ludzie postępowi woleliby jako sojuszników Izraela, są tymi, którzy stanowią poważniejsze zagrożenie dla państwa żydowskiego. W końcu, największe zagrożenia dla Izraela nie pochodzi z krajów prawicowych na Zachodzie, ale z krajów muzułmańskich – wśród których największą groźbą jest Iran. I to właśnie liberalni przywódcy na Zachodzie wydają się gotowi do robienia biznesów z Iranem i łączenia się z dyktaturami, które izolują Izrael w ONZ.
Co sprowadza Izrael z powrotem do stowarzyszania się z bardziej prawicowymi przywódcami, takimi jak Orban i Trump.
---
Daled Amos (Bennet Ruda)
Izraelski bloger piszący o historii i problemach Bliskiego Wschodu, a w szczególności Izraela. http://daledamos.blogspot.com/
---
---