Khaled Abu Toameh
Tłumaczenie: Małgorzata Koraszewska
---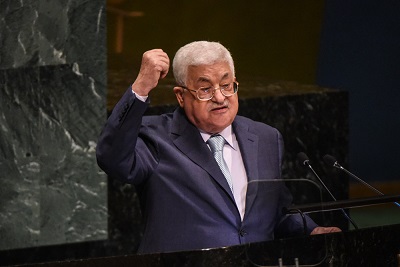 Coraz częstsze słowa o możliwości, że niektóre kraje arabskie normalizują swoje stosunki z Izraelem, skłoniły Palestyńczyków do rozpoczęcia kampanii nacisków na arabskich przywódców, by powstrzymali się przed takim krokiem. Najnowsza taka kampania nosi tytuł "Normalizacja jest zbrodnią". Na zdjęciu: prezydent Autonomii Palestyńskiej, Mahmoud Abbas. (Zdjęcie: Stephanie Keith/Getty Images)
Palestyńczycy zaczęli odwoływać się do islamu, by uzasadnić swój zaciekły sprzeciw wobec normalizacji stosunków z Izraelem. Palestyńscy przywódcy i aktywiści od dawna przytaczali polityczne i nacjonalistyczne powody sprzeciwu wobec jakiejkolwiek normalizacji stosunków z Izraelem – ale islam jest nowym czynnikiem w tej mieszance.
Coraz częstsze słowa o możliwości, że niektóre kraje arabskie znormalizują swoje stosunki z Izraelem, skłoniły Palestyńczyków do rozpoczęcia kampanii nacisków na arabskich przywódców, by powstrzymali się przed takim krokiem. Najnowsza taka kampania nosi tytuł "Normalizacja jest zbrodnią".
Przedstawiciele Autonomii Palestyńskiej, którzy nie są znani z jakiejś szczególnej religijności, ostrzegają państwa arabskie, że normalizacja stosunków z Izraelem jest równoznaczna ze zdradą. Mahmoud al-Aloul, wiceprzewodniczący rządzącej Autonomią Palestyńską frakcji Fatah (na czele której stoi Mahmoud Abbas) posunął się do określenia arabskiej normalizacji stosunków z Izraelem jako "ciosu nożem w plecy Palestyńczyków".
Aloul i inni palestyńscy przedstawiciele mówią, że sprzeciwiają się normalizacji stosunków z Izraelem, bo Palestyńczycy obawiają się, że ich arabscy bracia ich porzucą. Ich głównym argumentem jest, że normalizacja stosunków z Izraelem powinna mieć miejsce tylko po, a nie przed, rozwiązaniem konfliktu izraelsko-palestyńskiego.
Sekretarz generalny OWP Saeb Erekat wzywał państwa arabskie do przestrzegania arabskiej inicjatywy pokojowej z 2002 roku, która stanowi, że kraje arabskie nawiążą normalne stosunki z Izraelem po zakończeniu wycofania się Izraela do linii sprzed 1967 roku, włącznie ze Wzgórzami Golan i po założeniu niepodległego i suwerennego państwa palestyńskiego.
Najwyraźniej jednak Palestyńczycy uważają, że ich wezwania do krajów arabskich trafiają w próżnię. Są przekonani, że administracja USA kontynuuje starania o przekonanie niektórych państw arabskich do nawiązania normalnych stosunków z Izraelem przed rozwiązaniem konfliktu izraelsko-palestyńskiego.
W zeszłym tygodniu te palestyńskie obawy wzmocniły się, kiedy wysłannicy administracji amerykańskiej, Jason Greenblatt i Jared Kushner odwiedzili Zjednoczone Emiraty Arabskie, Bahrajn, Arabię Saudyjska i Katar. Palestyńczycy postrzegają ten objazd jako część planu pokojowego na Bliskim Wschodzie administracji USA, który, jak twierdzą, ma głównie na celu promowanie normalizacji między Arabami a Izraelem "kosztem Palestyńczyków".
Jako część starań o udaremnienie tego przyszłego planu, znanego jako "Umowa stulecia", którego jeszcze nikt nie widział, oraz by zapobiec ustanowieniu normalnych stosunków między Arabami a Izraelem, grupa palestyńskich uczonych w islamie wydała 3 marca kolejną fatwę (islamską opinie religijną), przestrzegającą przed jakimkolwiek rodzajem normalizacji stosunków z "tworem syjonistycznym".
Uczeni mają nadzieję, że ich fatwa zjednoczy muzułmanów na całym świecie wokół palestyńskiej kampanii przeciwko normalizacji stosunków z Izraelem. Przez wydawanie takich fatw Palestyńczycy najwyraźniej mają nadzieję na podkreślenie religijnego charakteru konfliktu z Izraelem.
Grupa z Gazy o nazwie Palestyńskie Stowarzyszenie Uczonych powiedziała w swojej fatwie, że według orzeczeń islamu "normalizacja [stosunków] z syjonistycznym wrogiem i zaakceptowanie go w regionie jest jedną z najgroźniejszych infiltracji muzułmańskiej społeczności i zagrożeniem jej bezpieczeństwa, jak również wypaczeniem doktryny i utratą młodzieży".
Uczeni wyjaśniają następnie, że "normalizacja i pojednanie oznaczają wzmocnienie Żydów w ziemi muzułmanów, poddanie się niewiernym i utratę religii i ziemi islamskiej".
Nie ma tu nic nowego: ci palestyńscy uczeni przypominają tylko arabskim przywódcom i rządom to, co Hamas jasno wykłada w swojej Karcie:
"Ziemia Palestyny jest islamskim Wakf, poświęconym dla przyszłych pokoleń muzułmanów aż do Dnia Sądu Ostatecznego. Ona ani żadna jej część nie może zostać zaprzepaszczona: nie można zrezygnować z niej ani z żadnej jej części. Ani żaden kraj arabski, ani wszystkie kraje arabskie, ani żaden król lub prezydent, ani wszyscy królowie i prezydenci, ani żadna organizacja, ani one wszystkie, czy to palestyńskie, czy arabskie, nie mają do tego prawa. Palestyna jest ziemią islamskiego Wakf, poświęcona muzułmańskim pokoleniom do Dnia Sądu Ostatecznego"
Palestyńscy uczeni przestrzegają także Arabów, że pojednanie i normalizacja stosunków z Żydami jest sprzeczna z Koranem, szczególnie z Surą An-Nisa (4:75), która mówi:
"Dlaczego nie walczycie na drodze Allaha, jak również za słabych mężczyzn, kobiety i dzieci, którzy mówią: 'Panie nasz! Wyprowadź nas z tej ziemi, której mieszkańcy są niesprawiedliwi?!'"
Zwracając się do arabskich przywódców i rządów, uczeni pytają następnie:
"Jeśli Bóg czyni obowiązkiem walkę o uratowanie słabych, to jak możemy zawrzeć pokój z syjonistycznym okupantem i pozwolić mu być powyżej muzułmanów w Palestynie?"
Uczeni wysyłają także ostrzeżenie do Arabów, którzy już podpisali porozumienia z Izraelem, włącznie z OWP, Jordanią i Egiptem. W ostrzeżeniu uczeni powiedzieli, że Arabowie, którzy podpisali porozumienia z Izraelem, "otrzymali tylko rozczarowanie i upokorzenie i nie wyzwolili islamskich miejsc świętych".
Obecny pokój i normalizacja stosunków z Izraelem "stanowi niesprawiedliwość i agresję wobec ludu palestyńskiego" – dodali uczeni.
"Odmawia prawa ludu palestyńskiego do swojej ziemi i fałszywie uznaje prawo Żydów do niej. Pojednanie i normalizacja stosunków z syjonistycznym wrogiem są uważane za niebyłe i za jawne pogwałcenie zasad szariatu [islamskiego prawa religijnego]".
Orzeczenie Stowarzyszenia Islamskich Uczonych ma także na celu poinformowanie administracji USA, że Palestyńczycy i muzułmanie nie będą mieć nic wspólnego z "Umową Stulecia". Służy ponadto jako przypomnienie, że nawet jeśli pewni Arabowie podpiszą traktaty pokojowe z Izraelem, zawsze będą muzułmanie, którzy potępią ich jako "zdrajców" i oskarżą o działanie przeciwko Koranowi i orzeczeniom islamu. Wobec tej groźby trudno zobaczyć, w jaki sposób Abbas lub jakikolwiek przywódca palestyński będzie w stanie zgodzić się na jakiś rodzaj pojednania i normalizacji stosunków z "syjonistycznym wrogiem".
Abbas tymczasem doskonale zdaje sobie sprawę z tego, że muzułmanie potępią go – i może wydadzą fatwę wzywającą do zabicia go – jeśli kiedykolwiek ośmieli się zawrzeć pokój z Żydami. To może wyjaśnić jego niedawną uwagę podczas wizyty w Egipcie, kiedy powiedział, że nie zamierza zakończyć życia jako zdrajca, który uczynił ustępstwa wobec Żydów. Czas pokaże, czy Arabowie i świat islamski poprze stanowisko Abbasa i pozwoli dać się zastraszyć przez palestyńskich duchownych islamskich
---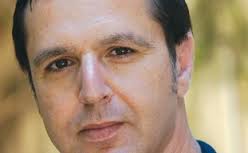 Khaled Abu Toameh – urodzony w 1963 r. w Tulkarem na Zachodnim Brzegu, palestyński dziennikarz, któremu wielokrotnie grożono śmiercią. Publikował między innymi w "The Jerusalem Post", "Wall Street Journal", "Sunday Times", "U.S. News", "World Report", "World Tribune", "Daily Express" i palestyńskim dzienniku "Al-Fajr". Od 1989 roku jest współpracownikiem i konsultantem NBC News.
---
---