Ruthie Blum
Tłumaczenie: Małgorzata Koraszewska
---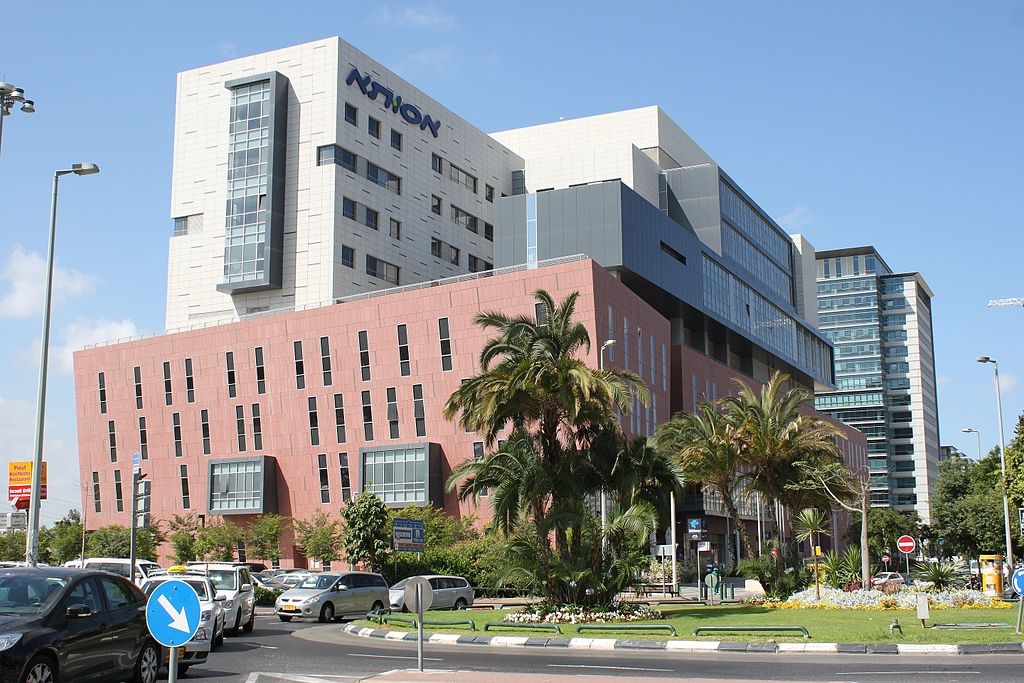 Przywódcy Autonomii Palestyńskiej (AP) i Hamasu gloryfikują terroryzm przeciwko niewinnym Izraelczykom i wzywają do sankcji przeciwko Izraelowi, równocześnie często zwracają się do Izraela po opiekę medyczną, nierzadko po leczenie na raka. Na przykład, brat i szwagier prezydenta AP Mahmouda Abbasa otrzymali ratujące życie leczenie w Centrum Medycznym Assuta Medical w Tel Awiwie. Żona Abbasa przeszła operację w tym samym szpitalu. (Zdjęcie: Olegmay/Wikimedia Commons)
Senat Irlandii przegłosował ostatnio ustawę o poparciu dla organizacji (a kilka z nich ma na czele terrorystów), narzucający bojkot Izraela, jedynej demokracji na Bliskim Wschodzie. Zrobili to, choć rzadko kiedy wypowiadają jakiekolwiek krytyczne słowo o krajach takich jak Chiny, Iran, PółnocnaKorea, Rosja, Turcja,Mauretania, Syria, Wenezuela, Kuba, Nigeria, Sudan lub Sudan Południowy. Koncentracja krytyki wyłącznie na Izraelu mówi prawdopodobnie więcej o długiej historii irlandzkiego antysemityzmu niż o kraju, który Irlandia wybrała sobie za cel ataku, szczególnie, że ignoruje ona duży wkład tego kraju dla świata, włącznie z medycyną. Weźmy, na przykład, badania nad rakiem.
Krajowy dyrektor wykonawczy Izraelskiego Funduszu Badań nad Rakiem, Mark A. Israel, wyjaśniał niedawno, dlaczego tak maleńki kraj jak Izrael – w którym "umieralność na raka wśród Żydów jest najniższa na świecie" – dokonał tak wielkich postępów w walce przeciwko śmiertelnej, globalnej chorobie.
"Naukowcy w Izraelu wnoszą do walki z rakiem tę samą zapierającą dech innowacyjność, niecierpliwość, przełomowe myślenie, niezmordowaną determinację i sprawne używanie zasobów, które od 70 lat są cechą charakterystyczną izraelskiej nauki i technologii" – napisał Mark A. Israel, emerytowany profesor z Dartmouth Medical School.
"[To] doprowadziło do tak rewolucyjnych odkryć, jak szlaki komórkowe i molekularne, które są wybrane do terapii przy szpiczaku mnogim, przewlekłej białaczce szpikowej i zagrażających życiu guzach nowotworowych. Później izraelscy naukowcy dali wielki wkład w rozwój nowego podejścia do immunoterapii w leczeniu białaczki i innych nowotworów".
Dobrze ilustrują to dwa przełomowe odkrycia tylko z pierwszych miesięcy 2019 roku. Badacze z izraelskiego uniwersytetu Bar-Ilan University i z Harvard Medical School odkryli mechanizm, który pozwala układowi odpornościowemu atakować komórki rakowe, szczególnie w płucach i na skórze; izraelska firma IceCure z powodzeniem zastosowała krioblację – procedurę, która zamraża rakowate guzy – eliminując potrzebę operacji.
Zeszły rok także był znaczący w tej dziedzinie. Witryna internetowa o technologii i innowacjach, NoCamels informowała o następujących siedmiu przełomach w izraelskich badaniach nad rakiem w 2018 roku:
Izraelscy naukowcy z Technion – Izraelskiego Instytutu Technologii z powodzeniem leczyli rakowaty guz używając syntetycznej komórki, która produkowała w tkance antyrakowe białko.

Izraelscy naukowcy, także z Technion, stworzyli technologię, która umożliwia dostarczenie leku do chorej tkanki, używając światła i cząstek złota, co uczyniło terapię bardziej skuteczną.

Badacze z uniwersytetu w Tel Awiw użyli nanomedycyny do zahamowania postępów raka trzustki w mysich modelach.

Izraelski startup Nucleai zebrał 5 milionów dolarów na dalszy rozwój systemu opartego na sztucznej inteligencji do pomocy patologom przy diagnozowaniu raka i innych chorób szybciej i dokładniej.

Izraelska firma Micromedic Technologies stworzyła technologię do nieinwazyjnej diagnostyki raka prostaty.

Izraelska firma Todos Medical Ltd. przeprowadziła pierwszą ślepą próbę kliniczną na badanie krwi do badań przesiewowych na raka piersi w Centrum Medycznym Kaplan w Rehowot.

Finansowana przez Izrael sieć społeczna dla pacjentów z rakiem i ich opiekunów, Belong, ogłosiła partnerstwo z Colorectal Cancer Canada (CCC), dla "poprawy jakości życia pacjentów z rakiem jelita grubego oraz ich rodzin przez zwiększenie dostępu do wysokiej jakości treści, usług cyfrowych i wsparcia społecznego".
Belong stworzyła darmową aplikację na bazie sztucznej inteligencji, która dostarcza ludziom z rakiem i ich rodzinom skutecznego, aktualnego kanału i "wyjątkowego, spersonalizowanego rozwiązania, by pomóc w skuteczniejszym radzeniu sobie i walce z rakiem".
W 2017 roku, według innowacyjnej witryny internetowej Israel21C, izraelski badacz, profesor Uri Nir z uniwersytetu Bar-Ilan, stworzył syntetyczny związek do zablokowania enzymu, który pozwala na przerzuty komórek rakowych.
W 2016 roku, według "Times of Israel":
"Przełomowe badanie raka [na University of Pennsylvania], w którym pacjenci chorzy na białaczkę osiągali remisję po terapii genetycznie modyfikowanymi limfocytami T, które mają głębokie korzenie w Izraelu.

Jednym z pierwszych na świecie, który pracował nad innowacyjnie adaptacyjną techniką immunoterapii do leczenia raka… był profesor z uniwersytetu Weizmanna, Zelig Eshhar…"
Być może nie zaskakuje więc, że przełomowych odkryć w wykrywaniu i leczeniu raka, takich jak wymienione powyżej – a jest to zaledwie ułamek izraelskich innowacji w dziedzinie medycyny jako całości – nie wspominają przywódcy i członkowie ruchów, których celem jest zlikwidowanie Izraela. Podkreślanie wkładu Izraela do globalnych starań zmierzających do dalszego ograniczenia liczby zgonów na raka – który zabił 9,6 milionów ludzi w 2018, roku, w którym postawiono diagnozę 17 milionom nowych przypadków – postawiłoby takie ruchy przed wyborem: albo rezygnacja z ratującej życie technologii i leczenia, albo otrzymanie etykietki hipokrytów za ignorowanie własnego bojkotu.
Niektórzy przeciwnicy Izraela twierdzą, że ich wysiłki demonizowania Izraela są częścią prawomocnej kampanii na rzecz ludu palestyńskiego. Prezydent Autonomii Palestyńskiej (AP), Mahmoud Abbas i przywódcy Hamasu, organizacji terrorystycznej, która rządzi Strefą Gazy, gorąco popierają te kampanie, których rzeczywistym celem, według Centrum Wywiadu i Informacji o Terroryzmie Meir Amit
"jest to opatrzenie Izraela etykietką kraju 'apartheidu' i propagowanie międzynarodowego bojkotu jego instytucji, przywódców, gospodarki i kultury oraz zwolenników Izraela. Ich ostatecznym celem jest spowodowanie upadku Izraela, tak jak upadł reżim apartheidu w Afryce Południowej. Organizatorzy kampanii sprzeciwiają się jakiemukolwiek uznaniu państwa Izrael lub negocjacjom z nim, odrzucają rozwiązanie w postaci dwóch państw, podkreślają tak zwane 'prawo powrotu' milionów potomków palestyńskich uchodźców na terytorium państwa Izrael i starają się o zrealizowanie wizji jednego państwa, rządzonego przez Palestyńczyków".
Tym jednak, co skrzętnie ukrywają Fatah Abbasa i Hamas – którzy gloryfikują terroryzm wobec niewinnych Izraelczyków i wzywają do międzynarodowych sankcji przeciwko państwu Izrael, jest częstotliwość, z jaką sami zwracają się do Izraela po opiekę medyczną, często na leczenie raka.
Na przykład, w 2016 roku mieszkający w Katarze brat Abbasa, Abu Lawi, leczył się na raka w Centrum Medycznym Assuta w Tel Awiwie i nie był to pierwszy raz.
W 2015 roku szwagier Abbasa przeszedł ratującą życie operację serca w tym samym szpitalu. Żona Abbasa, Amina, przeszła tam operację w 2014 roku.
Również w 2014 roku teściowa premiera Hamasu, Ismaila Hanijeha była leczonana raka w jerozolimskim szpitalu Augusta Victoria. W tym samym roku córka Hanijeha była leczona w szpitalu Ichilov w Tel Awiwie. Była jedną z ponad tysiąca mieszkańców Gazy i Autonomii Palestyńskich, którzy leczą się w Ichilov co roku.
Także w 2014 roku siostra rzecznika Hamasu, Moussy Abu Marzouka była leczona na raka w izraelskim szpitalu.
W 2013 roku wnuczka Hanijeha była leczona w Centrum Medycznym dla Dzieci Schneider w Peta Tikwie.
Nie tak dawno, w maju 2018 roku samego Abbasa leczyli izraelscy specjaliści, którzy dołączyli do zespołu zagranicznych lekarzy opiekujących się nim na oddziale intensywnej terapii w szpitalu w Ramallah na terenie Autonomii Palestyńskiej.
4 lutego Izrael dumnie dołączył do swoich odpowiedników na całym globie, by zaznaczyć Światowy Dzień Raka, zainicjowany przez Union for International Cancer Control (UICC). Pora, by świat zaniechał swoich wysiłków demonizowania Izraela i przyznał, że używa i polega na innowacjach i technologii uzdrawiania, jakie Izrael – nie odmawiając nikomu – zawsze dostarcza. Byłaby to mile widziana zmiana, gdyby przeciwnicy Izraela byli choć w połowie równie jak on etyczni.
---
---