Uzay Bulut
Tłumaczenie: Małgorzata Koraszewska
---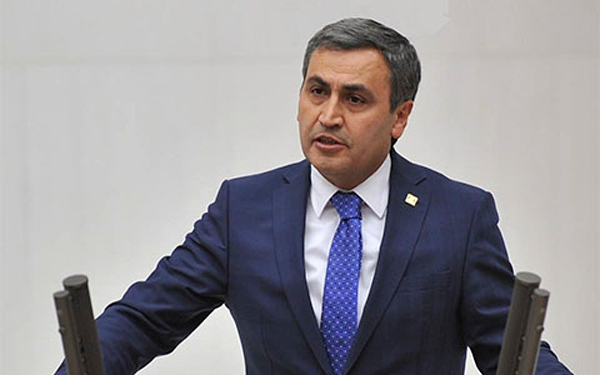 W 2016 r. Necati Yılmaz, parlamentarzysta z ramienia opozycyjnej Republikańskiej Partii Ludowej (CHP), przedstawił ówczesnemu premierowi Turcji, Binaliemu Yıldırımowi, pisemny wniosek parlamentarny, w którym kwestionował działania i międzynarodowe powiązania "Międzynarodowego Doradztwa Obronnego SADAT". Na zdjęciu: Necati Yılmaz. (Zdjęcie z: Wikimedia Commons)
Stambuł gościł ostatnio drugi "Międzynarodowy Kongres Związku Islamskiego" sponsorowany głównie przez Ośrodek Badań Strategicznych Obrońców Sprawiedliwości (ASSAM), na czele którego stoi główny doradca militarny tureckiego prezydenta Recepa Tayyip Erdogana, Adnan Tanriverdi, emerytowany generał broni i islamista.
Tanriverdi wygłosił przemówienie na tej konferencji, szczegółowo omawiając strukturę "Islamskiego Państwa Konfederacyjnego", jakie ASSAM zamierza założyć z ponad 60 muzułmańskimi krajami. W przemówieniu Tanriverdi powiedział, że należy stworzyć "siłę szybkiego reagowania". Sądząc po artykule Tanriverdiego napisanym w 2009 roku, celem tej wspólnej siły islamskiej jest pokonanie Izraela, który "należy wciągnąć [w wojnę], a trwanie tej wojny należy wydłużać".
"Jeśli Izrael będzie musiał powołać wszystkich swoich żołnierzy rezerwy – wyjaśnił – nie pozostanie nikt w domu ani w ich przedsiębiorstwach. To zaś nie może trwać przez długi czas".
Tanriverdi podał także propozycję, jak to osiągnąć:
"Ministrowie obrony krajów islamskich powinni zostać zaproszeni na pilne spotkanie, na którym zbada się możliwości 'współpracy obronnej'; Turcja, Iran, Syria, Iracka Organizacja Oporu i Palestyna powinny być trzonem tej kooperacji".
W tym konteście, powiedział, "siła szybkiego reagowania islamu", która będzie składała się z wodno-lądowej brygady, pancernej brygady i powietrznej brygady, powinna zostać założona".
Następnie powiedział:
"Siły pokojowe krajów islamskich powinny zostać rozlokowane w Gazie… Międzynarodowe wysiłki powinny trwać, a użycie siły militarnej w krajach islamskich należy zachęcać. Wspólna operacja wojskowa naszych sił lądowych, morskich i powietrznych powinna zostać przeprowadzona na wodach międzynarodowych wschodniego Morza Śródziemnego. Powietrzne konwoje z Turcji w towarzystwie tureckich samolotów wojennych powinny lądować w porcie Gazy. Należy wesprzeć ruch oporu w Gazie bronią przeciwczołgową i przeciwlotniczą.

Należy stworzyć fundusz pomocowy krajów islamskich; miesięczny budżet legalnego rządu palestyńskiego powinien być płacony z tego funduszu i każdy dorosły człowiek [na terytoriach palestyńskich] powinien otrzymywać miesięczną płacę… Należy naciskać na Egipt, by otworzył przejście graniczne Rafah. Należy zachęcać Syrię, by wzmocniła swoją obecność wojskową na granicy izraelskiej".
Tanriverdi twierdził także, że:
"Rządy tureckie przez całą historię zapobiegły 21 krucjatom, którymi Zachód atakował islam. Turcja nie zaangażowała się w inwazję po założeniu państwa Izrael i [nie przeciwstawiła się ] inwazji USA na Irak, co możemy nazwać 22., 23. i 24. krucjatą. Jest obowiązkiem Turcji naprawienie tego. Unikanie tej odpowiedzialności byłoby sprzeczne z naszą historyczną misją, naszym oddaniem wobec cywilizacji, do której należymy, i przetrwaniem Turcji".
Poglądy Tanriverdiego były podstawą założenia w 2012 roku "Międzynarodowego Doradztwa Obronnego SADAT". Na oficjalnej stronie internetowej tej organizacji Tanriverdi pisze:
"Tureckie Siły Zbrojne udzielają usług w postaci szkolenia, konsultacji i wyposażenia 22 przyjaznym krajom tureckim i muzułmańskim. Niemożliwe jest dla nich jednak reagowanie na wszystkie potrzeby w sektorze obronnym 60 krajów islamskich.W celu udzielania usług w potrzebnych dziedzinach, żeby zapobiec zależności od nastawionych na krucjaty państw kolonialnych, aby pomóc środowisku przemysłu obronnego i obronnej kooperacji między krajami islamskimi, i żeby służyć islamskiemu sojuszowi, 23 udziałowców-założycieli stworzyło SADAT ze wsparciem 64 oficerów i podoficerów armii, którzy służą w tureckich siłach zbrojnych i szanują religijną wrażliwość krajów islamskich".
Cztery lata po założeniu SADAT Necati Yılmaz, parlamentarzysta z opozycyjnej Republikańskiej Partii Ludowej (CHP), przedstawił ówczesnemu premierowi Turcji, Binaliemu Yıldırımowi, pisemny wniosek parlamentarny, w którym kwestionował działania i międzynarodowe powiązania "Międzynarodowego Doradztwa Obronnego SADAT". We wniosku czytamy:
"SADAT stwierdza na swojej oficjalnej stronie internetowej, że próbuje 'pomóc założyć siłę militarną w świecie islamskim, która będzie samowystarczalna'. Z jakimi krajami SADAT ma powiązania? Czy jest jakiś inny kraj, któremu SADAT daje szkolenie wojskowe i wywiadowcze? Czy ma obozy w innych krajach?

Czy jest prawdą, że SADAT ma związki z al-Nusrą, al-Kaidą i ISIS? Czy jest prawdą, że SADAT szkolił bojówkarzy ISIS?"
Yıldırım nie odpowiedział na ten wniosek podczas swojej kadencji, ale oskarżenia o to, że SADAT dostarcza szkolenia wojskowego organizacjom dżihadystycznym i niektórym grupom popierającym Erdogana w "tajnych obozach wojskowych", nie ustawały. Tanriverdi i inni przedstawiciele SADAT wielokrotnie zaprzeczali tym oskarżeniom. posuwając się aż do pozwania kilku gazet, które opublikowały artykuły z powtórzeniem tych oskarżeń.
W wywiadzie ze stycznia dla prorządowej gazety "Habertürk" Tanriverdi nazwał te twierdzenia o SADAT "oszczerczymi" i "zmyślonymi." Powtarzając "założycielski cel" twierdził, że "[SADAT] ma kontakty z państwowymi organami przyjaznych krajów i dostarcza im usług doradztwa korporacyjnego, szkolenia i wyposażenia zgodnie z ich prawami w ich krajach".
Kontynuował:
"Z bardzo czystymi i przyzwoitymi uczuciami chcemy tylko przekazać krajom islamskim doświadczenie naszych sił zbrojnych. To wszystko. Chcemy także, żeby kraje islamskie zjednoczyły się".
Nie wspomniał jednak, że celem SADAT jest zjednoczenie się przeciwko Zachodowi I Izraelowi. Pominął także uwagi ze swojego artykułu z 2009 r.zatytułowanego Także Palestyna powinna mieć armię, gdzie pisał:
"Te państwa, których ludność to muzułmanie, powinny albo chronić Palestynę własnymi siłami zbrojnymi, albo stworzyć nowoczesną siłę zbrojną dla Palestyny, by poradziła sobie z Izraelem".
Chociaż marzenie Tanriverdiego o "armii islamu" do walki z Izraelem dopiero ma być zrealizowane, wydaje się, że jego firma, SADAT, wspiera organizacje dżihadystyczne palestyńskich Arabów, które atakują Izrael. Na przykład, w lutym 2018 r. izraelska służba bezpieczeństwa wewnętrznego, Szin Bet, powiedziała, że Hamas przekazuje fundusze na terror do Zachodniego Brzegu i Gazy poprzez Turcję. Szin Bet oskarżył także Turcję o pomaganie Hamasowi w budowaniu sił zbrojnych poprzez SADAT. Kamil Tekeli, turecki profesor prawa, który został aresztowany w Izraelu w połowie stycznia, powiedział przesłuchującym go funkcjonariuszom, że SADAT wysyła Hamasowi broń i pieniądze. Po przesłuchaniu Tekeli został deportowany do Turcji, o czym poinformowały izraelskie media. Tureckie ministerstwo spraw zagranicznych jednak odrzuciło oskarżenia Szin Bet.
Niemniej wypowiedzi Tanriverdiego i jego firmy wydają się odzwierciedlać światopogląd Erdogana.
"My, Turcja i ja – jak długo jestem na czele – nigdy nie możemy mieć pozytywnego poglądu na Izrael" – powiedział Erdogan w 2014 r. – "Oczywistą rzeczą jest to, że Izrael jest krajem, który zagraża pokojowi na świecie i na Bliskim Wschodzie".
Niedawno, 15 grudnia 2018 r., Erdogan powtórzył wiele wrogich twierdzeń, jakie czynił przez lata — porównując Izrael do nazistów.
Erdogan i jego główny doradca militarny w oczywisty sposób zajmują się projekcją. To Turcja etnicznie oczyściła się z Greków, Asyryjczyków i Ormian, Turcja odmawia uznania praw religijnych mniejszości alewickiej i obecnie atakuje syryjskich Kurdów. To turecki rząd kontynuuje agresję w Izraelu, Syrii, Iraku, na Cyprze i w innych krajach i jest zagrożeniem dla pokoju światowego, nie zaś Izrael. To destabilizująca polityka zagraniczna Turcji powinna zmienić się, nie zaś Izraela.
---
Uzay Bulut: Publicystka turecka z Ankary, która obecnie przebywa w USA. Pisze o sobie, że urodziła się jako muzułmanka.
---
---