Vic Rosenthal
Tłumaczenie: Małgorzata Koraszewska
---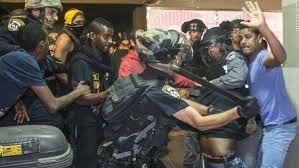 Czarny Izraelczyk etiopskiego pochodzenia został zastrzelony przez policjanta i były rozruchy, drogi były zablokowane, samochody przewrócone a nawet podpalone. Na tym kończy się podobieństwo z Ameryką. Istnieje w Izraelu rasizm oparty na kolorze skory, ale dynamika jest inna. Wszystko jest inne.
Co się zdarzyło: Nie wszystkie szczegóły są jeszcze jasne i nie będą, aż pojawi się oficjalny raport z dochodzenia. Historia policjanta jednak wyciekła i wydaje się, że jest spójna. Jest tu wiele szczegółów, o których słyszałem, ale których nie zamieszczam, ponieważ nie można ich zweryfikować.
Wydaje się jednak, że przebieg wydarzeń był następujący: Policjant w cywilnym ubraniu, który nie był w tym czasie na służbie, był w parku ze swoją żoną i dziećmi. Natrafił na bójkę: trzech młodych ludzi biło 13-latka i próbowało ukraść mu telefon. Oznajmił, że jest policjantem i kazał im przestać. Rzucili się na niego, a w tym momencie 13-latek uciekł.Młodzi mężczyźni podeszli bliżej do policjanta i zaczęli rzucać w niego kamieniami; został kilkakrotnie trafiony, w tym w głowę. Wyciągnął broń i oddał w ziemię strzał ostrzegawczy, i albo kula, albo odłamek odbił się rykoszetem i uderzył Salomona Tekaha (19 lat) w piersi, zabijając go. Według informacji wewnętrzne dochodzenie policji potwierdza to i dlatego policjant nie zostanie oskarżony nawet o nieumyślne spowodowanie śmierci. Może otrzymać karę dyscyplinarną, a może jej nie otrzymać.
Przeprowadziłem wywiad z weteranem policji, który jest obecnie instruktorem używania broni palnej i który uczy personel służb bezpieczeństwa, jak strzelać oraz kiedy i w jaki sposób wolno im to robić. Wyjaśnił mi, że protokół aresztowania podejrzanego wymaga wystrzelenia strzału ostrzegawczego, chyba że policjant uważa, że istnieje bezpośrednie zagrożenie jego życia. Na otwartej przestrzeni może wystrzelić w powietrze, ale w miejskim, gęsto zabudowanym środowisku może, a właściwie musi, strzelić w ziemię. Park był otoczony budynkami mieszkalnymi i był właśnie takim środowiskiem. W każdym razie policjant powiedział, że wierzył, iż istniało bezpośrednie zagrożenie jego życia.Instruktor powiedział także, że policjanci boją się, że znajdą się w podobnej sytuacji, kiedy muszą się bronić, a potem są za to karani.
Rzecznik rodziny Tekaha i etiopska społeczność nazwali to morderstwem. Policjant otrzymał groźby śmierci, zdjęcia jego i jego rodziny zostały zamieszczone w mediach społecznościowych z podżeganiem do zabicia go i został umieszczony w areszcie domowym razem ze swoją rodziną w utajnionym miejscu.
Wydaje się, że rozmiary i intensywność demonstracji, w niektórych wypadkach wręcz rozruchów, zaskoczyły cały kraj. Nie powinny były. Były liczne wypadki konfliktów między policją a Etiopczykami, włącznie z kilkoma innymi, w których zginęli ludzie. W 2015 roku, po tym, jak młody żołnierz, Damas Pakada, został pobity przez policję, jak się wydaje, bez prowokacji, były olbrzymie demonstracje. Premier wyznaczył komisję, która miała wydać rekomendacje i zarówno on, jak inspektor generalny policji spotkali się z Pakadą i przeprosili. Policjanta, który go pobił, wyrzucono z pracy.
Komisja przedstawiła 53 rekomendacje zmian w edukacji, mediach i pracy policji. Część została wdrożona, a część nie, ale działacze w etiopskiej społeczności mówią, że stosunki z policją nie poprawiły się. Etiopczycy są aresztowani w stopniu nieproporcjonalnym do ich udziału w populacji, a młodzi ludzie mówią, że są często zatrzymywani przez policję na ulicach, kiedy nie robią niczego nielegalnego.
Przejawy rasizmu są częste w pewnych odłamach izraelskiego społeczeństwa. Jest wielu Etiopczyków i innych ciemnoskórych Izraelczyków, którzy pracują jako lekarze, pielęgniarki i tak dalej. Mówią oni, że niektórzy pacjenci odmawiają kontaktu z nimi, czasami w obelżywy sposób. W dzisiejszych wiadomościach wieczornych występowała lekarka, która opisała pewną kobietę, krzyczącą: "Nie pozwolę tej koosheet [czarnuch] dotknąć mojej córki". Słyszałem podobne historie od przyjaciela, który jest indyjskiego pochodzenia i ma ciemną skórę.
Chociaż wydaje się, że to najnowsze zastrzelenie, choć tragiczne, nie było przypadkiem świadomego złego zamiaru – ani nawet niedbalstwa – ze strony policjanta, było kroplą, która przelała czarę dla wielu młodych Izraelczyków etiopskiego pochodzenia, z których większość tutaj się urodziła. Nie rozumieją, dlaczego mieliby akceptować poniżenia ze strony policji i innych. Służą w armii (gdzie czasami twierdzą, że są dyskryminowani) i żąda się od nich, by umierali za swój kraj. Niektórzy umierają.
Etiopskich Żydów nie przywleczono tutaj w kajdanach; zostali uratowani przed prześladowaniami. Nie było niewolnictwa, Jima Crow ani linczów. Wiele napisano o błędach, jakie popełniono, kiedy próbowano zintegrować ludzi, którzy przybyli z świata zacofanej gospodarki z naszym nowoczesnym, wysoce technicznym społeczeństwem. Ci jednak, którzy gniewnie demonstrują dzisiaj, urodzili się tutaj, mówią doskonałym hebrajskim i doskonale znają nowoczesną technologię. Są produktem naszego systemu edukacyjnego (w którym także, jak twierdzą, doznawali dyskryminacji).
Mają rację w jednej sprawie: to jest ich kraj w nie mniejszym stopni niż kraj potomków europejskich syjonistów, którzy przybyli tutaj w latach 1880, lub Sefardyjczyków, którzy witali ich, kiedy schodzili ze statków, lub Wschodnioeuropejczyków, którzy uciekli przed nazistami, lub Północnoafrykanów, Egipcjan i Irakijczyków, których wygnano z ich społeczności, w których żyli czasami przez stulecia, lub Jemeńczyków, których także uratowano z bardzo prymitywnej kultury, lub Rosjan, którzy uciekli ze Związku Radzieckiego. W nie mniejszym.
To jest trudny problem, szczególnie dla policji, która codziennie musi podejmować decyzje z wynikiem takim jak ten, który zakończył życie Salomona Tekaha, i karierę policjanta, który przecież chciał tylko powstrzymać grabież i napad na dziecko.
W wielu dziedzinach jest postęp. Procent etiopskich Izraelczyków kończących liceum i studiujących na uniwersytecie, chociaż nadal niższy niż w innych grupach, rośnie, podobnie jak rośnie również przeciętny dochód rodziny. Liczba aresztów maleje, szczególnie za "wykroczenia kontaktu", gdzie policjant inicjuje kontakt przez proszenie kogoś o ich dowód tożsamości itp. Być może integracja zabiera więcej czasu niż potrzebowały inne grupy i nie jest wystarczająco szybka dla tych, którzy jej doświadczają, ale jest.
Pewne rzeczy są jednak jasne: złe traktowanie ludzi z powodu ich rasy musi skończyć się w każdym kontekście. Moja żona mówi, że na drzwiach każdego szpitala powinien być napis: "Ludzie rozmaitych kolorów, religii i pochodzenia pracują tutaj. Jeśli dla ciebie jest to problem, postaraj się o opiekę zdrowotną gdzie indziej".
Nie sądzę, byśmy potrzebowali dyskusji w amerykańskim stylu o tym, jak nasze społeczeństwo jest kulturowo rasistowskie, co słychać w postępowych mediach. Nie potrzebujemy Amerykanów, by mówili nam, że nasz problem jest taki sam jak ich, bo nie jest. Z pewnością nie potrzebujemy lewicowych NGO mówiących etiopskim Izraelczykom, że to nie jest ich kraj i że powinni dołączyć do naszych wrogów, by ten kraj zniszczyć. Nie potrzebujemy pogłębiania podziałów w naszym społeczeństwie.
Potrzebujemy poważnego potraktowania skarg etiopsko-izraelskiej społeczności. Równocześnie powinni przestać nazywać to, co stało się w zeszłym tygodniu, "morderstwem". Muszą zrozumieć, że policja ma zadanie do wykonania, bardzo istotne zadanie zachowania bezpiecznego społeczeństwa. Trzeba zastąpić gniew po obu stronach racjonalnym rozwiązywaniem problemów.
I musimy doprowadzić do tego, że każdy przyswoi sobie ten prosty fakt: Izrael jest państwem narodowym narodu żydowskiego. Wszystkich.
---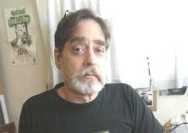 Vic Rosenthal
Studiował informatykę i filozofię na University of Pittsburgh. Zajmował się rozwijaniem programów komputerowych. Obecnie jest na emeryturze, mieszka w Izraelu. Publikuje w izraelskiej prasie. Jego artykuły często zamieszcza Elder of Ziyon.
---
---