Krzysztof Spór
---

Zwiastun filmu "Malowany ptak". Słynna książka Kosińskiego w kinach!

Wiele obiecuję sobie po filmowej wersji książki Jerzego Kosińskiego zatytułowanej "Malowany ptak". Część zdjęć do filmu powstała podobno w Polsce. Premiera filmu w Czechach odbyć ma się we wrześniu, są też plany pokazania filmu w naszym kraju. Książka Kosińskiego to znacząca pozycja światowej literatury, obsada filmowego "Malowanego ptaka" jest imponująca. Pierwszy zwiastun wygląda bardzo obiecująco.
Prace nad filmem trwają już od kilku lat. Gdy pisałem o planowanym filmie w marcu 2017 roku była to koprodukcja Czech, Słowacji, Polski i Ukrainy (dziś zwiastun na to nie wskazuje). Imponująca jest obsada kinowej wersji "Malowanego ptaka". Jak widać na zwiastunie na ekranie pojawią się: Udo Kier, Harvey Keitel i Stellan Skarsgård, ale są też Julian Sands i Barry Pepper. Główną rolę zagra młodziutki, dziewięcioletni Petr Kotlár. Naszą kinematografię reprezentuje Lech Dyblik, z Ukrainy pojawią się Nina Šunevič i Ala Sakalova, z Rosji zagra Aleksei Kravchenko a z Czech Petr Vaněk i Jitka Čvančarová.
"Malowany ptak" wydany został w 1965 roku i opowiada historię małego żydowskiego chłopca błąkającego się po bezdrożach i prowincji naszego kraju podczas II wojny światowej. Obrazy, których jest świadkiem są wstrząsające i porażające swoją brutalnością i bezwzględnością. Kosiński w swojej głośnej i kontrowersyjnej powieści nie boi się ukazać mieszkańców wsi, jako ludzi okrutnych, których przepełnia skrajna przemoc o podłożu seksualnym. Czytelnik jest więc świadkiem gwałtów oraz porażających aktów seksualnych. Chłopiec wędruje od jednej do drugiej wsi próbując przetrwać w okrutnym świecie, jest prześladowany i torturowany, a opieką obdarzany jest bardzo rzadko. Jerzy Kosiński utrzymywał, że historia opisana w książce przytrafiła mu się naprawdę, ale według późniejszych dochodzeń okazało się, że to czysta fikcja. Zarzucano też pisarzowi, że nie jest autorem książki, że napisał ją inny, anonimowy autor.
polecił: Leon Rozenbaum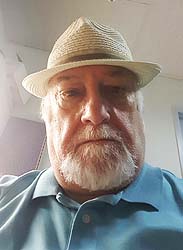 Producentem i reżyserem filmu jest czeski autor Václav Marhoul, dla którego będzie to trzeci reżyserski projekt w karierze. Ten twórca zasłynął z nakręconych wcześniej filmów "Smart Philip" (2003) i Tobruk (2008). "Malowany ptak" zapowiada się na projekt bardzo interesujący, ale też bardzo trudny do sfilmowania i do opowiedzenia. Václav Marhoul uzyskał zgodę na ekranizację książki w 2010 roku i przez trzy lata zajmował się pisaniem scenariusza na jej podstawie. Powstało w sumie 17 wersji tekstu, które pisane były we współpracy z ośmioma dramatopisarzami. Projekt otrzymał w 2013 roku w Cannes specjalne wyróżnienie w konkursie ScriptTeast.
Premiera filmu w Czechach odbyć ma się we wrześniu 2019 roku. Czy jest szansa, aby "Malowany ptak" pojawił się na festiwalu w Wenecji? W mediach społecznościowych przeczytać można, że planowane są też pokazy w Polsce. (podziękowania dla Rafała Pawłowskiego za podesłanie wieści)
---
Krzysztof Spór – dziennikarz zajmujący się szeroko pojętą tematyką filmową i medialną, promotor i animator kultury filmowej. Współtwórca portalu Stopklatka.pl, laureat Nagrody im. Jana Machulskiego za całokształt działań na rzecz polskiego kina niezależnego. W 2017 roku, za prowadzony przez siebie blog "Spór w kinie" (sporwkinie.blogspot.com), otrzymał Nagrodę Polskiego Instytutu Sztuki Filmowej w kategorii Publicystyka Filmowa w Internecie. Jest Dyrektorem Artystycznym Festiwalu Filmu Muzyki Malarstwa "Lato z Muzami" w Nowogardzie i Dyrektorem Programowym Forum Kina Europejskiego Cinergia w Łodzi. W szczecińskim Klubie Delta kieruje Ośrodkiem Kultury Filmowej oraz wspiera organizatorów Dąbskich Wieczorów Filmowych i Ińskiego Lata Filmowego. W miesięczniku "Kino" prowadzi działy "Imprezy", "Varia" i "Premiery", w "Magazynie Filmowym SFP" ma stały dział poświęcony rynkowi kinowemu w Polsce, a w Radiu Szczecin od kilku lat prowadzi cykliczną audycję o tematyce filmowej.
---
---