Khaled Abu Toameh
Tłumaczenie: Małgorzata Koraszewska
---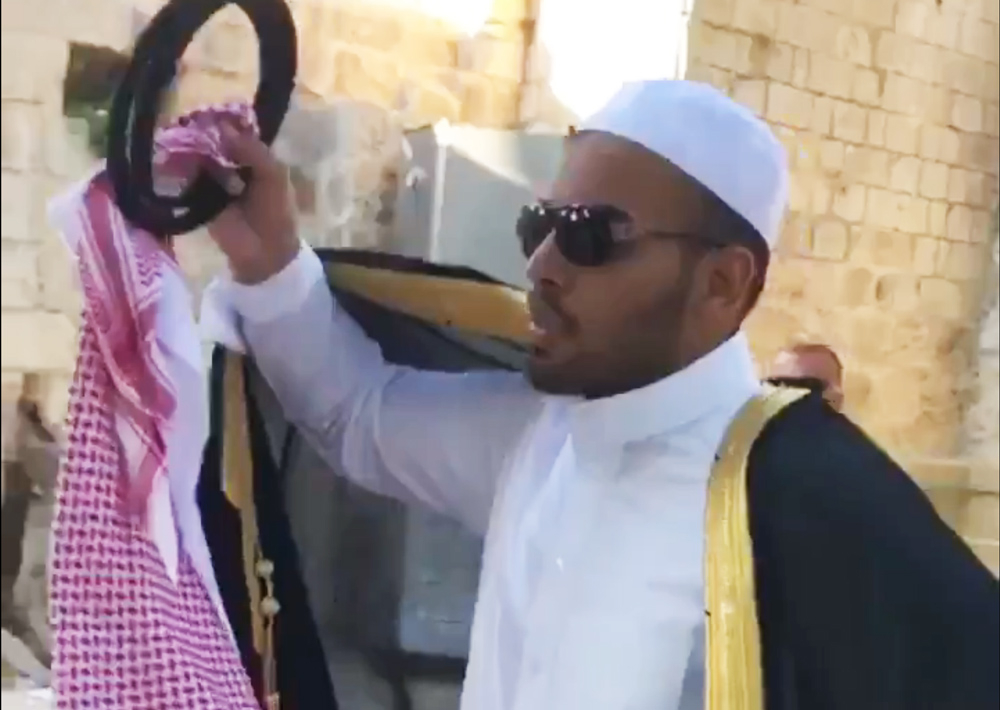 Moment, w którym Palestyńczycy zauważyli saudyjskiego blogera, Mohameda Sauda, w pobliżu meczetu Al-Aksa w Jerozolimie, pokazali mu, jak traktują swoich arabskich braci, obrzucając go obelgami i opluwając go. Co zrobił saudyjski gość, by zasłużyć na poniżenie i fizyczną napaść? Na zdjęciu: Mohamed Saud zasłania się przed Palestyńczykami plującymi na niego w Jerozolimie 22 lipca. (Zrzut z ekranu z wideo na Twitterze)
Kiedy saudyjski bloger, Mohamed Saud, przybył na teren meczetu Al-Aksa 22 lipca, sądził, że spokojnie pomodli się tam przed kontynuowaniem wycieczki po Starym Mieście Jerozolimy.
Ponadto, Saud widocznie wierzył, że jako Arab i muzułmanin zostanie ciepło przyjęty przez jego palestyńskich braci.
Mylił się.
W momencie, w którym Palestyńczycy zauważyli saudyjskiego blogera w jednym z najświętszych miejsc islamu, pokazali mu, jak traktują swoich arabskich braci.
W mediach społecznościowych pojawiły się filmy wideo, które pokazują sporą grupę Palestyńczyków obrzucających Sauda obelgami i plujących na niego. Jeden z Palestyńczyków rzucił później w niego krzesłem plastikowym, kiedy opuszczał już teren.
Co zrobił saudyjski gość, by zasłużyć na to poniżenie i fizyczny atak? Jakie przestępstwo popełnił, by go nazwano "śmieciem", "zwierzęciem", "zdrajcą" i "syjonistą"?
Przestępstwem nieszczęsnego Saudyjczyka – w oczach Palestyńczyków – było to, że był częścią delegacji arabskich dziennikarzy zaproszonych do odwiedzenia Izraela. Palestyńczycy potępiają takie wizyty jako działania, które prowadzą do propagowania normalizacji stosunków między Arabami i Izraelem. Palestyńczycy stanowczo sprzeciwiają się jakiejkolwiek normalizacji stosunków z Izraelem i uważają to za równoznaczne ze zdradą. Obawiają się, że jeśli zapanują normalne stosunki Arabów z Izraelem, przestaną dbać o Palestyńczyków. Palestyńskie stanowisko głosi, że nie może być żadnej normalizacji stosunków między Izraelem a Arabami zanim zostanie rozwiązany konflikt izraelsko-palestyński.
To poniżające potraktowanie nie było jakimś izolowanym incydentem. W chwili, kiedy palestyńskie media i organizacje dowiedziały się o przybyciu dziennikarzy do Izraela, rzuciły się do wydawania oświadczeń potępiających delegację i wzywających Arabów i muzułmanów do wpisania przyjeżdżających na czarną listę.
Zrzeszenie Dziennikarzy Palestyńskich (PJS), organ zdominowany przez ludzi lojalnych wobec rządzącego Fatahu prezydenta Mahmouda Abbasa, pierwsze wystąpiło przeciwko arabskim dziennikarzom i oskarżyło ich o promowanie normalizacji stosunków z Izraelem.
PJS i inne palestyńskie organizacje medialne wezwały Federację Dziennikarzy Arabskich do pociągnięcia tych dziennikarzy do odpowiedzialności i do wpisania ich na "czarną listę". Oznaczałoby to, że dziennikarze, którzy odwiedzają Izrael, zostaliby wydaleni ze związku lub organizacji, do których należą. Znaczy to także, że odwiedzający Izrael dziennikarze byliby bojkotowani przez innych arabskich dziennikarzy i organizacje medialne i nie przyjmowałoby się ich do pracy.
Główną przyczyną tego, że saudyjskiego blogera napadnięto i poniżano podczas jego wizyty w meczecie Al-Aksa, było podżeganie. Wyszło ono głównie ze strony PJS, grupy związanej z Fatahem, który na Zachodzie, a nawet w Izraelu często określa się jako "umiarkowany" i "pragmatyczny".
Niedawno to samo związane z Fatahem PJS przestrzegało palestyńskich dziennikarzy przed przyjęciem zaproszenia od wysłannika prezydenta USA, Jasona Greenblatta, do odwiedzenia Białego Domu.
W czerwcu PJS potępiło Bahrajn za zaproszenie izraelskich dziennikarzy na prowadzone przez USA ekonomiczne warsztaty pod hasłem "Prosperity to Peace".
Rami Alszrafi, jeden z szefów PJS w Strefie Gazy, groził, że jego grupa będzie publicznie zawstydzać każdego dziennikarza, który zajmuje się działaniem wyglądającym jak normalizacja stosunków z Izraelem. "Opublikujemy listę tych wszystkich arabskich dziennikarzy, którzy podejmują jakiekolwiek kroki ku normalizacji z okupacyjnym państwem Izraelem – powiedział. – Opublikujemy czarną listę wszystkich tych arabskich organizacji dziennikarskich i dziennikarzy, którzy goszczą izraelskich dziennikarzy".
Kilka lat temu PJS rozpoczęło także bojkot izraelskich dziennikarzy i groziło bojkotem każdemu palestyńskiemu funkcjonariuszowi, który udziela wywiadu izraelskim mediom. W wywiadzie przewodniczący PJS, Nasser Abu Bakr, były dziennikarz z Agence France-Presse (AFP), wyjaśnił, że tę decyzję podjęto, kiedy on wraz z przyjaciółmi "doszli do wniosku, że żaden wywiad [palestyńskich] funkcjonariuszy [udzielony izraelskim mediom] nie służy sprawie palestyńskiej".
To dziwne, ale podczas gdy stowarzyszenie lojalne wobec Abbasa raz za razem wzywa do bojkotu izraelskich dziennikarzy, on sam nadal spotyka się od czasu do czasu z przedstawicielami izraelskich mediów. Nie trzeba mówić, że PJS i jego członkowie nigdy nie potępili Abbas za złamanie ich zakazu. Wiedzą, że w dniu, w którym wypowiedzą jedno słowo przeciwko prezydentowi Autonomii Palestyńskiej, albo stracą pieniądze od rządu palestyńskiego, albo zostaną wtrąceni do więzienia – albo jeszcze gorzej.
Najpierw palestyńscy dziennikarze podżegali ludzi przeciwko ich izraelskim kolegom i wzywali do bojkotowania ich. Potem podżegali ludzi przeciwko palestyńskim dziennikarzom, którzy ośmielili się spotkać z Izraelczykami. Obecnie przyszła kolej na nie-palestyńskich, arabskich dziennikarzy.
Zamiast powitać arabskich dziennikarzy w Jerozolimie i zaprosić ich do Ramallah, de facto stolicy palestyńskiego kierownictwa, Palestyńczycy wybrali obelgi i fizyczną napaść na saudyjskiego gościa. Jak gdyby tego nie było dość, żądają także, by Arabowie i muzułmanie ukarali blogera i jego kolegów za rzekome promowanie normalizacji stosunków z Izraelem.
Napaść na saudyjskiego blogera nie wróży dobrze przyszłym stosunkom palestyńskim z Arabią Saudyjską i innymi krajami arabskimi.
Kilku Saudyjczyków wyraziło odrazę wobec napaści na Sauda w mediach społecznościowych. "Nie umiem zrozumieć wakaha (czelności) Palestyńczyków, którzy wyrazili radość z powodu tej napaści" – napisał saudyjski obywatel Ibrahim Al-Sulieman.
Inny Saudyjczyk, Abdullah, komentował: "Chociaż [Saud] reprezentuje tyko siebie, Palestyńczycy ujawnili nienawiść wobec niego tylko dlatego, że jest z Arabii Saudyjskiej".
Podczas gdy izraelski rząd szybko potępił "brutalny" atak na saudyjskiego blogera, palestyńscy przywódcy nie potępili tego incydentu, a ten brak reakcji prawdopodobnie pogłębi napięcia między Palestyńczykami a Arabią Saudyjską.
Istnieje dodatkowy powód, dla którego Palestyńczycy nie chcą widzieć Saudyjczyków w meczecie Al-Aksa: Palestyńczycy prawdopodobnie obawiają się, że Arabia Saudyjska dąży do zdobycia roli "kustosza miejsc świętych" w Jerozolimie, jaką obecnie pełni Jordania. Powszechnie sądzi się, że zarówno Jordania, jak Palestyńczycy są stanowczo przeciwni przyznawaniu Saudyjczykom jakiejkolwiek roli w administrowaniu miejscami świętymi tego miasta. Monopol nad meczetem daje im, jak wierzą, prestiż i respekt w krajach arabskich i islamskich.
Napaść na saudyjskiego blogera jest kolejną oznaką narastających napięć między Palestyńczykami a niektórymi krajami arabskimi, włącznie z Arabią Saudyjską. Według kilku relacji Saudyjczycy rozpoczęli rozprawę z Palestyńczykami, którzy żyją w ich królestwie, aresztując i nękając dziesiątki spośród nich.
Informacje o zbliżeniu miedzy kilkoma państwami arabskimi a Izraelem niepokoją Palestyńczyków; mówią, że sądzą, że ich arabscy bracia odwracają się do nich plecami. To poczucie porzucenia wzmocniła odmowa Arabii Saudyjskiej i kilku innych państw arabskich podporządkowania się palestyńskiemu wezwaniu do bojkotu ekonomicznych warsztatów w Bahrajnie.
Niedawny sondaż opinii publicznej pokazał, że 80% Palestyńczyków uważa uczestnictwo krajów arabskich w tych warsztatach za porzucenie sprawy palestyńskiej.
W pewien sposób Palestyńczycy mają rację: ich arabscy bracia istotnie zaczynają odwracać się do nich plecami. Palestyńczycy mogliby zadać sobie ważne pytanie: dlaczego tak się dzieje? Oto skromna podpowiedź: plucie w twarz saudyjskiego blogera i przeklinanie go jako "zwierzęcia" i "syjonistę" nie jest zachowaniem sprzyjającym wyciąganiu gotówki od jego państwa – ani żadnego innego szanującego się państwa – które odmawia pozwolenia wymierzanie mu policzków, kiedy dostarcza finansowe wsparcie.
---
---