Gerald Steinberg
Tłumaczenie: Małgorzata Koraszewska
---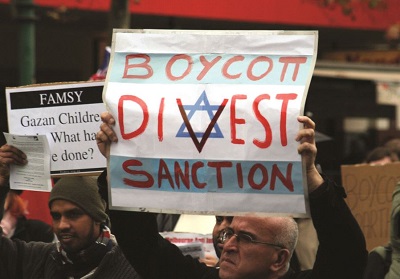 BDS. (zdjęcie: WIKIPEDIA)
Skalę i głębię wysiłków w celu usunięcia Izraela z mapy świata w dramatyczny sposób naświetlił godzinny program dokumentalny BBC o żarliwej nienawiści do Izraela w Labour Party oraz jej przywódcy, Corbyna.
Nadają temu różne nazwy – demonizacja, BDS (skrót od bojkot, dywestycja, sankcje), antysyjonizm lub zespół obłędu na punkcie Izraela. Istotę tego zjawiska najlepiej jednak podsumowuje nazwa "eliminacjonizm". Bowiem eliminacja Izraela jest rzeczywistym celem wszystkich tych kampanii.
Skalę i głębię wysiłków w celu usunięcia Izraela z mapy świata w dramatyczny sposób naświetlił godzinny program dokumentalny BBC o żarliwej nienawiści do Izraela w Labour Party oraz osobiście jej przywódcy, Jeremy'go Corbyna. Ich problem nie dotyczy konkretnych posunięć Izraela ani konkretnych polityków, ale istnienia państwa z żydowską większością – w jakiejkolwiek postaci. Chcą anulowania głosu ONZ z 1947 roku o podziale i wyniku wojny 1948 roku, jak również palestyńskiego "powrotu", oznaczającego osiedlenie się w Izraelu milionów potomków uchodźców z 1948 roku, w trzy pokolenia i 71 lat później. Te kroki, opakowane w język sprawiedliwości i praw człowieka, zapewnią, że Izrael, narodowe państwo narodu żydowskiego, przestanie istnieć.
Eliminacjonizm leży także u podstaw odrzucenia przez rząd Izraela prośby o odnowienie pozwolenia na pracę pracownika Human Rights Watch (HRW), Omara Shakira. Sprawę odwoławczą Shakira ma wysłuchać izraelski Sąd Najwyższy 25 lipca. [Sąd odłożył wysłuchanie do listopada 2019. Przyp. tłum.] Podobnie jak w sądach niższego szczebla, które orzekły przeciwko Shakirowi i HRW, argumenty skupią się na tym, czy rząd miał powody do ustalenia, że jego "praca" przy propagowaniu BDS jest podstawą odmowy przedłużenia pozwolenia.
Choć Shakir, jego adwokat i ich zwolennicy próbują zmienić dyskusję w filozoficzną debatę o wolności słowa i prawie do krytykowania izraelskiej polityki, sprawa jest dużo bardziej konkretna.
Shakir ma tytuł dyrektora ds. "Izraela i Palestyny" w HRW, potężnej NGO, która od dwudziestu lat należy do liderów antyizraelskiej demonizacji. Właściwszy byłby tytuł dyrektora kampanii BDS, odzwierciedlający jego długą historię działania na rzecz eliminacji Izraela oraz jego posty w mediach społecznościowych, zamieszczane także po rozpoczęciu pracy dla HRW. Podobnie jak inni w HRW, przed zatrudnieniem tam Shakir zajmował się BDS i przez ostatnie trzy lata starał się o doprowadzenie do wyrzucenia Izraela z FIFA – światowej federacji futbolowej, promował bojkot izraelskich banków i innych biznesów i wywierał naciski na firmy takie jak Airbnb, by obrały Izrael za obiekt sankcji. Chociaż Shakirowi i HRW ostatecznie nic się z tego nie udało, zdołali się przyczynić do demonizowania Izraela.
W tych wojnach propagandowych Shakir i HRW, kierowane przez dyrektora wykonawczego, Kennetha Rotha, używają określeń takich jak apartheid, w celu napiętnowania Izraela jako nielegalnego państwa. Od kiedy antyizraelska kampania delegitymizacji nasiliła się po konferencji w Durbanie w 2001 roku, gdzie HRW odgrywała dużą rolę, ta organizacja wydała powódź komunikatów prasowych, raportów i postów w mediach społecznościowych, pełnych fałszywych oskarżeń o zbrodnie wojenne, potworności, łamanie praw człowieka i naruszenia międzynarodowego prawa – a wszystko to jest częścią słownictwa eliminacjonizmu z Durbanu.
Tym, co czyni tę działalność pod fasadą praw człowieka jawnym antysemityzmem, jest unikatowa natura BDS i kampanii demonizacji, w których Shakir, Roth i HRW, wśród wielu innych, koncentrują się wyłącznie na państwie żydowskim. Uzgodniona definicja antysemityzmu, sformułowana przez International Holocaust Remebrance Alliance (IHRA), obejmuje działania, które wybierają wyłącznie Izrael jako obiekt ataku. Definicję IHRA przyjęło do dziś 17 krajów i rezolucja parlamentu niemieckiego, oznajmiająca, że BDS jest antysemicki, powoływała się na ten dokument.
BDS i szerzona przez niego delegitymizacja są ściśle związane z fizycznymi napaściami na Żydów i żydowskie instytucje. Dane opublikowane przez brytyjski Community Security Trust (CST) pokazują, że kiedy nasilają się doniesienia o starciach w Gazie, często z cytowanymi oskarżeniami ze strony HRW i innych NGO, liczba antysemickich incydentów także zwiększa się. HRW i inni członkowie sieci NGO ignorują antysemickie konsekwencje ich kampanii.
Dla promowania tej demonizującej kampanii Shakir i inni prowadzący działania BDS muszą wciskać oszczerczą mitologię, że syjonizm, jako jedyny ruch narodowy, jest rasizmem; że Izrael jest unikatowo nikczemnym państwem-pariasem (rasistowskim, ludobójczym apartheidem) – gorszym niż Iran, Syria, Korea Północna, Wenezuela, Chiny; i że Izrael idealnie pasuje do opisu "kolonialnego państwa osadniczego", które zasługuje na eliminację. Sojusznicy HRW i BDS nie zainwestowali zasobów w kampanie bojkotu Rosji za okupację na Ukrainie; ani Chin w sprawie Tybetu i dławienia praw człowieka w Hong Kongu; ani Turcji z powodu okupacji północnego Cypru, żeby podać tylko kilka przykładów.
Z tych powodów w 2009 roku Robert Bernstein, który w latach 1970. założył HRW, potępił przywódców własnej organizacji w artykule w "New York Times". Działania i stronniczość HRW, napisał, odegrały wiodąca rolę w zamianie Izraela w państwo-pariasa. Następnie poddał szczegółowej krytyce stronniczość, fałszywe oskarżenia i demonizację. Ale Roth i kierownictwo oddziału Bliskiego Wschodu HRW, po uszy w antyizraelskich kampaniach, tylko rozszerzyli swoje działania i zatrudnili aktywistę BDS, Shakira.
Wszystko to jest istotne dla kontekstu sprawy, jaką ma wysłuchać izraelski Sąd Najwyższy i wychodzi daleko poza kwestie prawne dotyczące tego, czy odmowa odnowienia pozwolenia na pracę Shakira przez rząd była legalna. Antysemityzm i eliminacjonizm są moralnymi i politycznymi pojęciami, i takimi pozostaną, nawet jeśli technicznie Shakir ma prawo dalszego przebywania w Izraelu.
Niezależnie od decyzji Sadu Najwyższego, Shakir został zdemaskowany jako ważny aktywista w kampanii eliminacji Izraela. A poza areną prawną HRW i Shakir, tak samo jak Corbyn i jemu podobni, wyraźnie łamią podstawowe normy moralne.
---

Gerald Steinberg – Urodzony w Wielkiej Brytanii, studiował fizykę i równolegle historię Bliskiego Wschodu, ma doktoraty z fizyki i z teorii zarządzania, jest profesorem nauk politycznych na Bar Ilan University. Założyciel NGO Monitor, instytutu śledzącego działalność międzynarodowych NGO na Bliskim Wschodzie.
---
---