Marcin Antosiewicz
---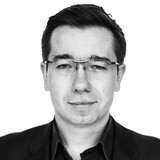 Marcin Antosiewicz
Niemcy stały się krajem imigranckim. Co czwarty obywatel RFN ma imigranckie korzenie. To ma ogromny wpływ na pamięć o II wojnie światowej. Co piąty młody Niemiec nie wie, z czym połączyć hasło "Auschwitz". To ogromne wyzwanie dla Berlina. Ale także dla Warszawy. Problem w tym, że PiS kompletnie nie rozumie współczesnych Niemiec, bo jest zaślepiony bieżącymi wojenkami.
"Biodeutsche" – ciągle teraz w rozmowie z niemieckimi znajomymi słyszę to pojęcie. W dosłownym tłumaczeniu oznacza: "Bio-Niemcy", w wolnym: "rdzenni Niemcy". Przy dynamicznie zmieniającej się strukturze niemieckiego społeczeństwa, to musiało się tak skończyć. Język znalazł sposób na rozróżnienie Niemców z dziada pradziada od Niemców, których dziadowie i pradziadowie nawet w Niemczech nie byli.
W 2018 roku, według Federalnego Urzędu Statystycznego, co czwarty Niemiec miał imigranckie korzenie (20,8 mln). To wzrost o 2,5 proc. w stosunku do poprzedniego roku. Wśród nich 2,77 mln urodziło się w Turcji, 2,25 mln w Polsce, 1,37 mln w Rosji (to trzy największe grupy).
Zatem jedna czwarta Niemców nie ma rodzinnego i emocjonalnego związku z wydarzeniami sprzed ośmiu dekad. Albo ma zupełnie inny niż tradycyjnie niemiecki. To przypadek Niemców z polskimi i rosyjskimi korzeniami. Jednak większość "nowych Niemców" nie czuje związku z Adolfem Hitlerem i atakiem na Polskę, a czasem nawet nic o tym nie wie.
Nowe Niemcy
21 proc. Niemców między 18 a 29 rokiem życia nic nie mówi hasło "Auschwitz". Można z tego wnosić, że co piąty młody Niemiec w ogóle niewiele wie o II wojnie światowej i okrucieństwach, jakie Niemcy wyrządzili milionom ludzi. To wyniki sondażu, jakie kilka lat temu przeprowadzono dla tygodnika "Stern". 31 proc. wszystkich Niemców nie było w stanie wskazać, gdzie znajduje się Auschwitz. 69 proc. odpowiedziało, że w Polsce.
<p">Co ciekawe, mimo ignorancji wśród młodych, zmniejsza się liczba Niemców postulujących "grubą kreskę" w historii. W 1994 roku 53 proc. Niemców nie chciało wracać już do przeszłości. Po dwudziestu latach ich liczba zmniejszyła się do 40 proc., bo obecnie większość – 56 proc. jest przeciwna wypieraniu masowych zbrodni ze zbiorowej pamięci.
Zdecydowana większość niemieckich elit zdaje sobie sprawę z odpowiedzialności za II wojnę światową i odpowiedzialności za przechowywanie pamięci o niej. Piątkowy dziennik "Die Welt" zamieścił na okładce artykuł polskiego premiera o II wojnie światowej. Cztery lata temu "Berliner Zeitung" zamieścił na pierwszej stronie zdjęcie obozu koncentracyjnego w Auschwitz z tytułem: "Das ist Deutschland" (To są Niemcy).
Okładka sprzed 2 lat @bzberlin "To są Niemcy". Przypominam, bo niektóre "media" donoszą, że "Niemcy zakłamują historię".
Magazyn "Der Spiegel" tydzień temu opublikował artykuł z tytułem, który jeszcze parę lat temu uznalibyśmy za histeryczny: "Czy wojna w Europie jest znowu możliwa?". Dziś największy tygodnik w Europie poważnie analizuje taki scenariusz. "Szok drugiej wojny światowej na długo utrzymał pokój w Europie. Jednak wspomnienie horroru słabnie, a zagrożenie nowymi konfliktami rośnie", pisze niemiecka gazeta. "Idea nacjonalizmu, która zdaniem wielu doprowadziła do wojny, wraca do łask", dodaje magazyn.
Nowy nacjonalizm
Tę ideę widać także w ojczyźnie Hitlera. Nacjonalistyczna Alternatywa dla Niemiec (AfD) wyrosła na jedną z najważniejszych sił politycznych. W sondażach bije się o trzecie miejsce z lewicową SPD, partią Willego Brandta. Niedawno przewodniczący AfD, Alexander Gauland stwierdził, że Niemcy mają prawo być dumni z osiągnięć Wehrmachtu. – Kiedy Francuzi są dumni ze swojego cesarza, a Brytyjczycy z Nelsona i Churchilla, to my mamy prawo być dumni z dokonań niemieckich żołnierzy w dwóch wojnach światowych – tak brzmi jego dokładna wypowiedź. Gauland mówił o tym w kontekście "odzyskiwania niemieckiej tożsamości".
Partia, która tak widzi zbrodnie Wehrmachtu na pewno nie może być sojusznikiem Polski. Problem jednak w tym, że dla rządzących dzisiaj w Warszawie jest cichym sprzymierzeńcem. Bo AfD rośnie na krytyce polityki migracyjnej Angeli Merkel i jej przywiązaniu do liberalnej demokracji, której filarem jest trójpodział władzy, na czele z niezależnym sądownictwem. PiS cieszy się, że otwartość i liberalizm Merkel jest politycznie karana.
Jeszcze kiedy byłem korespondentem TVP w Niemczech, już "nowe" Wiadomości wysłały mnie w lutym 2016 roku do Drezna na marsz PEGIDY (Patriotyczni Europejczycy przeciwko Islamizacji Europy). To organizacja, która jest społecznych zapleczem AfD. W mojej relacji pokazałem oprócz transparentów krytykujących Merkel, także te ostro atakujące USA i NATO za "imperialistyczną politykę" i mnóstwo rosyjskich flag. Bowiem lider PEGIDY Lutz Bachmann, jak powiedział mi w wywiadzie, bardzo ceni Władimira Putina. "Wiadomości" w telewizji Jacka Kurskiego puściły relację z Drezna, jednak wycięły z niej antyamerykańskie i prorosyjskie wątki, została tylko krytyka Merkel za uchodźców. To pokazuje, że "dobra zmiana" nie ma pojęcia o Niemczech, jest zaślepiona bieżącymi wojenkami.
Polska odpowiedzialność
Gdy Merkel, z nocy z 4 na 5 września 2015 roku, otworzyła granicę dla imigrantów, choć w rzeczywistości granica nigdy nie była zamknięta, to z Frankfurtu nad Menem, gdzie odbywał się mecz towarzyski Polska-Niemcy, szybko pojechałem do Monachium. W sobotę 5 września 2015 roku stałem na Dworcu Głównym i widziałem jak tysiące uchodźców przyjeżdżało pociągami z Austrii. Widziałem euforię witających ich Niemców. Jeden obrazek, w jakimś sensie kiczowaty, zapamiętam na zawsze.
Para niemieckich staruszków przepycha się przez tłum do barierek, by poczęstować nowo przyjezdnych upieczonymi przez nich ciastkami. Widzę z bliska tę sytuację i jak to zazwyczaj zdenerwowani telewizyjni reporterzy pokazuje swojemu operatorowi, żeby wszystko kręcił. Po czym dopadam do staruszków z mikrofonem i pytam, dlaczego tu są, co przynieśli, co myślą o uchodźcach. – Upiekliśmy im ciastka– mówi kobieta. – Wie pan, ja byłem w Wehrmachcie – zaczyna mężczyzna i wtedy już wiedziałem, że to będzie mocny wywiad. Ale jeszcze nie wiedziałem, że zapamiętam go do końca życia. – Jako niemiecki żołnierz musiałem robić te wszystkie okropne rzeczy innym ludziom – dodaje i bierze głęboki oddech. – Dlatego dzisiaj się cieszę, że inni z radością przychodzą do nas. A ja mogę im pokazać, że się z tego cieszę – skończył ze łzami w oczach.
Może reakcja na uchodźców wielu Niemców na jesieni 2015 roku była zbyt entuzjastyczna. Może byli zbyt naiwni. Może Merkel nie wiedziała do końca, co robi, nie przewidziała konsekwencji, a potem źle zarządzała całym kryzysem. Pytanie tylko do polskich polityków i wszystkich Polaków: jakich Niemców wolimy za sąsiadów? Tych odrzucających wielokulturowość z września 1939, których dzisiaj reprezentuje AfD i PEGIDA? Czy tych przyjmujących uchodźców z września 2015, których symbolem stała się Angela Merkel?
Polska nie jest światowym mocarstwem, jednak ma wpływ na zachodniego sąsiada. Głównie przez wojnę. Niemcy potrzebują odpuszczenia win, by czuć się pełnoprawnym członkiem międzynarodowej wspólnoty i liderem Europy. Pytanie tylko, jak rząd w Warszawie zamierza wykorzystywać ten wpływ na Berlin: czy potraktuje go jako emocjonalny szantaż, by zamknąć Niemcom usta, kiedy PiS "reformuje" wymiar sprawiedliwości, i będzie puszczał oko do "Bio Niemców", którzy nie chcą Arabów, czy Polacy wesprą tych Niemców, którzy za najważniejszą lekcję z wojny uważają umacnianie demokracji i praw jednostki, niezależnie od tego jaka krew płynie w ich żyłach.
Gdy zostałem korespondentem w Niemczech na spotkaniu katolickiej wspólnoty Sant'Egidio w Monachium przeprowadziłem wywiad z ówczesnym prymasem Polski, kardynałem Józefem Glempem. Po spotkaniu zapytałem kardynała, którego znałem z Warszawy, jak podchodzić do tych Niemców, jak o nich opowiadać Polakom. Prymas opowiedział mi wtedy swoją rozmowę z Janem Pawłem II przed jego pielgrzymką do zjednoczonego Berlina. Usłyszał wtedy od papieża, że "jako Polacy musimy trzyma Niemców za rękę, by pomóc im wyjść z koszmaru, który uczynili światu". 23 czerwca 1996 roku Jan Paweł II w czasie swojej pielgrzymki do Niemiec przeszedł przez Bramę Brandenburską u boku Helmuta Kohla, którego trzymał za rękę.
W kwietniu 2014 roku, dzień przed kanonizacją Jana Pawła II, niemiecki kanclerz wrócił do tamtych wydarzeń. Na łamach "Bilda" napisał: "Gdy wieczorem 23 czerwca 1996 roku przechodziliśmy przez Bramę Brandenburską w Berlinie, Jan Paweł II chwycił moją dłoń i powiedział: panie kanclerzu, to jest wielka chwila w moim życiu. Ja, papież z Polski, stoję z panem, niemieckim kanclerzem, przy Bramie Brandenburskiej, Brama jest otwarta, mur upadł, Berlin i Niemcy nie są już podzielone, a Polska jest wolna".
Po 1989 roku najczęstszym słowem w relacjach polsko-niemieckich było "pojednanie", które przecież zainicjowali polscy biskupi w 1965 roku, zaledwie 20 lat po wielkiej wojnie. 80 lat po wybuchu wojny dominującym słowem są "reparacje". Atmosferę w relacjach zmienił polski rząd, rząd PiSu. Pytanie więc, jaka będzie przyszłość: czy skupimy się na pojednaniu, czy na reparacjach wojennych. Pamiętajmy tylko, że "nowi Niemcy" nie będą mieli skrupułów w wyliczeniu ostatecznego rachunku, policzeniu ofiar i utraconych ziem. Oni mogą do tego podejść na chłodno, biznesowo, bo ich dziadek nie był w Wehrmachcie. Czy tak Polacy powinni rozmawiać z "nowymi Niemcami" o wojnie, używając kalkulatora i przelicznika za ofiary? Czy to zapewni nam bezpieczeństwo i da gwarancję, że już nigdy nie dojdzie do wojny?
---
---
</p">