Vic Rosenthal
Tłumaczenie: Małgorzata Koraszewska
---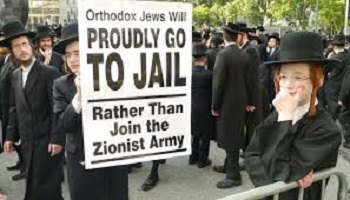 Studiowanie Tory jest dobre w połączeniu z pracą w zawodzie, ponieważ praca powoduje, że zapomina się o grzechu. Tylko Tora, która nie jest połączona z pracą, w końcu traci moc, prowadząc do grzechu. — Rabban Gamliel, syn rabina Jehudy Hanasiego (Babiloński Talmud, Avot 2:2)

Bez Herut i bez Maki – David Ben Gurion*
Lubię czytać żydowską historię, a szczególnie nowoczesną historię państwa Izrael. Dowiedziałem się bardzo wiele o niemal niepojętych poświęceniach, jakich dokonali niektórzy ludzie, żeby dotrzeć tutaj, żeby stworzyć rzeczywiste państwo żydowskie w naszej ojczyźnie po tysiącleciach często ciężkiego wygnania i żeby obronić je w wojnie trwającej praktycznie 71 lat. Może dłużej. Ziemia jest przesiąknięta naszą krwią, krwią narodu żydowskiego.
Świat jest pełen ludzi nienawidzących Żydów. Wydaje się, że zawsze tak było, od dni, kiedy wyszliśmy z Egiptu. Kiedy nas nie nienawidzili, tolerowali jako ludzi drugiej kategorii. Czasami nawet jako nie-ludzi.
W większości miejsc ludzie otrzymali to, o czym zawsze mówili, że tego chcą. Znaczna część świata jest dziś wolna od Żydów. Hitler i Stalin zlikwidowali Żydów w Europie, a świat muzułmański wyrzygał ich w reakcji na "obrazę" ponownego ustanowienia naszego państwa. Państwo żydowskie stało się centrum żydowskiego wszechświata na przestrzeni jednego życia ludzkiego. Warunki, które pozwalały narodowi żydowskiemu przeżyć jako naród, już nie istnieją. Jeśli państwo żydowskie nie będzie nadal istnieć, nie będzie też istniał naród żydowski.
Niestety, państwo Izrael znajduje się obecnie w poważnym niebezpieczeństwie. I to nie tylko ze strony irańskiego reżimu i palestyńskich Arabów (chociaż to także są poważne zagrożenia).
W artykule opublikowanym kilka tygodni temu demograf, Dan Ben-David pisze, że akademickie osiągnięcia izraelskich dzieci należą do najgorszych w rozwiniętym świecie. Bez dobrze wykształconej populacji nie będziemy w stanie zachować naszej gospodarki pierwszego świata ani zresztą, naszej armii pierwszego świata. Po części jest tak z powodu braku programów szkolnych obejmujących "świeckie" przedmioty, takie jak matematyka i angielski w szkołach charedim oraz astronomicznej stopy narodzin w rodzinach charedim "7,1 dzieci w odróżnieniu od 4,0 wśród religijnych [nie-charedim] Żydów, 3,4 wśród muzułmańskich Arabów izraelskich i 2,2 wśród świeckich Żydów".
Tutaj jest wykres pokazujący prawdopodobne wielkości tych grup w 2065 roku: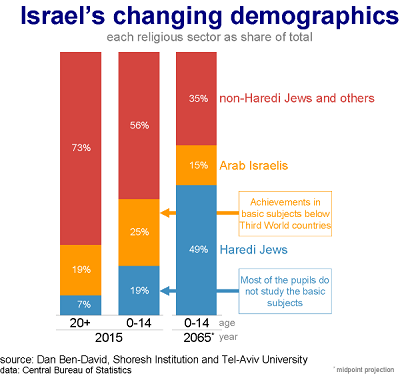 Uspokaja świadomość, że przepowiednia Meira Kahane, że Arabowie przytłoczą nas rozrodczością, nie spełni się, ale gwałtowny wzrost populacji charedim, która nie jest gotowa do dawania wkładu w gospodarkę opartą na nowoczesnej technologii i informatyce, jest nie do utrzymania. W 2014 tylko 13% chłopców charedim, którzy ukończyli 12 klasę szkoły, przystąpiło do egzaminów maturalnych wymaganych do przyjęcia na uniwersytet w porównaniu do 78% chłopców nie-charedim (dane dla dziewcząt są wyższe 32% vs. 87%). Chociaż wymagania przy przyjmowaniu na uniwersytety są nieco dla nich obniżone, wielu nie kończy studiów. W 2014 roku tylko 2,4% mężczyzn charedim i 8,3% kobiet charedim w wieku 25-35 miało dyplom uniwersytecki w porównaniu do, odpowiednio, 28% i 45% w populacji nie-charedim.
"High-tech" jest rozwiązaniem jedynie dla tych, którzy potrafią czytać dokumentację po angielsku i znają matematykę. Może Gemara ma, a może nie ma wartości duchowej, ale nie jest pomocna w, na przykład, projektowaniu mikroprocesorów.
Chociaż nie-charedim są rozgniewani odmową partii charedim na pozwolenie rozsądnemu odsetkowi ich młodzieży na odbywanie służby wojskowej (lub innej służby narodowej), gorszym problemem jest to, że nie nadają się ani do tego, ani do wielu innych rodzajów zatrudnienia – intelektualnie, fizycznie, lub charakterologicznie.
To jest problem stworzony politycznie. Prawa, które wymagałyby nauczania świeckich przedmiotów w każdej szkole, która otrzymuje finansowanie od państwa, albo są rozmyte, albo nie są egzekwowane. Rząd wspiera jesziwy, w których młodzi mężczyźni studiują Torę, a szczodre zasiłki społeczne umożliwiają nisko zatrudnionym rodzinom (utrzymywanym głównie przez kobiety, które na ogół pracują w edukacji lub opiece nad dziećmi za niską płacę) rozrastać się spokojnie, bez ekonomicznych ograniczeń.
Fakt, że niemal każdy rząd izraelski zawierał partie charedim i byli oni często języczkiem u wagi, powodował, że zrobiono niewiele, by zmienić sytuację.
Nie jestem anty religijny i nie jestem anty-charedim. Istnienie jednak tak dużej warstwy Żydów, których jedynym zadaniem jest studiowanie Tory, jest czymś nowym w historii. Może jest 100 lub nawet 1000 uczonych w Torze, tak ważnych, że powinni być utrzymywani przez państwo – ale dziesiątki lub setki tysięcy?
Jestem świadomy tego, że lewica używa tych faktów jako amunicji przeciwko prawicy, która ostatnio zaczęła zależeć od poparcia partii charedim dla tworzenia swoich koalicji. Niemniej, takie są fakty i musimy przyznać prawdę, że prawica (na którą głosuję), zachowywała się nieodpowiedzialnie ulegając wygórowanym żądaniom charedim.
Sądzę, że wojna z Iranem i/lub jego marionetkami jest nieunikniona, a analitycy zgadzają się, że będzie to jedna z najtrudniejszych dla Izraela wojen, zarówno dla IDF, jak dla tyłów, które będą narażone na masowe ataki z wykorzystaniem olbrzymiego arsenału rakietowego, jaki zgromadził Hamas, a szczególnie Hezbollah. W tym momencie napięcie jest szczególnie wysokie i wydaje się jasne, że potrzebujemy silnego rządu jedności narodowe, zdolnego zarówno do prowadzenia wojny, jak zjednoczenia populacji.
Niestety, Benny Gantz jest miernotą z marnymi dokonaniami i nie powinien być premierem, a jego sojusznicy są jeszcze gorsi. Nad Benjaminem Netanjahu wisi prawna chmura i prawdopodobnie zostanie postawiony w stan oskarżenia. Mimo swoich znakomitych kompetencji Netanjahu wydaje się być zdolny do funkcjonowania tylko jako swego rodzaju dyktator, taki, który wierzy, że jest zarówno wszechmocny i nieśmiertelny i nie musi delegować władzy ani pozwolić na wyłonienie się następcy.
Kiedy piszę to, antysyjonistyczne partie arabskie rozważają zarekomendowanie Gantza prezydentowi, by stworzył rząd. Nie rekomendowali syjonistycznej partii od 1992 roku, kiedy rekomendowali Partię Pracy Rabina. Jeśli zrobią to, znaczy to, że otrzymali w zamian jakieś znaczące obietnice. Jeśli Gantz miałby zawrzeć a nimi układ, byłoby to mniej niż zdrada stanu, ale nadal byłaby to zdrada.
Najlepszym praktycznym rozwiązaniem wydaje się być rząd jedności bez Arabów (ani zgody na ich żądania) i bez charedim, z Likudem pod przewodnictwem kogoś innego niż Netanjahu. I tak, musiałaby być rotacja na stanowisku premiera między Likudem a Niebieskimi i Białymi.
Czy coś takiego jest możliwe? Nie wiem. Z pewnością dzisiaj wygląda to na mało prawdopodobne.
Jedna rzecz jednak jest pewna: nie będzie kolejnych wyborów. Tylko politycy i agencje reklamowe lubią wybory, ale ludzie mają już tego dość. Potrzebujemy rządu i potrzebujemy go teraz – zanim będziemy w stanie wojny.
---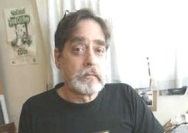 Vic Rosenthal – Urodzony w Stanach Zjednoczonych, studiował informatykę i filozofię na University of Pittsburgh. Zajmował się rozwijaniem programów komputerowych. Mieszka obecnie w Izraelu. Publikuje w izraelskiej prasie. Jego artykuły często zamieszcza Elder of Ziyon.
---
---