Khaled Abu Toameh
Tłumaczenie: Małgorzata Koraszewska
---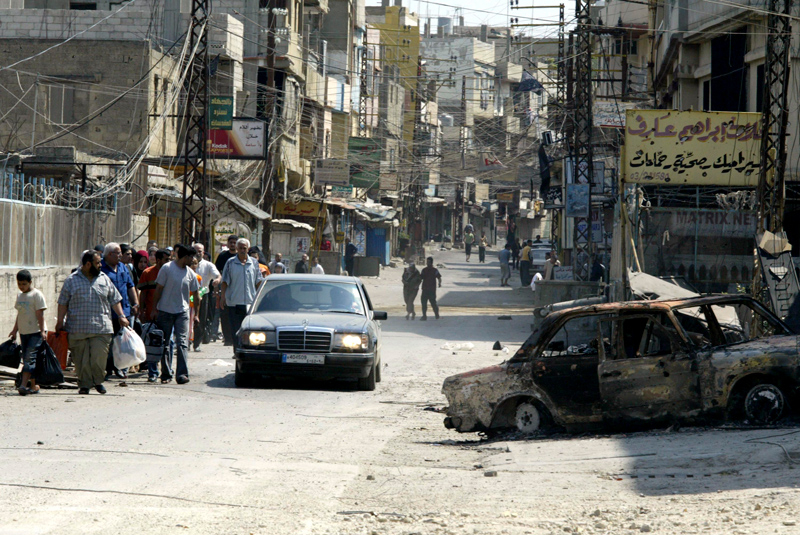 Wielu Libańczyków wyraziło niepokój wobec narastających protestów palestyńskich w ich kraju – szczególnie wobec tego, że demonstracje odbywają się obecnie poza palestyńskimi obozami dla uchodźców w Libanie. Na zdjęciu: obóz palestyńskich uchodźców Nahr al-Bared w Trypolisie w Libanie. (Zdjęcie: Salah Malkawi/Getty Images)
Libańczycy są rozgniewani. Dlaczego? Ponieważ Palestyńczycy protestują przeciwko rozprawie z nielegalnymi zagranicznymi pracownikami w Libanie, ujawniając tym libański rasizm i nienawiść do ich palestyńskich braci.
Przez ostatnie trzy tygodnie tysiące Palestyńczyków w Libanie demonstrowało przeciwko rozprawie władz libańskich z nielegalnymi pracownikami, co jest skierowane głównie przeciwko żyjącym tam Palestyńczykom i Syryjczykom.
"Palestyńczycy nie są cudzoziemcami w Libanie" – powiedział palestyński politolog Abdel Sattar Kassem.
"Palestyńczycy w Libanie są uchodźcami i powinni być traktowani zgodnie z międzynarodowymi prawami dotyczącymi uchodźców. Palestyńczycy są silnym filarem ekonomicznym Libanu. Początkowo dawali wkład w rozwój prymitywnej gospodarki Libanu; orali ziemię, sadzili i zbierali plony i rozwijali projekty, które utrzymywały Palestyńczyków i Libańczyków. Palestyńczycy dali także wkład w bezpieczeństwo Libanu i nadal są gotowi walczyć, by bronić Libanu i utrzymać jego bezpieczeństwo. To prawda, że pewne frakcje palestyńskie popełniły błędy związane z wojną domową w Libanie, ale później zrozumiały ten błąd i naprawiły go".
W tym tygodniu palestyńscy aktywiści w Libanie przysięgli, że będą kontynuować protesty przeciwko tej rozprawie po tym, jak rząd libański odrzucił żądania cofnięcia postanowień przeciwko nielegalnie zatrudnionym. Aktywiści powiedzieli, że mimo obietnic libańskich przedstawicieli rządowych zaprzestania ataków na palestyńskich pracowników i przedsiębiorstwa, rozprawa trwa nadal. Wskazali także na fakt, że libański rząd jak dotąd nie wydał oficjalnego oświadczenia w celu rozwiązania kryzysu.
Jako część kampanii przeciwko posunięciom libańskim przedstawiciele kilku palestyńskich frakcji w Libanie spotkali się z Hassanem Huballahem, funkcjonariuszem wspieranej przez Iran grupy terrorystycznej Hezbollah w Bejrucie i nakłaniali go, by pomógł zatrzymać rozprawę z palestyńskimi pracownikami i przedsiębiorstwami. Hezbollah, według doniesień w libańskich mediach, sprzeciwia się posunięciom rządu libańskiego przeciwko nielegalnym pracownikom.
Palestyńskie frakcje w Libanie uważają Iran i jego marionetkę, Hezbollah, za ważnych sojuszników w walce przeciwko Izraelowi i USA. Podczas spotkania z Hubollahem przedstawiciele palestyńskiej frakcji wielokrotnie chwalili "rolę [Hezbollahu] w przeciwstawianiu się amerykańsko-syjonistycznemu projektowi w regionie".
Sojusz miedzy Palestyńczykami i Hezbollahem, jak również trwające demonstracje przeciwko rozprawie z nielegalnymi pracownikami, rozgniewały część Libańczyków, którzy w ostatnich tygodniach zaczęli podżegać przeciwko Palestyńczykom, nasilając napięcia między Palestyńczykami a Libańczykami.
Chrześcijański minister spraw zagranicznych Libanu, Gebran Bassil, pierwszy wywołał gniewne reakcje ze strony Palestyńczyków (i części Libańczyków) obroną swojego kraju przed cudzoziemskimi pracownikami. W czerwcu Basil napisał na Twitterze: "Jest rzeczą normalną obrona libańskiej siły roboczej przed każdą zagraniczną siłą roboczą, czy są to Syryjczycy, Palestyńczycy, Francuzi, Saudyjczycy, Irańczycy, czy Amerykanie, Libańczycy są pierwsi!"
Wielu Palestyńczyków i Libańczyków w mediach społecznościowych potępiło ministra spraw zagranicznych za tę "rasistowską" wypowiedź. "Bassil chce mieć tylko chrześcijan wokół siebie, nie zaś budować dobry Liban. Jest jak palestyński Hitler" – komentował jeden z użytkowników mediów społecznościowych.
Wielu Libańczyków wyraziło niepokój wobec narastających protestów palestyńskich w ich kraju – szczególnie wobec tego, że demonstracje odbywają się obecnie poza palestyńskimi obozami dla uchodźców w Libanie. Dla tych Libańczyków nie ma żadnego problemu, jak długo Palestyńczycy protestują wewnątrz obozów. Kiedy jednak wychodzą z protestami poza obozy, to Libańczycy mają powód do niepokoju na widok scen anarchii i bezprawia.
Wtórując powszechnym niepokojom znana libańska aktorka, Soha Kikano, wezwała do palenia Palestyńczyków w nazistowskich piecach. Jej wpis na Twitterze był odpowiedzią na palestyńską demonstrację w mieście Sidon w południowym Libanie, w proteście przeciwko rozprawie z nielegalnie zatrudnionymi. Kikano określiła też Palestyńczyków jako "potwory", które chcą zostać w Libanie i pracować bez właściwych zezwoleń od władz.
Bezprecedensowy atak aktorki na Palestyńczyków wywołał ostre potępienie wielu Palestyńczyków, którzy skarżyli się, że w Libanie narasta nienawiść do Palestyńczyków. Z drugiej strony, niektórzy obywatele libańscy bronili aktorki mówiąc, że starała się tylko bronić libańskich pracowników.
Kontrowersja wokół rozprawy z nielegalnymi pracownikami i przedsiębiorstwami oraz narastający w Libanie strach, że palestyńskie protesty mogą wepchnąć kraj w przemoc i anarchię, prawdopodobnie narosną jeszcze bardziej: libańskie władze wydają się zdecydowane na egzekwowanie przepisów o zatrudnieniu w całym kraju.
Palestyńczycy w Libanie prawdopodobnie mieli nadzieję, że wielu Libańczyków poprze ich protesty. Zamiast tego wygląda na to, że Palestyńczycy odstręczyli wielu Libańczyków, którzy uważają Palestyńczyków za obywateli drugiej kategorii i chętnie widzieliby ich wyjazd z Libanu.
Dyskryminujące i przypominające apartheid prawa Libanu wobec Palestyńczyków nie są niczym nowym. Według UNRWA Palestyńczycy w Libanie są wykluczeni z kluczowych sfer społecznego, politycznego i ekonomicznego życia kraju. Istnieją prawne restrykcje, które ograniczają prawa palestyńskich uchodźców, włącznie z zakazem pracy w 39 zawodach i zakazem posiadania nieruchomości. Ponadto mają ograniczony dostęp do usług dostarczanych przez państwo, takich jak opieka zdrowotna i edukacja.
Wśród zawodów zakazanych dla Palestyńczyków znajdują się zawody w dziedzinach opieki zdrowotnej, inżynierii, transportu, rybołówstwa, sektora publicznego i prawa.
Nie potrzeba wiele wyobraźni, żeby przewidzieć globalne oburzenie, gdyby na przykład, Izrael, zakazał Arabom pracy jako inżynierowie, kierowcy autobusów, pielęgniarki i lekarze. Społeczność międzynarodowa i propalestyńskie grupy wydają się jednak całkowicie obojętni na los Palestyńczyków w kraju arabskim.
Jak ogromne byłoby międzynarodowe oburzenie, gdyby znana izraelska postać wezwała do "palenia Palestyńczyków w piecach". Niemniej, kiedy mówi to dobrze znana Arabka, samozwańczy propalestyńscy aktywiści nagle głuchną.
Choć obawa libańskiej ludności przed palestyńską przemocą w ich kraju jest uzasadniona, nie ma powodu, dla którego jakikolwiek kraj arabski miałby poddawać Palestyńczyków dyskryminującym i apartheidowskim prawom. Historia złego traktowania Palestyńczyków w Libanie jest mikrokosmosem większego problemu: arabskiej "zdrady" i "porzucenia" Palestyńczyków.
W wielu krajach arabskich Palestyńczyków uważa się za ciężar, niewdzięcznych ludzi, którzy od dawna doją pieniądze od ich arabskich braci. Punktem zwrotnym był rok 1990, kiedy Palestyńczycy poparli inwazję Saddama Husajna na Kuwejt – kraj, który dostarczał im milionów dolarów w środkach pomocowych. Palestyńczycy wybiegli na ulice, by świętować okupację Kuwejtu. Kiedy rok później dowodzone przez USA siły koalicyjne wyzwoliły Kuwejt, ten mały emirat i inne kraje Zatoki deportowały setki tysięcy Palestyńczyków i ucięły pomoc finansową dla OWP i wielu palestyńskich instytucji.
Obecnie wszystkie oznaki wskazują na to, że Palestyńczycy w Libanie stoją przed tym samym losem, przed jakim stanęli ich bracia w Kuwejcie i państwach Zatoki na początku lat 1990. To jest, o ile międzynarodowa społeczność nie zainterweniuje, by naciskać na Liban i inne kraje arabskie, by przestały używać Palestyńczyków jako pionki w ich kampaniach podżegania nienawiści do Izraela. Pora, by kraje arabskie czynami zastąpiły puste słowa wobec Palestyńczyków. Pora, by społeczność międzynarodowa i tak zwane propalestyńskie grupy zaczęły zauważać prawdziwe cierpienia Palestyńczyków, szczególnie w Libanie.
---
---