Jonathan S. Tobin
Tłumaczenie: Małgorzata Koraszewska
---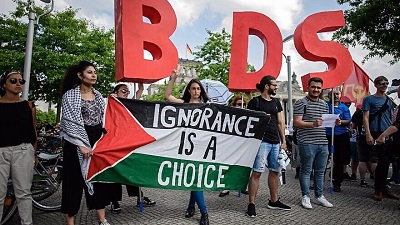 Donald Trump podpisał dekret prezydencki o stosowaniu Title VI 1964 Civil Rights Act do ochrony żydowskich studentów narażonych na antysemityzm na uniwersyteckich kampusach, a z wielu stron słychać próby zdyskredytowania tego posunięcia. Zarówno lewicowe grupy, jak media głównego nurtu, takie jak "New York Times", starają się stworzyć wrażenie, że determinacja rządu, by chronić studentów przed nienawiścią ze strony ruchu BDS, jest kontrowersyjnym planem, który zdławi wolność słowa i zaszkodzi żydowskim studentom bardziej niż im pomoże.
Dekretowi otwarcie sprzeciwiły się antysyjonistyczne grupy, takie jak IfNotNow i Jewish Voices for Peace, jak również J Street, która nadal twierdzi, że jest proizraelska, ale której związki z opozycją wobec Trumpa zobowiązują ją do sprzeciwiania się właściwie wszystkiemu, co robi prezydent. W ciągu kilku dni "New York Times" opublikował dwa artykuły na ten temat, co pokazuje, jak zdecydowani są ludzie w mediach, by przedstawiać BDS na uniwersyteckich kampusach jako idealistyczny aktywizm zagrożony przez represyjną administrację. Zwolennicy BDS byli przedstawiani życzliwie i w artykułach cytowano więcej żydowskich oponentów Trumpa niż zwolenników tego dekretu.
Zdaniem wielu krytyków Trumpa, mówienie o antysemityzmie na kampusach przez zarówno rząd, jak żydowskie grupy głównego nurtu, które popierają ten dekret (włącznie z takimi, które są głęboko krytyczne wobec Trumpa, jak Anti-Defamation League) jest podstępem, którego prawdziwym celem jest zdławienie głosów krytykujących Izrael. Nowy raport jednak, zatytułowany "The New Anti-Semites," autorstwa Marca Greendorfera z Zachor Legal Institute i opublikowany przez StopAntisemitism.org, jest silnym antidotum na dezinformację o BDS szerzoną przez tych, którzy pragną podważyć starania Departamentu Edukacji USA do egzekwowania prawa i chronienia żydowskich studentów.
Ten raport jest lekturą obowiązkową dla wszystkich, których cały pogląd na tę sprawę jest wypaczony przez ich niesmak wobec Trumpa. Jest tam bardzo szczegółowe badanie licznych incydentów antysemickiego podżegania związanego z ruchem BDS na całym świecie i w Stanach Zjednoczonych, włącznie z tymi, w których zaangażowana jest organizacja Students for Justice in Palestine, którą to grupę "New York Times" próbuje wybielać.
To będzie przerażająca lektura dla każdego żydowskiego rodzica, który właśnie ma wysłać swoje dziecko na uczelnię. Tym jednak, co czyni ten raport tak ważnym, jest to, że badania Greendorfera dowodzą, że dekret Trumpa jest, jak pisałem w zeszłym tygodniu, nie tylko produktem prawnego konsensusu, z którym zgadzały się administracje i George'a W. Busha, i Baracka Obamy, ale niezbędną reakcją na rosnącą falę antysemityzmu, który szerzy się na kampusach Ameryki Północnej.
Ten raport pokazuje także bezpośredni związek między antysemickimi działaniami grup takich jak SJP a definicją antysemityzmu International Holocaust Remembrance Alliance. Ta definicja, którą Trump cytował – i którą zaakceptowały dziesiątki państw i Departament Stanu USA – mówi wyraźnie, że demonizowanie Izraela i jego zwolenników oraz osądzanie Izraela według podwójnych standardów, jakich nie stosuje się wobec żadnego innego kraju, jest klasycznym antysemityzmem. A to właśnie ruch BDS robi codziennie, wraz z innymi przykładami siania nienawiści, co jest sprzeczne z ich czyściutkim, fałszywym obrazem działania na rzecz praw człowieka, jaki "New York Time" przypisuje jego członkom.
Ale w raporcie Greendorfera jest więcej niż tylko znana litania znanych okropności ruchu BDS. Raport "The New Anti-Semites" jest bezcenny, ponieważ ilustruje także trzy kluczowe punkty, które obalają starania o obronę niedającego się obronić sojuszu żydożerców.
Pierwszym punktem jest zdemaskowanie mitu, że BDS jest zakorzeniony w braku przemocy i wysiłkach na rzecz pokoju. Są ci, którzy racjonalizują twierdzenie BDS, że jego założyciel, palestyński aktywista Omar Barghouti, ma za cel pracę na rzecz koegzystencji, nie zaś przemoc między Izraelczykami a Palestyńczykami. To jest fałsz. Celem Barghoutiego zawsze była eliminacja żydowskiego państwa z powierzchni planety. Jego celem nigdy nie był wyłącznie nacisk na Izrael, by wycofał się z Zachodniego Brzegu lub by izraelski rząd zmienił swoją politykę. Mimo twierdzeń, że aktywiści BDS pracują na rzecz praw człowieka, ci, którzy popierają BDS, pracują na rzecz celu, który jest formułą na niekończącą się wojnę, nie zaś pokój.
Po drugie, raport przedstawia niepokojące nakładanie się na siebie palestyńskich grup, które finansują i popierają BDS, z tymi, które także propagują terroryzm. Nie jest tylko tak, że amerykańscy aktywiści BDS angażują się w antysemickie obelgi i pracują na rzecz antysemickich celów, stowarzyszyli się także z palestyńskimi grupami, które zarówno stosują przemoc, jak same szerzą nienawiść do Żydów.
Trzecim i dość otrzeźwiającym faktem, który Greendorfer wyciąga na światło dzienne, jest sposób, w jaki ruch BDS znalazł dziwnych towarzyszy na skrajnej prawicy politycznego spektrum. Nie jest to naprawdę zaskakujące, ponieważ ekstremiści lewego i prawego skrzydła zawsze w historii znajdowali wspólny grunt w antysemityzmie. Jest to jednak niemała ironia w tym wypadku, ponieważ ci, którzy starają się zdyskredytować starania Trumpa przeciwdziałania antysemityzmowi na kampusach, często twierdzą, że uwaga zwracana na lewicowy antysemityzm jest odwracaniem uwagi od groźby przychodzącej z prawej strony. Niemniej ruch BDS otrzymuje silne poparcie od prawicowych siewców nienawiści, takich jak David Duke, rasistowskie witryny internetowe, takie jak Stormfront i neonazistowskie grupy w Stanach Zjednoczonych i w Europie.
Ruch BDS jest najdalszy od potępiania nienawiści płynącej z prawicowego skrzydła, dostarcza mu tylko argumentów i wzmacnia jego starania o delegitymizację Żydów i państwa Izrael.
Raport "The New Anti-Semites" powinien stanowić otrzeźwiającą lekturę dla Żydów i innych Amerykanów, którzy mogą nie lubić Trumpa, niemniej nadal chcą popierać walkę z antysemityzmem. Nie można bronić lub racjonalizować celów ruchu BDS bez świadomego zacierania jego antysemickiego celu, dyskursu i zachowań jego członków. Ci, którzy sprzeciwiają się dekretowi Trumpa, mogą twierdzić, że bronią wysokiej pozycji moralnej, ale w rzeczywistości tarzają się w błocie z najgorszego rodzaju antysemitami i zwolennikami terroryzmu.
---

Jonathan S. Tobin – Amerykański dziennikarz, redaktor naczelny JNS.org, (Jewish News Syndicate). Komentuje również na łamach National Review, New York Post, The Federalist, w prasie izraelskiej m. in. na łamach Haaretz.
---
---