Gerald M. Steinberg
Tłumaczenie: Małgorzata Koraszewska
---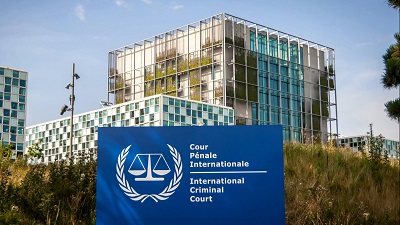 Większość międzynarodowych inicjatyw politycznych o dobrych intencjach nie kończy się dobrze i Międzynarodowy Trybunał Karny [ICC] nie jest tu wyjątkiem. ICC stworzono w kontekście negocjacji, które zakończyły się Statutem Rzymskim i już wówczas było jasne, że Izrael jest głównym celem, szczególnie dla państw arabskich i dla antyizraelskich grup, które twierdzą, że orędują za przestrzeganiem prawa międzynarodowego i prawami człowieka. Fasada może być prawna, ale w praktyce jest to polityczna instytucja.
Przez ostatnich dwadzieścia lat ci polityczni aktorzy nieustannie prowadzili kampanię, której celem było postawienie Izraela przed ICC i wydawali na to miliony dolarów, euro i funtów. Jednym z przywódców tego przemysłu jest Human Rights Watch, na czele którego przez cały ten okres stał aktywista z obsesją na punkcie Izraela (Kenneth Roth). Roth zatrudnił licznych antyizraelskich aktywistów, włącznie z Omarem Shakirem. Amnesty International prowadziła podobne starania, choć z mniejszymi wpływami. Równolegle szereg palestyńskich NGO, ściśle związanych z OWP oraz organizacja Terrorystyczna LFWP dokładały się do kampanii, działając w towarzystwie tych co zawsze izraelskich grup.
Finansowanie tej kampanii przez rządy europejskie było niezbędne dla całego procesu. Cztery palestyńskie NGO – Al-Haq, Al-Dameer, PCHR i Al Mezan – są bezpośrednio finansowane przez rządy szwajcarski, holenderski, szwedzki i duński, a granty dla nich określają, że mają dokumentować "zbrodnie wojenne" i podobne oskarżenia. Inne grupy zaangażowane w ten proces otrzymują finansowanie z Unii Europejskiej, Wielkiej Brytanii, Belgii, Niemiec i innych krajów.
Oskarżenia wysuwane przez te grupy są powielane automatycznie i promowane intensywnie przez Radę Praw Człowieka ONZ i przez media. Te raporty rozpoczęły się w 2002 roku fałszywymi oskarżeniami o "masakrę w Jenin", po czym nastąpiło wiele innych, włącznie z Raportem Goldstone'a w 2009 roku i raportem ONZ o starciach na granicy Gazy w tym samym roku. Wszystkie w zasadzie ignorowały palestyński terroryzm i ataki rakietowe, wzmacniając tym oskarżenia o izraelskie "zbrodnie wojenne".
Teoretycznie celem ICC jest dostarczanie dowodów do pociągania do odpowiedzialności najgorszych tyranów i zbrodniarzy wojennych świata, szczególnie w krajach, gdzie nie ma rzetelnie funkcjonujących sądów lub rządów, by wymierzyć im sprawiedliwość. Olbrzymia kampania zaprojektowana do sztucznego wepchnięcia Izraela w centrum agendy Trybunału nie tylko wymazuje historię konfliktu, ale, co ważniejsze, jest fundamentalnie niemoralna.
W tej sytuacji i po 21 latach decyzja prokurator była właściwie do przewidzenia. Niestety, rząd Izraela nie rozumiał groźby i wymagań dobrej strategii. Obronną strategią prawników IDF i innych była próba pokazania, że izraelski proces sądowniczy sprawia, że zewnętrzna interwencja jest niepotrzebna. Ponieważ jednak ICC jest organem politycznym, te wysiłki zostały zignorowane.
W odróżnieniu od tego agresywna strategia polityczna i dyplomatyczna oparta na zagrożeniu już mizernemu budżetowi ICC i, być może, jego dalszemu istnieniu, nadal może zwyciężyć. USA, które podobnie jak Izrael nie podpisały Traktatu Rzymskiego, już potępiły ten ruch, ale presja samej Ameryki prawdopodobnie nie wystarczy na zmianę decyzji prokurator.
Waszyngton i Jerozolima muszą rozszerzyć ten kontratak na inne demokracje, których suwerenności grozi ICC. Wielka Brytania z premierem Borisem Johnsonem jest prawdopodobnie sojusznikiem – brytyjscy żołnierze wysłani do walki w Afganistanie i Iraku także są celem kampanii prowadzonych przez NGO w ICC. Australia i być może Kanada są także potencjalnymi sojusznikami.
Pytaniem jest, czy Europa mimo poparcia dla zaangażowanych w tę farsę NGO znajdzie w sobie dość niezbędnego, politycznego hartu. Gdyby kraje takie jak Holandia, Norwegia i Dania powiedziały Trybunałowi, że jego przetrwanie zależy od zakończenia tego antyizraelskiego – a wielu powiedziałoby, antysemickiego – polowania na czarownice, mogłyby naprawić część wyrządzonych przez siebie szkód
---

Gerald Steinberg – Urodzony w Wielkiej Brytanii, studiował fizykę i równolegle historię Bliskiego Wschodu, ma doktoraty z fizyki i z teorii zarządzania, jest profesorem nauk politycznych na Bar Ilan University. Założyciel NGO Monitor, instytutu śledzącego działalność międzynarodowych NGO na Bliskim Wschodzie.
---
---