Lyn Julius
Tłumaczenie: Małgorzata Koraszewska
---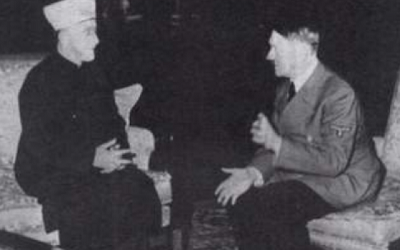 Dwudziestegotrzeciego stycznia około 55 głów państw, premierów i członków rodzin królewskich odwiedzi Jad Waszem, by upamiętnić 75. rocznicę wyzwolenia obozu śmierci Auschwitz.
Po uroczystych przemówieniach, głoszących, że "nigdy więcej" nie powinna zdarzyć się taka katastrofa, obchody zakończy ceremonia upamiętnienia. Ocaleli z Holocaustu zapalą pamiątkową pochodnię i politycy złożą wieńce.
Dobrze jest poznać lekcję o nazistowskim antysemityzmie, który dzisiaj inspiruje faszystów i skrajnie prawicowych ekstremistów na Zachodzie – tych, których komentator Ben Cohen nazywa antysemitami z bierkeller.
Ilu z tych ministrów i głów państw po przystanku w Jad Waszem powędruje jednak do siedziby Autonomii Palestyńskiej w Ramallah? Jest duże prawdopodobieństwo, że palestyńskie kierownictwo powie im, że Palestyńczycy "zapłacili cenę" za powstanie Izraela.
Istnieje niebezpieczeństwo, że przywódcy świata wyjadą z tego z potwierdzeniem tezy, że antysemityzm był czysto europejskim zjawiskiem, że Izrael jest "pokutą Europy" za zabicie sześciu milionów europejskich Żydów.
Światowi przywódcy odwiedzą Ramallah, nie mając pojęcia o głębi pronazistowskich uczuć wśród Arabów podczas II Wojny Światowej.
Palestyńscy przywódcy starannie przemilczą, że jeden z najważniejszych arabskich przywódców, mufti Jerozolimy Hadż Amin Al-Husseini, był wspólnikiem nazistów. Po tym jak palestyńskiemu muftiemu udało się w 1941 roku wywołać masakrę irackich Żydów, Farhud, resztę wojny spędził w Berlinie jako gość Hitlera. Podczas gdy codziennie zalewał świat arabski zjadliwą, antyżydowską propagandą radiową, starał się o pozwolenie Hitlera na zorganizowanie eksterminacji Żydów na całym Bliskim Wschodzie i w Afryce Północnej – nie tylko w Palestynie – gdyby Niemcy wygrały wojnę.
Kiedy wojna skończyła się, Alianci nie postawili Hadż Amina al-Husseiniego przed trybunałem w Norymberdze. W wyniku, świat arabski nigdy nie został "zdenazyfikowany". Jego dziedzictwo antysemickiego, inspirowanego przez nazizm islamofaszyzmu – islamistycznego terroryzmu – reprezentowane przez Bractwo Muzułmańskie, Państwo Islamskie, Al-Kaidę i Hamas – podsyca także dżihadystyczny antysemityzm na dzisiejszym Zachodzie.
Ponad połowa żydowskiej populacji jest w Izraelu z powodu Arabów, nie zaś europejskich nazistów. Czy ktokolwiek w Jad Waszem wspomni, że 850 tysięcy Żydów zostało zmuszonych do ucieczki z krajów arabskich, ponieważ państwa Ligi Arabskiej zaprowadziły prawa – wzorowane na prawach norymberskich – przeciwko swoim żydowskim obywatelom, odzierając ich z praw i odbierając im ich dobytek?
Podczas wizyty w Ramallah niektórzy prostolinijni przywódcy potwierdzą palestyńskie "prawo powrotu", nie rozumiejąc, że to prostu zastępuje ludobójstwo polityczną zagładą. Innymi słowy, ludobójcze zamiary Palestyńczyków ukryte zostały pod językiem praw człowieka. Ruch BDS prowadzi kontynuację tej długotrwałej kampanii.
Jedna głowa państwa nie będzie obecna w Jad Waszem 23 stycznia. Ajatollah Chamenei z Iranu pozostał wierny takim ludobójczym ambicjom. Zaprzecza Holocaustowi i grozi kolejnym Holocaustem Żydów.
Z Iranem przynajmniej wiemy, gdzie stoimy.
What the world's leaders won't learn at Yad Vashem
Times of Israel, 20 stycznia 2020
Tłumaczenie: Małgorzata Koraszewska
Od Redakcji "Listów z naszego sadu"
Zapewne nikt z tej okazji nie przypomni słów Adolfa Eichmanna pisanych w 1956 roku, na emigracji w Argentynie:
"Wy, 360 milionów mahometan, z którymi mam silny związek wewnętrzny od dni mojej więzi z waszym Wielkim Muftim Jerozolimy. Wy, którzy macie większą prawdę w surach waszego Koranu, wzywam was, byście mnie osądzili."
Nikt nie zapyta jak go osądzają dziś w Teheranie, w Ankarze, w Ramallah.
---

Lyn Julius – Dziennikarka, współzałożycielka brytyjskiego stowarzyszenia HARIF, Żydów pochodzących z Północnej Afryki i krajów Bliskiego Wschodu; stowarzyszenia informującego o liczącej trzy tysiące lat historii Żydów na Bliskim Wschodzie i o losie tej mniejszości wyznaniowej i religijnej w XX wieku. Rodzina Lyn Julius pochodzi z Iraku.
---
---