Andrzej Koraszewski
---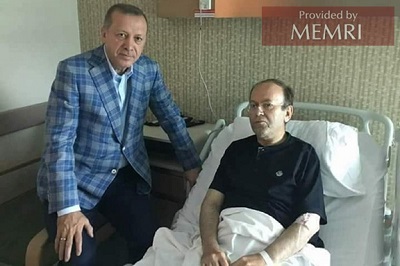 Turecki prezydent wyruszył na podbój Syrii, wysłał broń i wojsko do Libii, często grozi również Unii Europejskiej zalaniem Europy uchodźcami z Bliskiego Wschodu. Jest człowiekiem czułym, często mówi o rodzinie i swojej szczególnej trosce, żeby tureckie dzieci wyrastały w atmosferze pobożności i patriotyzmu. Jednym z jego bliskich współpracowników jest turecki dziennikarz i intelektualista, Yusuf Kaplan. Kiedy Kaplan miał udar, Erdogan siedział przy jego łóżku w szpitalu, pocieszając przyjaciela i dodając mu otuchy.
Kaplan jest już ponownie zdrowy i w pełni sił umysłowych. 31 stycznia 2020 roku opublikował w rządowej gazecie "Yeni Şafak" artykuł pod znamiennym tytułem Żydowski problem świata. Czy ten artykuł wyraża poglądy prezydenta państwa dysponującego drugą pod względem siły armią w NATO? Wskazuje na to nie tylko osobista przyjaźń między Erdoganem i Kaplanem, prezydent Turcji wyrażał podobne opinie w wielu swoich partyjnych wystąpieniach, chociaż jak dotąd swoje poglądy w tej kwestii formułował nieco ostrożniej. Artykuł Kaplana nie wzbudził silnych reakcji opozycji. Ludzie, którzy poczuli obrzydzenie i strach, nie mają siły przebicia, być może jakieś głosy protestu pojawiły się w Turcji na jakichś niszowych stronach.
Co napisał Yusuf Kaplan?
Turecki intelektualista zaczyna od stwierdzenia, że "Biali, którzy założyli USA… To są europejscy najeźdźcy, rabusie, łajdaccy biali kolonialiści". (Ten wstęp jest szczególnie ciekawy w kontekście zaledwie o kilka dni wcześniejszej wypowiedzi polityka z konkurującego o rząd muzułmańskich dusz Iranu. Hassan Rahimpour Azghadi, członek irańskiej Najwyższej Rady Rewolucji Kulturalnej oświadczył, że Iran "powinien wykorzystywać czarnych w Ameryce, żeby spowodować jej dezintegrację". Dodał również, że rozlew krwi w drodze dżihadu jest formą miłosierdzia dla świata. Turcja i Iran zerkają na siebie z ciekawością i wiele wskazuje na to, że często stosują podobne, a może nawet zapożyczone od siebie strategie.)
Yusuf Kaplan pisze dalej:
Żydzi odegrali decydującą rolę w założeniu nowoczesnego świata: kapitalizm jest w równiej mierze dziełem Żydów jak Brytyjczyków. Cały świat jest także ukształtowany przez Brytyjczyków i Żydów.
Brzmi znajomo? To jednak dopiero początek. Dalej Kaplan pisze, że przez dwa stulecia kapitalizm zbudował widomą hegemonię. Czy ta "widoma hegemonia" ma się odnosić do Stanów Zjednoczonych, czy do Żydów, o tym czytelnik musi zadecydować sam, chociaż Kaplan służy pomocą: biali, anglosascy protestanci i potęga żydowska. Powtórzy to dwukrotnie, żeby czytelnik zapamiętał – Brytyjczycy i Żydzi.
Brytyjczycy winni są rewolucji przemysłowej, ostatnie kroki kapitalizmu to komputer i rewolucje cyfrowe, które – jak pisze Kaplan – są dziełem amerykańskich Żydów, a przedstawicielem białych, anglosaskich protestantów i Żydów jest Trump.
Finanse, gospodarka – pisze dalej turecki intelektualista – system bankowy, uniwersytety, Hollywood, Dolina Krzemowa, Pentagon, CIA, przemysł zbrojeniowy, przemysł broni miękkiej i mediów w USA są pod panowaniem Żydów!

USA są teraz opanowane przez żydowską siłę!
Dalej dowiadujemy się, że Stany Zjednoczone są okupowane przez Żydów, że po drugiej wojnie światowej Żydzi przeniknęli do wszystkich amerykańskich instytucji i cały instytucjonalny porządek jest pod ich panowaniem.
Czytelnik może być trochę zaskoczony, czytając dalej stwierdzenie, że "Trump i jego partnerzy zostali sprowadzeni do działania, żeby uratować Stany Zjednoczone przed tą żydowską potęgą". Czy zdaniem autora tego artykułu amerykański prezydent reprezentuje Żydów, czy z nimi walczy? Kaplan, próbując to wyjaśnić, stwierdza, że Trump wiedząc, że "Żydzi dominują Stany Zjednoczone pod wszystkimi względami, podpisał barbarzyński dokument o Umowie Stulecia". Te ustępstwa to uginanie kolan, bo Żydzi trzymają pętlę na szyi prezydenta. Jednak Trump, jak się dowiadujemy, próbuje zdać cios żydowskiej potędze w USA, a żydowski kapitał już zaczął opuszczać Amerykę i przenosi się do Chin.
Dalej czytamy:
Żydowska potęga ściągnie na świat sądny dzień!… Świat ma teraz żydowski problem.
Dalej przyjaciel Erdogana pisze, że żydowska potęga uświęca areligijny, pogański relikt, czyli kapitał i dlatego owija sobie świat wokół swojego małego palca.
Dowiadujemy się, że to Żydzi z pomocą swojego kapitału igrają organizacjami terrorystycznymi i tworzą w świecie chaos, że globalne instytucje, takie jak Organizacja Narodów Zjednoczonych, IMF, Bank Światowy i NATO służą jedynie konsolidacji żydowskiej potęgi.
Świat ma teraz żydowski problem – kończy swój artykuł Yusuf Kaplan – syjonistyczne zagrożenie, które nie zawaha się przed podpaleniem lontu, co uczyni świat żywym piekłem przez ogłoszenie Jerozolimy stolicą Izraela! […] Jeśli nie da się zatrzymać tych nadzwyczajnych żydowskich sił i syjonistycznego spisku, świat zostanie wepchnięty w sądny dzień!
Majaczenia szaleńca? Bez wątpienia. Nie jest to jednak jakiś internetowy troll, psychopata publikujący swoje myśli na gazetowym forum bez moderacji. To wpływowa postać reprezentująca ideologię partii rządzącej w militarnie najpotężniejszym kraju muzułmańskiego świata.
Dwa tygodnie przed publikacją artykułu Yusufa Kaplana w Iranie Najwyższy Przywódca, ajatollah Ali Chamenei wygłosił kazanie, w którym wezwał Palestyńczyków do wojny z Izraelem. Wcześniej opublikował tweet, pisząc, że lekarstwem na plan Trumpa jest odważny opór palestyńskiego nardu, by pokonać syjonistycznego wroga w Ameryce przez dżihad.
W kazaniu wygłoszonym 17 stycznia 2020 roku w Teheranie irański przywódca wezwał muzułmanów całego świata do poparcia wojny Palestyńczyków z Izraelem. Nazwał niekompetentnymi zdrajcami państwa arabskie, które uznały, że ten plan wart jest rozważenia. Duchowny orzekł, że jest głupotą marnowanie czasu i pieniędzy na plan skazany na niepowodzenie. "Palestyna należy do Palestyńczyków" – grzmiał irański przywódca, dodając, że pozytywną stroną planu Trumpa było zwrócenie uwagi na Palestynę i "prawa uciśnionego ludu".
Dlaczego Najwyższy Przywódca Islamskiej Republiki Iranu wzywa Palestyńczyków do wojny, a muzułmanów całego świata do poparcia wojny przeciw czemuś, co jego zdaniem jest tylko marnowaniem czasu i pieniędzy oraz działaniem skazanym na niepowodzenie? Czy odpowiedzi na to pytanie udzielił palestyński duchowny, Nidhal Siam, który 20 stycznia 2020 roku w Jerozolimie (koło meczetu Al-Aksa) celebrował wiec zorganizowany dla upamiętnienia podboju Konstantynopola?
Zwracając się do zebranego tłumu wiernych, duchowny mówił:
O muzułmanie, rocznica podboju [fath/فتح, dosłownie, "otwarcia"] Konstantynopola przynosi nowiny o rzeczach, które nadejdą. Przynosi nowinę, że Rzym zostanie podbity w niedalekiej przyszłości, z wolą Allaha…. Zbliżamy się do spełnienia trzech proroctw i modlimy się, by Allah spełnił te proroctwa naszymi rękami. Pierwszym proroctwem jest ustanowienie słusznie kierowanego Kalifatu zgodnie z drogą proroka. Drugim proroctwem jest wyzwolenie meczetu Al-Aksa i ustanowienie Jerozolimy jako stolicy państwa Kalifatu. Trzecim proroctwem jest to, że islam rzuci swoich sąsiadów na ziemię i że jego zasięg obejmie wschód i zachód tej Ziemi. To jest obietnica Allaha, a Allah dotrzymuje swoich obietnic.
Trudno pozbyć się wrażenia, że "ofiary" nie są ofiarami, że ta martyrologia jest zaledwie strategią ludzi myślących o sobie, iż są forpocztą armii zdobywców, że w ich umysłach sprawiedliwość to zniewolenie innych, że antysyjonizm to tylko furtka pozwalająca na złamanie zakazu zabijania. Potem pójdziemy dalej. Powiedzenie, że zawsze zaczyna się od Żydów, nie zawsze jest prawdziwe, zawsze jednak zaczyna się od dawania fałszywego świadectwa.
Można twierdzić, że bełkot tureckiego intelektualisty, wezwania Najwyższego Przywódcy Islamskiej Republiki Iranu, proroctwa palestyńskiego duchownego to głupstwa, których przecież nie można traktować poważnie. Prawdziwe zło jest gdzie indziej i z tym trzeba walczyć.
Kiedyś zapytałem inteligentną, dobrze wykształconą i bardzo kulturalną luterankę: dlaczego wszystkie reflektory jej szwedzkiego Kościoła kierują się niemal wyłącznie na Izrael. Odpowiedziała szczerze i z głębokim przekonaniem, że gdzieś trzeba zacząć.
---
Andrzej Koraszewski – Publicysta i pisarz ekonomiczno-społeczny. Ur. 26 marca 1940 w Szymbarku, były dziennikarz BBC, wiceszef polskiej sekcji BBC, i publicysta paryskiej "Kultury".
---
---