Vic Rosenthal
Tłumaczenie: Małgorzata Koraszewska
---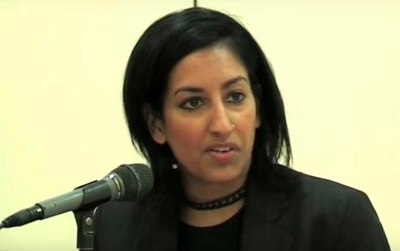 Profesor Rutgers University, Jasbir Puar, została zaproszona na wygłoszenie wykładu w Scripps College w Kalifornii przez tamtejszy oddział Students for Justice in Palestine i kilka wydziałów tej uczelni.
Puar należy do grupy najbardziej zajadłych antysemitów i mizosyjonów * w Ameryce. Można przeczytać fragmenty jej wystąpienia z 2016 roku w Vassar University, żeby mieć pojęcie o jej kreatywnym przedstawieniu średniowiecznego oszczerstwa o rytuale krwi w bardziej nowoczesnym opakowaniu. Jest także płodną "uczoną", która formułuje swoje trujące wymysły w formie ledwo zrozumiałego akademickiego żargonu (jeśli sądzisz, że jesteś w stanie ją zrozumieć, zobacz jak długo potrafisz słuchać jej wywodów na tym wideo).
Między innymi, oskarża ona IDF o umyślne deformowanie i okaleczanie Palestyńczyków w celu zdławienia ich oporu. Twierdzi, że zabilibyśmy ich, ale to zaszkodziłoby naszym roszczeniom do statusu największych ofiar ludobójstwa w historii. A kiedy jednak ich zabijamy, zabieramy ich narządy do badań naukowych. Oczywiście, twierdzi, że specjalizujemy się w ranieniu palestyńskich dzieci (jak może powtarzać opowieść o Simonie z Trent, jeśli nie oskarża nas o prześladowanie dzieci?).
Prawdą zaś jest, że IDF dokonuje wszystkiego, co może, by uniknąć cywilnych ofiar, że Palestyńczycy wykorzystują dzieci jako żołnierzy i jako ludzkie tarcze, i że to właśnie palestyński terroryzm (masakra w Ma'alot, masakra na Drodze Nadbrzeżnej, zamach bombowy na Delfinarium i pizzerię Sbarro, żeby wymienić tylko kilka) istotnie szczególnie skierowany jest na dzieci.
Puar jest pomysłowa i znajduje sposoby na zamianę tego, co inni uważają za moralne zachowanie, w przykłady izraelskiego zdeprawowania. Jej ulubionym tematem jest "Pinkwashing", rzekomo taktyczne przeciwstawianie tolerancji Izraela wobec arabskiej i muzułmańskiej homofobii (która często oznacza morderstwa), jej zdaniem w celu "wybielenia okupacji".
Twierdzi także, że próby zmniejszenia strat wśród ludności cywilnej przy równoczesnym bronieniu się przed terroryzmem i atakami rakietowymi, faktycznie stanowią świadomą politykę okaleczania zamiast zabijania Palestyńczyków. Technikę "stukania w dach", używaną w niedawnych mini-wojnach, kiedy budynek w Gazie miał zostać zbombardowany, Puar przedstawia jako jedynie udawanie, że próbuje się zmniejszyć liczbę ofiar (fałszywie twierdzi, że czas między "stuknięciem" a zniszczeniem budynku wynosi zaledwie 60 sekund, podczas gdy na ogół jest to bliższe do 15 minut). Według Puar, telefoniczne ostrzeżenia mieszkańców o nadchodzących atakach są rodzajem wojny psychologicznej, "przypomnieniem o tym, jak są bezsilni", nie zaś praktycznym sposobem zredukowania liczby ofiar śmiertelnych i rannych wśród cywilów.
Niezagrażające życiu środki kontroli tłumu, odstraszenia ludzi wdzierających się przez granicę Gazy i powstrzymania prób zniszczenia bariery granicznej, Puar uznaje za metody torturowania Palestyńczyków lub spowodowania ich trwałego kalectwa, nie zaś za próby obrony życia Izraelczyków bez zabijania tych, którzy ich atakują. Uważa ona, że chcemy złamać ich ducha, ale utrzymać ich przy życiu, by ich wykorzystywać ekonomicznie. I po prostu lubimy ich ranić.
Jej obsesyjne przypisywanie możliwie najbardziej nikczemnych motywów każdemu działaniu Izraelczyków, by bronić się przeciwko wrogowi, który przecież chce ich zabić, regularnie próbuje to zrobić i często mu się udaje, jest całkowicie oderwane od rzeczywistości – użyłbym słowa fanatyczne. Puar zaleca zarówno BDS, jak i "zbrojny opór".
Fanatyczne, antyizraelskie polemiki Puar przeplatają się z jej omawianiem płci, gender, "teorii queer", rasy, niepełnosprawności i innych tematów typowych dla dzisiejszego, postmodernistycznego środowiska akademickiego. Wydaje się, że to ona wymyśliła pojęcie "homonacjonalizmu", które objaśnia, "jak homoseksualizm – a szczególnie homonormatywność, przyjęcie homonormatywnych wartości przez społeczność 'queer'– jest instrumentalizowane jako część nacjonalistycznych i geopolitycznych interwencji".
Dlaczego mnie to obchodzi?
Ponieważ nigdy nie było lepszego niż Jasbir Puar współczesnego przykładu wypaczenia akademickiej misji, by znajdywać i nauczać prawdy, od czasów tego wielkiego oszusta, Edwarda Saida. Mówię to mimo faktu, że istnieją Ward Churchill i Steven Salaita. W odróżnieniu od tych dwóch ona jest akademicką gwiazdą. Jest profesorem i dyrektorką Women's and Gender Studies na Rutgers University, gdzie naucza od 2000 roku. Ma dyplomy z Ethnic i z Women studies, i ma olbrzymią listę publikacji (chociaż większość jest w marginalnych pismach), wykładów, stypendiów i innych akademickich zaszczytów. Wydawnictwo Duke University Press, które ma niepokojącą historię antyizraelskiego skrzywienia, opublikowało jej trzy książki.
I mimo jej wypaczającej rzeczywistość obsesji jest zapraszana na wykłady do takich miejsc jak Scripps College. Nadal otrzymuje granty i stypendia (choć niektóre z nich, jak "Palestinian American Research Council Fellowship", otrzymany przez nią w 2018 roku, może po prostu być zapłatą za jej aktywność polityczną). Jest etatowym członkiem zespołu nauczycielskiego w Rutgers.
Faktem jest, że zachodni świat akademicki – szczególnie jego część o nazwie "Ethnic and Gender Studies" – jest tak na wylot zindoktrynowana mizosyjonią, że nie widzi niczego złego w jej koncepcjach. To, co dla mnie wygląda na spiskowe fantazje choroby umysłowej, im wydaje się całkowicie normalnym, akademickim dyskursem. I tak zdaje się jest na większości uniwersytetów w USA, Wielkiej Brytanii i w Kanadzie – a do pewnego stopnia w pewnych instytucjach także w Izraelu.
Najwyraźniej ludzie w Scripps uważają, że jej idee są ważne i powinno się ich wysłuchać. Zgaduję jednak, że gdyby proizraelska grupa chciała zaprosić kogoś takiego jak ja, by omówić palestyński terroryzm przeciwko izraelskim dzieciom (patrz, na przykład na wypowiedź, tej nieodczuwającej skruchy morderczyni), jestem pewien, że takie spotkanie nie odbyłoby się.
Częścią problemu (przynajmniej poza Izraelem) jest to, że przez lata kraje arabskie (a także Iran) dawały olbrzymie sumy pieniędzy akademickim instytucjom, przyznawały granty indywidualnym pracownikom akademickim i budowały specjalne wydziały (zazwyczaj badań Bliskiego Wschodu) w kluczowych uczelniach i uniwersytetach. W połączeniu z tradycyjną lewicową orientacją wielu akademików, silnym przywiązaniem w świecie akademickim do "wolności słowa" i "swobód akademickich" – jak długo mowa lub swobody są nakierowane we właściwą stronę – stworzyło to atmosferę, w której Jasbir Puar nie jest uważana za ekstremistkę.
Uniwersytety i uczelnie mają być światłem przewodnim, popierającym humanistyczne ideały sprawiedliwości dla wszystkich ludzi. Zamiast tego poszły łatwą, wygodną, zyskowną i tchórzliwą drogą połączenia się z ciemnymi siłami nienawiści do Żydów i obnoszą się równocześnie dumnie ze swoim promowaniem "sprawiedliwości społecznej".
---
* Mizosyjonia jest skrajną, irracjonalną i obsesyjną nienawiścią do państwa żydowskiego. Jest antysemityzmem podniesionym na wysoki poziom abstrakcji. Chociaż nie jest identyczny z antysemityzmem, większość mizosyjonów nienawidzi także Żydów jako jednostki i narodu żydowskiego jako grupy.
---
---