Jonathan S. Tobin
Tłumaczenie: Małgorzata Koraszewska
---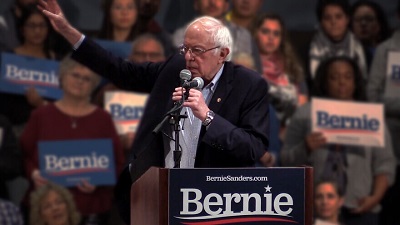 Bernie Sanders pokazuje, że można być zarazem ofiarą nienawiści do Żydów i kimś, kto ułatwia szerzenie nienawiści do Żydów.
Prezydencka kampania już dostarczyła wielu niemiłych momentów, ale to, co zdarzyło się w zeszłym tygodniu w Phoenix w Arizonie, sięga dna. Podczas wiecu dla poparcia senatora Bernie Sandersa (I-Vt.), mężczyzna rozwinął transparent ze swastyką i zaczął wykrzykiwać antysemickie wyzwiska, oddając nazistowski salut.
Tego człowieka, dobrze znanego miejscowego białego nacjonalistę, wyrzucono z wiecu. Incydent ten jednak ujawnił rosnącą gotowość radykalnych, prawicowych ekstremistów do publicznego wylewania żółci.
Niemniej, choć jest przerażające pojawienie się w miejscu publicznym tego, co Sanders słusznie nazwał "symbolem wszystkiego, przeciwko czemu stoi ten kraj", przyzwoici ludzie mogą znaleźć pociechę w fakcie, że incydent został powszechnie potępiony. Prezydencka kampania Sandersa może i jest na ostatnich nogach, ale nie trzeba podzielać jego socjalistycznych poglądów ani popierać jego kandydatury, by szokował czyn neonazistów, którzy atakują go dlatego, że jest Żydem. Każdy przypadek jawnej nienawiści do Żydów to o jeden za dużo i jest mocnym przypomnieniem, że wirus nienawiści do Żydów okazał się na przestrzeni dziejów trudniejszy do zwalczenia niż najbardziej śmiercionośna choroba.
W tym wypadku Sanders był ofiarą antysemityzmu i to powinno zwrócić naszą uwagę na konieczność zwalczania trolli białej supremacji, jak również mieć się na baczności przed możliwością, że są uzbrojeni, niebezpieczni i gotowi do popełniania masowych morderstw, jak masakra w synagodze w Pittsburghu w październiku 2018 roku.
Jednak, mimo narodowego poruszenia spektaklem, w którym w ten sposób szydzono z żydowskiego kandydata i zrozumiałego współczucia dla Sandersa, niewiele uwagi poświęcono ironicznemu aspektowi tej historii. Chociaż szeroko nagłośniono uzasadnione oburzenie Sandersa, w tej wrzawie zupełnie zgubiono fakt, że człowiek, który chce być pierwszym żydowskim prezydentem, w rzeczywistości ochoczo przyjął poparcie ze strony notorycznych antysemitów.
Niektórzy potępiają samo podniesienie kwestii antysemickich stronników Sandersa jako próbę zmiany tematu, marny przykład rozumowania w stylu "a co z…". Nie da się jednak uniknąć faktu, że choć Sanders i wielu ludzi na lewicy jest z uzasadnionych powodów oburzonych na incydenty prawicowego antysemityzmu, są oni obojętni lub wręcz gotowi do racjonalizowania lub usprawiedliwiania antysemitów, którzy są ich kolegami na lewicy.
Sanders prowadzi kampanię wraz z reprezentantkami Ilhan Omar (D-Minnessota) i Rashidą Tlaib (D-Michigan). Ta para nie tylko otwarcie opowiada się za ruchem BDS, który dąży do zmiecenia żydowskiego państwa z tej planety, ale ich retoryka jest zanurzona w retoryce tradycyjnego antysemityzmu. Obie także wygłaszały opinie, które są nie do odróżnienia od nienawiści do Żydów. Szczególnie Omar z jej wypowiedziami demonizującymi żydowskich zwolenników Izraela jako kupujących poparcie Kongresu, ("It's all about the Benjamins") stała się jednym z najbardziej wyróżniających się piewców antysemityzmu.
Niemniej Sanders nie ma żadnych problemów ani z jedną, ani z drugą, a nawet wychwalał je jako wzory osobowe, nie zwracając uwagi na fakt, że obie są żywymi przykładami tego jak antysyjonizm w sposób naturalny prowadzi do antysemityzmu.
Ani też nie są one jedynymi przykładami antysemitów wokół Sandersa.
Menadżer kampanii, Faiz Shakir, jest kolejnym zwolennikiem BDS. Biorąc pod uwagę to, że Sanders często powtarza, że jest zwolennikiem Izraela i jedynie krytykuje jego rząd, trudno zrozumieć, dlaczego dał tak wysokie stanowisko komuś, kto jawnie sprzeciwia się istnieniu Izraela.
Ostatnio sztab kampanii Sandersa zatrudnił także Phillipa Agnew, innego zajadłego zwolennika BDS, który wielokrotnie powtarzał oszczerstwa o Izraelu i promował programy szkolne, które wzywają do zlikwidowania państwa żydowskiego i poparcia grup terrorystycznych, które starają się urzeczywistnić ten koszmar.
Była przywódczyni Marszu Kobiet i palestyńsko-amerykańska aktywistka, Linda Sarsour, jest jedną z twarzy kampanii Sandersa, mimo jej długiej historii antysemickich wypowiedzi i gotowości do pójścia razem ze zwolennikami podżegającego do nienawiści przywódcy Nation of Islam, Louisa Farrakhana.
Inną z twarzy kampanii Sandersa jest Amer Zahr, zwolennik BDS, który wielokrotnie szkalował Żydów i Izrael.
Te fakty nie przesłaniają tego, że ten socjalista z Vermontu jest celem ataków ze strony antysemitów, ponieważ jest Żydem. Niemniej, uparta odmowa Sandersa zrozumienia, że antysemityzm istnieje również na lewicy, a nie tylko na prawicy, podważa jego wiarygodność jako człowieka, który chce zwalczać nienawiść.
Jest powszechną cechą politycznego dyskursu, że większość ludzi jest ślepa na uprzedzenia, kiedy chodzi o politycznych sojuszników, podczas gdy potępia te same uprzedzenia u politycznych przeciwników. Ta wada nie jest ograniczona do lewicy; z pewnością istnieją na prawicy ludzie, którzy wydają się niezdolni do potępienia białych nacjonalistów lub są zbyt zajęci traktowaniem ich jako nic nieznaczących, by poprzeć izolowanie takiego zagrożenia. Tak samo jak tych na lewicy interesuje tylko nienawiść, którą w jakiś sposób można powiązać – nawet jeśli związek jest albo wątpliwy, albo nie istnieje – z prezydentem Donaldem Trumpem, są ludzie na prawicy, którzy występują tylko przeciwko lewicowym żydożercom.
Z pewnością jednak dla racjonalnych ludzi jest możliwe rozpoznanie i potępienie obu rodzajów nienawiści. Bernie Sanders jednak wydaje się niezdolny do zrobienia tego. Co gorsza, dostarcza przykrywki żydożercom, którzy mogą chwalić się, że pracują na rzecz wyboru żydowskiego prezydenta, podczas gdy równocześnie angażują się w antysemicką nienawiść i pracę na rzecz zniszczenia Izraela.
Choć jest wysoce nieprawdopodobne, by Sanders został pierwszym Żydem-prezydentem, osiągnął zamiast tego inne, wątpliwe wyróżnienie. Choć nie wydaje się to logiczne, Bernie Sanders pokazał, że można być zarówno ofiarą antysemityzmu, jak wspierać szerzenie się wirusa antysemityzmu.
---

Jonathan S. Tobin – Amerykański dziennikarz, redaktor naczelny JNS.org, (Jewish News Syndicate). Komentuje również na łamach National Review, New York Post, The Federalist, w prasie izraelskiej m. in. na łamach Haaretz.
---
---