Avital Leibovich
Tłumaczenie: Małgorzata Koraszewska
---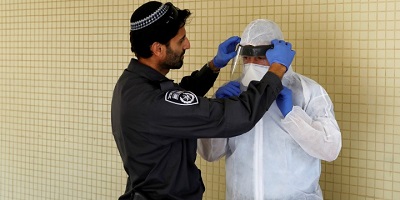 Izraelski policjant pomaga inspektorowi z Ministerstwa Zdrowia w nałożeniu ochronnej odzieży przed wejściem do mieszkania osoby w kwarantannie jako środku ostrożności przed szerzeniem się koronawirusa. Hadera, Izrael, 16 marca 2020. Zdjęcie: Reuters / Ronen Zvulun.
Świat boryka się obecnie z wrogiem o mikroskopijnych wymiarach. Jest to rodzaj wroga rzadko kiedy widziany wcześniej. Już posłał setki milionów ludzi w samoizolację w ich domach, a tysiące posłał do szpitali. Zabija tysiące na całym świecie bez rozróżniania płci lub wyznania, a oczekuje się wzrostu liczby ofiar.
Także Izrael został bezpośrednio dotknięty.
Liczba Izraelczyków zarażonych koronawirusem rośnie z dnia na dzień. Czas trwania pandemii jest nieznany, co tym bardziej wzmacnia niepokój społeczeństwa, jak również naszego rządu.
Można by powiedzieć, że Izrael, który przeszedł tak wiele przez dziesięciolecia: wojny, militarne operacje, tysiące ataków rakietowych z daleka i z bliska, z pewnością przezwycięży ten chwilowy kryzys zdrowotny.
Ale czy rzeczywiście jest tak teraz, kiedy miliony są zamknięte w swoich domach, połączone tylko cyfrowymi platformami?
Sytuacja dzisiaj bardzo różni się od ataków rakietowych na izraelskich cywilów.
Przede wszystkim, Izrael znalazł różne rozwiązania, by przechwytywać rakiety. System obronny Żelazna Kopuła, na przykład, daje niemal 90% ochrony, umożliwiając Izraelczykom na prowadzenie niemal normalnego życia. Ponadto Izrael zainwestował olbrzymie wysiłki w zbudowanie możliwości wywiadowczych, tak że zawsze jest o krok przed wrogami. Co więcej, przewaga w powietrzu jest podstawową regułą całego izraelskiego establishmentu bezpieczeństwa.
Z koronawirusem jednak nawet nie możemy zobaczyć wroga. Nie mamy wystarczających informacji o jego możliwościach i priorytetach. Z pewnością nie mamy jeszcze skutecznego rozwiązania. Ten wróg może mieć przewagę nad nami wszystkimi z powodu elementu zaskoczenia.
Choć głównym celem wirusa, tak samo jak celem wielu ataków terrorystycznych Iranu, Hamasu, Hezbollahu, Islamskiego Dżihadu i innych, są cywile, jest jeszcze jedno podobieństwo. Zawsze podczas kryzysów mamy izraelskie poczucie wspólnoty. Zawsze, kiedy pojawia się kryzys, Izraelczycy zbliżają się do siebie i wspierają społeczeństwo obywatelskie w jego licznych staraniach.
Ze wszystkich stron zalewają mnie przykłady Izraelczyków, którzy pomagają, kupując tony kwiatów od prywatnych farmerów, które inaczej wylądowałyby na śmietniku. Widziałam Izraelczyków wspierających małe przedsiębiorstwa, od sklepów dla zwierząt do sklepów zielarskich, żeby pomóc im uchronić się przed finansowym upadkiem.
Widziałam nastolatków i studentów dostarczających żywność i lekarstwa do domów starszych ludzi. NGO założyły "gorące linie" dla wsparcia emocjonalnego, a przedsiębiorstwa izraelskie przekazują laptopy i komputery ubogim dzieciom.
Widziałam także izraelskie rodziny "adoptujące" ocalałych z Holocaustu, zapewniające, że otrzymują oni wszystko, czego potrzebują.
To głębokie poczucie izraelskiej solidarności jest mocno osadzone w obecnym kryzysie, tak samo jak w innych, zagrażających życiu scenariuszach. Jest tym, kim jesteśmy jako naród. Opiera się na wartościach naszego kraju, na których założone zostało nasze państwo. To jest coś, co zawsze będziemy wysoko cenić i przekazywać naszym dzieciom.
I jest jeszcze inne podobieństwo między kryzysem koronawirusa a atakami terrorystycznymi na ziemi Izraela. W obu wypadkach mamy silną armię. Nie jest to tylko siła odrzutowców, czołgów i łodzi podwodnych. Jest to armia, która przede wszystkim opiera się na błyskotliwości umysłów i poświęceniu, która pracuje bez wytchnienia, by zapewnić bezpieczeństwo Izraela. Jest to armia badaczy, którzy spędzają długie godziny w laboratoriach, szukając najlepszej szczepionki na wirusa.
Jest to armia innowacyjnych umysłów, które rozwijają aplikacje i strony internetowe dla pojedynczych osób i dla rodzin zamkniętych w społecznościach, czyniąc, że informacja jest bardziej dostępna dla wszystkich. Jest to armia nauczycieli, która uczy dzieci przy pomocy technologii na dystans, która nie zapomina, że przede wszystkim są edukatorami.
A najlepsze? Te umysły są skarbem, którym dzielimy się ze światem. Izrael ściśle współpracuje z innymi krajami, by znaleźć niezbędne rozwiązania, nie tylko w sprawie szczepionki na koronawirusa, ale w wielu dziedzinach życia, na które wpływa ten nowy wróg.
Dzisiaj bardziej niż kiedykolwiek proszę, zrozumcie, że Izrael jest silnym krajem, nie tylko militarnie, ale – co ważniejsze – w potencjale swojej ludności i w wartościach, jakie reprezentują.
Pora spojrzeć na Izrael w inny sposób.
---

Avital Leibovich – Dyrektorka jerozolimskiego biura American Jewish Committee (AJC), Studiowała literaturę angielską i nauki polityczne. Przez 22 lata służyła w IDF, uzyskując stopień pułkownika, była również rzeczniczką prasową IDF.
---
---