Gerald Steinberg
Tłumaczenie: Andrzej Koraszewski
---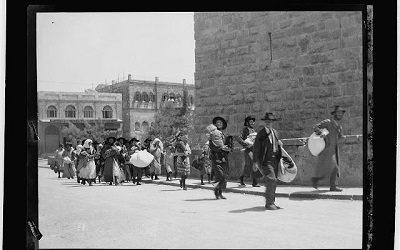 Żydzi uciekający z Dzielnicy Żydowskiej po arabskim pogromie w 1929 roku (Library of Congress)
Okropne lata, kiedy Jordania miała kontrolę nad Jerozolimą, kiedy Żydom zabraniano dostępu do ich świętych miejsc, są najlepszym dowodem na to, że wspólna administracja jest utopią.
Dla mnie, mieszkańca Jerozolimy, to jak bardzo nowożytna historia naszego miasta jest maltretowana, zniekształcana i podrabiana przez dziennikarzy, zagranicznych polityków i dyplomatów oraz różnych niedbających o fakty badaczy, jest ciągłym źródłem frustracji, szczególnie w okolicach Dnia Jerozolimy.
W kółko powtarza się nam, że "Wschodnia Jerozolima" oraz "Stare Miasto" zostały zabrane Jordanii przez Izrael w 1967 roku. Oczywiście bez wspomnienia wszystkiego co działo się w tym mieście w latach między 1948 a 1967 rokiem. Poza Izraelem fałszywa narracja pokazująca Palestyńczyków wyłącznie jako ofiary, a Izrael jako "okupanta" całkowicie wyparła prawdziwą historię i propaganda zastąpiła rzeczywistość.
Trwający wpływ jordańskiej okupacji z lat 1948-1967 jest kluczowy dla zrozumienia powszechnej odmowy akceptacji wspaniałych pokojowych pomysłów ponownego podziału miasta, obejmujących miraże "wspólnej administracji" i umiędzynarodowienia. Tego rodzaju kreatywna polityka może brzmieć dobrze dla ucha, jednak historia jordańskiej okupacji przypomina nam, że w praktyce, takie wizje prowadziłyby do powrotu okropnych praktyk.
Żydzi mieszkali w Jerozolimie zawsze i przed rokiem 1948 od wielu dziesiątków lat stanowili w tym mieście większość mieszkańców. Niszczenie i etniczna czystka starożytnej Dzielnicy Żydowskiej Starego Miasta zaczęło się wraz z rezolucją ONZ o podziale z 27 listopada 1947 roku. Siły arabskie zablokowały drogę z Tel Awiwu do Jerozolimy i izraelskie wysiłki przerwania tej blokady nie powiodły się, powodując ogromne straty w ludziach. Posiłki nie mogły dotrzeć i 28 maja 1948 armia jordańska (znana jako "Legion Arabski") zdobyła Dzielnicę Żydowską.
Jordański dowódca, Abdallah el-Tal, chwalił się, że "Operacje zaplanowanej destrukcji rozpoczęły się… Zaledwie w cztery dni po naszym wejściu do Jerozolimy Żydowska Dzielnica Jerozolimy została cmentarzyskiem." (Disaster of Palestine, Cairo 1959) Wszyscy żydowscy mieszkańcy zostali wygnani – czystka etniczna była całkowita. Żydom zabroniono dostępu do Wzgórza Świątynnego, zburzonego przez Rzymian w 70 roku naszej ery oraz do Zachodniej Ściany, która ocalała. (To były i są najświętsze miejsca dla wyznawców judaizmu).
Już po upadku Dzielnicy Żydowskiej zwycięzcy prowadzili systematyczną desekrację liczących 3000 tysiące lat pozostałości żydowskiej Jerozolimy. 57 starych synagog, bibliotek, i ośrodków studiów religijnych zostalo zdewastowanych, a 12 zburzono z premedytacją. Te, które pozostały, zostały zmienione w stajnie dla kóz, owiec i osłów. Prośby skierowane do ONZ i do międzynarodowej społeczności, aby zatrzymać zniszczenia i ogłosić Stare Miasto "miastem otwartym" pozostały bez odpowiedzi.
Co więcej, tysiące nagrobków ze starożytnego cmentarza na Górze Oliwnej wykorzystano do budowy chodników i dróg oraz jako materiał budowlany w koszarach jordańskiej armii. Po wojnie 1967 roku Izraelczycy, którzy weszli na teren cmentarza na Górze Oliwnej, zobaczyli zniszczone groby, roztrzaskane kamienie nagrobne, dowiedzieli się "że jordańscy żołnierze i lokalni mieszkańcy zabierali kamienie nagrobne do budowy". Nagrobki były rozbijane lub w całości używane do budowy przystanków autobusowych, schodów itp. Wiele grobów było otwartych, ludzkie kości były rozrzucone. Część cmentarza zmieniono na parking, przecinała go asfaltowa droga. U szczytu cmentarza zbudowano hotel Intercontinental. Sadar Khalil, wyznaczony przez rząd jordańswki jako oficjalny opiekun cmentarza, zbudował na nim swój dom, używając do budowy zrabowane kamienie nagrobne.
W 1967, natychmiast po wojnie, opublikowano wiele zdjęć, żydowskich kamieni nagrobnych na terenie jordańskich koszar, takich jak El Azariya, w palestyńskiej dzielnicy, gdzie zrobiono z nich ścieżki, schody i chodniki.
Po zakończeniu wojny 1948 roku zaczęły się nogocjacje i przedstawiciele Izraela kładli nacisk na sprawę dostępu do Żydowskiej Jerozolimy. Artykuł VIII izraelsko-jordańskiego Porozumienia o Zawieszeniu Broni, podpisanego 3 kwietnia 1949 roku, wzywał do ustanowienia Specjalnego Komitetu, "składającego się z dwóch przedstawicieli każdej strony w celu sformułowania uzgodnionych planów" w tym "swobodnego dostępu do miejsc świetych i instytucji kulturalnych oraz korzystania z cmentarza na Górze Oliwnej".
Przedstawiciele stron i międzynarodowi mediatorzy solennie zadeklarowali, "że jest możliwość, iż drogi do Świętych Miejsce będą otwarte, tak aby Żydzi mogli dotrzeć do Ściany Płaczu jeszcze podczas najbliższego Pesach. Problem dostępu do Świętych Miejsc pozostawiono do rozwiązania lokalnym władzom wojskowym i wydawało się, że "jest dostatecznie dużo dobrej woli po obu stronach, aby było to możliwe". Nic takiego się nie stało, ta klauzula nigdy nie była respektowana.
Nadal składano obietnice, Glubb Pasha, brytyjski dowodca Legionu Arabskiego, zapowiadał, że "arabska i żydowska populacja Jerozolimy będą w odrębnych miastach z 'wolnym handlem i wymianą między nimi'. Arabowie będą gotowi, by pozwolić Żydom na dostęp do ich świętych miejsc, a szczególnie do Ściany Płaczu, znajdującej się obecnie w kontrolowanym przez Arabów Starym Mieście". Aczkolwiek było wiele dyskusji na ten temat i skarg ze strony Izraela, strona jordańska nigdy nie dotrzymała umów, a ONZ nie uchwaliła żadnej rezolucji potępiającej takie traktowanie żydowskich miejsc świętych.
W 1954 roku delegacja brytyjska poprosiła generała Vagna Bennike, dowódcę oddziałów pokojowych ONZ, aby przekazał prośbę o zezwolenie niewielkiej grupie Żydów (głównie obywateli amerykańskich i brytyjskich) "na przejście na Stare Miasto, aby mogli się pomodlić przy Zachodniej Ścianie". Podobne prośby były składane do przedstawicieli USA. W odpowiedzi na jedną z takich próśb amerykański Sekretarz Stanu, Henry A. Byroade, odpowiedział, że z powodu "niefortunnych napięć" między Izraelem a Jordanią "nie można wypracować praktycznych rozwiązań".
W 1956, generał E. L. M. Burns, dowódca nadzorujących zawieszenie broni sił pokojowych ONZ, został również poproszony o podjęcie z Jordańczykami i ich brytyskimi mentorami sprawy pogwałceń Artykułu VIII – swobodnego dostępu do Zachodniej Ściany na Starym Mieście. Organizacja Narodów Zjednoczonych odmówiła pomocy w tej sprawie, ignorując dyskryminację i pogwałcenia Umowy o Zawieszeniu Broni. Mimo że prowadzono nadal dyskusję o umiędzynarodowieniu Jerozolimy, nie wspomniano nawet o odmowie dostępu do żydowskich Miejsc Świętych.
Równiez Watykan odmówił interwencji w sprawie pozwolenia Żydom na odwiedzanie ich świętych miejsc. Na forum ONZ, ambasador Izraela Abba Eban podkreślał, że chociaż chrześcijańskie i muzułmańskie miejsca święte w Jerozolimie są dostępne, "Zachodnia Ściana, najświętsze sanktuarium judaizmu i najstarsze miejsce święte w Jerozolimie, mimo solennych obietnic i zapewnień, ma zamknięty dostęp dla wiernych". W Knesecie izraelscy politycy mówili, że "ten odrażający fakt nie szokuje świata, tak bardzo zatopionego w materializmie, że niebawem nie będzie miejsca dla żadnej świętej idei." Zdarzało się, że Żydzi byli łapani i zatrzymywani, kiedy próbowali przekroczyć dzielącą miasto linię demarkacyjną, żeby dotrzeć do Zachodniej Ściany i tam się pomodlić.
Każdego roku w święto Tisza b'Av i podczas trzech świąt pielgrzymek, izraelska prasa i politycy oraz przywódcy religijni przypominali fakt, że Artykuł VIII Porozumienia jest systematycznie łamany i wzywali izraelski rząd "by okazał większą aktywność w tej sprawie". Raz za razem różne grupy ponawiały apele do ONZ i do Stanów Zjednoczonych oraz do pozostałych "wielkich mocarstw" by podjęto interwencję i zmuszono Jordanię do respektowania zobowiązań podpisanych w Porozumieniu i pozwoliły religijnym Żydom na dostęp do Zachodniej Ściany – najbardziej świętego miejsca w żydowskiej religii.
Minęły 53 lata od czasu kiedy Izraelska Armia Obronna zakończyła oblężenie i połączyła Jerozolimę z jej starożytnym dziedzictwem oraz kiedy zaczęto odbudowę budynków zniszczonych i zbezczeszczonych podczas jordańskiej okupacji. Dla nas Dzień Jerozolimy jest przypomnieniem o konieczności uczenia historii tego miasta i pilnowania, aby propagandowe kampanie i zmyślone narracje nie odniosły triumfu.
---

Gerald Steinberg – Urodzony w Wielkiej Brytanii, studiował fizykę i równolegle historię Bliskiego Wschodu, ma doktoraty z fizyki i z teorii zarządzania, jest profesorem nauk politycznych na Bar Ilan University. Założyciel NGO Monitor, instytutu śledzącego działalność międzynarodowych NGO na Bliskim Wschodzie.
---
---