Nervana Mahmoud
Tłumaczenie: Małgorzata Koraszewska
---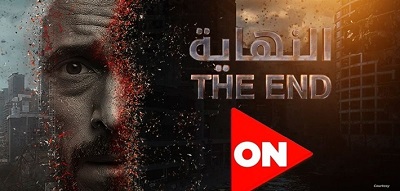 Plakat egipskiej sztuki "Koniec" – produkcja: Synergy
Przygotowana na Ramadan egipska sztuka science-fiction, "Koniec", której akcja toczy się w 2120 roku, opisuje to, co wielu ludzi na Bliskim Wschodzie pragnie, by stało się rzeczywistością – zniszczenie Izraela. W jednej ze scen filmu nauczyciel mówi uczniom, że wszyscy Żydzi z Izraela "powrócili do krajów swojego pochodzenia i że USA rozpadły się na wiele regionów". Ta scena i temat filmu wywołały gniewne reakcje w Izraelu, ale spowodowały radość w niektórych kręgach, szczególnie w mediach społecznościowych. Typowym komentarzem tych, którzy są entuzjastami tego wyimaginowanego scenariusza, było pytanie: "Czy nie mamy prawa do marzenia?" – co powtarzało wielu na Twitterze.
Nauczyłam się na własnej skórze, że omawianie arabsko-izraelskiego konfliktu w naszym regionie nie prowadzi do produktywnej dyskusji o możliwych rozwiązaniach. Wywołuje tylko gniew i histeryczne reakcje, a nawet oskarżenia o zdradę. Przyjmijmy więc zamiast tego inne podejście. Na potrzeby dyskusji załóżmy, że to iluzoryczne marzenie antyizraelskiego obozu spełni się i że Izrael w cudowny sposób zniknie na życzenie jakiejś boskiej siły. Co zdarzy się wtedy?
Przyjrzyjmy się bliżej, co zdarzyłoby się, w antyizraelskim obozie, kiedy oczekiwane fajerwerki i wielkie świętowanie zakończy się po tej imponującej sztuczce magicznego zniknięcia.
W antysyjonistycznym, propalestyńskim obozie są trzy główne frakcje: Bractwo Muzułmańskie i neo-osmański obóz islamistyczny, irańscy rewolucjoniści i ich "obóz oporu" oraz arabscy nacjonaliści i obóz lewicowy. Wszyscy oni mają ścisłe związki z różnymi palestyńskimi grupami.
Oczywiście, wszystkie trzy frakcje podzielają antyizraelską retorykę i marzenie o odzyskaniu meczetu Al-Aksa. Niemniej każda frakcja w tym eklektycznym obozie ma własny pogląd na przyszłość Palestyny. Jedni orędują za przyszłą islamistyczną Palestyną, która będzie częścią wspaniałego kalifatu Osmańskiego. Inni marzą o rewolucyjnej Palestynie, lojalnej wobec islamskiego reżimu Iranu. Trzecia grupa marzy o lewicowej, nacjonalistycznej, palestyńskiej utopii.
Nikt z nich jednak nigdy nie zajmuje się trudnym pytaniem o przyszłość ukochanej Palestyny. Jak pogodzą swoje sprzeczne poglądy w przyszłym państwie palestyńskim? W jaki sposób Palestyna "po Izraelu" uniknie losu Iraku po Saddamie lub Syrii po Wiośnie Arabskiej? Czy sojusznicy różnych palestyńskich frakcji pozwolą narodowi palestyńskiemu na decydowanie o swoim losie, czy też będą próbowali narzucić swoją wizję w zamian za finansowe i polityczne poparcie?
Czy Hamas, Fatah i inne palestyńskie frakcje, które nie potrafiły zjednoczyć się pod okupacją, pogodzą jakoś swoje różnice po "wyzwoleniu"? Czy islamiści w Palestynie "po Izraelu" zaakceptują świeckich i liberałów, czy też zwrócą się przeciwko nim, tak jak mułłowie zrobili to w Iranie i jak Erdogan zrobił w Turcji? Jak będą islamiści traktować mniejszości, takiej jak społeczność bahajów w Izraelu? Jaka będzie przyszłość ich pięknej Świątyni w Hajfie? Czy znani Palestyńczycy z diaspory, włącznie z członkinią Kongresu, Rashidą Tlaib i aktywistką Lindą Sarsour, porzucą swoje prestiżowe kariery w USA i "powrócą", by prowadzić nieustającą kampanię na rzecz "prawa powrotu do Palestyny" i służenia umiłowanemu nowemu państwu?
To są trudne pytania, więc zadajmy łatwiejsze: kto będzie sprawował kontrolę nad meczetem Al-Aksa po wyimaginowanym końcu Izraela? Hamas? Fatah? Jordania? Turcja? Iran? Czy głównie sunniccy Palestyńczycy pozwolą szyickim muzułmanom na celebrowanie śmierci Husajna w meczecie Al-Aksa? Czy też szyici zostaną uznani za "apostatów"?
Zadałam kiedyś te pytania zagorzałemu, propalestyńskiemu islamiście. Gniewnie je zbył. "To nie ma znaczenia – powiedział. – Znaczenie ma to, że najpierw zniszczymy państwo syjonistyczne, a potem pomyślimy o kolejnym dniu".
Postawa "marzenia najpierw, myśl później" jest powszechną mantrą w naszym regionie. Od dziesięcioleci, jeśli nie od stuleci, dominuje na Bliskim Wschodzie. "Pozbądźmy się kolonializmu, a potem zastanowimy się, co dalej". "Pozbądźmy się autorytarnych dyktatorów, a potem pomyślimy, co dalej". Wynikiem są dziesięciolecia rozlewu krwi, wojny domowej, prześladowania mniejszości i słabe lub upadłe państwa.
W naszym regionie łatwiej jest być w opozycji niż rządzić i łatwiej jest obwiniać niż przyjąć odpowiedzialność za porażkę. Izrael odniósł sukces nie z powodu deklaracji Balfoura ani amerykańskiego poparcia; Izrael odniósł sukces, ponieważ ci, którzy w niego wierzyli, mieli jasną wizję tego, jak rządzić swoim przyszłym państwem i byli gotowi odłożyć swoje różnice na stronę i doprowadzić do realizacji ich marzenia. Z drugiej strony, chociaż wszystkie frakcje w propalestyńskim obozie są zjednoczone w pogardzie dla Izraela, koniec państwa syjonistycznego jest ostatnią rzeczą, jakiej chcą.
Bez Izraela mułłowie nie będą mieli wymówki, by przekazywać pieniądze Hezbollahowi i innym regionalnym grupom terrorystycznym. Hezbollah nie będzie miał wymówki, by utrzymywać swoje militarne imperium w Libanie. Polityczny islam będzie miał kłopoty ze zwabieniem Arabów, by dołączyli do dystopijnego marzenia o kalifacie. I bez Izraela chór polityki tożsamości w Ameryce nie będzie miał fajnych sloganów i wymówek dla swoich emocjonalnych wybuchów. Wszyscy propalestyńscy użytkownicy Twittera staną się bezużytecznymi trollami, a wszystkim regionalnym dramaturgom zabraknie wyszukanych, populistycznych pomysłów do swoich wyszukanych filmów i oper mydlanych.
Dla wielu może to być szokiem, ale Izrael jest kurą znoszącą złote jaja dla każdej frakcji w antyizraelskim, propalestyńskim obozie. Bez Izraela zabraknie im wymówek do uzasadniania swojego statusu celebrytów, dzielącej polityki, populizmu i wstecznych ideologii. Nie dajcie się więc nabrać na ich fałszywe oburzenie i fałszywy patriotyzm dla sprawy palestyńskiej. Jest to tak dystopijne jak egipska opera mydlana, która o tym fantazjowała.
---

Nervana Mahmoud – Egipska lekarka, komentatorka i publicystka. Na swoim blogu prezentuje cotygodniowe informacje z Egiptu, pisze artykuły o liberalnym islamie, o prawach kobiet, o muzułmańskim radykalizmie i ogólnie, o sytuacji na Bliskim Wschodzie. Jej artykuły publikowane są w prasie arabskiej, ale również w prasie brytyjskiej.
---
---