Irena Lasota
---
Wolał przedstawiać się jako doktor Zbigniew Brzeziński. Dla mnie pozostał jednak profesorem Brzezińskim. "Zbigiem" nazywali go zazwyczaj ludzie pretendujący do bliskiej z nim znajomości.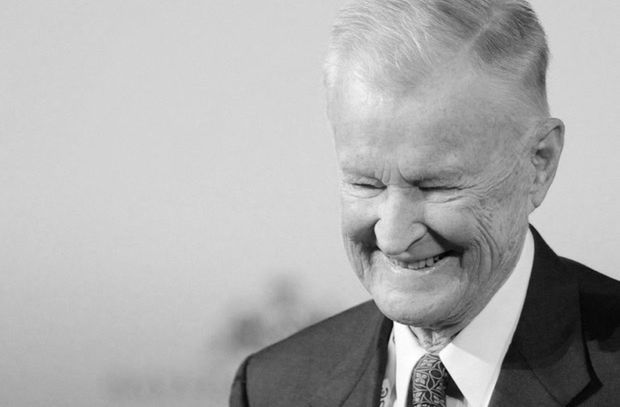 Wolał przedstawiać się jako doktor Zbigniew Brzeziński. Dla mnie pozostał jednak profesorem Brzezińskim. "Zbigiem" nazywali go zazwyczaj ludzie pretendujący do bliskiej z nim znajomości.
W latach 1975–1979 studiowałam nauki polityczne na Uniwersytecie Kolumbia w Nowym Jorku. Zbigniew Brzeziński był tam nie tylko profesorem, ale i kierownikiem założonego przez siebie Instytutu Badawczego Spraw Komunizmu. Po studiowaniu filozofii w Polsce i pedagogiki specjalnej w USA ciągle miałam ochotę uczyć się czegoś nowego i jesienią 1975 roku stanęłam przed dylematem, który z dwóch uniwersytetów, jakie przyznały mi kilkuletnie stypendia doktorskie, wybrać. Wybrałam Kolumbię ze względu na Brzezińskiego i do dziś nie żałuję, że nie poświęciłam się parapsychologii na Uniwersytecie Duke.
Pamiętam doskonale pierwszy wykład Brzezińskiego, o tym, czym jest Związek Sowiecki. Pojawił się znienacka na katedrze, bardzo punktualnie i zaczął szybko mówić, lekko skandując. Brzeziński miał wtedy 47 lat. Wykład mnie zachwycił. Chociaż minęło ponad 40 lat, pamiętam, że Brzeziński przyniósł ze sobą magnetofon i puścił chrapliwy, przestraszony, załamany głos mówiący po rosyjsku. To był Stalin 3 lipca 1941 roku, dwa tygodnie po napaści Hitlera na Związek Sowiecki. Chociaż Brzeziński miał ogólnie skłonność do teoretyzowania, jego wykłady były wykładami w starym stylu – bardzo dynamiczne, przeplatane dużą ilością przykładów oraz sugestiami lektur, które do dziś uważam za podstawowe dla zrozumienia istoty sowieckiego komunizmu.
Jednym z nauczycieli Brzezińskiego na Harvardzie był zapomniany dziś (niesłusznie) Merle Fainsod, autor książki "Smoleńsk pod władzą sowiecką", napisanej na podstawie dokumentów z okresu wielkiej czystki. Gdy armia niemiecka błyskawicznie posuwała się na wschód, NKWD miało za zadanie natychmiast rozstrzeliwać więźniów, palić wszystkie dokumenty i niszczyć cały sprzęt, którego nie zdążono ewakuować. W Smoleńsku nie spalono części dokumentów i przez dziesiątki lat były one najcenniejszym materiałem źródłowym do badania tego, co można by nazwać codziennym, zwyczajnym komunizmem. Fainsod, tak jak jego uczniowie, w tym i Brzeziński, uważał, że nauki polityczne (zwane wtedy zazwyczaj studiami rządzenia) nie mogą istnieć w izolacji i muszą zajmować się też kulturą, historią, geografią czy antropologią. W opinii akademickiej lat 70. Brzeziński, tak jak Richard Pipes czy Adam Ulam, zaliczany był do zimnowojennych antykomunistów, którym przeciwstawiała się już nowa armia odprężeniowych profesorów sowietologii, takich jak Stephen F. Cohen czy Jerry F. Hough, apologetów komunizmu i Związku Sowieckiego, których uczniowie dominują dziś na amerykańskich uniwersytetach.
Zbigniew Brzeziński podczas partii szachów w przerwie rokowań w Camp David w 1978 roku.
*Urodzony antykomunista *
Antykomunizm i antysowietyzm dla niektórych pozostał na zawsze anatemą. Nekrolog Brzezińskiego w "New York Timesie" roi się od typowych dla tej gazety zwrotów uważanych przez jej czytelników za negatywne, które w moich uszach brzmią jak komplementy: "jastrząb"; "demokrata (chodzi o partię) tylko z nazwy"; "jego sztywna nienawiść do Związku Sowieckiego stawiała go na prawo od wielu republikanów"; "w czasie czterech lat, gdy doradzał Carterowi, ograniczenie sowieckiego ekspansjonizmu było przewodnim wątkiem polityki amerykańskiej, na dobre czy na złe", "sprowadzał właściwie każdy problem do zagrożenia sowieckiego (…) nawet wtedy, gdy wielu znawców polityki zagranicznej uważało politykę odprężenia (…) za najlepszy kurs". Nie zabrakło jednak wyjaśnienia, że nienawiść Brzezińskiego do ZSSR wywodziła się z jego osobistego doświadczenia (bycia Polakiem – dodawali jego przeciwnicy polityczni). Niezależnie od późniejszych poglądów Brzezińskiego, z którymi nie zawsze się zgadzałam, zawsze będę mu wdzięczna, że nauczył mnie, jak systematycznie analizować komunizm i Związek Sowiecki oraz w jakich źródłach i książkach szukać potwierdzenia tezy, że komunizm sowiecki jest okropnym systemem.
W drugim semestrze zaczęłam chodzić na niewielkie seminaria Brzezińskiego i kiedy już zapowiadało się, że zostanie on doradcą Cartera, zaczął prowadzić seminarium na temat roli doradcy i tego, jak najlepiej ją wykonywać. Prezydent ma na głowie dużo problemów i rolą doradcy jest przygotowywanie pisemnych streszczeń problemu – memorandów. Wybieraliśmy konkretny temat, który należało streścić na pół strony. Resztę strony miały zapełnić, najlepiej w punktach, cele, uwarunkowania, możliwości działania i konkretne propozycje piszącego. Dziś często nazywa się to executive summary, a ten, kto nie posiada sztuki wyrażenia swojej myśli w kilku jasnych zdaniach, może mieć problemy w Stanach Zjednoczonych. Do tego streszczenia problemu należało dołączyć kilkunastostronicowe rozwinięcie tematu, zakładając, że przeczytają je inni doradcy, ale już niekoniecznie prezydent. Chociaż później krytykowano Brzezińskiego, że nie był specjalnie skłonny do współpracy z innymi, to właśnie na tych seminariach uczyliśmy się pracy w grupie (w domyśle – doradców) oraz umiejętności przedstawiania swoich racji. Polemizując z opiniami przedstawiającymi Brzezińskiego jako politycznego wilka samotnika, warto wziąć pod uwagę, że współpracownicy, dobierani przez prezydenta Cartera, mieli często tak odmienny światopogląd, że nie powinno dziwić, iż Brzeziński wolał ich czasem odsunąć, niż szukać elementów wspólnych.
Profesorowi Brzezińskiemu zawdzięczam umiejętność kontrolowania się w pisaniu, co sprawia, że jeśli trzeba, umiem się streścić w jednym felietonie. Ciągle bardzo lubię ujmować problemy w punktach, ale redaktorzy zazwyczaj mi to wyrzucają, mówiąc, że "czytelnik tego nie lubi". Pisanie wspomnień o kimś wybitnym bywa czasem okazją do dowartościowania się piszącego i wielu zna ten moment zażenowania, gdy na pogrzebie mówca zaczyna od chwalenia się swoją rolą w życiu nieboszczyka. Mnie się pod tym względem udało – nie muszę sama niczym się chwalić, bo moja niegdysiejsza koleżanka z Nowego Jorku, a dziś zajadła przeciwniczka polityczna Helena S. napisała (donos? komplement?) na Facebooku:
"Kiedyś, gdy [Brzeziński] był jeszcze profesorem na Kolumbii, wybrałam się do niego [by] wystarać się o stypendium dla Henryka Szlajfera, który miał wilczy bilet (…) stypendium dla Heńka ostatecznie nie załatwiłam, bo podobno Brzeziński poradził się swej polskiej ukochanej studentki Ireny Lasoty, co ma zrobić, i ta odpowiedziała mu: »Po moim trupie«, albo jakoś tak".
Zbigniew Brzeziński był sowietologiem, znawcą stosunków międzynarodowych, doradcą do spraw bezpieczeństwa narodowego USA.
Szlajfer bez pomocy Brzezińskiego lub mojej zrobił doktorat w PRL, a w RP doszedł nawet do stanowiska ambasadora. Jedyne zastrzeżenie do tego tekstu, jakie mam, jest takie, że miałabym jakoby powiedzieć profesorowi Brzezińskiemu "Po moim trupie" albo jakoś tak. Otóż do Brzezińskiego nikt się tak nie zwracał. Myślę, że nawet prezydentowi Carterowi nie przyszłoby to do głowy. Brzeziński zachowywał do ludzi dystans, jakby otoczony niewidzialną powłoką, która nie pozwalała nawet bardzo wyluzowanym Amerykanom klepnąć go na przykład po plecach. Był w tym bardzo podobny do redaktora Jerzego Giedroycia. Brzeziński był zawsze bardzo zajęty, znajdował się w ciągłym ruchu, ale jeśli już był z kimś umówiony, to do spotkania zawsze dochodziło. Jego konkretność – tak niepolska – przejawiała się nawet w tym, że jego wieloletnia asystentka Trudi pytała zazwyczaj petenta, który chciał się z nim umówić: "Czy chce pan poradzić się doktora Brzezińskiego czy mu doradzić?".
Polska w sercu
Z ludźmi z Polski, na przykład ze mną, bardzo lubił rozmawiać po polsku. Wiedział bardzo dużo o tym, co się działo w Polsce, ale zawsze chciał wiedzieć więcej. W 1975 r. udało mi się być w Polsce przez kilka dni (pod innym nazwiskiem) i Brzeziński dokładnie wypytywał mnie o szczegóły tego, co się działo w kraju, interesowały go nastroje społeczne, opozycja i niestety polska "kremlinologia", którą z kolei ja się nie pasjonowałam i nie umiałam powiedzieć, kto ma większe wpływy w KC – Ciosek czy Bulwa? Już po wyjeździe do Waszyngtonu jego ciekawość w tej czy innych dziedzinach zaspokajał Jan Nowak-Jeziorański. Z drugiej strony jego polskie dziedzictwo przejawiało się i w tym, że miał czasem łagodniejszy stosunek do polskich komunistów niż do sowieckich, czeskich czy rumuńskich. Ten duch polskiej szlacheckiej solidarności ujawnił się na przykład po 13 grudnia 1981 roku, kiedy stwierdził, że Jaruzelski, polski szlachcic, nie może zrobić narodowi polskiemu zbyt wielkiej krzywdy.
Byliśmy w tej samej audycji telewizyjnej, on w Waszyngtonie, ja w Nowym Jorku, i odpowiedziałam mu słowami Romana Zimanda, że Polak może zrobić Polakowi to samo co Rosjanin Rosjaninowi, a Niemiec Niemcowi. Nie przeszkodziło mu to jednak natychmiast zgodzić się, gdy zaproponowaliśmy mu członkostwo w Radzie Komitetu Poparcia Solidarności, a potem w Radzie Instytutu na rzecz demokracji we Wschodniej Europie (IDEE – nie mylić z polską filią, zamkniętą w 2002 roku za nadużycia). Współpracowaliśmy jeszcze później w 1999 roku, na początku drugiej wojny czeczeńskiej, w American Committee for Chechnya (Amerykański Komitet dla Czeczenii). Zbigniew Brzeziński był wówczas jego wiceprzewodniczącym razem z Aleksandrem Haigiem. Brzeziński bardzo silnie zaangażował się w obronę Czeczenii. Była to dla niego sprawa nie tylko polityczna, ale bardzo ludzka. Gdy dotarły do nas fotografie: trupów, ciężko rannych dzieci, zburzonych domów – Brzeziński wziął je od nas i rzucił je na biurko sekretarza stanu Madelaine Albright, która akurat miała dużo poważniejszy stosunek do Czeczenii niż jej następca, republikanin Colin Powell. Pamiętając o naukach wyniesionych z seminariów Zbigniewa Brzezińskiego, obawiam się, że mógłby skrytykować powyższy tekst jako za długi i bez konkretnych wniosków. Ale tak go zaplanowałam.
---
Zbigniew Brzeziński urodził się w Warszawie 28 marca 1928 roku. W 1938 roku wyjechał z rodziną do Kanady, gdzie jego ojciec został mianowany konsulem generalnym R.P. w Montrealu. Tam Brzeziński studiował na McGill University. W 1953 roku przyjechał do Stanów Zjednoczonych, gdzie uzyskał doktorat na Harvard University. W 1957 roku przyjął obywatelstwo amerykańskie. Był członkiem Działu Planowania Politycznego Departamentu Stanu USA (1966 – 68) oraz doradcą prezydenta J. Cartera ds. Bezpieczeństwa Narodowego (1977 – 81). Wśród licznych funkcji, sprawowanych przez Zbigniewa Brzezińskiego wymienić trzeba członkostwo w radach dyrektorów "Amnesty International" oraz Narodowego Funduszu dla Demokracji, członkostwo w Prezydenckiej Radzie Doradców Wywiadu Zagranicznego a także w Amerykańskiej Akademii Nauki i Sztuki. Zbigniew Brzeziński zmarł 26 maja, 2017
Najważniejsze publikacje: The Soviet Bloc (New York 1960), Between Two Ages (New York 1970), Game Plan (New York 1986), The Grand Failure. The Birth and Death of Communism in the Twentieth Century (New York 1989). Zbigniew Brzeziński został odznaczony Medalem Wolności, jest laureatem nagrody im Humberta Humphreya oraz doktorem honorowym kilku uczelni amerykańskich i zagranicznych.
---
Wikipedia.org
Irena Lasota (born 25 July 1945 as Irene Hirszowicz) is a Polish philosopher, publicist, publisher, social and political activist, and president/co-director of the Institute for Democracy in Eastern Europe. Lasota began her political activism as a student in Poland during the 1968 Polish political crisis, which pitted protesting students against the then-Communist government. Soon after the so called March events, Lasota would emigrate to the United States, eventually returning to Europe in the first half of the 1980s to settle down in France. Lasota is to this day a frequent commentator on Polish and American political affairs,[1] and remains an outspoken supporter of freedom of speech and democratic institutions.[2][3]
---
---