Stowarzyszenie "NIGDY WIĘCEJ"
---
Stowarzyszenie "NIGDY WIĘCEJ" opublikowało swój najnowszy raport pt. "Wirus nienawiści: Brunatna Księga czasu epidemii". Dokumentuje on akty rasizmu, ksenofobii i dyskryminacji, do jakich doszło w kontekście koronawirusa w Polsce w ostatnich tygodniach i miesiącach.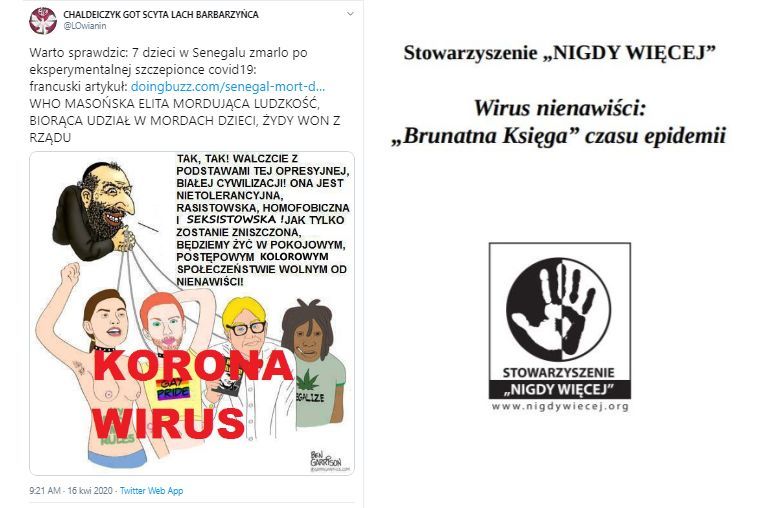 Autorzy raportu zarejestrowali przypadki napaści na przedstawicieli mniejszości, bezpodstawnie obwinianych o roznoszenie wirusa, a także liczne przejawy mowy nienawiści i teorie spiskowe na temat epidemii szerzone przez skrajną prawicę.
Wśród zebranych na ponad 30 stronach opisów znalazły się m. in. następujące zdarzenia:
– 1 marca podczas mszy w kościele pw. św. Michała Archanioła we Wrocławiu ksiądz salezjanin Leonard Wilczyński stwierdził w kazaniu, że epidemia koronawirusa "to kara boska za życie w grzechu: za homoseksualizm". Dodał, że Chińczycy "są brudni, jedzą nietoperze i martwe płody".
– 25 marca w Sosnowcu trzech mężczyzn obrzuciło ksenofobicznymi wyzwiskami pochodzącą z Chin pracowniczkę naukową Uniwersytetu Śląskiego. Poszkodowana relacjonowała: "Otoczyli mnie, tak bardzo się bałam, ciągle się trzęsę. Krzyczeli «wirus» i «China»".
– 8 kwietnia w Szprotawie lokalne media poinformowały, że ochroniarz sklepu Biedronka nie wpuścił do sklepu Ukraińca z powodu jego pochodzenia. Jeden ze świadków tego zdarzenia relacjonował: "Gdy młody człowiek chciał wejść do sklepu, ochroniarz zapytał go, czy jest Polakiem, czy Ukraińcem. Gdy odparł, że Ukraińcem, usłyszał, że nie wejdzie do środka". Jak się okazało, zachowanie pracownika wynikało z przeświadczenia, że osoby pochodzenia ukraińskiego są nosicielami koronawirusa.
– 8 kwietnia na falach warszawskiego Radia Wnet zaprezentowano teorię spiskową autorstwa brytyjskiego antysemity Davida Icke'a. Zdaniem Icke'a odpowiedzialna za pandemię koronawirusa jest globalna grupa określana jako "kult", z którą związani są "szaleńcy z Doliny Krzemowej", Światowa Organizacja Zdrowia, brytyjski następca tronu książę Karol i Bill Gates. Prowadzący audycję z powagą referował poglądy Icke'a, stwierdził też, że stanowią one "ciekawy głos w dyskusji".
– 19 kwietnia (w rocznicę wybuchu powstania w getcie warszawskim) Kazimierz Płotkowski, były przewodniczący Regionu Śląskiego partii Polska Razem Zjednoczona Prawica, zamieścił na Twitterze komentarz: "Żydki na wszystkim umieją zrobić interes… może ten covid19 to nowy holoszwindel [określenie to stanowi nawiązanie do antysemickiego stereotypu dotyczącego rzekomego czerpania korzyści z Holokaustu – dop. red. Nigdy Więcej]".
– W drugiej połowie kwietnia w Poznaniu "nieznani sprawcy" w środku nocy wybili kamieniami szyby w oknach mieszkania Filipińczyka, który od dziesięciu lat mieszka w Polsce. Reportaż na temat tego zdarzenia ukazał się 23 kwietnia w stacji TVN24. Kilka godzin po emisji materiału, znów w nocy, doszło do drugiego ataku na mieszkanie Filipińczyka. Ktoś ponownie obrzucił je kamieniami. Według poszkodowanego obie napaści były związane z epidemią koronawirusa i przejawami wrogości wobec osób pochodzących z Azji.
"Niektórzy Filipińczycy mają takie doświadczenie, że ludzie krzyczą za nimi na ulicy «Korona!». Jednemu z Filipińczyków splunięto w twarz i ktoś krzyknął za nim «Chińczyk!». Bardzo się boimy" – powiedział.
– 25 kwietnia poseł Konfederacji Grzegorz Braun w rozmowie z Tomaszem Sommerem (redaktorem naczelnym pisma "Najwyższy Czas") na portalu YouTube snuł spiskowe teorie na temat koronawirusa, za dowód jego wcześniejszego przygotowywania uznając… filmy hollywoodzkie o katastrofach. Dalej Braun przemawiał: "Siła projektów kosmopolitycznych się urealnia. […] Amerykańska – użyjmy tego terminu fachowego, klasycznego – żydokomuna próbuje wykorzystać walkę z koronawirusem, aby się pozbyć Trumpa".
– Grzegorz Braun (którego własna partia polityczna nosi nazwę… "Korona") to działacz skrajnej prawicy, który szczególnie zaangażował się w głoszenie nienawistnych teorii spiskowych związanych z koronawirusem. 6 maja podczas debaty sejmowej poseł Braun groził śmiercią przez powieszenie ministrowi zdrowia Łukaszowi Szumowskiemu. 8 maja Braun oraz znany antysemita (skazany za publiczne spalenie kuły Żyda) Piotr Rybak brali aktywny udział w konfrontacji z policją podczas warszawskiego ulicznego protestu przeciwko restrykcjom sanitarnym."Wirus nienawiści: Brunatna Księga czasu epidemii" (pełny tekst raportu w pliku PDF)
Według badań Zespołu Centrum Studiów nad Demokracją Uniwersytetu SWPS przeprowadzonych w kwietniu 2020 r. aż 45 procent Polaków wierzy w teorie spiskowe twierdzące, że "jakieś obce siły lub państwa celowo przyczyniają się do rozprzestrzeniania koronawirusa" (jedynie 42 procent uznaje jego pochodzenie naturalne zgodnie z wiedzą naukową).
Współautor raportu Stowarzyszenia "NIGDY WIĘCEJ", prof. Collegium Civitas dr hab. Rafał Pankowski stwierdza:
"Globalna pandemia to także globalny kryzys społecznego zaufania i wartości, dezorientacja, niepokój. W przestrzeni tej niebezpiecznie rozwija się ksenofobia i teorie spiskowe. Po raz pierwszy w naszej historii mamy do czynienia z taką falą nienawiści wobec osób pochodzenia azjatyckiego, ale obecne są też stereotypy antysemickie, a także wrogość i pogarda wobec rozmaitych innych grup – na przykład Romów, Afrykanów, Ukraińców, Amerykanów, Rosjan, a także muzułmanów, uchodźców, osób LGBT czy ekologów, wegan i masonów".
"Niestety, w promowanie teorii spiskowych na temat koronawirusa zaangażowane są także media, do których nierzadko jako eksperci zapraszani są ludzie o skrajnych poglądach. Takie osoby zdobywają też popularność w sieci, np. dzięki telewizji internetowej wRealu24, która szczególnie intensywnie rozpowszechnia treści antysemickie i ksenofobiczne. Wbrew zapowiedziom firmy, YouTube nadal toleruje takie treści na swojej platformie" – dodaje dr Anna Tatar, współautorka "Brunatnej Księgi".
"Przykłady nienawiści idą niestety z góry. W czasach pandemii szczególny niepokój budzą teorie spiskowe wygłaszane przez osoby publiczne: celebrytów, artystów, polityków, dziennikarzy, duchownych" – mówi Jacek Dzięgielewski, współautor raportu Stowarzyszenia "NIGDY WIĘCEJ".
---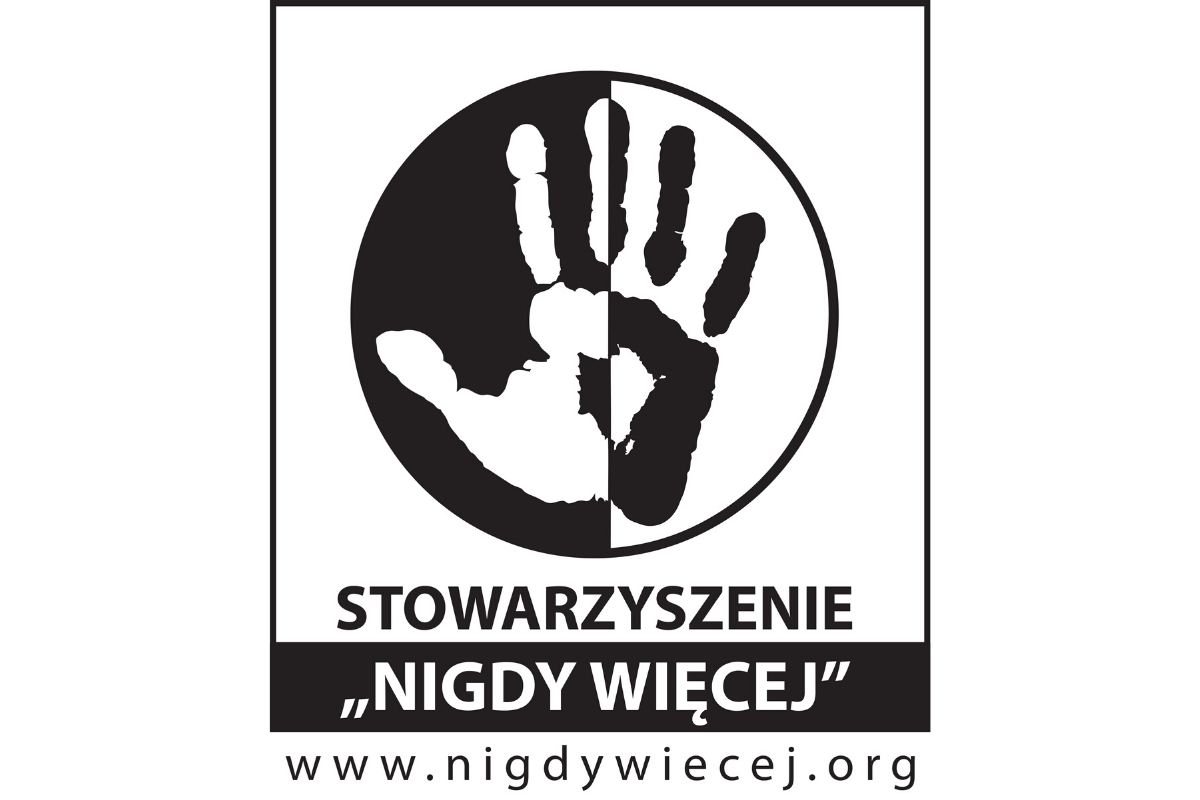 Stowarzyszenie "NIGDY WIĘCEJ" jest założoną w 1996 roku niezależną, apolityczną organizacją ekspercką, która monitoruje zdarzenia na tle ksenofobicznym. Jest m.in. członkiem sieci International Network Against Cyber Hate (INACH). Wraz z partnerami z Estonii, Słowacji, Rumunii i Hiszpanii prowadzi badania mowy nienawiści w ramach projektu Opcode: Open Code for Hate-Free Communication.
"Wirus nienawiści: Brunatna Księga czasu epide
---
---