KATARZYNA ANDERSZ
---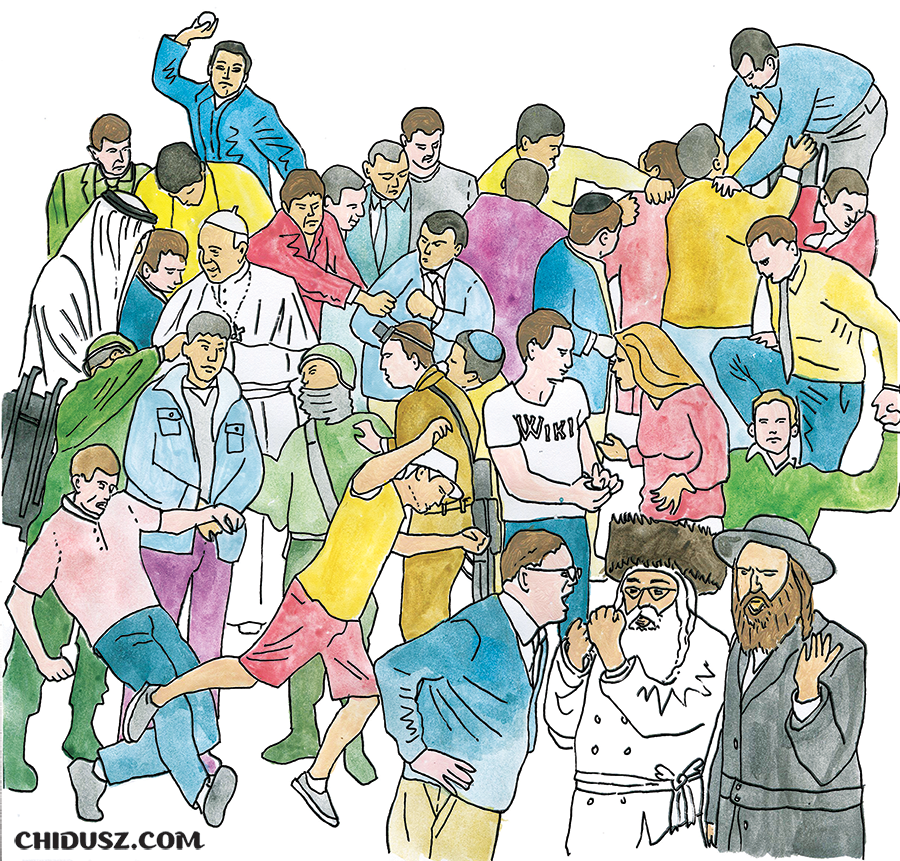 Okładka "Chiduszu" 9/2019 / autorka: Edyta Marciniak
O ŚWIECKIM JUDAIZMIE I O TYM, CO ŁĄCZY WSZYSTKICH ŻYDÓW OPOWIADA FANIA OZ-SALZBERGER, IZRAELSKA HISTORYCZKA, PISARKA I PUBLICYSTKA, CÓRKA ZMARŁEGO PRZED ROKIEM PISARZA AMOSA OZA.
.
Katarzyna Andersz: Czym jest świecki judaizm, o którym chciałabym dzisiaj z panią porozmawiać?
Fania Oz-Salzberger: Bycie Żydem nie sprowadza się wyłącznie do religii. Istnieje żydostwo postrzegane jako narodowość, kultura, cywilizacja – każdy może wybrać coś dla siebie. Jest tyle treści, tyle interesujących historii, że religia wcale nie musi być niezbędnym fundamentem.
Czy zatem fundament kulturowy, który podlega przecież wariacjom w zależności od czasu i miejsca, może być trwalszy od religijnego?
Patrząc na współczesne izraelskie społeczeństwo, może się wydawać, że nie. W polityce mamy przedstawicieli bardzo silnych frakcji ortodoksyjnych, nacjonalistyczno-ortodoksyjnych i ultraortodoksyjnych. Mimo wszystko jednak nie reprezentują oni większości Żydów – ani tych mieszkających w Izraelu, ani w innych częściach świata. Jednym z największych osiągnięć wczesnego syjonizmu – nie mówię o współczesnym, który ma zabarwienie nacjonalistyczne – była jego wizja kultury.
Jakie w takim razie są elementy niereligijne, które definiują żydowską tożsamość?
Urodziłam się w kibucu, od dziecka posługiwałam się językiem hebrajskim – tamta kultura była dla mnie naturalna, uniwersalna. Byłam częścią pokolenia, które – być może pierwszy raz od czasów biblijnych – dorastało w Izraelu. U początków naszego życia nie było żadnych znaków zapytania, żyliśmy otoczeni bogatą i piękną kulturą. My sami i wszystko wokół nas było częścią większego, naturalnego kręgu życia. Dopiero później zrozumiałam, że z taką definicją mojej żydowskiej tożsamości wiążą się również problemy.
W pani przypadku żydowska niereligijna tożsamość była nierozerwalnie związana z faktem bycia Izraelką – ciężko taki warunek uznać za uniwersalny.
Moja tożsamość uformowała się rzeczywiście w szczególnych warunkach. Kiedy zdałam sobie z tego sprawę, chciałam dowiedzieć się, czy moje rozumienie bycia Żydówką sprawdzi się także w przypadku innych ludzi, tych, którzy nie wychowali się ani w kibucu, ani w Izraelu, ani w ogóle w środowisku hebrajskojęzycznym. Mój ojciec i ja postanowiliśmy napisać razem książkę Żydzi i słowa, ponieważ uświadomiliśmy sobie, że mamy coś do zaproponowania innym: Żydom i nie-Żydom, osobom, które mówią po hebrajsku, i tym, które tego języka nie znają. Ze świeckim judaizmem wiąże się przede wszystkim coś, co nazywam przynależnością do łańcucha tekstowego. Inaczej można to określić wychowywaniem się w obecności podręcznej biblioteczki. Co istotne, nie muszą – a nawet nie powinny – znajdować się w niej tylko książki żydowskie. W mojej podręcznej biblioteczce były dzieła Tołstoja, Bialika, Lei Goldberg, ale także Hemingwaya i Dickensa. Był tam Szekspir i antyczni autorzy greccy. Najważniejsze to dorastać w otoczeniu literatury, być zarażonym jej wirusem. Odpowiadać za to mogą rodzice, dziadkowie, wujkowie, ale także nauczyciele i mentorzy. Rodzina ma kluczowe znaczenie, jednak od pierwszych stron naszej książki podkreślaliśmy, że "tym, co nas ze sobą wiąże, jest tekst, nie krew". Na mój związek z przeszłością i społeczeństwem ma wpływ tradycja tekstu – choć oczywiście nie tylko ona, bo katolicki mnich może oczywiście przynależeć do tej samej tradycji, co ja.
Co jeszcze kształtuje tożsamość świeckich Żydów?
Stół rodzinny, przy którym się czyta. Ze starożytnego Egiptu czy Grecji znamy elitarny model kształcenia – o książkach dyskutowała uprzywilejowana grupa mężczyzn. W Kościele katolickim przez wieki poznawanie tekstów także było wyłącznie męskim przywilejem. Ja natomiast mówię o stole, na którym jest zarówno jedzenie, jak i książki. I siedzą przy nim także kobiety.
Tyle że w przeszłości kobieta znajdowała się przy stole ze studiującymi mężczyznami chyba tylko wtedy, kiedy przynosiła im jedzenie.
To zależy, o jakich czasach mówimy. Drugi rozdział książki Żydzi i słowa poświęciliśmy kobietom. W Biblii pojawiają się kobiece postaci, które są bardzo aktywne, na przykład poetki – nie ma więc wątpliwości co do ich piśmienności. Niemal cała biblijna poezja została stworzona przez kobiety – mamy pieśni Miriam, Debory, Hanny. Kobiety w Biblii mają coś do powiedzenia i przewodzą. Zapis ich słów nie jest jednak najważniejszy, wystarczy, że wykorzystują swój głos. Potem, wraz z Talmudem, świat jesziwy staje się rzeczywiście niemal całkowicie męski, choć pojawiają się w nim kobiety, które dzięki swojej inteligencji i determinacji zyskują status zbliżony do mężczyzn. W Talmudzie jest mowa o Brurii i Jalcie. W pismach średniowiecznych również występują kobiety, chociażby córki Rasziego. Zawsze pochodzą one jednak z uprzywilejowanych warstw społecznych i są ponadprzeciętnie inteligentne.
No właśnie, to absolutne wyjątki. Ich historie nie mają żadnych punktów wspólnych z życiorysami milionów innych, mniej uprzywilejowanych Żydówek.
Popatrzmy zatem na wszystko z socjologicznego punktu widzenia. Stół, przy którym gromadziła się – szczególnie w szabaty i święta – żydowska rodzina, był zapełniony tekstami. Czasem już samo jedzenie stanowiło opowieść – weźmy na przykład talerz pesachowy. Do dziś każdy element, jaki się na nim znajduje, ma coś symbolizować. Poza tym podczas kolacji czytana była Hagada. Jeśli więc przy stole siedział syn, jego mądra siostrzyczka mogła zaglądać mu przez ramię. Nie była mu równa aż do XX wieku, ale nawet w tej nierówności – to moja obserwacja historyczna na podstawie badań nad piśmiennością – żydowskie kobiety były uprzywilejowane. W porównaniu z przedstawicielkami niemal każdego społeczeństwa na przestrzeni dziejów cechował je wyższy stopień piśmienności. Glückel z Hameln chodziła do chederu, w jej miejscowości takie szkoły dla dziewcząt – pochodzących oczywiście z elitarnych warstw społeczeństwa – jak najbardziej istniały. Kiedy niemieckie uniwersytety otworzyły swoje drzwi dla kobiet, okazało się, że mnóstwo młodych Żydówek chce studiować.
Wystarczy spojrzeć na historię przedwojennego Wrocławia, skąd wywodziło się wiele naukowczyń, chociażby Clara Immerwahr – pierwsza kobieta na Uniwersytecie w Breslau z tytułem doktora.
Z kolei na Uniwersytecie w Heidelbergu od razu pojawiła się Hanna Arendt. Nie trzeba było czekać dwóch czy trzech pokoleń, niepotrzebna była akcja afirmatywna – żydowskie kobiety od razu były gotowe do podjęcia studiów. Uniwersytety wprowadzały numerus clausus, bo nie chciały dopuścić aż tylu Żydów do nauki. Natomiast ci, którzy na uczelni się znaleźli – zarówno żydowscy mężczyźni, jak i kobiety – byli często ponadprzeciętnie utalentowani. Było to możliwe dzięki większemu stopniowi piśmienności w żydowskich rodzinach.
Ale to nie wszystko. Trzecią wytyczną świeckiej żydowskiej tożsamości jest według mnie zadawanie pytań. Cały Talmud opiera się na założeniu, że możesz i musisz kwestionować to, co mówi twój rabin, twoi towarzysze studiów. Masz kierować pytania nawet do samego Boga. Takie pytania w Talmudzie nazywają się kuszijot – od tego samego rdzenia pochodzi przymiotnik kasze, oznaczający ciężki, trudny. Nie było niczego niestosownego w tym, że młodszy student kwestionował opinię starszego nauczyciela, jeśli pytanie było zasadne.
Siła autorytetu nie była takimi pytaniami podważana.
W historii o zniszczeniu Sodomy Abraham ma odwagę powiedzieć do Boga: "Czyżby sędzia całej ziemi nie pełnił sprawiedliwości?". To wydarzenie bez precedensu w historii religii monoteistycznych. Nigdzie nie zadaje się Bogu tak trudnych pytań.
Judaizm w takiej wersji, jaka dominuje teraz w społecznościach ultraortodoksyjnych, chyba jednak zatracił tę tradycję zadawania pytań – przynajmniej poza jesziwą. Jeśli jakiś rabin mówi na przykład, że kobiety mają siedzieć z tyłu autobusu, one posłusznie wykonują polecenie. Mało kto podważa takie nakazy i próbuje dociekać ich słuszności – nie tylko one same, ale także mężowie w ich imieniu.
Mieszkając w Izraelu, bardzo uważnie przyglądam się ultraortodoksyjnej części naszego społeczeństwa. W dzisiejszych czasach poznanie ludzi o takim światopoglądzie jest bardzo ułatwione, ponieważ nawet oni korzystają z internetu. Nie wszystkie grupy cechują się tak poddańczą postawą, niektóre z nich są otwarte na spojrzenie wewnątrz siebie. Niemniej jednak – choć chciałabym uniknąć krzywdzącego generalizowania – większość musi podążać za swoimi rabinami w każdej życiowej kwestii. Ja – a opinię tę dzielił także mój ojciec – uważam to wręcz za antyżydowskie, sprzeczne z fundamentami judaizmu. Miszna mówi: ase lecha raw, stwórz sobie nauczyciela na swoje potrzeby. Powinno się kwestionować opinie rabinów, szukać innych przewodników, jeśli coś nam nie odpowiada.
Czyli tradycja religijna owocuje czymś, co podtrzymuje także świecką żydowską tożsamość.
W Hagadzie na Pesach czytamy o czterech synach, z których jeden nie potrafi zadawać pytań. Judaizm tymczasem zachęca do ich stawiania. Posłużę się metaforą. Pytania z Hagady są jak zabawki, imitacje prawdziwych przedmiotów, takie jak na przykład plastikowy samolot. Któregoś dnia dziecko poleci prawdziwym samolotem, póki co jednak bawi się jego modelem. Kiedyś będzie zadawało ważkie pytania, teraz trenuje na lżejszych, ucząc się jednocześnie, jak to robić. Zadawanie pytań prowokuje naturalnie sprzeczki. Jednak w życiu żydowskim kłótnia jest nie tylko w porządku, ale nawet niezbędna, pod warunkiem, że potrafi się ją prowadzić. Jednym z najważniejszych żydowskich osiągnięć od czasu mniej więcej drugiej diaspory jest umiejętność spierania się bez sięgania po przemoc. Żydowskie kłótnie w przeszłości dotyczyły przecież ciężkich tematów, ale skakano sobie do gardeł tylko metaforycznie. Jeśli miałabym przenieść się do współczesnego Izraela, powiedziałabym, że panuje u nas bardzo żydowskie przyzwyczajenie do sprzeczania się, zadawania skomplikowanych pytań, krytykowania siebie wzajemnie.
Bardzo widoczne na ulicach.
A przede wszystkim w sieci. Internet ma bardzo żydowską naturę, bo wszystko, co tam znajdziemy, jest przejaskrawione w jedną lub drugą stronę. Do tej pory jednak odnotowaliśmy w historii bardzo niewiele przypadków przemocy żydowskiej skierowanej w stronę innych Żydów, która motywowana by była naturą polityczną. Oczywiście od razu nasuwa się na myśl chociażby zamach na Icchaka Rabina, ale choć próbowałam na wiele sposobów liczyć tego typu przypadki, zawsze wychodziło mi ich od początku syjonizmu mniej niż trzydzieści. Porównaj to z jakąkolwiek inną kulturą! W Izraelu mamy wielki problem żydowsko-arabski, jednak jeśli chodzi o sprawy wewnątrzżydowskie, to kłótnie były i są zażarte, a mimo to przemocy fizycznej doświadczaliśmy niezwykle rzadko. Mój głos w debacie publicznej w Izraelu jest taki, że powinniśmy kontynuować podążanie tą ścieżką, zachowywać się bardzo ostrożnie, żeby nie dopuścić w pewnym momencie do wybuchu przemocy.
A może ta przemoc nie wybucha, bo Izraelczycy różnych środowisk już ze sobą tak zażarcie nie dyskutują? Ultraortodoksyjny Srulik z Bnei Braku nie porozmawia z Talią z hipsterskiej dzielnicy Florentine w Tel Awiwie. Nie mają nawet jakiejkolwiek okazji do spotkania.
To ciekawa obserwacja, ale tylko po części słuszna. Srulik i Talia mają trzy okazje, żeby się ze sobą spotkać. Pierwsza to wojsko. Nie każdy Srulik chce odbywać służbę wojskową, ale coraz więcej ultraortodoksyjnych Żydów, wśród nich także kobiet, decyduje się na ten krok. Armia wciąż jest szalenie ważna w kontekście integracji różnych środowisk młodych ludzi w Izraelu. Drugim miejscem jest Kneset. Choć o izraelskim parlamencie można powiedzieć litanię złych rzeczy, nie spotkamy się tam z agresją fizyczną – w połowie lat pięćdziesiątych wydarzył się jedyny incydent, nieudany zamach bombowy. Na co dzień w parlamentarnej kawiarni można zobaczyć, jak posłanki lewicowego Merecu rozmawiają z przedstawicielami ortodoksyjnych partii. Zgadniesz, jakie miejsce wymienię jako trzecie i najważniejsze?
Może szuk, izraelskie targowisko?
Blisko. Powiedziałabym, że to nowy rodzaj szuku, na którym chasyd z Bnei Braku spotyka się z queerowym studentem z Tel Awiwu i z arabską mieszkanką Hajfy. To internet. To on zmienił zupełnie zasady gry w procesie naszej interakcji, rozmowy. W internecie każdy rozmawia z każdym, to coś zupełnie nowego w świecie żydowskim, ale i jednocześnie starego. Można go traktować jako kontynuację tradycji – przez to chyba czuję się optymistką.
Wspomniała pani jeden z cytatów z książki Żydzi i słowa: "Tym, co nas ze sobą wiąże, jest tekst, nie krew". Czy nie jest to zbyt elitarystyczna perspektywa? Czy w dzisiejszym społeczeństwie – nie tylko izraelskim – literatura ma jeszcze jakiekolwiek znaczenie dla więcej niż kilku procent jego przedstawicieli? Jakby na to nie patrzeć, wydaje mi się, że Avi z Bat Jam, który ani nie czyta, ani nie interesuje się polityką, nie jest częścią tradycji, o której pani mówi.
Wedle mojego przekonania może się przynajmniej nią stać. W każdym społeczeństwie są ludzie niezainteresowani niczym innym poza Beyoncé – nie jestem na czasie z gwiazdami popkultury, więc nie wiem, czy to akurat dobry przykład. Wystarczy otworzyć Instagram, który zamiast poszerzać horyzonty, tylko je zawęża, podtykając pod nos pożal się Boże autorytety i sprawiając, że patrząc na nie, czujesz jedynie zazdrość. Ale są dzieciaki na przedmieściach Neapolu, w Holonie i w Bat Jam, które zostają pisarzami, artystami, intelektualistami. Znam takich ludzi. Wszyscy mamy narzędzia umożliwiające rozwój. Jedną z rzeczy, którą kocham w izraelskiej kulturze, jest niezwykle duża grupa piosenkarzy, muzyków, pisarzy i dziennikarzy, którzy pochodzą z tak zwanych peryferii, a nie z elit społeczeństwa. Myślę, że tutaj odczuwalny jest antyelitarystyczny, postmodernistyczny klimat.
Język jest kluczem do awansu?
Jest drabiną, po której może wspiąć się każdy. Jest drzwiami, które czekają na otwarcie, a za nimi kryje się żydowska kultura i szeroko pojęte wartości humanistyczne. I dlatego też jednym z największych problemów dziś – nie tylko w Izraelu, ale i na całym świecie – jest niski poziom edukacji, który swoje źródło ma w braku znajomości tekstów literackich. Nie można oczywiście zapomnieć o wartościach moralnych – w końcu naziści byli ludźmi, którzy znali i cenili kulturę, a jednak stawali się potworami – ale po moralności to właśnie znajomość tekstów jest moim zdaniem drugą najważniejszą rzeczą, jakiej powinno się uczyć. Nie twierdzę, że to ma być wiedza na nie wiadomo jak wysokim poziomie. Chodzi mi raczej o dogłębną znajomość i miłość do własnego języka. Bycie Żydem oznacza dla mnie też werbalność, hiperaktywność w używaniu języka, a w przypadku muzyków czy reżyserów rozszerzyłabym tę sferę o operowanie dźwiękiem i obrazem. Chciałabym powiedzieć, że to język hebrajski czyni mnie Żydówką, ale wtedy musiałabym wykluczyć z kategorii "Żyd" wielu ludzi, a tego nie chcę. Co więc sprawia, że czuję się Żydówką? Moje zakorzenienie w literaturze, zdolność podejmowania debat, a także troska, aktywizm społeczny. Jeśli ktoś ma te trzy cechy, ale nie jest Żydem czy Żydówką, i tak mogę takiej osobie powiedzieć: witaj w klubie. Metaforycznie przynależy ona do naszego żydowskiego stołu.
Szkoła w Izraelu boryka się z kryzysem w związku z prawicowymi rządami?
Ona borykała się z kryzysem jeszcze na wiele lat przed objęciem władzy przez Likud. We wczesnych latach istnienia państwa nauczycielami zostawali ludzie wybitni. Potem zmieniły się warunki ekonomiczne, branża IT zaczęła się dynamicznie rozwijać, a studia pedagogiczne przestały być dla utalentowanych ludzi atrakcyjne. Niemniej jednak są w Izraelu jeszcze miejsca, gdzie edukacja jest na świetnym poziomie, głównie ta nieformalna, na przykład w ruchach młodzieżowych. Oprócz tego jest wiele bardzo przeciętnych szkół i trochę bardzo złych. Zdecydowanie musimy zreformować nasz system oświaty. Nie obwiniam tu jednak tylko prawicy i jej nacjonalistycznych inklinacji, które widoczne są w programie nauczania. Głównym problemem jest to, że się poddaliśmy – nie wymagamy od naszych dzieci przestrzegania podstawowej dyscypliny, nie uczymy ich szacunku do języka ani abstrakcyjnego myślenia. Moim zdaniem to bardzo proste – dziecko, które nie zna dobrze swojego ojczystego języka, będzie miało trudności z jakimikolwiek zadaniami wymagającymi abstrakcyjnego myślenia. To tyczy się nie tylko Izraela i języka hebrajskiego. Nie chciałabym zostać ministrem edukacji – choć słyszałam wiele zachęt – ale gdybym miała na to wpływ, chciałabym, żeby przez trzy pierwsze lata szkoły uczniowie zajmowali się tylko czytaniem książek. Dobrych książek.
Jest pani mocno zaangażowana w debatę publiczną w Izraelu. Nie kusi pani zajęcie się polityką?
Przede wszystkim powiedzmy tu o moim ojcu, którego straciliśmy prawie rok temu. Wciąż odczuwam po jego odejściu ogromną pustkę. Wraz z jego śmiercią skończyła się pewna epoka. Nie możemy kontynuować jego pracy literackiej, ale jesteśmy w stanie podtrzymywać jego idee. Ojciec nigdy nie chciał zaangażować się zawodowo w politykę, uważał, że ma większą moc oddziaływania na ludzi poprzez swoje pisanie i działalność publiczną. Mawiał, że każdy pisarz jest w stanie być premierem, ale nie każdy premier może być pisarzem. On wybrał literaturę.
Proponowano mi nieraz karierę polityczną, ale na razie żadnej propozycji nie przyjęłam. Ja również uważam, że dzięki swoim wypowiedziom publicznym mam większą siłę perswazji. Poza tym mogę mówić dokładnie to, na co mam ochotę. Jako członkini partii politycznej albo dyplomatka – bo takie oferty również dostawałam – nie miałabym takiej możliwości. Ta wolność wyrażania własnych myśli jest dla mnie bardzo ważna. Jako przedstawicielka inteligencji – pozwolę sobie użyć wobec siebie takiego określenia – mogę mówić, co chcę i kiedy chcę, niezależnie od tematu. Nie jestem kohanit, kapłanką, ani newija, prorokinią, ale jeśli miałabym się odnaleźć w tej konstelacji, byłabym zdecydowanie bliżej tej drugiej.
.
PRENUMERATA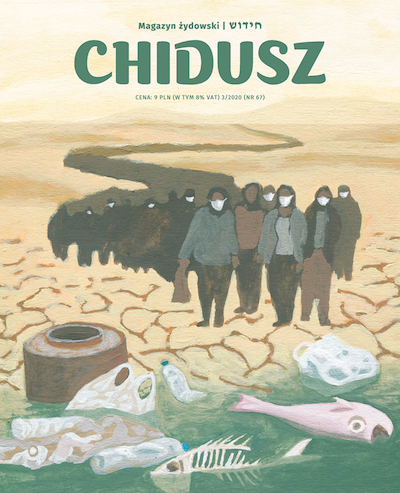 Czytając Żydów i słowa, zrozumiałam jednak, że w Izraelu nie ma miejsca na kolejnych proroków. Na jakiego przywódcę w takim razie pani czeka?
Czasami wydaje mi się, że wolałabym, żebyśmy nie mieli przywódców, a grupy ludzi, które dzierżą władzę. To jednak brzmi zbyt znajomo, pamiętamy przecież komitety, które rządziły państwami bloku wschodniego, także Izraelem. Wszyscy wiemy, jak to wyglądało. Cztery miesiące przed śmiercią mój ojciec wygłosił swój ostatni wykład, który wydałam po hebrajsku jako niewielką książeczkę zatytułowaną Kol ha-cheszbon od lo nigmar [Rozliczeń jeszcze nie dokończono]. Mam nadzieję, że ukaże się także po polsku. Ojciec mówił podczas tego wykładu o dobrym przywódcy, który jego zdaniem powinien mieć cztery talenty: odwagę, zdolność współodczuwania, umiejętność czytania map i wyobraźnię. Do tej pory nie pojawił się w Izraelu ktoś, który miałby te wszystkie cechy. Jeśli masz odwagę, ale brakuje ci empatii – nazywasz się Benjamin Netanjahu. Jeśli umiesz czytać mapy, ale nie masz wyobraźni – w dalszym ciągu nazywasz się Benjamin Netanjahu. Dobremu przywódcy potrzebne są wszystkie cztery przymioty. Ojciec wielokrotnie powtarzał, że gdzieś w cieniu, a nie w blasku świateł, rośnie już nowe pokolenie takich liderów. Mam nadzieję, że to proroctwo się spełni, bo potrzebujemy ich, nie tylko w Izraelu. Na całym świecie istnieje w tej dziedzinie pustka do wypełnienia. Najlepszymi przywódcami są obecnie Angela Merkel i Emmanuel Macron, którzy może i nie mogą pochwalić się bujną wyobraźnią czy kreatywnością, ale są przynajmniej odpowiedzialnymi dorosłymi ludźmi. Zobaczymy, co Izraelczycy, a także pozostali Żydzi na świecie będą w stanie z siebie wykrzesać.
Ale zanim skończymy rozmawiać, muszę powiedzieć jeszcze jedną rzecz: dla mnie świat żydowski stoi otworem. Jeśli ktoś chce przekroczyć jego próg, jest zawsze mile widziany.
W jakim znaczeniu?
W każdym. W książce Żydzi i słowa pytam się ojca, kto jest Żydem. On odpowiada, że każdy, kto jest wystarczająco szalony, wystarczająco meszuge. Każdy, kto chce przynależeć do klubu, którego legitymacją są książki, debata, poczucie wspólnej przeszłości i podobne spojrzenie na przyszłość. Ja jestem świecką Żydówką i nie potrzebuję testu halachiczności, cieszę się, kiedy do mojego klubu dołączają inni. Metaforyczny Żyd to Żyd. Poza tym trzeba pamiętać, że nikt z żyjących na tym świecie nie jest święty. Każdy może być targany wątpliwościami, czuć się kochanym, nienawidzonym, wyzwanym na pojedynek z tego samego pułapu – człowieczeństwa. Motto naszej rodziny to jahadut we-enoszijut, żydostwo i człowieczeństwo.
Kto jest jego autorem?
Nasz wielki przodek Josef Klausner. Miał je nawet wypisane nad wejściem do swojego domu w Jerozolimie. Te słowa od zawsze są w mojej głowie, chyba nawet w odwrotnej kolejności. Uważam, że Izrael powinien być przede wszystkim demokratyczny, a dopiero potem żydowski. Według mnie tylko w ten sposób
---
---