Aboud Dandachi
Tłumaczenie: Andrzej Koraszewski
---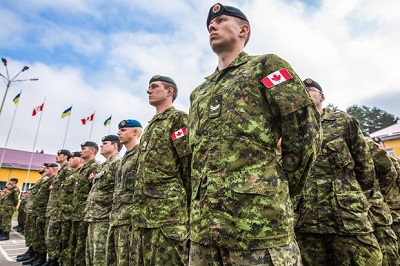 Kanadyjskie Siły Zbrojne
James A. Michener, w swojej powieści The Source , opisuje scenę, w której amerykański filantrop, Paul Zodman zwiedza izraelskie wykopaliska archeologiczne, które wspierał finansowo. Potem jest gościem kibucu, ogląda konkurs wiedzy biblijnej i bierze udział w obchodach na cześć brytyjskiego oficera Orde Wingate'a, który pomagał tworzyć struktury przyszłego żydowskiego państwa. Zodman uświadamia sobie, że widział coś, czego nie zapomni – widział izraelskiego żołnierza.
"Przez dwa tysiące lat, kiedy my, Żydzi, widzieliśmy żołnierza, nie wróżyło to nic dobrego. Żołnierz nie mógł być Żydem. Był wrogiem. Niemałą rzeczą jest widok żydowskiego żołnierza, stojącego na własnej ziemi i gotowego do jej obrony."
Jako Syryjczyk miałem pewien problem, w moim kraju żołnierze wyznają tę samą religię co ja, jednak żaden Arab nie ma ochoty na spotkanie z żołnierzem żadnej arabskiej armii. Przez całe moje życie widok wojskowego munduru budził lęk.
Z ciekawością odwiedziłem wystawę Kanadyjskich Sił Zbrojnych podczas Wystawy Krajowej w 2018 roku. Pokazywali różne rodzaje broni i techniki kamuflażu. Zafascynowało mnie artyleryjskie działo, lśniące jakby nigdy nie znało wojny. Obok działa stał młody kanadyjski żołnierz o azjatyckich rysach twarzy, wyglądający na człowieka bardziej inteligentnego niż jakikolwiek żołnierz syryjski.
Z samej ciekawości zapytałem go, ile szkody może taka armata narobić?
"Trudno powiedzieć – odpowiedział – Strzelałem z takiej armaty, ale nigdy nie byłem po drugiej stronie."
I mam nadzieję, że nigdy nie będziesz – pomyślałem – ja byłem celem artyleryjskiego ostrzału ze strony syryjskiej armii w moim rodzinnym mieście Homs.
Zarzuciłem go pytaniami, ponieważ po raz pierwszy w moim życiu mogłem normalnie rozmawiać z człowiekiem w wojskowym mundurze. Z kimś, kto nie jest zagrożeniem ani dla mnie, ani dla moich bliskich.
Pod koniec rozmowy zapytałem go , co go skłoniło do wyboru życia w wojsku?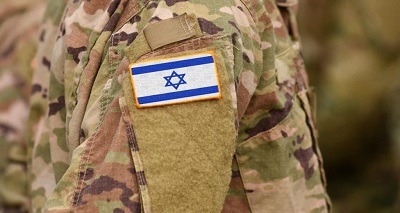 Izraelski mundur z przyszytą izraelswką flagą.
"Kiedyś ktoś mi powiedział, że prawdziwy żołnierz nie walczy dlatego, że nienawidzi tego, co jest przed nim, ale dlatego, że broni tego, co jest za nim" – powiedział.
W tym momencie zrozumiałem coś, co dręczyło mnie od pewnego czasu: moi żydowscy kanadyjscy przyjaciele, których dzieci po ukończeniu liceum lub uniwersytetu decydowały się na wyjazd do Izraela, żeby odbyć służbę w IDF. Syn jednego z przyjaciół służył w brygadzie Nahal, w której rytuał ukończenia służby, to długi marsz na trasie 400 kilometrów. Inny młody człowiek po ukończeniu normalnej służby został jeszcze na rok w IDF.
Teraz wreszcie zrozumiałem, co kieruje tymi młodymi ludźmi, którzy na ochotnika decydują się na służbę w Kanadyjskich Siłach Zbrojnych.
Ten kanadyjski żołnierz, podobnie jak jego koledzy, zaciągnął się z miłości do ojczyzny i z chęci bronienia tego, co kocha. W syryjskiej armii najlepsza służba jest tam, gdzie oficerowie mogą zarobić na szmuglu.
Armia składająca się z mężczyzn i kobiet kierujących się miłością do swojego kraju będzie zawsze bardziej skuteczną i bardziej moralną siłą niż armia idąca na podbój i rabunek. A mierząc to jakąkolwiek obiektywną miarą, IDF jest jedną z najbardziej moralnych, jeśli nie najbardziej moralną armią na świecie.
Kiedy syryjska armia zmieniała syryjskie miasta w ruiny, IDF dostarczyła medycznej pomocy ponad dwunastu tysiącom Syryjczyków. Izraelski rząd i zwykli Izraelczycy wydali miliony dolarów na szpitale polowe w samej Syrii.
To do Izraela zwrócił się kanadyjski minister spraw zagranicznych, Chrystian Freeland z apelem o pomoc w wyciągnięciu z Syrii Białych Hełmów – syryjskiej służby obrony cywilnej, grupy, która gdyby wpadła w ręce syryjskiej armii wkraczającej w pobliże Golanu, jej członków spotkałaby pewna śmierć.
Liczą się fakty. A niezaprzeczalnym faktem jest to, że gdyby syryjska armia była w połowie tak moralna jak jest IDF, ani jeden Syryjczyk nie zostałby uchodźcą.
Od czasu wizyty na tej wystawie, zacząłem się interesować historią kanadyjskiej armii. Na mojej półce znalazła się książka Pierre'a Bertona Vimy, Terrego Coppa Cinderella Army i EllinBessner Double Threat, historia siedemnastu tysięcy Kanadyjczyków żydowskiego pochodzenia, którzy brali udział w drugiej wojnie światowej. Zarówno Kanada, jak i Izrael mają powód do dumy z historii swoich armii i z powodu tego, że są to wysoce moralne armie.
Chciałbym móc to powiedzieć o armii syryjskiej…
---

Aboud Dandachi – Były syryjski uchodźca, który przyjechał do Kanady w 2017 r. w ramach kanadyjskiego programu przesiedleń uchodźców. Publikował w wielu mediach kanadyjskich, w BBC, NPR oraz w prasie izraelskiej i tureckiej. Jego konto na Twitterze: @abouddandachi
---
---