Vic Rosenthal
Tłumaczenie: Małgorzata Koraszewska
---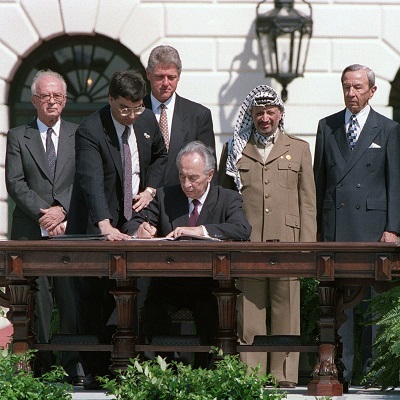 Przez dziesięciolecia wielu ludzi nawoływało do "rozwiązania w postaci dwóch państw". Izraelska lewica, amerykański establishment, nawet przywódcy Autonomii Palestyńskiej utrzymywali, że tego chcą. Niektórzy lubili powtarzać, że "wszyscy wiedzą, jakie jest rozwiązanie" i że trzeba tylko dopracować kilka drobnych szczegółów – jak, dokładnie, podzielić Jerozolimę; jak wynagrodzić arabskich "uchodźców" (którzy w większości nie są uchodźcami), którym przez wszystkie te lata obiecywano, że "powrócą"; jak podzielić ziemię tak blisko linii zawieszenia broni, która nigdy nie była pomyślana jako granica, jak to tylko możliwe; i jak wykonać czystkę etniczną Żydów z tak zwanego "Zachodniego Brzegu" po raz drugi od 1948 roku.
Przed nastaniem ONZ, kiedy kraj zdobywał terytorium podczas wojny, zatrzymywał je, jeśli druga strona (lub ktokolwiek inny) nie odbierał go ponownie siłą. Założyciele ONZ uważali jednak, że ludzkość musi stać się bardziej dojrzała. Nabywanie terytorium przez agresję zostało zakazane, a chociaż narodowa samoobrona była dozwolona, nieprzychylnie patrzono na zmianę granic – nawet jeśli można było pokazać, że "nabycie" było w rzeczywistości przywróceniem nielegalnie przechwyconej ziemi prawowitego właściciela. (A szczególnie jeśli było to na korzyść Żydów.)
Po wojnie sześciodniowej Rada Bezpieczeństwa ONZ zaproponowała kompromis, słynną Rezolucję 242. Wielkie mocarstwa, które w owych dniach dominowały ONZ, uważały, że byłoby niesprawiedliwością pozwolenie na to, by Arabowie doznali całkowitej porażki, na jaką zasłużyli, więc zaproponowały, by Izrael oddał terytorium, jakie zdobył, w zamian za "pokój w bezpiecznych i uznanych granicach, wolnych od zagrożeń i aktów przemocy". Jak gdybyśmy nie zasługiwali na to od samego początku!
Początkowo Arabowie w ogóle odmówili rozmawiania. W końcu jednak, kiedy Palestyńczycy zastąpili Jordanię jako proponowani odbiorcy Judei i Samarii, zgodzili się. Nie ma problemu, powiedzieli: po prostu anulujcie skutki wojny, dajcie nam każdy centymetr [waszej] ziemi, która przez 19 lat była pod jordańskim panowaniem, włącznie z wschodnią Jerozolimą i [nawiasem mówiąc] pozwólcie milionom Arabów, którzy podobno są potomkami uchodźców z 1948 roku na zmianę demograficznej równowagi w waszym kraju, żeby była tam większość arabska.
To było "rozwiązanie w postaci dwóch państw", które Palestyńczycy byli skłonni zaakceptować. Nie kompromis, ale całkowite odwrócenie wyniku wojny oraz to, co szybko stałoby się także odwróceniem wyniku wojny o niepodległość. To właśnie ma dzisiaj na myśli Mahmoud Abbas, kiedy mówi o "rozwiązaniu w postaci dwóch państw".
Bardziej odpowiedzialne segmenty izraelskiej lewicy i niektórzy inni zwolennicy "dwóch państw" mają dość rozsądku, by sprzeciwiać się żądaniu prawa powrotu. Jednak mniej lub bardziej akceptują resztę palestyńskiego programu.
Dlaczego więc nigdy nie został wprowadzony w życie?
Głównym powodem było to, że Palestyńczycy, widząc sukces swoich starań propagandowych na Zachodzie, wierzyli, że czas jest po ich stronie i że w końcu "międzynarodowa społeczność" zmusi Izrael, by dał im wszystko, czego chcą, włącznie z prawem powrotu. Sprzeciwiali się izraelskim żądaniom obecności w Dolinie Jordanu, palestyńskiej demilitaryzacji, uznaniu państwa narodu żydowskiego i oczywiście, odrzuceniu prawa powrotu.
Prawdopodobnie udałoby im się, gdyby nie dwie rzeczy: zmiana na rynku energetycznym, która zredukowała zależność świata od ropy naftowej z Zatoki i zrozumienie przez państwa sunnickich Arabów, że tylko Izrael – nie USA ani Europa – przeciwstawia się ekspansjonistycznemu Iranowi. Nagle znaczna część powietrza uszła z palestyńskiego balonu.
I jest to dobre, ponieważ takie rozwiązanie w postaci dwóch państw, jakie chciała narzucić administracja Obamy (nawet bez prawa powrotu), postawiłoby Izrael w niemożliwej sytuacji, z niedającymi się obronić granicami i – ostatecznie, jeśli nie natychmiast – tuż obok terrorystycznego państwa dziesięciokrotnie bardziej niebezpiecznego niż rządzona przez Hamas Gaza. Czystka etniczna, którą Izrael zostałby zobowiązany do wykonania na samym sobie, nawet gdyby zatrzymał główne "bloki osiedli" w pobliżu Zielonej Linii, rozdarłyby kraj.
W samą porę pojawił się Donald Trump ze swoją "Umową Stulecia". Jest to tylko nieco inne "rozwiązanie w postaci dwóch państw", takie, które jest bliższe wizji autorów Rezolucji 242 i które przynamniej tworzy dające się obronić granice. Zwolennicy "dwóch państw" powinni je kochać, ale tego nie robią.
Oczywiście, Palestyńczycy sprzeciwiają się temu, ale dla mnie interesujące jest to, że izraelska lewica, amerykański Reform Movement i tak wielu domniemanych umiarkowanych uznaje to za nie do przyjęcia. Sprzeciwiają się "aneksji", ale nie potrafią wyjaśnić, dlaczego linia zawieszenia broni, co do której obie strony zgodziły się, że nie ma żadnego politycznego znaczenia, jakoś zdobyła to znaczenie, kiedy Jordania utraciła nielegalnie okupowaną Judeę i Samarię, w której dokonała czystki etnicznej Żydów. Sprzeciwiają się "jednostronnemu działaniu", ale około 30 lat rozmów Izraela z OWP powinno było w wystarczającym stopniu pokazać, że nie będzie obopólnej zgody. I nie sądzę, że uświadamiają sobie, jak wyglądałoby wyrzucanie 100 tysięcy Żydów z ich domów.
Obecnie są olbrzymie naciski na Netanjahu, by nie rozciągał izraelskiego prawa na Dolinę Jordanu ani na żydowskie społeczności w Judei i Samarii. Haszymidzki król Jordanii jest ostro przeciwny lub tylko udaje. Wie, że jeśli będzie wyglądał na słabego, agresywnie antyizraelscy Palestyńczycy, którzy stanowią większość społeczeństwa Jordanii, mogą zdestabilizować jego rząd (i go wykopać). Równocześnie jednak znacznie bardziej wolałby mieć za plecami Izrael niż palestyńskie państwo, które wbiłoby mu nóż w plecy, jak to próbował zrobić Arafat w 1970 roku. Od innych sunnickich państw arabskich wymaga się, by wydawały właściwe dźwięki, ale nieszczególnie kochają one OWP, pamiętając, że ta organizacja popierała inwazję Saddama Husajna na Kuwejt i atakuje Arabię Saudyjską. Jestem pewien, że gdyby jutro zniknął Iran, powróciliby do prób zlikwidowania Izraela, ale obecnie nas potrzebują.
Także Unia Europejska sprzeciwia się planowi Trumpa. Niewiele jednak mogą powiedzieć lub zrobić prawnie, moralnie i praktycznie. To jest przekleństwo, jakie narzuciła europejska historia kolonializmu i ludobójstwa.
Palestyńczycy grozili kolejną intifadą, IDF jednak będzie przygotowane i Palestyńczycy to rozumieją. W każdym razie zwykli Palestyńczycy mają dość skorumpowanej Autonomii Palestyńskiej. Prawdopodobnie nie wyjdą i nie będą narażali życia za ludzi, którzy bezlitośnie ich okradają (wideo), szczególnie w reakcji na działanie Izraela, które ma niewielki realny wpływ na ich życie.
Iran i Hezbollah także nam grożą. Nie jest to jednak związane z tym, co robimy w Judei i Samarii. Irański reżim jest oddany idei zniszczenia Izraela. Zaatakuje nas niezależnie od tego, czy wierzy, że mu się uda (chyba że my uderzymy pierwsi; ale to jest inna sprawa).
Plan Trumpa jako całość ma wiele problematycznych aspektów. Niemniej są to w rzeczywistości pojęciowe ramy bardziej niż konkretny plan działania. Izrael nie musi "podpisać i zgodzić się na wszystko", szczególnie że tak wiele pozostaje niezdefiniowane. Jednostronne działanie rozciągnięcia izraelskiego prawa na żydowskie społeczności i na Dolinę Jordanu zabrałoby Dolinę Jordanu ze stołu negocjacyjnego, jak również utrudniłoby przyszłym rządom zgodę na wydalenie żydowskich mieszkańców z Judei i Samarii. Może chronić niektóre społeczności przed zburzeniem na życzenie Sądu Najwyższego.
Czy USA zgodzą się na uznanie naszego kroku bez naszej definitywnej zgody na uznanie reszty programu? No cóż, w prawnym sensie nie ma tu niczego do "uznawania". Nie ogłaszamy państwa i nie "anektujemy" niczego, czego już w uzasadniony sposób nie posiadamy. To jest wewnętrzna sprawa izraelska.
W każdym razie jednak, dlaczego USA miałyby wyrażać dezaprobatę wobec pierwszego kroku Izraela do zrealizowania planu zaproponowanego przez ich prezydenta, który jest realną szansą na przerwanie impasu trwającego od 1967 roku?
---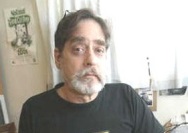 Vic Rosenthal – Urodzony w Stanach Zjednoczonych, studiował informatykę i filozofię na University of Pittsburgh. Zajmował się rozwijaniem programów komputerowych. Mieszka obecnie w Izraelu. Publikuje w izraelskiej prasie. Jego artykuły często zamieszcza Elder of Ziyon.
---
---