Uzay Bulut
Tłumaczenie:
Małgorzata Koraszewska
---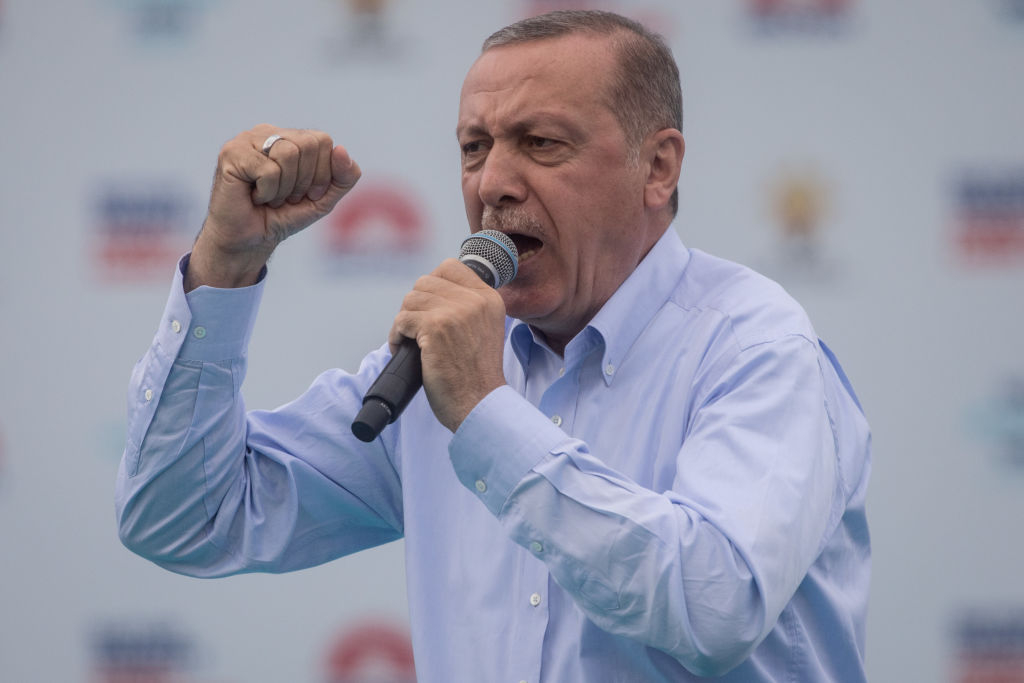 Publiczne użycie przez tureckiego prezydenta, Recepa Tayyip Erdoğana, obelgi "resztki po mieczu" w odniesieniu do ocalałych z masakr chrześcijan w jego kraju jest na wielu poziomach alarmujące. Zwrot jest nie tylko obelgą wobec ofiar i ocalałych z masakr, ale zagraża także bezpieczeństwu zanikającej społeczności chrześcijańskiej w Turcji, która często narażona jest na prześladowania, włącznie z fizycznymi atakami. (Zdjęcie: Chris McGrath/Getty Images)
Podczas spotkania informacyjnego 4 maja o koronawirusie prezydent Turcji, Recep Tayyip Erdoğan, użył mówiąc o chrześcijańskich mieszkańcach Turcji najbardziej uwłaczającego zwrotu: "resztki po mieczu".
Powiedział: "Nie pozwalamy terrorystycznym resztkom po mieczu w naszym kraju na próby dokonywania akcji [terrorystycznych]. Ich liczba bardzo zmalała, ale nadal istnieją".
"Resztki po mieczu" (kılıç artığı po turecku) jest powszechnie używaną w Turcji obelgą wobec ocalałych z chrześcijańskich masakr, które głównie uderzyły w Ormian, Greków i Asyryjczyków w Imperium Osmańskim i jego spadkobierczyni Turcji.
Publiczne użycie tego zwrotu przez głowę państwa, Erdoğana, jest ze wszech miar przerażające. Ten zwrot jest nie tylko obelgą wobec ofiar i ocalałych z masakr, ale zagraża bezpieczeństwu zanikającej społeczności chrześcijańskiej w Turcji, która często narażona jest na prześladowania, włącznie z fizycznymi atakami.
Protestując przeciwko temu Garo Paylan, ormiański poseł do tureckiego parlamentu, napisał na Facebooku:
"W pełnym nienawiści przemówieniu w ubiegły wieczór Erdoğan raz jeszcze użył zwrotu 'resztki po mieczu'.

'Resztki po mieczu' wymyślono jako określanie sierot, takich jak moja babka, która przeżyła ludobójstwo Ormian [1915]. Za każdym razem, kiedy słyszymy ten zwrot, nasze rany krwawią".
Inni ormiańscy działacze i piszący w mediach społecznościowych także krytykowali Erdoğana. Dziennikarka Aline Ozinian napisała:
"Dla tych, którzy nie wiedzą: zwrot 'resztki po mieczu' oznacza ormiańskich 'terrorystów', którzy przeżyli ludobójstwo i nie zostali zmasakrowani mieczem. Co znaczy 'terrorysta'? No cóż, to zmienia się codziennie: to może być dziennikarz, przedstawiciel społeczeństwa obywatelskiego, pisarz, lekarz lub matka pięknego dziecka".
"Nie chcą, by wstydzili się ci, którzy trzymali miecz – pisze dalej – ale by wstydziły się wnuki ocalałych z masakry narodu i kultury dokonanej mieczami".
Publicysta Ohannes Kılıçdağı napisał:
"Pomyślcie o kraju, w którym używa się zwrotów takich jak 'resztki po mieczu' w politycznej kulturze i języku. Używają go najwyższe władze. Ale te same władze w tym samym kraju twierdzą, że 'nie było żadnych masakr w naszej historii'. Jeśli nie było, to skąd wziął się ten zwrot? Do czego się odnosi?"
Zbrodnie, które Turcja próbuje ukrywać przez obwinianie ofiar, są w rzeczywistości dobrze udokumentowanymi faktami historycznymi. Profesorowie Benny Morris i Dror Ze'evi opublikowali książkę, The Thirty-Year Genocide: Turkey's Destruction of Its Christian Minorities, 1894–1924, opisując "olbrzymie masakry dokonane przez Imperium Osmańskie, a następnie Republikę Turecką przeciwko chrześcijańskim mniejszościom". Według ich badań:
"Między 1894 a 1924 rokiem trzy fale przemocy przetoczyły się przez Anatolię, uderzając w chrześcijańskie mniejszości regionu, które poprzednio stanowiły 20 procent populacji. W 1924 roku Ormianie, Asyryjczycy i Grecy zostali zredukowani do 2 procent społeczeństwa".
Podczas trwania ludobójstwa działania sprawców obejmowały "zaplanowane masowe zabijanie, mordercze deportacje, przymusowe nawracania, masowe gwałty i brutalne porwania. Jedna rzecz była w tym stała: bojowe wezwanie do dżihadu".
Podobnie jak chrześcijanie, również społeczność Alewich jest atakowana w Turcja za to, że są 'resztkami po mieczu". Na przykład, sojusznik Erdoğana, Devlet Bahçeli, szef Partii Narodowego Działania (MHP), nazwał w 2017 roku dziennikarza Abdülkadira Selviego "resztką po mieczu" odnosząc się do jego rzekomych korzeni alewickich. Prorządowy dziennikarz, Ahmet Taşgetiren, opisał następnie ten zwrot:
"Likwidujesz całą grupę (społeczeństwo, społeczność religijną, armię), którą uważasz za 'wroga'. Pozostaje grupa ludzi, którzy przeżyli miecze i poddali ci się. To są resztki po mieczu".
Selvi następnie próbował wyjaśnić, dlaczego nie jest "resztką po mieczu":
"Chciałbym przypomnieć Bahçeliemu: mój dziadek, Osman, był synem ojczyzny, który szedł z jednej linii frontu na drugą i był więźniem wojennym w wojnie osmańsko-rosyjskiej. Jestem wnukiem Turków Oguz; moi przodkowie, Hasan i Hüseyin, zostali męczennikami w Jemenie. Ten honor mi wystarcza".
Wyjaśnienie Selviego raz jeszcze pokazuje, że posiadanie chrześcijańskich, alewickich lub innych nie-muzułmańskich korzeni widziane jest jako obelga lub haniebna obraza przez wielu w Turcji. Zamiast wyjaśnić, dlaczego nazywanie kogoś "resztką po mieczu" jest nie do przyjęcia, Selvi próbował dowieść swego "czystego", tureckiego pochodzenia i sunnicko-islamskiego wyznania.
"Dzisiaj mniej niż pół procenta populacji Turcji stanowią chrześcijanie, co jest rezultatem historii, w której Turcy prześladowali rdzennych chrześcijan regionu" – napisał historyk, dr Vasileios Meichanetsidis.
"Wielu Turków nadal dumne potwierdza tę historię bez żadnej próby uczciwego do niej podejścia lub okazania szacunku dla ofiar. W rzeczywistości fałszywie określają ofiary jako sprawców, chwalą zbrodniarzy i obrażają pamięć ofiar i ich potomków".
Użycie zwrotu "resztki po mieczu" nie oznacza więc zaprzeczania masakrom i ludobójstwu. Wręcz przeciwnie, oznajmia o dumie sprawców. Znaczy: "Tak, zamordowaliśmy chrześcijan i innych nie-muzułmanów, bo na to zasłużyli!"
---
---