Gideon Ben-Zvi
Tłumaczenie: Małgorzata Koraszewska
---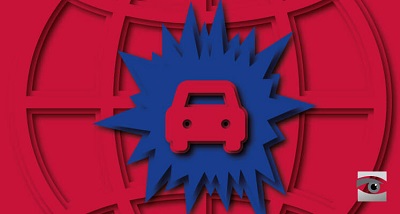 W ostatnich miesiącach, kiedy wznowione antypolicyjne protesty rozprzestrzeniły się w całych USA, dziesiątki kierowców użyło samochodów jako narzędzi terroru. W Stanach Zjednoczonych taranowanie pojazdami po raz pierwszy zdobyło popularność jako brutalna taktyka przeciwko protestującym podczas wczesnych fal blokujących ulice protestów Black Lives Matter w 2015 roku. Także w Europie zamachy taranującymi pojazdami nasiliły się przez ostatnich pięć lat. A od 2015 roku było ponad 80 zamachów pojazdami taranującymi ludzi w Izraelu.
Jeśli jednak liczba zamachów pojazdami wzrasta na całym świecie, dlaczego o takich zamachach, które są dokonywane w Izraelu, albo nie ma żadnych informacji w międzynarodowych mediach, albo są rażąco błędnie prezentowane?
Taranowanie samochodamiTTaranowanie samochodami: narastający problem pierwszego świata
Większość innych rodzajów zamachów terrorystycznych ma miejsce w strefach konfliktu w rozwijającym się świecie. Jednak większość zamachów dokonywanych samochodami zdarza się w rozwiniętych krajach. Europa i Stany Zjednoczone notują ponad połowę niedawnych zamachów taranowania pojazdami. Izrael był jednak kanarkiem w kopalni. Takie ataki stały się taktyką terrorystów dopiero w latach 1990., kiedy Palestyńczycy zaczęli przeprowadzać tego rodzaju zamachy w Izraelu.
Według eksperta kontrterroryzmu, Daveeda Gartenstein-Rossa, terrorysci zaczęli używać pojazdów jako broni w Izraelu częściowo dlatego, że "bariera bezpieczeństwa jest skuteczna, co utrudnia wwóz bomb do kraju". Do roku 2016 zamachy taranującymi pojazdami wyewoluowały od statystycznie rzadkich zdarzeń do najpowszechniejszego rodzaju terrorystycznych zamachów w Izraelu i drugiego najbardziej śmiercionośnego rodzaju zamachów dokonywanych przez palestyńskich zamachowców.
W rozbiciu na poszczególne kraje, Izrael i terytoria palestyńskie prowadzą z 41 zamachami, następne są Stany Zjednoczone z 39 zamachami, Chiny z 28, Francja z 14 i Wielka Brytania z dziesięcioma.
Zamachy pojazdami w Izraelu: gdzie są media?
Mimo że międzynarodowa prasa jest w pełni świadoma zjawiska taranowania samochodami i szeroko o tym donosiła, jest jednak nieobecna, kiedy chodzi o informowanie o takich zamachach w Izraelu. W tym wypadku brak informacji jest w równym stopniu łamaniem dziennikarskiej etyki, jak i stronniczym relacjonowaniem. Przez wybór informowania o jednych wydarzeniach, ale nie o innych, lub przemilczenia kluczowych elementów wydarzenia, media kontrolują dostęp do informacji. Kiedy organizacja zajmująca się zbieraniem i przekazywaniem informacji nie informuje o zamachu samochodowym w Izraelu, jest to subtelny, ale niezmiernie skuteczny rodzaj selektywnego uprzedzenia mediów, selektywne pomijanie.
To ma znaczenie. Ludzie są bardzo zajęci. Po prostu nie mają czasu, żeby zdobyć informacje o całej sprawie. To jest odpowiedzialność dziennikarza. Przez selektywne pomijanie wydarzeń, które nie pasują do pewnej narracji, dziennikarze uniemożliwiają publiczności zrozumienie tego, co się dzieje.
Zamach samochodowy czy wypadek? Kiedy terrorystyczny czyn staje się "kontrowersyjny"
W odpowiedzi na oskarżenia, że izraelscy żołnierze zastrzelili Palestyńczyka bez żadnego powodu, Izraelska Policja Graniczna opublikowała materiał filmowy z kamer bezpieczeństwa z przebiegu wydarzeń w tym zamachu na Zachodnim Brzegu. 26 czerwca CNN opublikowała informacje o tej sprawie, otwierając raport z wydarzenia tym tytułem: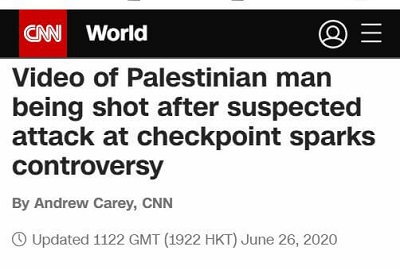 [Wideo Palestyńczyka zastrzelonego po podejrzeniu zamachu na punkcie kontrolnym wywołuje kontrowersję]
Inną sztuczką lingwistyczną użytą przez CNN jest zamiana zamachu z aktywnego czasownika w biernie brzmiący rzeczownik: "podejrzany zamach". Skutkiem jest umniejszanie potwornej natury zamachu.
Dla porównania, oto jak CNN opisała wydarzenie taranowania samochodem, które miało miejsce poza Izraelem:
Proszę zauważyć słowo "podejrzeniu". Twardy dowód w postaci filmu z kamery bezpieczeństwa, obala sugestię w tytule CNN, że Palestyńczyk, który został zastrzelony, mógł nawet nie brać udziału w zamachu. Obejrzyjcie wideo z wydarzenia i oto, co zobaczycie: samochód kierowany przez "Palestyńczyka" zbliża się do punktu kontrolnego w Abu Dis w pobliżu Jerozolimy. Gwałtownie przyspiesza i skręca ku grupie policjantów. Jego samochód taranuje następnie policjantkę, którą uderzenie wyrzuca w powietrze, następnie samochód uderza w budką strażniczą i zatrzymuje się.
Inną sztuczką lingwistyczną użytą przez CNN jest zamiana zamachu z aktywnego czasownika w biernie brzmiący rzeczownik: "podejrzany zamach". Skutkiem jest umniejszanie potwornej natury zamachu.
Dla porównania, oto jak CNN opisała wydarzenie taranowania samochodem, które miało miejsce poza Izraelem: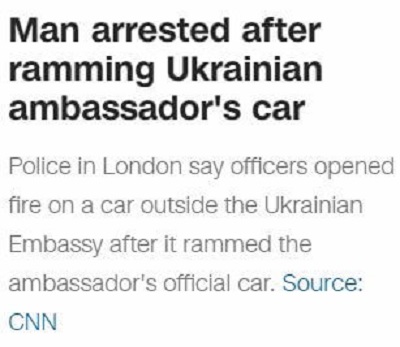 [Mężczyzna aresztowany po staranowaniu samochodu ukraińskiego ambasadora]
Policja w Londynie mówi, że policjanci otworzyli ogień do samochodu przed ukraińską ambasadą, po tym, jak staranował on służbowy samochód ambasadora]
Niestety, takie niezrównoważone relacje medialne nie są unikatowe dla CNN. Innym seryjnym sprawcą jest Reuters:


[Na paryskim przedmieściu samochód taranuje dwóch policjantów na motocyklach]
Także tutaj nagłówek Reutersa o zastrzeleniu palestyńskiego kierowcy podaje w wątpliwość, czy rzeczywiście dokonał on zamachu. Proszę także zauważyć, jak włączona jest "izraelska policja". Taki zamach wydaje się mniej ohydny, jeśli dokonany jest przeciwko dość abstrakcyjnej "izraelskiej policji" w odróżnieniu od realnych ludzi, policjantów.
Tymczasem drugi nagłówek Reutersa podaje fakty tak, jak się zdarzyły, bez przydawek, takich jak "domniemany", "podejrzany" itd. Inną różnicą jest użycie czasownika "taranować" w formie czynnej. Również ofiary paryskiego ataku są uczłowieczone. Nie są opisane jako "paryska policja", ale "dwóch policjantów na motocyklach".
Wysoka cena manipulowania informacją
Alarmująca liczba ludzi nie ufa, że media informują uczciwie. To jest poważny problem dla demokratycznych społeczeństw, gdzie ludzie zależą od organizacji zbierających i przekazujących informację. Coraz częściej ludzie zdobywają informacje przez swoje mobilne urządzenia. Nie mogą sprawdzać faktów, weryfikować źródeł ani identyfikować pominięć. Dlatego dobre, uczciwe relacjonowanie jest bardzo ważne, bo od niego zależy, jak ludzie widzą swój świat. Przez uczciwe prezentowanie faktów i pozwalanie ludziom na wyciąganie własnych wniosków bez zakłóceń spowodowanych przez ideologiczne dziennikarstwo, organizacje informacyjne mogą odzyskać zaufanie ludzi.
Taranowanie samochodami nie jest już odległą sprawą izraelską. Dzisiaj ludzie na całym świecie są coraz bardziej narażeni na tego rodzaju terroryzm. Zasługują na to, by znać prawdę, całą prawdę i tylko prawdę. Ignorowanie, tuszowanie lub błędne przedstawianie zamachów samochodowych w Izraelu utrudnia ludziom w innych demokratycznych krajach uzyskanie poprawnej perspektywy i zrozumienie powagi problemu.
---
---