Seth J. Frantzman
Tłumaczenie: Małgorzata Koraszewska
---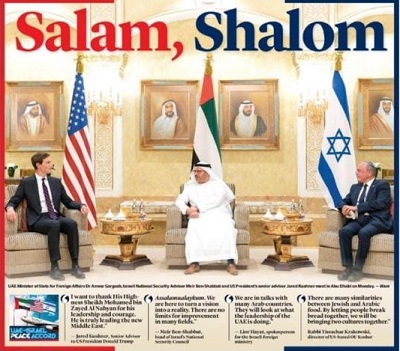 Pierwsza strona gazety w ZEA w dniu 1 września 2020r.
Pamiętamy przemówienie Johna Kerry'ego z 2016 roku o rezolucji ONZ, w której potępiono rolę Izraela na Zachodnim Brzegu. Kerry powiedział, że administracja jest "głęboko oddana Izraelowi i jego bezpieczeństwu" i zapewniał, że on tak bardzo pragnie, by Izrael "żył w pokoju i bezpieczeństwie ze swoimi sąsiadami".
Jest bardzo wiele podobnych głosów na Zachodzie i w USA, głosów, które twierdzą, że są "proizraelskie"… gdzie jednak były wczoraj i przez ostatnie tygodnie, kiedy Izrael i ZEA doszły do porozumienia i mogły dostrzec nowe horyzonty dla obu krajów?
Nieobecne. Milczące. Nie zainteresowane.
Kilka z tych głosów w USA, które przez lata uważały Izrael za swoje główne hobby i twierdziły, że dbają o Izrael, miały nawet spotkanie przez Zoom, na którym dyskutowały, jak należy zdemontować Izrael.
Powodem, dla którego umowa z ZEA nie jest dla nich interesująca, jest to, że szerokie kręgi "proizraelskiej, pro-pokojowej" zgrai nie są tak naprawdę zainteresowane Izraelem i pokojem w regionie, ani też Palestyńczykami. W rzeczywistości w ogóle nie interesuje ich region jako całość ani rola Izraela w regionie. Nie dbają o "bezpieczeństwo" Izraela ani o "pokój z sąsiadami".
Skąd to wiemy? Ponieważ nigdy nie działali na rzecz pokoju, z żadnymi sąsiadami. Nigdy nie chcieli pokoju między Izraelem a ZEA, Izraelem a Sudanem, Izraelem a Tunezją, Libanem, Marokiem, Iranem lub jakimkolwiek innym krajem. Chcieli używać braku normalnych stosunków jako narzędzia do zmuszenia Izraela do ustępstw. Widzieli izolację Izraela jako sposób zdobycia tego, czego chcieli. Myśleli, że gdyby tylko mogli założyć wystarczająco ścisłe oblężenie Izraela, zmieniłby się.
Słysząc tę samą historię o jakimkolwiek innym kraju… powiedzmy, na przykład o Iranie, zapewnienia, że ludzie "proirańscy" to ci, którzy starają się odciąć jego stosunki z innymi i izolować go… moglibyście powiedzieć, iż "nie wygląda to specjalnie proirańsko"… jeśli deklarujecie, że jesteście propakistańscy, ale nie chcecie, żeby Pakistan miał normalne stosunki dyplomatyczne z innymi państwami, wolicie, żeby był izolowany i oblężony oraz zmuszony do ustępstw, czy to jest propakistańskość?
Tylko w odniesieniu do Izraela musimy wysłuchiwać, jak ludzie z obozu "surowej miłości" "proizraelskiej" (krytycy Izraela chcą tego, co dla niego najlepsze), są tymi, którzy chcą ten kraj izolować. Dlaczego Izraelczycy i Palestyńczycy nie mieliby swobodnie podróżować do Zatoki, Iraku lub Maroka? Wiele razy, spotykając ludzi Zachodu w tych miejscach, miałem wrażenie, że odczuwają pewien rodzaj przywileju, mówili do mnie: "jak się tu dostałeś, przecież jesteś z Izraela", lub: "jak to możliwe, że Izraelczycy w ogóle przyjeżdżają tutaj"… Jak gdyby byli bardziej szczęśliwi, gdyby "mieli to miejsce dla siebie"… Nie mówili w ten sposób o żadnym innym kraju… Chodzi mi o to, że mogli nie cierpieć birmańskiego reżimu… ale nigdy nie odczuwali zadowolenia na myśl, że przeciętny Birmańczyk może nie móc dokądś podróżować. Ten osobliwy pogląd mieli tylko w sprawie Izraela.
Przyznajmy więc. Przez dziesięciolecia wielu ludzi na Zachodzie aktywnie działało na rzecz izolacji Izraela. Dyplomaci z USA i Europy niezmiernie rzadko zachęcali inne kraje do otwarcia na Izrael. Zachowywali milczenie mimo faktu, że wygłaszali puste słowa o "pokoju". Byli jednak zawsze głęboko przeciwni pokojowi. Twierdzili, że chcą tylko użyć izolacji, by zmusić Izrael do zmiany. Uważali, że to wzmocni umiarkowanych. Ci sami ludzie wierzą jednak, że izolowanie Iranu wzmocni tamtejszych twardogłowych. Dziwne, bo w sprawie Izraela wierzyli, że izolowanie Izraela, bojkotowanie go, wzmocni jakichś umiarkowanych. Zamiast tego dostali Netanjahu. I to właśnie twardogłowi w Izraelu i w obecnej administracji USA doprowadzili do tej umowy z ZEA.
Jest to bardzo interesujące. Oni wierzyli, że mogą izolować Izrael, założyć wokół niego oblężenie… a nawet, że mogą używać lub usprawiedliwiać "zbrojnych napaści", by zmusić Izrael do ustępstw… to była ich konsekwentna idea… nigdy nie orędowali za zakończeniem podżegania przez Hamas i jego popleczników… czynnie podsycali płomienie ekstremizmu przeciwko Izraelowi, mówiąc równocześnie o "bezpieczeństwie"… mając nadzieję, że jakoś izolacja i ataki mogą doprowadzić Izrael do zrobienia tego, czego oni chcieli.
Nic dziwnego, że milczeli, kiedy pierwszy samolot z Izraela wylądował w Abu Zabi. Bo teraz wszystkie ich koncepcje zostały podarte. Bo wyraźnie pokazuje to ludzi, którzy twierdzą, że lubią, a nawet kochają Izrael i chcą tego, co "najlepsze dla Izraela". Może, gdyby działali na rzecz szerokiej normalizacji stosunków krajów arabskich z Izraelem, a następnie użyli tego do rozmów z Izraelem o pokoju, mając nadzieję, że wspólna praca w regionie na rzecz większej swobody podróży i dobrobytu, może przynieść zmianę… przez wzmocnienie umiarkowanych… mogliby osiągnąć pokój. Zamiast tego używali izolacji jako narzędzia… chcieli, by każdy kraj w regionie trzymał Izrael na odległość… i myśleli, że to będzie działać, mimo siedemdziesięciu lat dowodów, że im bardziej próbujesz izolować Izrael, tym większe są jego osiągnięcia.
Należy teraz postawić pytania o to, jak nieistotna jest ten zgraja szarlatanów, tych, którzy mówią o "bezpieczeństwie" Izraela, ale w rzeczywistości sprzeciwiają się normalnym stosunkom Izraela z krajami w regionie… którzy nie chcą izolować Iranu, ale chcą izolować Izrael. Umowa z ZEA jest dobrym papierkiem lakmusowym dla sprawdzenia ich zamiarów. Większość milczy lub potępiła umowę. I to pokazuje ich prawdziwe barwy. Nigdy nie chcieli bezpiecznego Izraela.
---
Od Redakcji "Listów z naszego sadu"
Doskonałą ilustracją tego o czym pisze Seth Frantzman jest tweet Kennetha Rotha, szefa Human Rights Watch i odpowiedź na tę wypowiedź Hilela Neuera z UN Watch.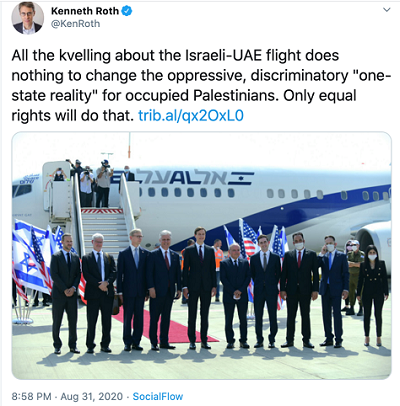 "Całe jojczenie o locie na trasie Izrael-ZEA nie robi niczego, by zmienić ciemiężącą "rzeczywistość jednego państwa" dla okupowanych Palestyńczyków. Dokonają tego tylko równe prawa."
Oto odpowiedź:
Hillel Neuer
Szanowny Ken Roth z Human Rights Watch
Dzisiaj ujawniłeś, że kochasz pokój tak jak ladacznica ujawniła swoją miłość do dziecka, kiedy poprosiła króla Salomona, by przeciął je na dwoje.
Zdecydowałeś się użyć słowa w jidysz – czego nigdy nie robisz – tylko po to, by szydzić z Żydów świętujących porozumienie pokojowe Izrael-ZEA.
Normalnie nigdy nie używasz żydowskich słów ani idei, ani też nie dajesz żadnej w ogóle pozytywnej wzmianki o Żydach.
Dziesięciolecia twoich pełnych pogardy działań, komentarzy i postaw wobec Żydów, judaizmu i żydowskiego państwa jedną rzecz uczyniły całkiem jasną: wstydzisz się swojej żydowskiej tożsamości.
Dlatego codziennie poświęcasz swoją nikczemną, żarliwą wściekłość na przedstawianie żydowskiego państwa w przypominających nazistów kategoriach.
Tylko w tym roku oskarżyłeś Izrael o "zbrodnie wojenne" 10 razy częściej niż oskarżyłeś Iran, Syrię, Hamas, Rosję, Chiny i Wenezuelę – razem wzięte. Podobnie, w okresie 18 miesięcy w latach 2017-2018 poświęciłeś ponad 70% twoich tweetów oskarżających o "nielegalne" czyny krytyce jednego, jedynego państwa: Izraela. W odróżnieniu od tego, tylko 1% twoich tweetów oskarżał o to samo Syrię, Rosję, Irak, Libię lub Jemen. (Patrz unwatch.org/obsessedkenroth)
Także założyciel twojej organizacji, mój nieżyjący już przyjaciel, Robert Bernstein, widział jak twoja patologiczna nienawiść doprowadziła cię na mroczną drogę obrony terrorystycznych grup, które dążą do zniszczenia Izraela – i Bernstein potępił cię za to na łamach "New York Times".
Prawa człowieka nie są twoim prawdziwym motywem, ale powoływanie się na nie daje ci pozór cnoty także wtedy, kiedy działasz powodowany bigoterią, agresją i wrogością wobec narodu, który przez całą historię zawsze był najłatwiejszym celem i atakowanie którego najlepiej wspierało kariery.
Pora, byś odszedł – a jeśli nie, to wzywam Human Rights Watch, by cię wyrzucili.
Z poważaniem,
Hillel C. Neuer
Dyrektor wykonawczy
United Nations Watch
Genewa, Szwajcaria
---

Seth J. Frantzman – Publicysta "Jerusalem Post". Zajmował się badaniami nad historią ziemi świętej, historią Beduinów i arabskich chrześcijan, historią Jerozolimy, prowadził również wykłady w zakresie kultury amerykańskiej. Urodzony w Stanach Zjednoczonych w rodzinie farmerskiej, studiował w USA i we Włoszech, zajmował się handlem nieruchomościami, doktoryzował się na Hebrew University w Jerozolimie.
---
---