Richard Kemp
Tłumaczenie: Małgorzata Koraszewska
---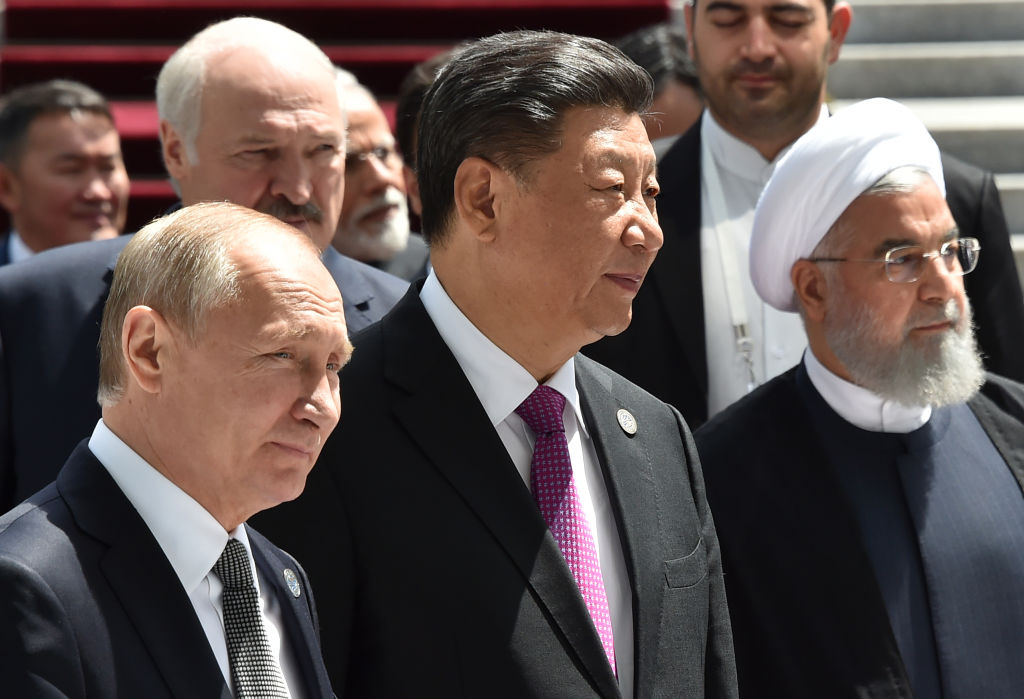 Wielka Brytania i Francja starają się obłaskawić trzy mocarstwa, które dzisiaj najbardziej zagrażają światu: Iran, Chiny i Rosję. Na zdjęciu: rosyjski prezydent, Władimir Putin, chiński prezydent, Xi Jinping i irański prezydent Hassan Rouhani w Biszkek w Kirgistanie, 14 czerwca 2019 r. (Zdjęcie: Vyacheslav Oseledko/AFP via Getty Images)
Europę ogarnęła wyjątkowo zjadliwa i groźna choroba, która zagraża dobrostanowi jej narodów i świata: nie jest to koronawirus , ale appeasement. W anglo-francuskiej polityce zagranicznej w latach 1930. także dominował appeasement – nazistowskich Niemiec – polityka, która nie potrafiła zapobiec największej katastrofie, jaka kiedykolwiek spadła na cywilizację i która doprowadziła do śmierci milionów.
Obecnie Wielka Brytania i Francja starają się obłaskawić trzy mocarstwa, które dzisiaj najbardziej zagrażają światu: Iran, Chiny i Rosję. Jako stali członkowie Rady Bezpieczeństwa ONZ w zeszłym tygodniu Wielka Brytania i Francja pokłoniły się swoim arcywrogom przez odmowę poparcia swojego największego sojusznika, Stanów Zjednoczonych, w sprawie rezolucji przedłużającej embargo na broń dla Iranu. Oczywiście tej rezolucji sprzeciwiały się Chiny i Rosja, które to kraje zamierzają sprzedawać nowoczesną broń konwencjonalną Iranowi, gdy tylko embargo zakończy się w październiku.
W latach 1930. agresywne zamiary nazistowskich Niemiec były jasne. Chociaż ugodowa postawa wobec Hitlera była niewybaczalna, główny jej powód daje się jednak zrozumieć: panowała atmosfera "pokój za wszelką cenę" po bezprzykładnej rzezi I wojny światowej, którą wówczas wszyscy mieli świeżo w pamięci.
Dzisiaj zamiary Iranu Chameneiego są równie jasne i często już wprowadzane w życie w imperialnych napaściach na całym Bliskim Wschodzie, szczególnie wobec Iraku, Syrii, Libanu, Jemenu i Arabii Saudyjskiej, jak również w formie uporczywych gróźb i działań militarnych przeciwko Izraelowi.
Nawet jeśli kraje europejskie są tak zaślepione, że nie zauważają tych odległych agresywnych działań, jak mogą ignorować wiele aktów terroryzmu i morderczych spisków dokonywanych w ostatnich latach przez irańskie marionetki na europejskiej ziemi? Jak mogą ignorować morderstwa i próby zamachów na irańskich dysydentów (a obejmuje to nieudany zamach bombowy na kongres w Paryżu w 2018 roku i zgromadzenie wielu ton materiałów wybuchowych w Londynie w 2015 roku). Zaledwie kilka lat wcześniej brałem udział w dyskusjach na Downing Street o zabijaniu brytyjskich żołnierzy w Iraku przez irańskie marionetki i natknąłem się na powszechną niechęć do podjęcia jakiegokolwiek sensownego działania.
Usprawiedliwienia dla brytyjskiej i francuskiej bojaźliwości są dzisiaj jeszcze mniej przekonujące niż były w latach 1930. Jest wśród nich kac po niedawnych kampaniach w Iraku i Afganistanie, choć w porównaniu do Wielkiej Wojny, praktycznie nie dotknęły one Europy. Ten paraliż jest spotęgowany przez długotrwałe i głęboko zakorzenione poczucie kolonialnej winy, przez dziesięciolecia wykorzystywane przez lewicę do podważania narodowej pewności siebie i propagowania ducha appeasementu wobec państw Bliskiego Wschodu. Rosnący islamski radykalizm zarówno w Wielkiej Brytanii, jak we Francji, z dziesiątkami tysięcy znanych dżihadystów żyjących w obu tych krajach, także wzmacnia tę bojaźliwość.
Podobnie jak ekonomiczne dziedzictwo Wielkiej Depresji podsycało appeasement w latach 1930., dzisiejsze komercyjne powiązania Europy z Chinami i Rosją w połączeniu z niepokojem wobec ekonomicznego krajobrazu po COVID-19, przerażają europejskie rządy i instytucje przed myślą o możliwości zrażenia do siebie jednego lub drugiego.
Kolejny czynnik być może jeszcze bardziej ciąży na umysłach naszych oszołomionych polityków europejskich. Wielka Brytania, a jeszcze bardziej Francja głęboko niepokoiły się umową nuklearną z Iranem byłego prezydenta USA, Baracka Obamy, tzw. JCPOA, który jest bezpośrednio odpowiedzialny za kryzys w Radzie Bezpieczeństwa ONZ. Oba te kraje, jak również Niemcy i sama UE, wiedziały aż nazbyt dobrze, że zamiast głoszonego celu zamknięcia Iranowi drogi do broni nuklearnej JCPOA w rzeczywistości torowała Iranowi drogę – nie tylko do zdobycia nuklearnego potencjału, ale do robienia tego legalnie, skutecznie i z błogosławieństwem Rady Bezpieczeństwa ONZ.
Wbrew rozsądkowi przystąpiły do JCPOA, ponieważ żądał tego od nich prezydent Obama, którego otaczały czcią. Wycofanie się prezydenta Donalda Trumpa z tej umowy postawiły je w dylemacie. Gardzą Trumpem równie silnie jak wielbiły Obamę i chociaż wiedziały, że Trump ma rację, nie mogły zmusić się do pójścia za nim.
W zeszłym tygodniu sekretarz stanu USA, Mike Pompeo, dał w Nowym Jorku sygnał startowy do zastosowania klauzuli przywrócenia sankcji (snapback), klauzuli, która stanowiła podstawę poparcia ONZ dla JCPOA w Rezolucji 2231 Rady Bezpieczeństwa.Zrobił to, ponieważ Rada odrzuciła przedłużenie embargo na broń dla Iranu. Efektem będzie ponowne narzucenie wszystkich sankcji ONZ na Iran, włącznie z embargo na broń konwencjonalną. Będzie także zakaz międzynarodowego wsparcia dla programu pocisków Iranu, rozwoju pocisków o nuklearnym potencjale i wzbogacania uranu; jak też ponowienie zakazu podróży na poddane sankcjom osoby w Teheranie. Realizacja klauzuli powrotu skutecznie zakończy JCPOA w sposób, którego nie da się w żaden sposób odwrócić.
Snapback ma uzasadnienie w warunkach wymienionych w Rezolucji 2231 z powodu złamania przez Iran jego zobowiązań według JCPOA, co potwierdza Międzynarodowa Agencja Energii Atomowej. MAEA informowała w czerwcu, że Iran wzbogacił uran i podniósł ilość nisko wzbogaconego uranu poza dozwolone granice, magazynuje nadmierne ilości ciężkiej wody, testuje nowoczesne centryfugi i ponowił wzbogacanie w instalacji Fordow, wszystko to wbrew porozumieniu. MAEA poinformowała także, że Iran nadal odmawia międzynarodowym inspektorom dostępu do miejsc nuklearnych i może ukrywać niezadeklarowane nuklearne materiały i działania.
Oczywiście, Wielka Brytania i Francja wiedzą aż nazbyt dobrze o tym wszystkim i w styczniu same zainicjowały, wraz z Niemcami, mechanizm rozwiązywania sporów według JCPOA, jako protest przeciwko naruszeniom umowy przez Iran. Niemniej nadal odrzuciły żądanie USA przedłużenia embarga na broń i planują odmowę poparcia dla snapback USA.
Podobnie jak Iran, kraje te oczekują i mają nadzieję, że prezydent Trump przegra wybory w listopadzie i że porozumienie nuklearne zostanie uratowane przez jego następcę. Niezależnie od tego, kto wygra wybory, nie będzie to takie łatwe. 30-dniowy okres opóźniania i zaciemniania sprawy w Radzie Bezpieczeństwa zaczyna się teraz. Zwolennicy Iranu rozpaczliwie chcą zapobiec snapback, motywując to tym, że USA po wycofaniu się z JCPOA nie ma dłużej możliwości by tego żądać. Z prawnego punktu widzenia nie mają racji. Nie powstrzyma ich to jednak niekończącymi się próbami nagięcia warunków Rady Bezpieczeństwa do swojej woli.
Końcowym rezultatem będzie prawdopodobnie sukces snapback Pompeo. Ponownie narzucone sankcje zostawią wtedy Chiny, Rosje i kraje europejskie z trudnymi wyborami czy przestrzegać tych sankcji, czy zgodzić się na niszczące konsekwencje dla ich handlu z USA. Po drodze możemy zobaczyć nienaprawialne szkody nie tylko dla stosunków USA-Europa, ale także dla samej ONZ, instytucji już znajdującej się pod ciężkim ogniem z wielu stron w USA.
A w imię czego? Być może będzie to działać na korzyść Rosji i Chin, których sprzedaż broni Iranowi przyniesie zarówno korzyści finansowe, jak rozszerzy ich wpływy w regionie kosztem Ameryki i Europy.
Europa może mieć nadzieję na zyskanie jakiegoś perwersyjnego prestiżu za przeciwstawienie się złemu Trumpowi i USA i może jakieś mizerne zyski z handlu z Iranem. Zdecydowanie nie wesprze to pokoju ani globalnego bezpieczeństwa. Mogą być korzyści dla podżegających do wojny ajatollahów w Teheranie, ale z pewnością nie będzie żadnych korzyści dla narodu irańskiego ani dla żadnego innego kraju na Bliskim Wschodzie. Wielu przyzwoitych Irańczyków nie chce niczego bardziej od szybkiego końca ciemiężących ajatollahów, którzy zamienili ich w pariasów i wepchnęli w skrajne ubóstwo. Jeśli sankcje wynikające z klauzuli snapback USA odniosą sukces, przyspieszy to koniec terrorystycznego reżimu w Teheranie. Wzmocni także pewność i bezpieczeństwo w krajach arabskich, coraz bardziej obawiających się uzbrojonego w broń nuklearną Iranu.
Europejski appeasement w latach 1930. zakończył niemal samodzielnie jeden człowiek: Winston Churchill. Dzisiejszy brytyjski premier, Boris Johnson, który napisał biografię Churchilla, zrobiłby dobrze, gdyby zastanowił się nad tym, co z pewnością byłoby reakcją Churchilla na tę złowieszczą sytuację, i stanął po stronie swoich amerykańskich sojuszników na posiedzeniu Rady Bezpieczeństwa.
---
Richard Kemp: Były dowódca sił brytyjskich w Afganistanie, pracował w Joint Intelligence Committee oraz COBR. Po przejściu na emeryturę napisał książkę o wojnie w Afganistanie Attack State Red, która stała się bestsellerem.
---
---