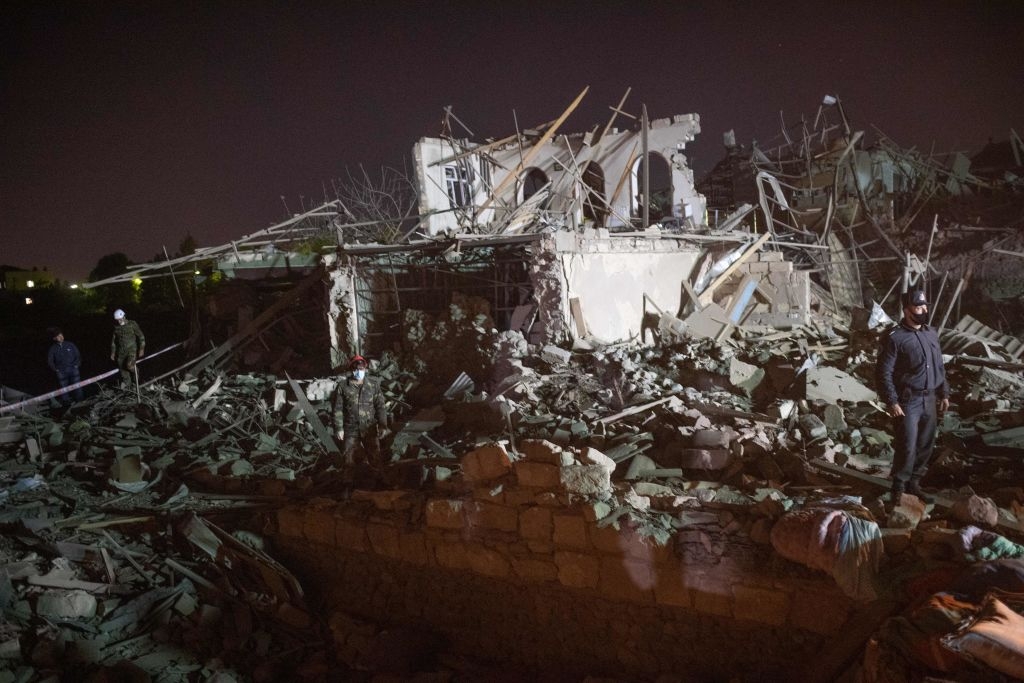 Na zdjęciu: zespoły ratownicze pracują w miejscu uderzenia pociskiem rakietowym w mieście Ganja w Azerbejdżanie 17 października 2020 r. W wyniku uderzenia rakietowego kilka domów w Ganja zostało zrównane z ziemią. (Zdjęcie: Bulent Kilic / AFP via Getty Images)
---
Amir Taheri

Tłumaczenie: Małgorzata Koraszewska
---
Mała enklawa bez dostępu do morza w odległym zakątku Zakaukazia może okazać się beczką prochu, która zagrozi bezpieczeństwu kilku krajów, w tym Rosji, Turcji, Iranowi i dwóm bezpośrednim przeciwnikom: Armenii i Azerbejdżanowi.
High Qarabagh, Nagorno Karabach po rosyjsku, Artsach po ormiańsku, Karabagh Olja po persku i azersku [Górski Karabach po polsku] zajmuje obszar 4 400 kilometrów kwadratowych, mniej niż połowa Libanu, i ma populację 150 tysięcy mieszkańców – ponad 90 procent z nich to etniczni Ormianie. Niemniej w 1924 roku, kiedy Józef Stalin, odpowiedzialny wówczas za narodowości w nowoutworzonym Związku Radzieckim, kroił byłe imperium carskie na republiki, dołączył Górski Karabach do autonomicznej republiki Azerbejdżanu, która sama została wymyślona przez szefa bolszewików z terytoriów znanych jako Aran Szirwan i Nachiczewan.
Gdyby Stalin kierował się etnicznymi związkami, enklawa powinna była zostać dołączona do Armenii, innej republiki, którą wstawił na mapę. Umieścił kawał swojego nowego Azerbejdżanu, znany jako Nachiczewan, w pewnej odległości od republiki, z Armenią wciśniętą pomiędzy nie. Poszedł jeszcze dalej przez podzielenie enklawy o kurdyjskiej większości, Lachin, między Armenię i Azerbejdżan, przyczepiając Talesz, nieazerską ziemię nadbrzeżną do Azerbejdżanu. Strategia "dziel i rządź" Stalina miała na celu uczynienie "zniewolonych narodów" bolszewickiego imperium zależnymi w sprawach pokoju i bezpieczeństwa od Matki Rosji. Narzucił podobny plan na Azję Środkową, przez zamianę Uzbekistanu, Turkmenistanu, Tadżykistanu, Kirgistanu i Kazachstanu w mozaikę grup etnicznych.
Kiedy Radzieckie Imperium padło w 1991 roku, było nieuniknione, że kartograficzne wyczyny Stalina będą kwestionowane. Korzystając z okazji ormiańska populacja Górskiego Karabachu wygnała azerską mniejszość w procesie, który stał się modelem czystki etnicznej w innych miejscach, szczególnie na Bałkanach. Wspierani przez Armenię etniczni Ormianie z enklawy zwyciężyli w serii bitew i ustanowili własną, autonomiczną republikę. W tym czasie było oczywiste, że rebelianci z Artsach otrzymywali znaczącą pomoc od post-sowieckiej Rosji. Częściowo spowodowane to było faktem, że przez całą radziecką historię etniczni Ormianie, choć o znacznie mniejszej liczebności, odgrywali znacznie większą rolę niż Azerowie.
Centralne kierownictwo radzieckie zawsze miało Ormian na szczeblach politycznym i wojskowym; niektórzy, jak Anastazy Mikojan, sięgnęli samych szczytów. Także obecnie etniczni Ormianie, którzy postanowili pozostać w Rosji, znajdują się wśród moskiewskiego kierownictwa, wśród nich minister spraw zagranicznych, Siergiej Ławrow, którego prawdziwe nazwisko ormiańskie brzmi Serge Kalantarian.
W odróżnieniu od tego, etniczni Azerowie, którzy żyli w Rosji, zdecydowali się na powrót do swojego kraju en masse i wkrótce spotkała ich nagroda w postaci nowego bogactwa wytworzonego przez dwadzieścia lat boomu naftowego. Przez większość historii Ormianie uważali Rosję, naród chrześcijańskich współwyznawców, za swojego obrońcę przed muzułmańskimi sąsiadami, szczególnie Imperium Osmańskim. To był jeden z powodów, dla którego Armenia zgodziła się na goszczenie wielkiej rosyjskiej bazy wojskowej, w której w szczycie przebywało 20 tysięcy rosyjskich żołnierzy. W odróżnieniu od tego, azerscy przywódcy rozgrywali antyrosyjską kartę przez wyrażanie historycznych zażaleń przeciwko "okupantowi". Ich przywódca, Abulfaz Elczibej, posunął się jeszcze dalej przez promowanie masowej derusyfikacji, która obejmowała zmianę alfabetu i nazwisk rodzinnych w rosyjskim stylu. Niezależny Azerbejdżan chciał dołączyć do "świata zachodniego", przedstawiając się jako najbardziej niezawodny sojusznik Stanów Zjednoczonych w regionie. Azerbejdżan nawiązał również bliskie stosunki z Izraelem aż do stopnia promowania ścisłej współpracy wojskowej i mówienia o osi Baku-Tel Awiw.
W obecnej rudzie walk Azerbejdżan ma przewagę w uzbrojeniu w dużej mierze dzięki izraelskiemu wsparciu. Niemniej, Izrael niepokoi się, by nie stracić drugiego regionalnego sojusznika – Armenii. Ta dwuznaczność umożliwiła Turcji przedstawianie siebie jako głównego sponsora Azerbejdżanu, prezentując równocześnie Rosję i Islamską Republikę Iranu jako sojuszników Armenii. Chomeinistyczne kierownictwo w Teheranie jest szczególnie zdezorientowane jaki kurs przyjąć w sprawie Azerbejdżanu i tego konfliktu. Walki przedstawiają zagrożenie bezpieczeństwa samego Iranu, choćby tylko dlatego, że mogą przelać się na irańskie terytorium.
Podczas walk w zeszłym tygodniu setki pocisków wystrzelonych przez obie strony wylądowały na terenach granicznych Iranu. Walki mogą także powodować duże liczby uchodźców, których naturalnym schronieniem będzie terytorium Iranu. Na władze w Teheranie wywierają także naciski ludzie z armii i służb bezpieczeństwa, którzy uważają Azerów za przyjaciół i krewnych. Równocześnie najwyższy przywódca Ali Chamenei nie chce antagonizować Rosji, którą teraz uważa za swojego głównego obrońcę przed amerykańskim "Wielkim Szatanem". Ma jeszcze jedno zmartwienie: wysłanie przez Turcję setek syryjskich bojówkarzy dla wzmocnienia sił azerskich. Ci wojownicy mają niewielkie doświadczenie walk w stromych górach Zakaukazia, szczególnie w surowym klimacie zimy. Jako oddani bojówkarze Bractwa Muzułmańskiego mogą jednak umożliwić Turcji stworzenie podobnego do Hezbollahu "legionu cudzoziemskiego", stawiając Iranowi wyzwanie w innych miejscach, włącznie z Irakiem i Libanem.
Erdogan próbował częściowo uzasadnić swoje poparcie dla Azerbejdżanu przez twierdzenie, że wojownicy PKK, rzekomo pochodzący z As-Sulajmanijja w Iraku, którzy przedostali się przez Iran, dołączyli do ormiańskich sił w Karabachu. Wskrzesił także temat "tureckości", który ostatnio bagatelizował na rzecz twierdzenia o "islamskości" jako podstawy tureckiej tożsamości. Kryzys tożsamości Erdogana dodatkowo naświetlił spis powszechny przeprowadzony dwa lata temu, kiedy obywateli pytano o ich pochodzenie etniczne. Wyniki trzeba było zafałszować, ponieważ tylko mniejszość wybrała określenie "tureckie". Okazało się, że większość obywateli pozostała przywiązana do tożsamości "mellat", jakie mieli za czasów Imperium Osmańskiego, włącznie z: Dagestańczyk, Czeczen, Alawita, Kurd, Arab, Bizantyjczyk, Bułgar, Udmurt, Czerkies, a także Grek i Ormianin. Te zaskakujące rewelacje zmusiły Erdogana do próby wymigania się od problemu tożsamości przez twierdzenie, że Turcy są potomkami starożytnych Hetytów sprzed 3000 lat.
Reakcja Teheranu odznaczała się pomieszaniem. Powstrzymał się przed zajęciem wyraźnego stanowiska, zaś Chamenei aż do momentu pisania tego artykułu, milczał. Po kilku małych demonstracjach w Tabriz, stolicy prowincji irańskiej, Azerbejdżan Wschodni, czterech azerskich mułłów zidentyfikowanych jako przedstawiciele Chameneiego, wydało wspólne oświadczenie, żądające, by Górski Karabach powrócił do republiki Azerbejdżanu.
Doradca Chameneiego ds. polityki zagranicznej, Ali Akbar Velayati, wysunął podobne żądanie w starannie dobranych słowach, by nie rozgniewać Rosji. Ministerstwo spraw zagranicznych jednak starało się unikać problemu, nawet nie wzywając ormiańskiego ambasadora na udzielenie rutynowej nagany.
Ignorując ten kryzys minister spraw zagranicznych, Mohammad Dżavad Zarif, oznajmił, że jedzie do Pekinu w nadziei przekonania Chińczyków, by uwolnili część zamrożonych aktywów Iranu.
Konflikt w Karabachu może wywołać niedające się opanować reakcje w Iranie, gdzie, jak się szacuje, jest 20 milionów rozrzuconych po całym kraju ludzi mówiących po azersku, którzy uważają Azerbejdżan za część wielkiego Iranu.
Hasła skandowane na demonstracjach w Tabriz i Teheranie obejmowały takie jak: "Karabach jest nasz, Azerbejdżan jest nasz".
To, co jest obecnie Armenią i Azerbejdżanem plus Gruzją zostało przekazane Iranowi w traktatach z Amasii (1550) i Ghasr-e Szirin (1639) podpisanych z Imperium Osmańskim. W zamian Osmanowie dostali Mezopotamię, dzisiejszy Irak plus Abchazję i Adżarię oraz ormiańską część Anatolii.
Jeśli zwycięży Azerbejdżan, koalicja Turcji, Izraela i Stanów Zjednoczonych znajdzie się w zwycięskim obozie, podczas gdy republika Iranu zostanie uznana za obojętną wobec aspiracji Azerbejdżanu, który jest trzecim największym państwem szyickim po Iranie i Iraku. Jeśli Armenia zwycięży, prawdopodobnymi zwycięzcami będą Rosja i Izrael, znowu pozostawiając Iran w izolacji. Przez minione 30 lat Islamska Republika Iranu była liną ratunkową dla niemającej dostępu do morza Armenii, dostarczając możliwość transportu dla jej handlu zagranicznego i zaopatrując w elektryczność. Jeśli Armenia przegra, Teheran dostanie zły stopień z Moskwy jako marny przyjaciel.
Ta wojna może dać tylko przegranych. Jest mało prawdopodobne, by Azerbejdżanowi udało się odzyskać pełne panowanie nad sporną enklawą. Armenia już straciła część terytorium i stoi przed falą uchodźców napływających do stolicy, Erywania. Turcja może wygrać rundę propagandową jako obrońca Azerów, ale zostanie wciągnięta w piątą wojnę, której, z gospodarką już w tarapatach, może nie być w staniu utrzymać. Izrael może zostać zmuszony do zejścia z płotu i wybrania jednej strony, co znaczy stracenie drugiej. Rosja straci przez napływ bojówkarzy tak blisko siebie, a równocześnie będzie musiała zrezygnować z twierdzenia, że zachowuje pokój między byłymi republikami radzieckimi. Także Teheran będzie przegranym zarówno na polu geopolitycznym, jak i ideologicznym. Chamenei twierdzi, że jest najwyższym przywódcą muzułmanów na całym świecie. Niemniej teraz widzimy, że nie może nawet wpłynąć na wydarzenia w sąsiednim kraju.
---
---