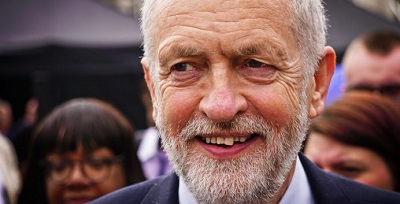 Jeremy Corbyn. Zdjęcie: Garry Knight.
---
Alan Johnson
Tłumaczenie: Małgorzata Koraszewska
---
Komisja ds. Równości i Praw Człowieka po zbadaniu sprawy o antysemityzm w Partii Pracy stwierdziła, że Partia Pracy jest odpowiedzialna za bezprawne akty dyskryminacji i nękania oraz trzykrotne złamanie obowiązującego od 2010 roku Equality Act. Jak powiedziała Caroline Waters, urzędująca przewodnicząca Komisji ds. Równości i Praw Człowieka, problemem był "brak chęci" w kierownictwie, by stawić czoła antysemityzmowi.
Co jednak wyjaśnia ten "brak chęci"? Jak partia oddana antyrasizmowi ląduje z tym, co minister gabinetu cieni, Jonathan Ashworth, opisał jako najbardziej haniebny moment w jej historii?
Odpowiedź brzmi: z powodu paskudnej, starej, lewicowej idei o Żydach, którą upiększono paskudną, nową lewicową ideą o "syjonistach" i Izraelu. Lewicowy antysemityzm nie zaczął się w 2015 roku.
Przed Corbynem Karol Marks napisał w 1844 roku: "Jaka jest świecka religia Żyda? Handel. Jaki jest jego świecki Bóg? Pieniądze".
Przed Corbynem przywódca niemieckich socjalistów, Ferdinand Lassalle, powiedział: "Zupełnie nie lubię Żydów. Ogólnie ich nie znoszę".
Przed Corbynem anarchista, Michaił Bakunin, napisał: "Cały żydowski świat stanowi jedną wyzyskującą sektę, jeden naród pijawek, jednego, żarłocznego pasożyta, blisko i ściśle połączonego nie tylko ponad narodowymi granicami, ale poprzez wszystkie różnice opinii politycznych".
Przed Corbynem gazeta Brytyjskiej Federacji Socjaldemokratów pisała w artykule redakcyjnym w 1891 roku: "Żydowscy lichwiarze kontrolują obecnie ministerstwa spraw zagranicznych w Europie.
Przed Corbynem Labour Leader, gazeta Niezależnej Partii Pracy, nauczała brytyjskich socjalistów w tym samym roku, by wierzyli, że: "Gdziekolwiek są problemy w Europie, gdziekolwiek krążą pogłoski o wojnie, możecie być pewni, że Rothschild z haczykowatym nosem rozgrywa swoje gry gdzieś w pobliżu regionu niepokojów".
Przed Corbynem przywódczyni niemieckiej Partii Komunistycznej, Ruth Fischer, powiedziała podczas demonstracji robotniczej na początku lat 1920.: "Ktokolwiek walczy z żydowskim kapitałem, już jest klasowym wojownikiem, nawet jeśli tego teraz nie wie. Uderzcie w żydowskich kapitalistów, powieście ich na latarniach, zmiażdżcie ich!"
Przed Corbynem, po 1945 roku partie komunistyczne obżerały się antysemityzmem, mordując tysiące Żydów, od poetów do przywódców partyjnych, jako "syjonistów", od zmasakrowania Żydowskiego Komitetu Antyfaszystowskiego, do egzekucji Rudolfa Slansky'ego i do kierowanych przez komunistów w 1968 roku antyżydowskich – nazywanych "antysyjonistycznymi" – czystek w Polsce.
W 1980 roku Eric Hobsbawm, marksistowski historyk (i bardzo ostry krytyk Izraela) wydał ostrzeżenie, że na wielkich obszarach świata antysemityzm nigdy nie zniknął, przeżył w dwóch dużych regionach w latach powojennych – "pod islamem i, niestety, w niektórych krajach, oddanych ideologii, która odrzuca rasizm, zwłaszcza w Związku Radzieckim".
Hobsbawm zwrócił uwagę na to, że w stalinowskiej Europie Wschodniej "antysemityzm był tolerowany, a czasami ośmielany" po Holocauście, "chociaż teraz przebrany jest za antysyjonizm" w epoce, w której istnieje państwo żydowskie. Przewidywał, że "nowa" postać antysemityzmu – antysemityzm "przebrany za" antysyjonizm w świecie po Holocauście – będzie miał coraz większe wpływy.
I miał rację.
W dużej mierze (choć nie wyłącznie) właśnie ten nowy antysemityzm, ten antysemityzm "przebrany za antysyjonizm", z korzeniami w dwóch bezwzględnych, reakcyjnych ruchach – islamizmie i stalinizmie – zniszczył Partię Pracy.
Do paskudnej starej idei o tym, że kapitalizm jest "żydowski" (kiedyś nazywanej socjalizmem głupców), po utworzeniu państwa żydowskiego w 1948 roku dokręcono paskudną nową ideę: imperializm jest teraz "syjonistyczny", wojny są "syjonistyczne", politycy są "narzędziami syjonistów", media są syjonistyczne, 9/11 był "syjonistyczny", globalne finanse są "syjonistyczne", a oczernianie Partii Pracy o antysemityzm jest – a jakże – "syjonistyczne".
Antysemickie postaci antysyjonizmu mają korzenie w skrajnej lewicy Wielkiej Brytanii od dziesięcioleci. Przed zwycięstwem Corbyna w 2015 roku brytyjska skrajna lewica próbowała już w połowie lat 1980. zakazać na kampusach działania Stowarzyszeń Żydowskich Studentów, ponieważ były "syjonistyczne". Zrobiła to Sunderland Polytechnic. Grupa, którą sponsorował Corbyn, oznajmiła, że ten zakaz "w żaden sposób nie jest antysemicki".
Przesuńmy się o kilka dziesięcioleci i spójrzmy na tę karykaturę. Krążyła wśród radykalnej lewicy i jest swego rodzaj podsumowaniem tego, jak stary socjalizm głupców zlał się z nowym antyimperializmem idiotów i rozszedł jak burza w mediach społecznościowych. I możecie być pewni, że ci, którzy tę karykaturę stworzyli i rozprowadzali, uważają, że w "żaden sposób nie jest antysemicka".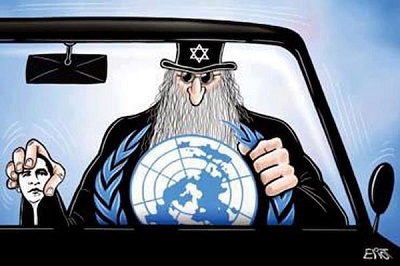 Lewica musi dowiedzieć się, że antysemityzm jest najbardziej zmieniającą się ze wszystkich nienawiści i że ta nienawiść raz jeszcze zmieniła kształty. Tak, Partia Pracy została zatruta po części przez dobrze prosperujące, "klasyczne" stereotypy i oszczerstwa antyżydowskie, które krążyły w partii, jak zanotowałem w raporcie z 2019 roku. (Choć trudno w to uwierzyć, było tam nawet kilku typów głoszących, że "Hitler miał rację".) U sedna problemu był jednak "antysyjonizm" tak obsesyjnego, spiskowego i demonizującego gatunku, że dawno opuścił obszar "uprawnionej krytyki polityki Izraela" i zlał się ze starszym zestawem klasycznie antysemickich idei, wyobrażeń i założeń, by stworzyć antysemicki antysyjonizm.
Istnieje uprawniona krytyka Izraela, podobnie jak każdego innego państwa. Telefonowanie do żydowskiej posłanki do parlamentu z ramienia Partii Pracy i nazywanie jej "syjonistyczną pi—ą" nie jest jedną z nich. Ani też tweetowanie, że to Izrael stworzył ISIS.
Krótko mówiąc, tym, czym demonizowany Żyd był kiedyś w starszych postaciach antysemityzmu, demonizowany Izrael jest obecnie we współczesnym antysemickim antysyjonizmie: kontrolującą wszystko ukrytą ręką, podstępną, zawsze działającą w złej wierze, przeszkodą do lepszego, czystszego, bardziej uduchowionego świata, wyjątkowo złowrogą, krwiożerczą, wyjątkowo zasługująca na karę, i tak dalej.
Tak, powinna nastąpić akcja dyscyplinarna. Dobrze, że Corbyn został zawieszony. Jeszcze jednak ważniejsze będzie prowadzenie bitwy idei przeciwko antysemickiemu antysyjonizmowi. Ale pełno jest użytecznych lewicowych idiotów, którzy chronili Corbyna przez cztery lata. Zainfekowali zdegradowaną lewicę w Wielkiej Brytanii i uniwersytety w Wielkiej Brytanii. Przedstawiam więc pomysł: partia powinna zwrócić się o pomoc do tych spośród nas na lewicy, którzy spędzili znaczną część naszego zawodowego i politycznego życia rozumiejąc, walcząc i pokonując lewicowy antysemityzm. Być może coś wiemy.
---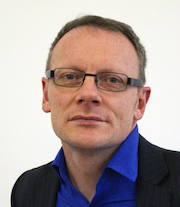 Alan Johnson – Redaktor magazynu Fathom, poświęconego problemom Izraela i innych krajów Bliskiego Wschodu, analityk w BICOM (Britain Israel Communications and Research Centre), wykładowca teorii i praktyki demokracji, współpracuje również z magazynem Dissent oraz z Foreign Policy Centre.
---
---