REDAKCJA
---
NIETŁUMACZONE DOTĄD NA JĘZYK POLSKI OPOWIADANIE PERŁY IZRAELA J. SINGERA I ODWAŻNY LIST ELISY ALBERT DO PHILIPA ROTHA, W KTÓRYM AUTORKA BŁAGA ZNANEGO PISARZA O ZROBIENIE JEJ DZIECKA. W TYM NUMERZE SPORO DOBREJ LITERATURY.
ETTA, BESSIE, DORA ALBO ROSE
Ten numer "Chiduszu" otwiera opowiadanie Etta, Bessie, Dora albo Rose w tłumaczeniu Jolanty Różyło. Pochodzi ono z cieszącego się uznaniem, debiutanckiego zbioru Elisy Albert How this Night is Different (2006). Bohaterka – alter ego autorki – czując, że w jednym momencie posypało się jej całe życie, desperacko szuka sposobu na przywrócenie mu sensu. Pisze odważny, lekko fanatyczny, ale i bardzo zabawny list do Philipa Rotha (kiedyś znienawidzonego mizogina, teraz ukochanego geniusza), proponując, żeby… zrobił jej dziecko: 
"Roth", spluwałam z pogardą za każdym razem, kiedy wypływał temat Twoich książek. "Ble". Ble, bo obsesja na punkcie sziksy, dysfunkcje seksualne, swobodne odrzucenie żydowskich kobiet i kpiny ze wszystkiego, co ma w judaizmie religijną i duchową wartość, przenosiło mnie z powrotem do Ramah: do bycia ignorowaną i przeoczaną, do bycia dziwaczką za sprawą mojej estetyki, mojej wrażliwości, mojego pragnienia więzi, przyjaźni i miłości; do cotygodniowego nadejścia świętego szabatu jako okazji dla nas, dziewcząt, aby ładnie wyglądać i zgromadzić erotyczne Shabbat-O-Gramy od mocno nażelowanych i wyperfumowanych chłopców; do wieloletniej udręki nieodwzajemnionego zadurzenia w lizusowatym studencie szkoły rabinackiej, którego ujmujące uśmieszki, jakimi mnie zbywał, brałam za sygnały wypaczonego pożądania. Ble, bo u Rotha byli Justin Steinberg, Eric Landsman i Ron Frank, te zjeby z United Synagogue Youth z wisiorkami w kształcie konopi, zośkami, biletami na koncerty Phish i awersją do owłosienia, manifestującą się w uniwersalnej fetyszyzacji Azjatek. Ja się nie liczyłam. Byłam bezradna. Byłam niewidoczna. Musiałam Cię nienawidzić.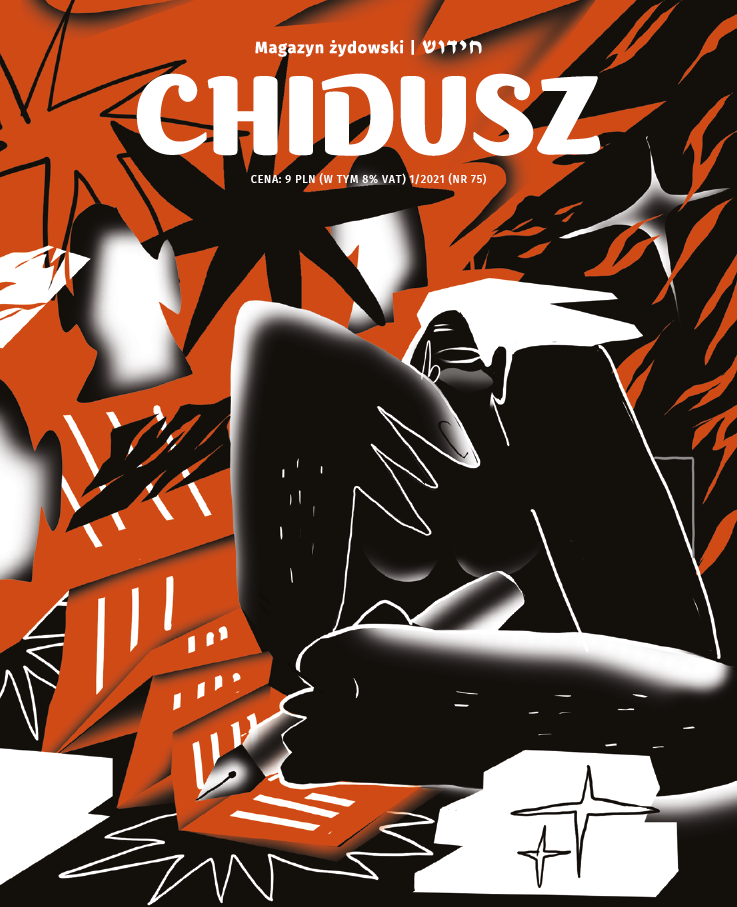 PERŁY
W związku z premierą pierwszego polskiego tłumaczenia Pereł, zbioru Izraela Joszuy Singera z 1922 roku, w tym "Chiduszu" publikujemy pierwszą część tytułowego opowiadania, które powstało w Kijowie w 1919 roku. Opowieść o chorym na gruźlicę, uciekającym przed nieuchronną śmiercią jubilerze, według Abrahama Cahana, redaktora amerykańskiego "Forwertsa", miała wiele cech świadczących o niezwykłej potędze wyobraźni młodego artysty – jego "największego odkrycia" wśród wschodnioeuropejskich pisarzy jidysz. Redaktor zachwalał "literacką potęgę" Singera, "niemożliwy do wyuczenia" talent do opisów, wnikliwość i doskonałe oddanie każdego środowiska, jakie pojawiało się w jego opowiadaniach. 
Po blisku stu latach, dzięki uprzejmości wydawnictwa Fame Art, w tym i kolejnym "Chiduszu" publikujemy Perły, a w trzecim tegorocznym numerze – opowiadanie zatytułowane Magda (oba w tłumaczeniu Krzysztofa Modelskiego). 
WIELKA WIZJA, MAŁE ŻYCIE
"Większość tych, którzy teraz tworzą podwaliny mitu »żydokomuny«, jak na ironię robili wszystko, co mogli, żeby zostać nie-Żydami. Komunizm był dla nich ucieczką od żydostwa – albo w morze polskości, albo w stronę jakiegoś przyszłego społeczeństwa anarodowego, w którym nie będzie się ani Żydem, ani Grekiem, a człowiekiem", mówi Jaff Schatz w rozmowie z Katarzyną Andersz. 
Pod koniec ubiegłego roku, prawie trzydzieści lat po wydaniu angielskim, nakładem wydawnictwa Żydowskiego Instytutu Historycznego ukazała się książka Schatza Pokolenie. Wzlot i upadek polskich Żydów komunistów. "Żydokomuna"? Nadreprezentacja komunistów żydowskiego pochodzenia? Z tymi mitami konfrontuje się autor, twierdząc, że jego celem nie jest udowodnienie fałszywości stereotypu, a odmalowanie drogi życiowej wyjątkowego, urodzonego przed wojną pokolenia, które Zagładę przeżyło w ZSRR, potem budowało nową powojenną Polskę, a w następstwie Marca '68 zostało z niej wygnane.
DLA MEZUZ REZERWUJĘ PORANKI
"W Europie tylko ortodoksyjni Żydzi produkują koszerne pergaminy. Nie chcą mi ich sprzedawać. Dlaczego? Bo jestem kobietą. Mój dostawca na Brooklynie też jest ortodoksyjnym Żydem, ale na szczęście z kobietami handluje bez żadnego problemu". O pisaniu świętych tekstów przez kobiety w rozmowie z Anną Pamułą opowiada Ermeline Rachel Vicaire, jedna z pierwszych europejskich soferot. 
POTRZEBA MĄDROŚCI
W queerowym komentarzu do parszy Jitro rabin Menachem Creditor rozważa różne ścieżki poszukiwania mądrości i prawdy. "Czy można znaleźć świętość, rozważając idee i prawdy spoza naszej tradycji, czy może jedyna droga do Boga wybrukowana jest światłem Tory?" – pyta. Za przykład służy mu stosunek Mojżesza do jego teścia, Midianity Jitra:
Jawna krytyka ze strony Jitra i łatwość, z jaką Mojżesz przyjmuje radę, o którą nie prosił, to model otwartej komunikacji. Najważniejsza lekcja płynąca z tej rozmowy stanie się jednak oczywista dopiero wtedy, gdy przypomnimy sobie, że Jitro nie był Izraelitą. Jego córka Cypora poślubiła Mojżesza i odegrała kluczową rolę w narodzinach narodu żydowskiego, ale sam Jitro był midianickim kapłanem, kimś zupełnie spoza hebrajskiej kultury, prawdziwym outsiderem. To jednak właśnie jego zewnętrzna perspektywa i mądrość ratują sytuację, inspirując Mojżesza do stworzenia systemu sądownictwa, który stanie się znakiem rozpoznawczym żydowskich koncepcji sprawiedliwości i wspólnotowości.
DER SZWARCER JUNGERMANCZIK
Czarny młodzieniaszek – w jidysz: Der szwarcer jungermanczik – to tytuł powieści Jankewa Dinezona ("najsłynniejszego zapomnianego pisarza"), którą od 2019 roku publikujemy w odcinkach w tłumaczeniu Magdaleny Wójcik. W kolejnym rozdziale, zatytułowanym Litość wilka, Roza wyrzuca Mosze Szneurowi:
– Wiem o wszystkim. Nie musicie niczego przede mną ukrywać. (…) Moszeńku, zlituj się! Nie nade mną, lecz nad nim, nad Józefem! Ze mną zrób, co zechcesz, głowę mi obetnij, lecz jego nie krzywdź! Jest niewinny! Nie chciał się przyznać, że mnie kocha, ja to wymusiłam! Mścij się na mnie za bycie dzieckiem Fridmanów, to przecież przez mój posag twój dobytek się skurczy! Cóż on ci zrobił? Dlaczego ja jestem wolna, a on siedzi za kratami? Mosze, Mosze! On jest niewinny! To ja jestem zbrodniarką, na mnie się mścij!
Co na to Mosze?  
BIORÓŻNORODNOŚĆ JAKO WYRAZ BOŻEJ CHWAŁY
Rabin Shaul David Judelman pisze o tym, jak ogromne znaczenie w judaizmie ma biologiczna różnorodność i co możemy zrobić, aby ją chronić: 
Bioróżnorodność może być dla nas źródłem mądrości i inspiracji. Uwagi mędrców, którzy doceniają misterność przyrody, rozsiane są po całej Torze. Psalm uczy na przykład o siedliskach zwierząt i doskonałości, z jaką wpisują się one w naturalny porządek świata: "Na których ptaki gnieżdżą się, bocian, którego cyprysy domem. Góry wysokie dla kozic, skały schronieniem dla królików" (104:17-18). W Sentencjach Ojców mowa jest natomiast o tym, czego możemy nauczyć się od innych gatunków: "Jehuda, syn Tejmy, powiadał: Bądź silny jak tygrys, lekki jak orzeł, szybki jak jeleń i śmiały jak lew, żeby spełnić wolę twego Ojca w niebie (5:20, tłum. Michał Friedman).
"TEGOŻ DNIA DASZ MU ZAPŁATĘ JEGO"
Czy wiecie, że w Gemarze rabini pozwalają, aby władze miasta zajęły mienie kogoś, kto wstrzymuje pensje oraz nie płaci podatków na równi z innymi?
O prawach pracownika i pracodawcy, które znajdują się w Torze, pisze Joanna Maria Machel. 
---
---