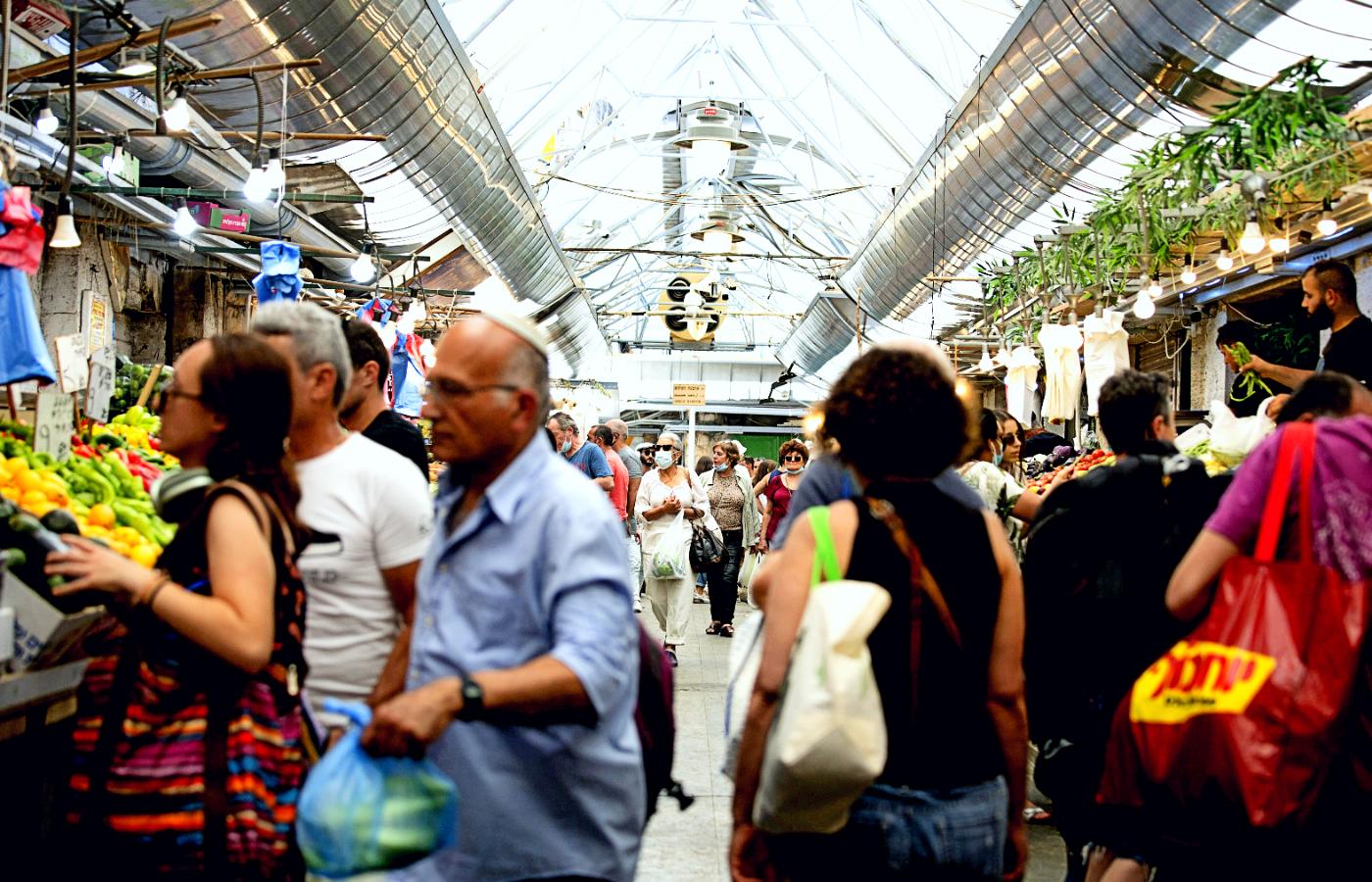 foto: Maya Alleruzzo / AP / EAST NEWS
---
AGNIESZKA ZAGNER
---
Izrael szczepienia zaczął najwcześniej i nadał akcji tempo, dzięki czemu najszybciej na świecie wracał też do względnej normalności. Wariant delta może jednak ten spokój zaburzyć.
.
Zaledwie dwa tygodnie temu w Izraelu zniesiono obowiązek zasłaniania ust i nosa w pomieszczeniach zamkniętych, a już nakładany jest z powrotem – to efekt niepokojących statystyk. Ostatniej doby odnotowano ponad 200 zakażeń, najwięcej od kwietnia, a jeszcze na początku czerwca dane oscylowały koło zera. Za 70 proc. przypadków odpowiada wariant delta, bardziej zakaźny niż poprzednie. Izraelczycy – liderzy szczepień – pytają więc, co poszło nie tak i dlaczego względną normalnością cieszyli się tak krótko.
Izrael uczy się na swoich błędach
Liczba zakażeń już w ostatnim tygodniu zaczęła przekraczać 100 – to był pierwszy sygnał dla władz, że trzeba działać błyskawicznie. Izrael nie czeka na rekordy i szybko wyciąga wnioski. Wprawdzie eksperci nie straszą jeszcze nową falą zachorowań, ale główny ekspert ds. pandemii prof. Nachman Asz przyznaje, że decyzja o ściągnięciu maseczek mogła być przedwczesna.
Ogniska zakażeń pojawiły się w szkołach w położonej niedaleko Hajfy Binjaminie i Modi'in (osiedle na Zachodnim Brzegu). Burmistrzowie przywrócili więc maseczki, nie czekając na decyzje centralnych władz, zwłaszcza że w jednej z placówek koronawirusa potwierdzono u 44 dzieci, a wskaźnik zakażonych próbek osiągnął poziom 3 proc. (dziesięć razy więcej niż w skali kraju). Odwoływane są imprezy związane z zakończeniem roku szkolnego, na kwarantannę wysłano ok. 1,1 tys. z 15 tys. mieszkańców Binjaminy. Miasto jako jedyne w kraju jest czerwoną strefą zakażeń. Modi'in z żółtej zostało pomarańczową, a miasteczko Kochaw Jair – z zielonej stało się żółtą. Maseczki w szkołach wróciły też w Kfar Saba.
Izrael uczy się na błędach – zeszłoroczne luzowanie obostrzeń i otwarcie szkół przyniosło nową falę zakażeń. Od kilku tygodni można tu szczepić osoby od 12. roku życia, ale zainteresowanie nie jest tak duże, jak się spodziewano. Resort zdrowia namawia na zastrzyk, przywołując przykład USA, gdzie zaszczepiono 2,5 mln nastolatków. Jak dodaje, skutki uboczne w tej grupie są rzadkie. A statystyki są nieubłagane: 55 proc. infekcji w ostatnim miesiącu wykryto u osób powyżej 16. roku życia i w znacznej mierze dotyczyły osób zaszczepionych. Zdaniem ekspertów nie świadczy to o nieskuteczności preparatów, lecz o niedostatecznej zbiorowej odporności – do tej pory dwie dawki przyjęło 55 proc. populacji Izraela, a jedną dodatkowe 4 proc.
Liczba aktywnych przypadków koronawirusa w kraju wynosi 872 i rośnie. Na szczęście nie zmienia się liczba osób hospitalizowanych – w piątek rano było ich 26. W sumie do tej pory odnotowano ok. 840 tys. zakażeń, zmarło 6429 osób. Stosowane w Izraelu szczepionki Pfizera i Moderny skutecznie zapobiegają ciężkiemu przebiegowi choroby.
Turysta do Izraela na razie nie wjedzie
Prócz maseczek na zewnątrz, które od teraz obowiązują w całym kraju, zaleca się noszenie ich zwłaszcza podczas masowych wydarzeń, jak np. planowana na piątek parada równości w Tel Awiwie. Niezaszczepionym radzi się unikać takich zgromadzeń. Niewykluczone, że wrócą też limity osób w miejscach publicznych. 1 lipca miały się otworzyć granice dla zagranicznych zaszczepionych turystów – dziś otwarte tylko w wyjątkowych przypadkach. Izraelczycy podróżują w miarę swobodnie – ale i oni po przylocie muszą wykonać test PCR na obecność koronawirusa (liczbę punktów do testowania na lotnisku Ben Guriona zwiększono z 30 do 70).
Nowy premier Naftali Bennett wezwał obywateli, żeby zrewidowali plany urlopowe, zwłaszcza jeśli mają niezaszczepione dzieci. Rząd chce wcześnie przerwać łańcuch szerzenia się wariantu delta, a właśnie zagraniczne podróże uważa się za jeden z powodów wzrostu zakażeń.
Już w ostatnią środę obowiązek noszenia maseczek przywrócono w szpitalach, przychodniach i na lotniskach. Władze chcą kierować na kwarantannę zaszczepionych i ozdrowieńców, jeśli okazałoby się, że mieli kontakt z osobą zakażoną wariantem delta lub gdyby podróżowali tym samym samolotem – temu ma służyć wznowienie działania systemu namierzania zakażonych.
Rząd podzielony koronawirusem
W niedzielę po raz pierwszy od czasu powołania rządu zbierze się zespół ds. walki z koronawirusem. Według relacji izraelskich mediów nowy minister zdrowia Nican Horowic skłania się raczej ku lokalnym restrykcjom niż ogólnokrajowemu lockdownowi, którego skutki Izraelczycy odczuwają do dziś.
Przy okazji ujawniają się tarcia w tej ekipie władzy złożonej z ośmiu ugrupowań: minister edukacji Ifat Sasza-Biton z partii Nowa Nadzieja oskarża urzędników ministerstwa zdrowia o szerzenie "histerii". I mówi wprost: politycy wywierają presję na rodzicach, bo kilku tysiącom dawek szczepionki w lipcu upłynie termin przydatności. Zdaniem Saszy-Biton wyższe wskaźniki zakażeń to pokłosie wzmożonego… testowania. Tymczasem ministerstwo zdrowia woli dmuchać na zimne i w porozumieniu z ministerstwem finansów planuje rekompensaty dla zaszczepionych rodziców, jeśli z powodu zakażonego dziecka będą musieli zostać w domu.
"Nie wierzę, że covid-19 na dobre zniknie. Będziemy musieli z nim żyć" – mówił w wywiadzie dla "Jerusalem Post" prof. Cyryl Cohen z uniwersytetu Bar Ilan.
---
Agnieszka Zagner – W "Polityce" od 1999 r., początkowo w dziale politycznym, obecnie redaktorka serwisu Polityka.pl i autorka bloga Orient Express poświęconego problemom Bliskiego Wschodu. W przeszłości współpracowała ze "Słowem Żydowskim".
---
---