---
Andrzej Koraszewski
---
Mowa Peryklesa przypominana jest już coraz rzadziej, wygląda na to, że rosną szeregi chętnych, żeby zastąpić amerykańską Deklarację Niepodległości jakimś Projektem 1619.
Jutro 245 rocznica ogłoszenia Deklaracji Niepodległości, rocznica odrodzenia ateńskiej demokracji w jej najlepszej jak dotąd postaci. Sparta nie złożyła broni. Przeciwnie, zniszczenie demokracji nieustannie śni jej się po nocach i nie ustaje w swoich wysiłkach, żeby przybliżyć jej koniec. Amerykańskiej demokracji prawdopodobnie bardziej zagraża dziś dekadencja i wewnętrzne rozbicie niż wrogowie zewnętrzni. Zawsze niedoskonała, więc wielu kusi doskonałość totalitarnej utopii. Wyraźny i jednoznaczny okrzyk "Śmierć Ameryce" rozbrzmiewa najgłośniej w Teheranie, w Pekinie i w Moskwie mówią to samo, ale innymi słowami. Europa nigdy nie wybaczyła Ameryce, że ateńska idea zwyciężyła za oceanem, odbierając nam zaszczyt bycia ojczyzną wolności. Przypomnijmy najpierw fragment mowy Peryklesa:
Nazywa się ten ustrój demokracją, ponieważ opiera się na większości obywateli, a nie na mniejszości. W sporach prywatnych każdy obywatel jest równy w obliczu prawa; jeśli zaś chodzi o znaczenie, to jednostkę ceni się nie ze względu na jej przynależność do pewnej grupy, lecz ze względu na talent osobisty, jakim się wyróżnia; nikomu też, kto jest zdolny służyć ojczyźnie, ubóstwo albo nieznane pochodzenie nie przeszkadza w osiągnięciu zaszczytów. W naszym życiu państwowym kierujemy się zasadą wolności. W życiu prywatnym nie wglądamy z podejrzliwą ciekawością w zachowanie się naszych współobywateli, nie odnosimy się z niechęcią do sąsiada, jeśli się zajmuje tym, co mu sprawia przyjemność, i nie rzucamy w jego stronę owych pogardliwych spojrzeń, które wprawdzie nie wyrządzają szkody, ale ranią. Kierując się wyrozumiałością w życiu prywatnym, szanujemy prawa w życiu publicznym; jesteśmy posłuszni każdoczesnej władzy i prawom, zwłaszcza tym nie pisanym, które bronią pokrzywdzonych i których przekroczenie przynosi powszechną hańbę.
Dwa i pół tysiąca lat temu powstała idea, którą wkrótce na długo złożono do grobu. Demos łatwo ulega kłamstwom demagogów. Dziś demagodzy mają gęby pełne słowa demokracja, ale robią wszystko, żeby zniszczyć jej zabezpieczenia. Prezydent Adams miał rację, mówiąc, że demokracja nigdy nie trwa długo, że szybko marnieje, mordując sama siebie. Amerykański dziennikarz i prawnik z Bostonu, Jeff Jacoby przypomina inne słowa Johna Adamsa, który pisał do żony, że czwarty lipca będzie już zawsze obchodzony hucznie i z radością. Zabawne, bo Adams do głębi urażony wyborczą porażką, wyjechał chyłkiem z Waszyngtonu przed inauguracją Thomasa Jeffersona, informując tym gestem, że obok demagogów, którzy świadomie niszczą demokrację, mogą ją również podgryzać personalne ambicje, często silniejsze niż wierność zasadom.        
Jeff Jacoby robi zabawną woltę, przypomina, że czwarty lipca jest również rocznicą innego wydarzenia. Również czwartego lipca, prawie sto lat później, w 1862 roku, uczony matematyk w towarzystwie pastora wraz z trzema dziewuszkami, z których najmłodsza miała osiem lat, a najstarsza 13, wybrali się łódką z Oxfordu w górę Tamizy. Kilka kilometrów od Oxfordu zatrzymali się na herbatę, a ponieważ dziewczynki były serdecznie znudzone poważną dyskusją panów, Charles L. Dodgson zaczął je zabawiać zmyśloną opowieścią. Jak wspominał później, szukając rozpaczliwie pomysłu na nową fabułę, wysłał bohaterkę swojej narracji prosto w króliczą norę, nie mając najmniejszego pojęcia, co będzie dalej.
My wiemy, że w norce, w której zniknął biały królik w kamizelce, który chwilę wcześniej gorączkowo spoglądał na zegarek i wyrażał obawy, że może się spóźnić, Alicja zobaczyła niebieską gąsienicę  palącą wodną fajkę, uśmiechniętego kota i Czerwoną Królową. Wtedy jednak, 4 lipca 1862 roku nikt, włącznie z autorem, nie miał zielonego pojęcia co będzie dalej. Dziesięcioletnia Alicja Liddell była jednak tak zauroczona, że wymusiła na uczonym matematyku, żeby napisał dla niej przygody Alicji.         
Odmówić nie było można więc Dodgson w wolnych chwilach realizował zamówienie Alicji i w lutym następnego roku miał gotowy pierwszy szkic pod tytułem Podziemne przygody Alicji. Kiedy pokazał go swojemu przyjacielowi, ten przeczytał opowieść swoim dzieciom, a dzieci oszalały i ich entuzjastyczne recenzje skłoniły matematyka do rozbudowania opowieści, która w rok później ukazała się z ilustracjami jednego z najlepszych ówczesnych angielskich rysowników, Johna Tenniela. Tytuł został zmieniony na Alicję w krainie czarów, a autor podpisał się skromnie jako Lewis Carroll.       
Pierwszy nakład w wysokości dwóch tysięcy egzemplarzy zniknął w okamgnieniu i okazało się, że książka urzekała niemal w równym stopniu dzieci i dorosłych. Dzieci urzekał cudowny absurd i wartkość narracji, dorosłych pokrętna logika, ukryte znaczenia, odwołania do filozofów z czytelną kpiną i głębia obserwacji różnych ludzkich przywar. W gronie zachwyconych czytelników znalazła się królowa Wiktoria, która wysłała do autora list z prośbą, aby zechciał jej przesłać swoją kolejną książkę, jak tylko zostanie wydrukowana. Oczywiście autor z przyjemnością to zrobił i przesłał jej w dwa lata później swoją pracę pod tytułem An Elementary Treatise on Determinants (Książka, na którą królowa czekała ukazała się dopiero w 1871 roku i miała tytuł Po drugiej stronie lustra).         
Jeff Jacoby, uciekając od nazbyt ponurych refleksji z okazji zbliżającej się rocznicy pisze, że skok Alicji w otchłań króliczej norki wydaje się najlepszą rzeczą, jaka mogła się wydarzyć 4 lipca, dodając szybko, że najlepszą, jeśli nie liczyć tego drugiego związanego z tą datą wydarzenia.   
Patrząc z dalekiej Polski obiecuję sobie solennie, że jutro zamiast lektury wstępniaków w amerykańskich gazetach, wrócę do lektury Alicji w krainie czarów. Nonsens. Triumfalistyczne wrzaski miłośników Sparty będą dobiegać ze wszystkich stron świata. Więc może jednak. Czy jeszcze cokolwiek pamiętam?
Alicja była już tak zrozpaczona, że o pomoc poprosiłaby teraz każdego. Kiedy więc Królik zbliżył się do miejsca, w którym siedziała, dziewczynka odezwała się nieśmiało i cichutko: — Przepraszam Pana uprzejmie… — Słysząc to, Królik upuścił na ziemię białe skórzane rękawiczki i wachlarz i rzucił się do ucieczki, by już po chwili zniknąć w ciemnościach. Alicja podniosła rękawiczki i wachlarz, a że w korytarzu było bardzo gorąco, zaczęła się nim wachlować.
Kto wie, może lepiej zanurzyć się w cudowne opary absurdu mądrego matematyka, niż spędzać godziny na studiowaniu głębokich słów mieszkańców świata, którzy uciekają od rzeczywistości, uparcie walczą z wszelką logiką, patrzą z podziwem na spartańskie sprawności dzieci w Gazie i podziwiają szeregi walczących o wolność bojowników Huti, którzy przecież nie mogą być terrorystami.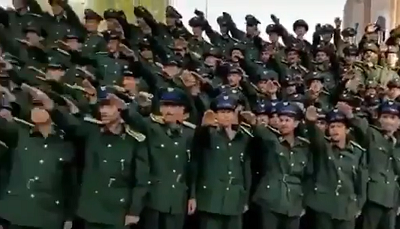 Bojownicy Huti demonstrują swoje głębokie przywiązanie do wolności i demokracji.
---
Andrzej Koraszewski
Publicysta i pisarz ekonomiczno-społeczny
Ur. 26 marca 1940 w Szymbarku, były dziennikarz BBC, wiceszef polskiej sekcji BBC, i publicysta paryskiej "Kultury".
---
---