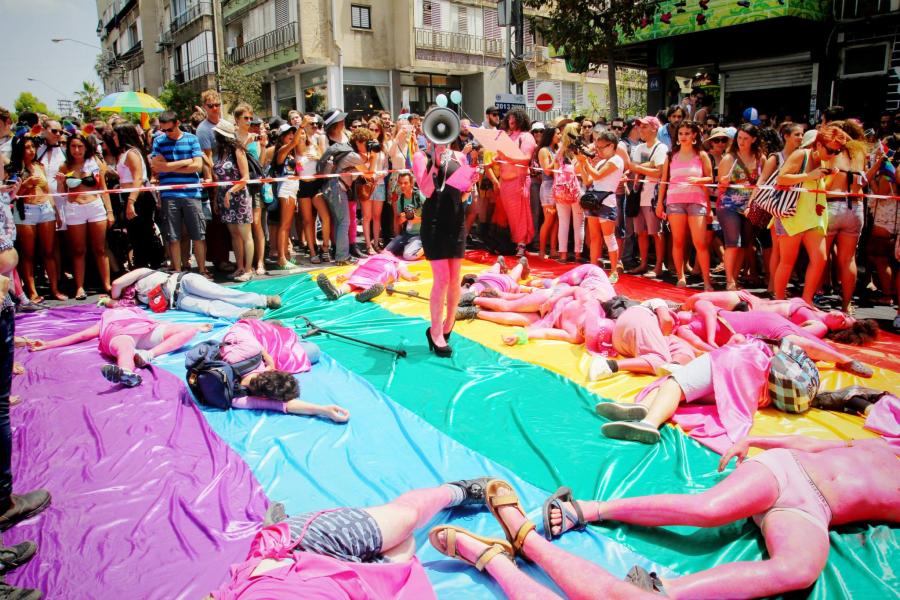 Protest przeciwko pinkwashingowi zorganizowany przez organizację Mashpritzot. Tel Awiw, 2013 / fot. Wikipedia
---
MICHAEL SORKIN
---
MICHAEL SORKIN BYŁ JEDNYM Z NAJWYBITNIEJSZYCH NOWOJORSKICH ARCHITEKTÓW. MAWIAŁ, ŻE ARCHITEKTURA NIGDY NIE JEST APOLITYCZNA. W ARTYKUŁACH, KSIĄŻKACH I WYKŁADACH PRZEKONYWAŁ, ŻE ODPOWIEDNIO ZAPLANOWANA PRZESTRZEŃ MOŻE KONTESTOWAĆ SYSTEM I BYĆ NARZĘDZIEM W WALCE O SPOŁECZNĄ RÓWNOŚĆ. PISAŁ DUŻO O SWOIM UKOCHANYM NOWYM JORKU, ALE RÓWNIEŻ O PODZIALE JEROZOLIMY. KRYTYKOWAŁ MUR SEPARACYJNY I UPOLITYCZNIONĄ INFRASTRUKTURĘ OKUPOWANYCH PRZEZ IZRAEL TERYTORIÓW PALESTYNY. SORKIN URODZIŁ SIĘ W 1948 ROKU W WASZYNGTONIE. ZMARŁ 26 MARCA 2020 ROKU W NOWYM JORKU W WYNIKU POWIKŁAŃ PO ZARAŻENIU KORONAWIRUSEM. PUBLIKOWANY NA KOLEJNYCH STRONACH ESEJ UKAZAŁ SIĘ W JEGO KSIĄŻCE WHAT GOES UP: THE RIGHT AND WRONGS TO THE CITY, WYDANEJ W 2018 ROKU.
Gdy w Stanach Zjednoczonych wprowadzona została FOIA[1], wielu moich towarzyszy w boju z lat sześćdziesiątych poprosiło o dostęp do swoich akt. Dla części rezultat był druzgocący – ich teczki były puste. Strasznie jest przez lata myśleć, że było się wrogiem publicznym, a następnie odkryć, że nasze nazwisko zupełnie umknęło uwadze władz.
Podobne uczucia wzbudziła we mnie wiadomość od dyrektora biura prasowego Konsulatu Generalnego Izraela. Chciał wiedzieć, czy byłbym zainteresowany relacjonowaniem ogłoszonego właśnie konkursu na nowy projekt placu Cijon w Jerozolimie. Przestrzeń publiczna, stworzona jeszcze w czasach Mandatu Brytyjskiego, była od lat trzydziestych XX wieku handlowym centrum Zachodniej Jerozolimy (nazwa placu wzięła się od kina Cijon, hebr. Syjon) oraz miejscem wielu demonstracji i masowych wieców zarówno reprezentantów lewicy, jak i prawicy. Konkurs miał na celu nie tylko odświeżenie przestrzeni, ale też zmianę jej wizerunku i przeznaczenia – "z placu protestów na plac tolerancji". W komunikacie prasowym tę fałszywą (i krzywdzącą) antytezę opisywano tak: "Plac Cijon, przyciągający niegdyś organizatorów protestów i demonstracji, stanie się miejscem tolerancji i wzajemnego szacunku". Najwyraźniej moje starsze artykuły potępiające budowę oszukańczego "Muzeum Tolerancji" w Jerozolimie (budowanego w miejscu dawnego arabskiego cmentarza), którego pierwszy projekt stworzył Frank Gehry (później mądrze z inicjatywy się wycofał), nie trafiły do teczki z moim nazwiskiem. Być może takiej teczki w ogóle nie ma i nigdy nie było. Mam nadzieję, że zostanie założona teraz, a mój protest przeciwko temu groteskowemu przedsięwzięciu będzie pierwszym dokumentem, który się w niej znajdzie.
Nad przebudową placu zastanawiano się już wcześniej. W 2006 roku Jerusalem Foundation wyszła z propozycją, aby go przebudować i zmienić nazwę na Rapoport Plaza, na cześć – donosił "Jerusalem Post" – "potentata z Waco w Teksasie, który obiecał przekazać dwa miliony dolarów na ulepszenie miasta", w tym na wzniesienie kolosalnej stalowej rzeźby autorstwa Rona Arada. Mimo że z pomysłu szybko zrezygnowano, formalne nieścisłości i dziwna otoczka wokół zmieniającego się na przestrzeni lat miejsca pozostały, stanowiąc źródło niepokoju dla wybrednych urbanistów, których uwierały błędy popełnione przy tworzeniu tego miejskiego krajobrazu. Wytyczne dla nowej inicjatywy sformułowane zostały miałkim architektonicznym żargonem. Wskazywano na potrzebę "innowacyjnego, kreatywnego i zrównoważonego" rozwiązania, skutkującego stworzeniem "tętniącego serca miasta" i "centrum życia kulturalnego", które wspierać będzie "heterogeniczną" "grupę docelową" [sic!], składającą się z "mieszkańców, turystów i odwiedzających", i odpowiadać "potrzebom zróżnicowanej populacji", w tym "dzieci, seniorów i osób niepełnosprawnych".
Za tymi "uniwersalnymi" kategoriami kryje się ważniejszy fakt – taka transformacja będzie kontynuacją podjętych już wcześniej kroków zmierzających do ograniczenia roli placu jako przestrzeni działań politycznych. W 2012 roku, gdy w Jerozolimie otwarto linię tramwajową, miasto podpisało umowę z jej operatorem, konsorcjum CityPass, zgodnie z którą "tramwaj nie może zostać zatrzymany przez blokadę uliczną". Motywacją i zielonym światłem dla wprowadzenia w życie tej wygodnej klauzuli był trwający od dawna proces odrzucania przez rząd wszelkich wniosków o zezwolenie na demonstracje na placu Cijon, przez który przejeżdża tramwaj. W praktyce tolerancja jest więc w tym przypadku jednoznaczna z zakazem i milczeniem. Z ograniczeniem wolności słowa, a nie jej promowaniem. Organizatorzy konkursu starają się odwrócić uwagę od faktycznej nietolerancji poprzez poświęcenie projektu – w mało klarownym sformułowaniu – pamięci "szesnastolatki zasztyletowanej podczas ubiegłorocznej Parady Równości w Jerozolimie".
Kolejną oznaką szczególnego rodzaju wykluczającej tolerancji, którą nacechowana jest cała sprawa, jest jury konkursu, składające się wyłącznie z izraelskich Żydów, w tym należącego do Likudu burmistrza Jerozolimy, trzech wysoko postawionych urzędników miejskich (dwóch obecnych i jednego byłego), czterech architektów i matki Shiry Banki, zamordowanej przez nieskruszonego ortodoksyjnego osadnika-homofoba. Zaatakował dziewczynę niedługo po wyjściu z więzienia, gdzie odsiadywał wyrok dziesięciu lat za pchnięcie nożem pięciu osób podczas Marszu Równości w 2005 roku (w 2015 roku zaatakował i ranił kolejnych sześć osób). Cóż za smutne wykorzystanie tragedii w służbie tak tchórzliwie elastycznej idei tolerancji. Ale samochwalcza propaganda, która epatuje swoją rzekomą wielkodusznością, aby zamaskować powszechną represję, to niestety opowieść stara jak świat. Od wielu lat urzędnicy ciężko pracują nad celebrowaniem swojego przyjaznego nastawienia do gejów odwiedzających Izrael. Zgodnie z szeroko cytowanym komentarzem Sary Schulman, który ukazał się w "New York Timesie" w 2011 roku, rząd uruchomił siedem lat wcześniej kampanię reklamową "Brand Israel", skierowaną do mężczyzn między osiemnastym a dwudziestym czwartym rokiem życia (na plakatach tłoczą się na plaży napakowani chłopcy). Akcja już kilka lat później przemieniła się w błyskawiczną, wartą dziewięćdziesiąt milionów dolarów kampanię promującą Tel Awiw jako "międzynarodowe miejsce wypoczynku gejów".
Strategia była szeroko opisywana jako pinkwashing, wyrachowana próba upowszechniania "solidarności" z osobami homoseksualnymi w celu ukrycia postawy Izraela wobec bardziej niedopuszczalnych form tożsamości. Jak pisali w 2012 roku Jasbir Puar i Maya Mikdashi w magazynie internetowym "Jadaliyya", pinkwashing pozwala państwu "zatuszować trwające wciąż na terenach historycznej Palestyny kolonialne osadnictwo poprzez kierowanie uwagi świata na rozdźwięk między rzekomo nieskazitelną sytuacją gejów w Izraelu a fatalnymi warunkami życia osób LGBTQ w okupowanej Palestynie". Ta sztuczka jest jeszcze bardziej inwazyjna. We wcześniejszym artykule Mikdashi argumentuje, że skupienie uwagi na prawach gejów (lub prawach kobiet) służy jej odwróceniu od szerszej kwestii praw politycznych. Pisze o przebiegłej, jeśli nie rasistowskiej autopromocji Izraela jako "bezpiecznej przystani dla palestyńskich queerów, gdzie uchronić się mogą przed «swoją kulturą»".
W ogłoszonym publicznie konkursie architektonicznym ostentacyjnie nie wspomina się ani słowem o wcześniejszym ataku na placu Cijon – próbie linczu (słowo szeroko stosowane w izraelskich mediach) na czterech palestyńskich nastolatkach, dokonanej przez żydowski tłum w 2012 roku. W wyniku ataku siedemnastoletni Jamal Julani prawie stracił życie. I ten incydent był przejawem szczególnego rodzaju "tolerancji" – nagłówek w "Haaretz" głosił: "Setki przyglądały się próbie linczu Palestyńczyków w Jerozolimie. Nikt nie zareagował". Fakt, że organizatorzy konkursu zdecydowali się w praktyce na tak wąskie celebrowanie szczególnej formy nietolerancji, nadając odnowionej architekturze komemoratywnego dostojeństwa, pokazuje – tak jak i przeciwstawienie "protestów" "wzajemnemu szacunkowi" – że plac Cijon nie będzie miejscem kontestacji braku tolerancji.
PRENUMERATA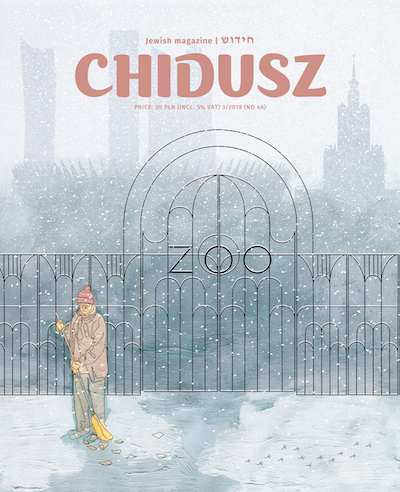 Herbert Marcuse w świetnym eseju z 1965 roku, wydanym w tomie Krytyka czystej tolerancji, porusza temat "tolerancji represywnej". Opisuje, w jaki sposób idea tolerancji nabiera szczególnego charakteru w zależności od okoliczności jej propagowania. Marcuse wyjaśnia zagadkę ideału tolerancji w środowisku przemocy i "totalnej administracji", kiedy korzystanie z podstawowych praw obywatelskich (do głosowania, protestowania, pisania listów do redakcji) służy wzmacnianiu zdolności systemu do praktykowania swoich negatywnych działań. W efekcie tolerancja – poszerzenie "zasięgu i treści wolności", wysoce pożądane dobro ostateczne – staje się narzędziem, w którym wszystko, do czego dąży, jest pomijane. "Tolerancja" staje się liściem figowym braku tolerancji. Takie ślepe podejście służy pozbawianiu znaczenia sprzeciwu i eliminowaniu procesu poszukiwania prawdy poprzez oferowanie rzeczywistej równości w dowolnej kwestii pod pozorem sprawiedliwości, która wzmacnia status quo.
Władze Jerozolimy, zamiast rzeczywiście działać, próbują promować swoją wypaczoną ideę tolerancji. Marcuse pisał: "Tolerancja, która służy głównie ochronie i podtrzymaniu represyjnego społeczeństwa, neutralizowaniu opozycji i czynieniu ludzi odpornymi na inne, lepsze formy życia, to wypaczona tolerancja".
Żaden urbanista z sumieniem nie powinien brać udziału w tym obrzydliwym oszustwie, które tylko obraża pamięć ofiar – i bohaterów – placu Cijon.
PRZEKAŻ DAROWIZNĘ
---
---