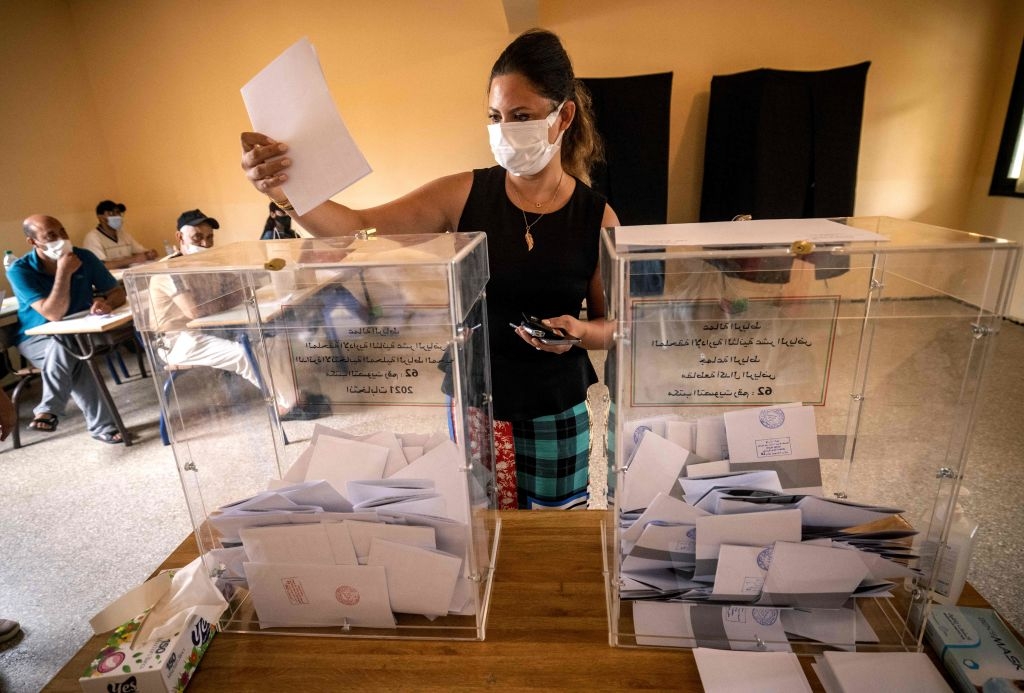 Społeczeństwa Egiptu, Tunezji, Maroka i Sudanu, które dały Bractwu Muzułmańskiemu szansę rządzenia, odkryły, że ta organizacja jest równie skorumpowana i niekompetentna, jak świeckie reżimy arabskie i głowy państw. W tym miesiącu rządząca w Maroku Islamska Partia Rozwoju i Sprawiedliwości poniosła druzgocącą porażkę w wyborach parlamentarnych. Na zdjęciu: Kobieta oddaje głos podczas wyborów w Maroku w Rabacie, 8 września 2021. (Zdjęcie: Fadel Senna/AFP via Getty Images)
---
Khaled Abu Toameh
Tłumaczenie: Andrzej Koraszewski
---
Od chwili swojego utworzenia w 1928 roku, głównym hasłem Bractwa Muzułmańskiego był slogan "Islam jest rozwiązaniem" (wszystkich problemów). W ostatnim dziesięcioleciu zwolennicy tej organizacji w wielu krajach używali tego hasła, w swoich kampaniach wyborczych, zdobywając władzę między innymi w Egipcie, Tunezji, Maroku i Sudanie.
Ostatnie tygodnie pokazały jednak, że wielu Arabów będących muzułmanami nie ufa już, że Bractwo Muzułmańskie może uczciwie rządzić, ani w twierdzenie, że "islam jest rozwiązaniem".
Jak powiedział marokański pisarz Saeed Nashed: "Bractwo Muzułmańskie popchnęło Maroko w dekadę ciemności".
Społeczeństwa Egiptu, Tunezji, Maroka i Sudanu, które dały Bractwu Muzułmańskiemu władzę, odkryły, że ta organizacja jest równie skorumpowana i niekompetentna, jak świeckie reżimy arabskie i autorytarne głowy państw.
W ciągu ostatnich dwóch miesięcy Bractwo Muzułmańskie doświadczyło dwóch poważnych porażek, najpierw w Tunezji, a teraz w Maroku.
Odsunięcie od władzy islamistycznej partii Ennahda (Renesansu) w Tunezji w lipcu 2021 zostało przyjęte z zadowoleniem nie tylko przez Tunezyjczyków, ale także przez wielu innych Arabów, którzy oskarżali islamistów, a w szczególności Bractwo Muzułmańskie, o szerzenie chaosu i niestabilności w świecie arabskim.
W tym miesiącu rządząca w Maroku Islamska Partia Rozwoju i Sprawiedliwości (PJD) poniosła druzgocącą porażkę w wyborach parlamentarnych. PJD, która była partnerem koalicyjnym w poprzednich dwóch rządach, zdobyła obecnie zaledwie 12 miejsc w liczącym 395 posłów parlamencie. Dla islamistów była to upokarzająca porażka, wcześniej dysponowali 125 mandatami poselskimi.
Podobnie jak w przypadku porażki islamistów w Tunezji, wielu Arabów cieszy upadek partii stowarzyszonej z Bractwem Muzułmańskim w Maroku. Arabowie mówią, że islamiści w krajach, w których zdobyli władzę, nie przynieśli niczego poza korupcją i nieszczęściem. Z licznych stron słychać głosy, że Arabowie nauczyli się i nie zamierzają już ufać islamistom i ich "pustym obietnicom".
Skala tej porażki pokazuje, że islamiści, którzy rządzili po wybuchu "arabskiej wiosny", skompromitowali się i pokazali, że nie mają niczego do zaoferowania poza pustymi hasłami i religijnym patosem.
Sami Brahem, tunezyjski muzułmański badacz, komentował, że partie stowarzyszone z Bractwem Muzułmańskim nie stworzyły programów politycznych ani wizji dla swoich wyborców. – Zawiedli na wszystkich frontach – powiedział Brahem . "To także polityczna i moralna porażka skorumpowanych partii politycznych".
Libańska politolożka Hoda Rizk zwróciła uwagę, że Bractwo Muzułmańskie próbowało przekonać decydentów w Waszyngtonie, że są umiarkowaną organizacją polityczną i że tylko oni potrafią poradzić sobie w świecie arabskiej polityki, reprezentując pragmatyzm i skuteczność.
"Wiedzieli, że Waszyngton, zwłaszcza podczas rządów prezydenta Obamy, był w krajach arabskich bardziej zainteresowany kwestią bezpieczeństwa niż demokracją" – powiedziała Rizk . Dodała, że islamiści w Tunezji i Maroku początkowo wykazali się pragmatyzmem i elastycznością, co pomogło im stać się bardziej zintegrowanym elementem systemów politycznych w swoich krajach.
"Czy era politycznego islamu zakończyła się w krajach arabskich 10 lat po Arabskiej Wiośnie?" zastanawia się Hoda Rizk. "Niewątpliwie przyczyną niepowodzenia była inercja i rzeczywista niechęć do przejęcia władzy".
Amr Al-Szobaki, badacz z egipskiego Centrum Studiów Al-Ahram, uważa, że nie można sprowadzać wszystkich doświadczeń politycznego islamu do jednego czynnika, nawet jeśli istnieje wspólny mianownik niepowodzenia ich rządów w krajach arabskich.
Al-Szobaki powiedział telewizji Al-Hurra, że jedną z głównych przyczyn upadku Bractwa Muzułmańskiego jest brak rozdziału między religią a polityką, ich rzekomy monopol na prawdę absolutną oraz roszczenia do reprezentowania "prawdziwego" islamu.
Al-Szobaki powiedział, że Arabowie "odrzucili ideę opieki nad nimi w imię religii i zaczęli rozróżniać między religią a programami partii politycznych i ich zdolnością do realizacji interesów społeczeństwa".
Według egipskiego badacza jedną z przyczyn porażki islamistów było to, że po tak zwanej arabskiej wiośnie powiedzieli ludziom, że wypróbowano system socjalistyczny i kapitalistyczny, a teraz nadszedł czas, aby wdrożyć projekt islamski, który rozwiąże wszystkie problemy.
"Jednak po 10 latach [islamski] projekt nie powiódł się i nie udało im się rozwiązać ani problemów gospodarczych ani społecznych" – dodał Al-Szobaki .
Marwan Szehadeh, jordański ekspert od spraw grup islamskich, cytowany przez telewizję Al-Hurra, powiedział, że przyczyną porażki islamistów jest brak doświadczenia politycznego i niezdolność przekształcenia się z opozycji w administrację.
Szehadeh powiedział, że kolejnym powodem porażki islamistów było to, że przyjęli tę samą politykę i taktykę jak rządy i reżimy, które zastąpili.
"Grupy i partie [islamistyczne] zostały zakażone chorobami, na które cierpiały inne partie, zwłaszcza korupcją… Nie potrafiły zarządzać sprawami swoich krajów, nie rozwiązywały problemów ani nie zapewniały ludziom tego, do czego mają prawo, nie przygotowywały kadr odpowiednich do obsługi aparatu państwowego".
Amin Sossi Alawi, marokański badacz zagadnień geopolitycznych, określił klęskę islamistów w Maroku jako "trzęsienie ziemi, które złamie kręgosłup Bractwu Muzułmańskiemu w świecie islamskim".
Powiedział, że doświadczenie Marokańczyków z islamistami w ciągu ostatniej dekady pozwoliło im w końcu "odkryć fałszywość populistycznych haseł, które Partia Sprawiedliwości i Rozwoju wykorzystała do przejęcia rządu".
Libijski pisarz Milad Omer Mezoghi napisał, że chociaż Arabowie, którzy w przeszłości głosowali na partie związane z Bractwem Muzułmańskim, mogli popełnić błąd, "wiedzą, jak ukarać tych, którzy ich zawiedli".
"Bractwo Muzułmańskie w Afryce Północnej nie dbało o swoich ludzi. Dokonali najbardziej haniebnych czynów, związali los swojego narodu z Turcją, sprowadzili z niej wszystko, zaś Turcy chcieli ożywić swoją (turecką) gospodarkę, i w rezultacie opróżnili kufry arabskich krajów i zubożyli lud, co doprowadziło do gwałtownego wzrostu bezrobocia i przestępczości… Ludzie czasem popełniają błędy w swoich wyborach z powodu braku jasności wizji, a kandydaci podają fałszywe informacje, ale ludzie będą naprawiać swój błąd przy pierwszej okazji. Wybory parlamentarne w Maroku pokazały, że marokańska opinia publiczna zrezygnowała z Bractwa Muzułmańskiego. Bractwo Muzułmańskie to niegodziwa roślina, którą zżera chciwość".
Saudyjski pisarz i politolog Fahd Al-Szokiran powiedział, że upadek Bractwa Muzułmańskiego w Maroku przypisuje się "oburzającemu rozprzestrzenianiu się korupcji, która wywołała powszechny gniew".
Zwrócił uwagę, że wielu wyborców w Maroku postrzega Bractwo Muzułmańskie jako organizację oportunistyczną, która dostarcza pustych obietnic, aby jak najszybciej skorzystać na dostępie do władzy.
"Było to widoczne w powszechnej korupcji, niepowodzeniu w walce z bezrobociem i braku jakiejkolwiek strategii walki z ubóstwem. Powszechnie wiadomo, że organizacja Bractwa Muzułmańskiego odnosi sukcesy, gdy jest w opozycji, ale zawsze przegrywa kiedy rządzi. Są dobrzy w niszczeniu, ale zawodzą w budowaniu".
Odnotowując, że islamiści ponieśli porażkę w wielu krajach arabskich, pisarz ostrzegł, że jeśli muzułmanie nie będą wyciągać wniosków z "katastrofalnych doświadczeń" Bractwa Muzułmańskiego, to doświadczenie porażki będzie powtarzane co kilkadziesiąt lat.
Al-Szokiran kontynuował :
"Po dekadzie rządów islamistów w Tunezji i Maroku Bractwo Muzułmańskie przyczyniło się jedynie do wzrostu korupcji, lekceważenia państwa i jego instytucji oraz marnowania życia i pieniędzy ludzi".
Nadim Koteisz, wybitny libański pisarz i osobowość medialna, powiedział, że islamiści z Maroka zostali surowo ukarani po tym, jak spędzili 10 lat w rządzie, nie tworząc niczego dobrego dla społeczeństwa.
"Marokańczycy głosowali za osiągnięciami, a nie za pustą retoryką" – napisał . "Niedawne wybory w Maroku dają temu krajowi okazję do pozbycia się islamistycznych szantażystów".
Palestyńczyk, redaktor gazety i felietonista Hafez Barghouti także odważa się na okazanie radości z powodu upadku Bractwa Muzułmańskiego w Maroku.
"Partie Bractwa Muzułmańskiego zawsze twierdziły, że nie miały możliwości rządzenia w celu realizacji swoich programów. Ale przejęły rząd w Maroku na dziesięć lat i nie mają żadnych osiągnięć dla Marokańczyków, których tylko oszukały slogany religijne".
Według Barghoutiego "doświadczenie pokazuje , że partie Bractwa Muzułmańskiego są wyszkolone w burzeniu, a nie budowaniu, a efekt jest taki, że nie potrafią zapewnić tym, którymi rządzą, jakichkolwiek usług innych niż przechwałki i korupcja".
Palestyński pisarz powiedział, że Tunezja pozbyła się islamistów, ponieważ zniszczyli gospodarkę i "ukradli ludziom pieniądze". Dodał, że w Maroku przez wiele lat rządziło Bractwo Muzułmańskie, pogrążając kraj w kryzysie gospodarczym i społecznym.
Partie islamistyczne, napisał Barghouti, uważają, że ich rządy będą trwały, jak długo apelują do uczuć religijnych. "Ale zaczynają od swoich partyjnych interesów i służą tylko swoim zwolennikom" – powiedział. "To jest powód szybkiego upadku Bractwa Muzułmańskiego, grupy bez historii tworzenia i bez tolerancji".
Mounir Adib, egipski ekspert od grup islamskich, powiedział, że upadek islamistów w Maroku jest odzwierciedleniem upadku tej organizacji w Egipcie, Tunezji i innych krajach arabskich.
"Ten upadek nie jest polityczny, ale raczej jest to upadek ideologii grupy, która stała się niepożądana w krajach arabskich. Wielki upadek Bractwa Muzułmańskiego, politycznie i intelektualnie, rozpoczął się w Egipcie, potem był Sudan, Tunezja i wreszcie Maroko. Ze względu na spektakularną porażkę w tych krajach, mogą upaść także w Libii podczas zbliżających się wyborów parlamentarnych i prezydenckich".
Upadek Bractwa Muzułmańskiego w wielu krajach arabskich nie oznacza, że ta organizacja zniknie w najbliższym czasie. Niemniej jednak Arabowie w tych krajach mówią, że mają dość islamistów, którzy udowodnili, że nie są w stanie zadbać o interesy swojego narodu. Pozostaje zatem pytanie: czy zachodni apologeci islamistów również obudzą się i przestaną się z nimi obchodzić, jakby byli uczciwymi ludźmi, którzy dążą do poprawy warunków życia arabskich społeczeństw, tak muzułmanów, jak i innych?
---
---