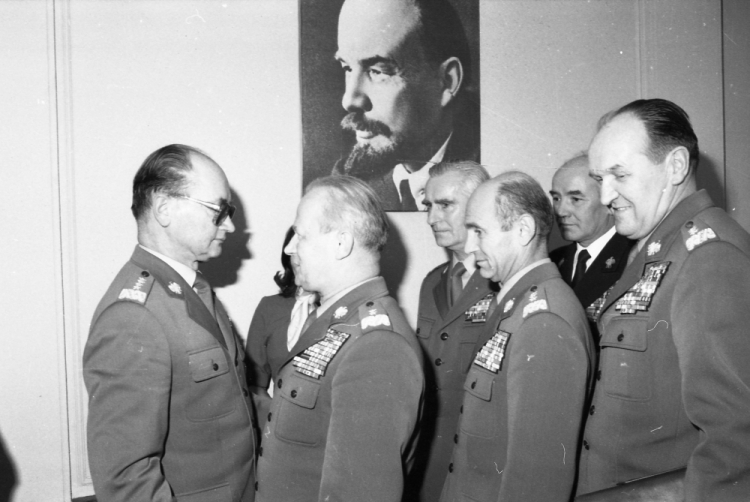 Warszawa 18.10.1981. Gen. Wojciech Jaruzelski (L), powołany właśnie na stanowisko I sekretarza Komitetu Centralnego Polskiej Zjednoczonej Partii Robotniczej, odbiera gratulacje od przedstawicieli Ludowego Wojska Polskiego. Fot. PAP/C. Langda
---
Michał Szukała
---
40 lat temu, 18 października 1981 r., gen. Wojciech Jaruzelski został wybrany na I sekretarza KC PZPR. Wybór był zwieńczeniem trwającej kilka miesięcy walki o przywództwo w partii komunistycznej, efektem wpływów ZSRS i krokiem w kierunku rozprawy z "Solidarnością".
Późną wiosną 1981 r. sytuacja społeczna i gospodarcza PRL była fatalna. Rosnące napięcie w stosunkach między "Solidarnością" a władzami, fatalne zaopatrzenie sklepów, zamach na Jana Pawła II i śmierć prymasa Stefana Wyszyńskiego pogłębiały pesymizm i wyczekiwanie na przełom. Skala problemów stojących przed "polskimi towarzyszami" była dostrzegana także w Moskwie. Jeden z raportów warszawskiej agentury KGB, zachowany w tzw. archiwum Mitrochina, był niezwykle ostry w swoich związkach: "Kania i Jaruzelski nie nadają się już do skutecznego kierowania partią i rządem. Nie potrafią przygotować zwycięstwa nad opozycją i są skompromitowani długoletnią współpracą z Gierkiem. Nie ulega też wątpliwości, że nie mają nawet chęci walki, niezbędnej u przywódców, od których oczekuje się podjęcia zdecydowanych kroków". Pozycja Jaruzelskiego była jednak nieporównywalnie silniejsza niż Stanisława Kani. Od lutego 1981 r., gdy objął stanowisko premiera, konsekwentnie zwiększał swoją władzę. W czerwcu przez nielubianego przez siebie szefa MSW gen. Mirosława Milewskiego wysłał do Moskwy sygnał, że Kreml może liczyć na jego pełną lojalność. W odpowiedzi władze KPZR w liście do Biura Politycznego zasugerowały, że tracą zaufanie do Kani.
Atak na Kanię
Nastawienie Kremla wyczuwano w Biurze Politycznym KC PZPR. Coraz większa liczba członków tego gremium atakowała Kanię, oskarżając go, że nie ma pomysłu na wyprowadzenie partii i kraju z głębokiego kryzysu. Kania przetrwał jednak próbę jego obalenia, którą podjęli dogmatycy wspierani przez Moskwę. Swój sukces powtórzył w lipcu na IX Zjeździe PZPR, kiedy jako jedyny I sekretarz KC PZPR w historii został wybrany przez tak szerokie gremium partyjne. Nowy Komitet Centralny był zaś kontrolowany przez doświadczonych funkcjonariuszy partyjnych. Kania uznał, że z tym KC "można iść na wojnę".
Tuż po zakończeniu zjazdu w rządzie nastąpiła ważna zmiana wzmacniająca pozycję Jaruzelskiego. Na czele MSW stanął gen. Czesław Kiszczak, wojskowy znacznie mu bliższy niż Milewski. Podsumowaniem wydarzeń lata 1981 r. była wizyta Kani i Jaruzelskiego na Krymie. Podczas spotkania z wypoczywającym tam schorowanym Leonidem Breżniewem Jaruzelski przekonywał sowieckiego przywódcę, że potrafi wyprowadzić PRL z kryzysu i do "wyrwania klasy robotniczej spod wpływów hersztów Solidarności". Breżniew był rozczarowany rezultatami zjazdu PZPR. Stwierdził, że rozwiązaniem problemów mogłaby być "militaryzacja" kluczowych stanowisk partyjnych i państwowych. Jaruzelski słusznie odczytał jego słowa jako poparcie dla kolejnej zmiany na szczytach władzy.
Kilkanaście dni później, w podobnym, równie wojskowym tonie, wypowiedział się na III plenum KC PZPR Stanisław Kania, który ostrzegł, że władze nie cofną się przed użyciem siły w celu "obrony socjalizmu". Dodał, że partia rozważa wydanie broni wszystkim swoim funkcjonariuszom, jeśli będą zagrożeni przez "proces kontrrewolucyjny". Było to wyraźne ostrzeżenie wobec "Solidarności", która przygotowywała się do pierwszej tury swojego zjazdu. Kilkanaście dni później Kania musiał znieść wściekły atak Breżniewa, który dowiedział się o wystosowanym przez "Solidarność" posłaniu do ludzi pracy Europy Wschodniej. Sam Jaruzelski był w tym czasie naciskany przez radykałów, aby już teraz przeprowadzić siłową rozprawę z "S". Operacja wprowadzenia stanu wojennego była już niemal przygotowana.
Archiwum Mitrochina
Według dokumentów KGB z archiwum Mitrochina na początku października Moskwa ostatecznie zdecydowała, że Jaruzelski ma zostać następcą Kani. O decyzji poinformował Kanię ambasador ZSRS Borys Aristow. Kania mógł już tylko oczekiwać na najbliższe posiedzenie plenum KC PZPR i przygotować swoje "godne" odejście. Obrady plenum rozpoczęły się 16 października 1981 r. W przemówieniu I sekretarz opowiedział się za politycznym rozwiązywaniem konfliktów społecznych. Reakcja wielu pozostałych członków BP była bardzo ostra. Kania został oskarżony o doprowadzenie do anarchii i zupełną niekompetencję. 17 października zapowiedział rezygnację. Prawdopodobnie liczył, że Biuro tymczasowo nie przyjmie jego dymisji. Jednak już następnego dnia nowym I sekretarzem KC PZPR został Jaruzelski. Na jego kandydaturę oddano 180 głosów, 4 sekretarzy KC było przeciwko. Już w pierwszym przemówieniu zapowiedział delegalizację jakichkolwiek akcji protestacyjnych "Solidarności".
Sytuacja wydawała się sprzyjać Jaruzelskiemu. 28 października "S" przeprowadziła jednogodzinny strajk ostrzegawczy. Władze oceniły go jako porażkę związku, ponieważ do protestu przystąpiło 40 proc. członków NSZZ "Solidarność". Wśród członków "S" pojawiało się coraz więcej podziałów wokół dalszej strategii walki. Propaganda i prowokacje władz sprawiały, że narastało zwątpienie społeczeństwa. Jakichkolwiek rezultatów nie mogły przynieść fasadowe inicjatywy dialogu wysuwane przez Jaruzelskiego. Najsłynniejsza z nich, spotkanie z udziałem prymasa Józefa Glempa, Lecha Wałęsy i Jaruzelskiego 4 listopada, miała być według propagandy komunistycznej wstępem do powołania Rady Porozumienia Narodowego. Na posiedzeniu Biura Politycznego Jaruzelski uznał, że główny cel tej inicjatywy został osiągnięty – władze mogły mówić, że "do końca" liczyły na dialog z "Solidarnością". Rzeczywiste nastroje na szczytach władzy oddawały wypowiedzi towarzyszy Jaruzelskiego, którzy jednoznacznie wspierali nadzorowane przez niego i Kiszczaka przygotowania do wprowadzenia stanu wojennego.
Wątpliwości Jaruzelskiego
Sam Jaruzelski był przekonany, że siłowe stłumienie "samoograniczającej się rewolucji" oznacza ostateczną klęskę partii, na której czele stanął. "Jest to potworna, makabryczna kompromitacja dla partii, że po 36 latach sprawowania władzy trzeba jej bronić siłą" – powiedział do swoich towarzyszy tuż po 13 grudnia. W tym czasie rozważał likwidację PZPR. "Myślę, że trzeba utworzyć nową partię, tak jak zrobiono to np. na Węgrzech.[…] Nowa partia powinna być partią marksistowsko-leninowską. Niech ona będzie mniejsza liczebnie (ok. 1 mln), ale lepsza kadrowo" – powiedział w rozmowie z marszałkiem ZSRS i głównodowodzącym sił Układu Warszawskiego Wiktorem Kulikowem. Na takie rozwiązanie nie pozwolił Kreml. Władze partii łudziły się, że stan wojenny w dłuższej perspektywie przysłuży się odbudowie jej sił. "Partia kroczyć powinna taktycznie pół kroku z tyłu, pod osłoną wojska powinna odbudować swoje siły" – pisano w jednym z dokumentów z grudnia 1981 r.
W tym czasie tysiące członków partii rzuciło legitymacjami. Do rozwiązania PZPR doszło dopiero w zupełnie innej sytuacji politycznej, ale już po 13 grudnia partia w kraju rządzonym przez juntę wojskową, wspieraną przez milicję i bezpiekę, miała drugorzędne znaczenie polityczne. Do końca lat osiemdziesiątych Jaruzelski opierał swoją pozycję polityczną na pełnionych przez siebie funkcjach premiera, przewodniczącego Rady Państwa oraz na poparciu Kremla. (PAP)
---
---