Chasydzi. Zdjęcie pochodzi z albumu Agnieszki Traczewska 'A Rekindled World / Wskrzeszony świat' (Fot. Agnieszka Traczewska)
---
Paweł Smoleński
---
Oglądając te fotografie, mamy poczucie, że jesteśmy wewnątrz chasydzkich rodzin, dzielnic i miejsc świętych.
Oglądam te zdjęcia i wmawiam sobie, że patrzę na świat, który w moim kraju spłonął na rusztach krematoriów. Ale cieszę się, że gdzieś przetrwał: w Nowym Jorku na Williamsburgu, w belgijskiej Antwerpii, w Mea Szarim, w Bnei Brak, w Safedzie w Ziemi Świętej, nawet w odległej Brazylii.
Uchylona zasłona kryjąca chasydów
Prócz rabina Szaloma Stamblera i garści jego owieczek nie ma już u nas prawdziwych chasydów. Lecz wiem, iż nostalgiczna tęsknota za obecnością sztetli to prawda w nieprawdzie, ściema i czysty sentyment. Jerozolimskie Geula, Mea Szarim czy Bnei Brak pod Tel Awiwem to nie uwspółcześniony (telewizja, internet, komórki, bankomaty) obraz Góry Kalwarii, Goraja, Bobowej, Rymanowa czy Tykocina sprzed Zagłady, lecz produkt całkowicie współczesny, ekspansywny (a sztetl był wsobny), narzucający swoje zdanie i wymagający szczególnych przywilejów oraz hołdów jak, nie przymierzając, polski katolicyzm. No i dystans chasydów wobec obcych jest bardzo podobny.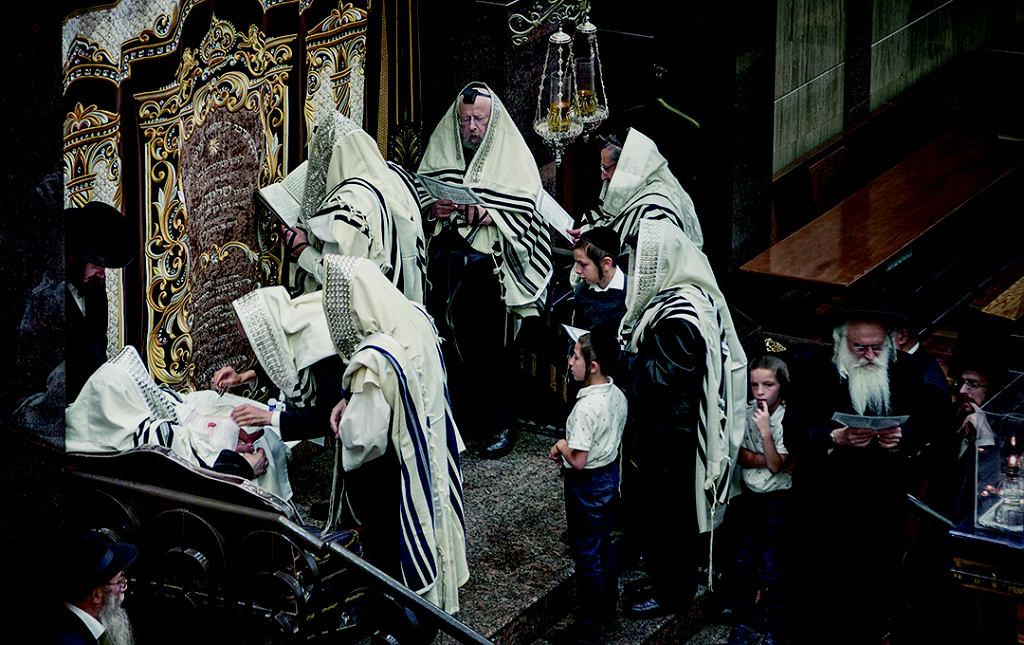 Chasydzi. Zdjęcie pochodzi z albumu Agnieszki Traczewska 'A Rekindled World / Wskrzeszony świat' Fot. Agnieszka Traczewska
Tym bardziej admiruję autorkę albumu fotograficznego "A Rekindled World/Wskrzeszony świat" Agnieszkę Traczewską. Mam bowiem świadomość, jak trudno jej było uchylić zasłonę kryjącą chasydzkie społeczności. Mój niewielki bonus polegał na tym, że jestem mężczyzną, a więc dla ultraortodoksyjnej wspólnoty stanowię mniejsze zagrożenie niż obca kobieta. Przecież kobieta to wiodące na pokuszenie włosy, głos narażający na nieskromne myśli oraz to, co nazywa się "nieczystością". A i tak częściej wracałem na tarczy niż z tarczą. Traczewska zaś, co widać na jej zdjęciach, odniosła wspaniałą wiktorię.
Oglądając te fotografie, mamy poczucie, że jesteśmy wewnątrz chasydzkich rodzin, dzielnic, miejsc świętych i miast. Uczestniczymy w uroczystościach, świętach i modlitwach. Doznajemy smutku i religijnej ekstazy. Przebieramy się podczas święta Purim, pijemy szabatowe wino, tańczymy i chwalimy śpiewem Najwyższego, pielgrzymujemy do grobów mistyka i autora księgi Zohar Szymona bar Jochaja, jego syna Eleazara oraz dwudziestki innych sławnych rabinów na górze Meron w Galilei.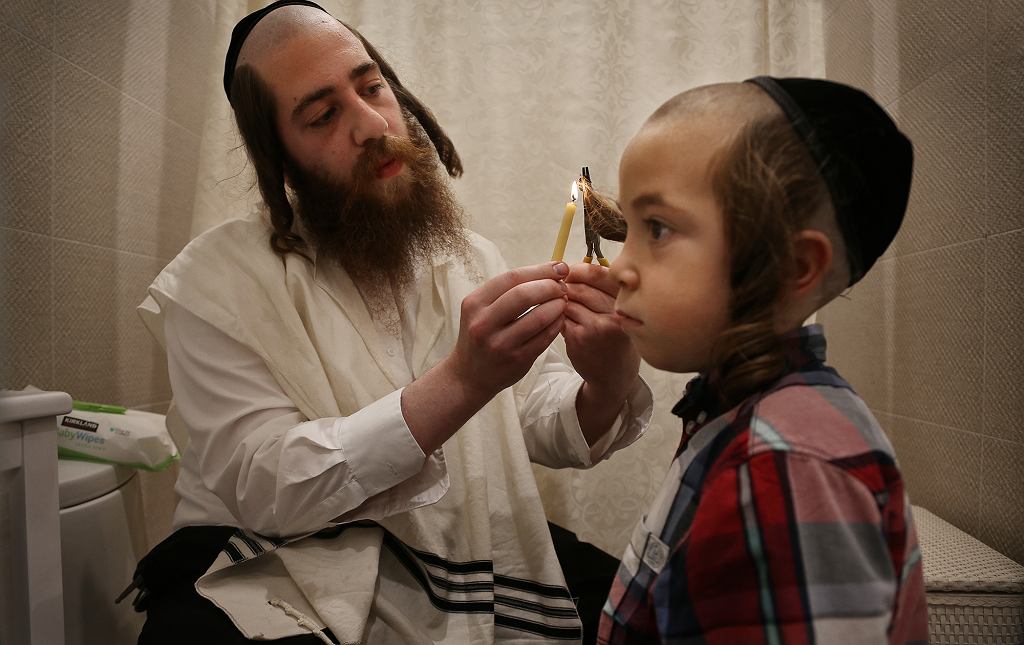 Chasydzi. Zdjęcie pochodzi z albumu Agnieszki Traczewska 'A Rekindled World / Wskrzeszony świat' Fot. Agnieszka Traczewska
Niektóre ze zdjęć są zadziwiająco intymne: kąpiel niemowlęcia, chasydki wystawiające twarze do słońca na jednej z plaż Florydy, wizyta w szpitalu i modlitwa przy łóżku ciężko chorego albo opalanie pejsów (niektórzy chasydzi wierzą, że nożyczki jako dzieło ludzkich rąk są do ich skracania niedozwolone). Większość opatrzona jest nazwiskami portretowanych osób (spróbujcie przełamać osobność i zawstydzenie chasydów; klęska murowana, a Traczewskiej się udało). Do niektórych dodano bardzo osobiste wyznania bohaterów o świecie, wierze, rodzinie, życiu. Przestrzeganie tradycji – jak mówią chasydzi wysłuchani i sfotografowani przez Traczewską – nadaje prawdziwy sens ich życiu. Inny po prostu nie istnieje.
Chasydzi nie chcą robić za egzotycznie figurki w ludzkim zoologu
"Wskrzeszony świat" to skutek wieloletniej pracy fotografki wśród chasydów, osobistych kontaktów, znajomości, a także delikatności i taktu. Nie bez powodu u wejścia do jerozolimskiej dzielnicy Mea Szarim oraz innych skupisk ultraortodoksów stoją ogromne tablice informacyjne zalecające skromne ubranie (długie spódnice, zakryte ramiona, żadnych spodni u kobiet) i zachowanie; "prosimy o uszanowanie naszego żydowskiego sposobu życia poświęconego Bogu [imienia Stwórcy nie wolno wymawiać, więc Bóg zapisany jest B-g] i Torze". Niełatwo robić tam zdjęcia i trudno się dziwić. Chasydzi nie chcą – to ich święte prawo – robić za egzotycznie wyglądające figurki w ludzkim zoologu.
Agnieszka Traczewska wystawiała swoje prace od Sao Paulo po Canberrę w Australii, pokazywała zdjęcia w Warszawie i Palm Beach, w Montrealu i Krakowie, w USA, Izraelu, Czechach i Niemczech. Album "Wskrzeszony świat" wydano w Tarnowie (choć po angielsku, polska edycja w przygotowaniu), lecz już doczekał się pochlebnej recenzji w izraelskim dzienniku "Ha'aretz", jest chwalony przez liderów chasydzkich wspólnot Nowego Jorku. Być może podobnego albumu po prostu nie ma. A z pewnością nie przygotowała czegoś podobnego inna fotografka.
---

"A rekindled world", Agnieszka Traczewska, Komitet Opieki nad Zabytkami Kultury Żydowskiej w Tarnowie.
Więcej na agnieszkatraczewska.com
Paweł Smoleński – pisarz, publicysta, reporter "Gazety Wyborczej"
---