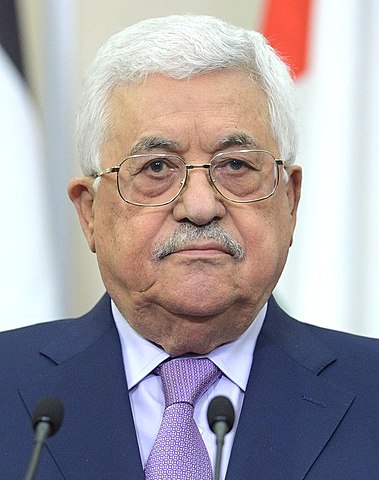 Dla prezydenta Autonomii Palestyńskiej, Mahmouda Abbasa (na zdjęciu) i dla kierownictwa AP każdy Palestyńczyk, który przyłącza się do dżihadu przeciwko Izraelowi i Żydom i zostaje zabity, ranny lub uwięziony, jest "bohaterem". To jest ta sama AP, nad wzmocnieniem której pracuje obecnie administracja Bidena. (Zdjęcie: Mahmoud Abbas. Wikipedia.)
---

Bassam Tawil
Tłumaczenie: Małgorzata Koraszewska
---
Podczas gdy wiele międzynarodowych mediów skupiało uwagę na ucieczce sześciu palestyńskich więźniów z izraelskiego więzienia 6 września, jak również na rozgrywającym się w kolejnych dniach dramatycznym pościgu za nimi tysięcy izraelskich policjantów i żołnierzy, tylko nieliczne – jeśli w ogóle jakieś – informowały o trwającym gloryfikowaniu terrorystów przez przywódców Autonomii Palestyńskiej (AP).
Fakt traktowania przez AP palestyńskich terrorystów jako bohaterów, włącznie z tymi, których złapały siły bezpieczeństwa Izraela, którzy zostali osądzeni i odsiadują kary więzienia, nie jest niczym nowym. W rzeczywistości ta praktyka datuje się do pierwszych lat po założeniu Organizacji Wyzwolenia Palestyny (OWP) w 1964 roku.
Od tego czasu OWP nie tylko obsypywała pochwałami palestyńskich terrorystów, którzy mordowali i ranili Żydów, ale także dawała comiesięczne wypłaty dla nich i ich rodzin.
Kilka miesięcy temu Palestinian Media Watch (PMW) ujawnił, że AP zapłaciła ponad 512 milionów szekli (175 milionów dolarów) w wypłatach dla więźniów skazanych za terroryzm w roku 2020. PMW szacuje, że suma płacona odsiadującym wyroki terrorystom dochodzi do 3,25% rocznego budżetu AP.
Według PMW, AP próbowała ukryć wypłaty za terroryzm przez przekazanie ponad miliarda szekli OWP, z czego 512 milionów szekli użyto na płace dla terrorystów i ich rodzin.
Ta polityka dostarczania finansowego wsparcia terrorystom i ich rodzinom nie jest polityką, którą AP i jej przywódcy kiedykolwiek próbowali ukrywać. Wręcz przeciwnie; prezydent AP, Mahmoud Abbas, premier Mohammed Sztajjeh i wielu wysokich rangą funkcjonariuszy palestyńskich nadal przechwala się swoją rolą w nagradzaniu terrorystów i ich rodzin.
W 2018 roku Abbas powiedział w Ramallah podczas ceremonii na cześć palestyńskich więźniów:
"Ani nie zmniejszymy, ani nie powstrzymamy wypłat dla rodzin męczenników, więźniów i zwolnionych więźniów, do czego niektórzy dążą, i jeśli zostanie nam jeden grosz, wypłacimy go rodzinom męczenników i więźniów. Z naszego punktu widzenia męczennicy i więźniowie są gwiazdami na firmamencie walki palestyńskiego narodu i mają pierwszeństwo we wszystkich sprawach. W1965 roku, kilka dni po wybuchu palestyńskiej rewolucji, pierwszą misją podjętą przez męczennika prezydenta Jasera Arafata było ustanowienie instytucji opieki nad rodzinami męczenników i mudżahedinów Palestyny – bo oni są pionierami i musimy o nich dbać, i będziemy o nich dbać".
Niedawna ucieczka i ponowne schwytanie sześciu więźniów służyło jako przypomnienie o trwającym poparciu i podziwie AP dla terrorystów, którzy dokonują ataków na Żydów.
Dla prezydenta Autonomii Palestyńskiej, Mahmouda Abbasa i dla kierownictwa AP każdy Palestyńczyk, który przyłącza się do dżihadu (świętej wojny) przeciwko Izraelowi i Żydom i zostaje zabity, ranny lub uwięziony, jest "bohaterem" i "bojownikiem o wolność".
To stanowisko przywódców Autonomii Palestyńskiej informowało pokolenia Palestyńczyków, że mordowanie lub kaleczenie Żydów jest czymś szlachetnym i zapewnia sprawcom bezgraniczny szacunek – wręcz adorację.
Chociaż pięciu z terrorystów, którzy uciekli, należało do wspieranego przez Iran Palestyńskiego Islamskiego Dżihadu (PIJ) – grupy, która dąży do likwidacji Izraela i przeciwstawia się "umiarkowanej" polityce AP wobec Izraela – Abbas i jego najwyżej postawieni funkcjonariusze na Zachodnim w dalszym ciągu nazywają ich "bohaterami" i "dzielnymi więźniami".
Chociaż czterech spośród terrorystów z PIJ było skazanych za mordowanie i okaleczenie wielu Żydów, Abbas i jego reprezentanci nadal mówią o nich jako "więźniach politycznych" i "bojownikach o wolność", których trzyma się w więzieniu wyłącznie za "opozycję wobec izraelskiej okupacji".
Abbas uważa za swój obowiązek podejmowanie i honorowanie skazanych i podejrzanych terrorystów po ich zwolnieniu z izraelskich więzień.
Zaledwie dwa miesiące temu Abbas złamał reguły zachowania podczas COVID-19 i był gotowy na ryzykowanie własnego zdrowia przez zaproszenie byłego więźnia, Alghadanfara Abu Atwana, do swojego biura w Ramallah.
Abu Atwana zaproszono do biura Abbasa wkrótce po tym, jak został zwolniony z izraelskiego internowania z powodu podejrzenia o udział w antyizraelskich akcjach, których natury izraelskie służby bezpieczeństwa nie ujawniły.
Podczas tego spotkania Abbas powiedział, że zwolnieni więźniowie "stanowią wzór dla palestyńskiej młodzieży, z którego jesteśmy dumni".
Takie spotkania Abbasa z byłymi palestyńskimi więźniami są częste i mają informować palestyńskie społeczeństwo o wielkim szacunku wobec terrorystów i ich rodzin. Abbas w rzeczywistości mówi Palestyńczykom: jeśli pójdziesz do więzienia za zamordowanie lub okaleczenie Żyda, zarobisz na najwyższy szacunek i zostaniesz uhonorowany przez samego prezydenta.
Podczas gdy trwał pościg za sześcioma uciekinierami z izraelskiego więzienia, Abbas wysłał swojego rzecznika, Nabila Abu Rudaineha, by przekazał następujący komunikat Palestyńczykom, Izraelczykom i reszcie świata: "Nasi dzielni więźniowie w izraelskich więzieniach są bohaterami palestyńskiego ludu i nie będzie pokoju ani stabilności bez uwolnienia wszystkich naszych więźniów".
Mahmoud al-Aloul, wiceprzewodniczący rządzącego w AP Fatahu (przewodniczącym jest Mahmoud Abbas), nawet ostrzegł Izrael przed próbą ponownego schwytania terrorystów, o których mówił "bohaterzy". Według al-Aloula, ponowne aresztowanie terrorystów, którzy uciekli z izraelskiego więzienia Gilboa, równałoby się "zbrodni" i "złamaniu" ich praw.
To jest teatr absurdu, w którym wysoki rangą palestyński funkcjonariusz potępia Izrael za starania ponownego schwytania skazanych terrorystów, którzy zamordowali i zranili wielu Żydów i odsiadują wieloletnie wyroki. Izrael, zdaniem tego funkcjonariusza, powinien zaakceptować ucieczkę terrorystów z więzienia i ich powrót do mordowania Żydów.
OWP, na której czele także stoi Abbas, oznajmiła (kiedy pościg jeszcze trwał), że terroryści, którzy uciekli z więzienia są "awangardą i najlepszymi spośród palestyńskiej społeczności, ponieważ poświecili życie na rzecz ojczyzny i narodu".
Jest to rodzaj retoryki, która skłania Palestyńczyków do przyłączenia się do dżihadu przeciwko Izraelowi i wyruszania na misje atakowania Żydów. To jest rodzaj retoryki, która wysłała tysiące Palestyńczyków na ulice, by wyrazili solidarność z uciekinierami i wszystkimi terrorystami w izraelskich więzieniach.
Słowa i czyny Abbasa i innych palestyńskich przywódców w następstwie ucieczki sześciu terrorystów pokazują wyraźnie, jak Palestyńczycy przekształcili morderców i zbirów w społeczne wzory osobowe.
To, co Abbas, OWP i Fatah mówili – po arabsku – o terrorystach w ostatnich tygodniach, ujawnia, że mowa administracji Bidena o wznowieniu izraelsko-palestyńskiego procesu pokojowego w rzeczywistości jest śmiertelnie groźnym urojeniem.
Dla Palestyńczyków prawdziwymi "bohaterami" są ci, którzy siedzą w izraelskich więzieniach za dokonywanie zamachów terrorystycznych przeciwko Żydom.
Przez wychwalanie terrorystów i przedstawianie ich jako "bohaterów" i "męczenników" palestyńscy przywódcy popierają tych, którzy angażują się w przemoc, dążą do likwidacji Izraela i odrzucają proces pokojowy na Bliskim Wschodzie. W takiej sytuacji, jak może Abbas – lub jakikolwiek palestyński przywódca – kiedykolwiek powrócić do stołu negocjacyjnego, niezależnie od tego, ile milionów dolarów administracja Bidena postanowi zapłacić za puste słowa Palestyńczyków.
---
Bassam Tawil
Muzułmański badacz i publicysta mieszkający na Bliskim Wschodzie.
---
---