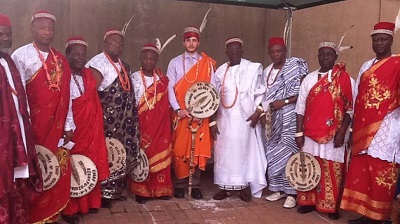 George Deek (Nwanne di Namba) w środku.
---
Andrzej Koraszewski
---
Hasło informujące, że antysyjonizm nie jest antysemityzmem, jest dość oczywistym kłamstwem, które w Warszawie powinno być łatwiejsze do przygwożdżenia niż w innych miejscach świata. Jedni widzieli to hasło na ulicach w młodości, inni w dzieciństwie, jeszcze inni wiedzą od rodziców, jak to wyglądało nieco ponad pół wieku temu. Wypracowana w Moskwie nowa odmiana wściekłego antysemityzmu staje się z każdym rokiem coraz bardziej zjadliwa, a ludobójczy antysyjonizm staje się coraz bardziej akceptowany w "dobrym towarzystwie". Jest go pełno w Organizacji Narodów Zjednoczonych, w szacownych niegdyś organizacjach obrony praw człowieka, takich jak Human Rights Watch lub Amnesty International, w mediach głównego nurtu przyjmuje zatroskaną twarz rzekomych obrońców praw Palestyńczyków.
Brytyjski prawnik, badacz i dziennikarz, David Litman pisze, że przez blisko pięć lat informował i badał działalność ONZ i kiedy tylko zajmowano się Izraelem, zawsze wyłaniał się ten sam wzór – w charakterze głosu Izraela wyciągano jakieś marginalne postaci, które dzielnie śpiewały w tym samym chórze, co zakłamani oskarżyciele. Jako przykład Litman opisuje zorganizowane przez ONZ "Międzynarodowe Seminarium dziennikarskie na temat pokoju na Bliskim Wschodzie". W panelu głos Izraela reprezentował niegdyś przewodniczący komunistycznej partii Meretz, a obecnie tylko czołowy działacz tej partii, Yossi Beilin. Brytyjski dziennikarz pisze, że obserwując od lat tego rodzaju imprezy, ani razu nie spotkał się z przypadkiem zaproszenia rzeczywistego przedstawiciela izraelskiego społeczeństwa. Nieodmiennie są to albo izraelscy antysyjoniości, albo diasporowi "krytycy Izraela" (o których można powiedzieć, że tak bardzo obawiają się oskarżenia o podwójną lojalność, że na wszelki wypadek unikają podejrzeń o uczciwość).
Dawniej mówiło się, że każdy antysemita ma swojego Żyda. Nic się nie zmieniło, dziś każdy wściekły antysyjonista, mniej lub bardziej otwarcie domagający się likwidacji Izraela wraz z jego ludnością, ma swojego żydowskiego "krytyka syjonizmu", który swoją żydowskość wywleka jako dowód, że antysyjonizm nie może być antysemityzmem.
Niewielką pociechą jest fakt, że istnieją również nieżydowscy syjoniści, świadomi, że ta nowa odmiana antysemityzmu jest równie nieludzka i równie niebezpieczna jak wszystkie stare warianty tej zarazy. Jestem syjonistą, bo uznaję prawo Żydów do życia, prawo Żydów do posiadania własnego państwa, prawo Żydów do obrony swojego państwa przed armiami i przed terrorystami, jak również prawo do obrony przed kłamcami powielającymi w nieskończoność informacje całkowicie fałszywe, groteskowo zniekształcone lub "zaledwie" tak niejasne, że odbiorca ma wrażenie, że Żydzi znowu popełnili zbrodnię, a dziennikarz ma wrażenie, że był uczciwy.
Jak się to robi? W niedzielę 21 listopada palestyński terrorysta w Jerozolimie jednego Izraelczyka zabił, czterech innych ranił. CNN informowała: "Jeden zabity, czterech rannych w wyniku strzelaniny w Jerozolimie, napastnik również zabity."
BBC donosiła: "Strzelanina w Jerozolimie: napastnik zabił jedną osobę i ranił trzy dalsze".
Media palestyńskie ujmują to jeszcze inaczej. O tym samym zamachu terrorystycznym czytamy: "Izraelskie siły okupacyjne otworzyły dziś ogień i zabiły Palestyńczyka na Starym Mieście w okupowanej Jerozolimie".
Jaką rolę w tym zalewie "antysyjonizmu" pełnią nieżydowscy syjoniści? Jeśli powiem, że skromną, to właściwie nic nie powiem. Są, a nawet są ich tysiące, co przy milionach aktywnych antysyjonistów jest niemal symboliczną reakcją na zarazę.
W Stanach Zjednoczonych ci nieżydowscy syjoniści to najczęściej chrześcijanie (wśród laickiej lewicy jest ich tyle co kot napłakał, a i to znacznie częściej są to byli muzułmanie niż byli chrześcijanie). Zwyczajna uczciwość w stosunku do Żydów i Izraela w mediach po prostu nie wchodzi w rachubę, coś trzeba wybrać, więc większość dziennikarzy wybiera moralność hybrydową.
A co z młodymi ludźmi na uniwersytecie? W Europie Zachodnie i Stanach Zjednoczonych na uniwersytetach wszelkie próby przeciwstawiania się kampaniom kłamstw o Izraelu karane są szybko i bezlitośnie. Młoda Amerykanka na pytanie, dlaczego naraża się na barbarzyńskie ataki kolegów studentów, odpowiada, że ma poczucie więzi z Izraelem jako chrześcijanka i jako człowiek. Mówi, że poparcie dla jedynej demokracji na Bliskim Wschodzie nie powinno być milczące i z poczuciem winy.
Obrona prawa Izraela do istnienia jest podstawą walki z antysemityzmem tak często przebranym za antysyjonizm. Rabin Sacks mówił, że 'wirus antysemityzmu mutował' od nienawiści opartej na religii, przez nienawiść rasową, do nienawiści świata do żydowskiego państwa.
Jej rodzice odkryli koszmar chrześcijańskiego antysemityzmu, kiedy miała dziewięć lat. Byli zdumieni, że nikt im tego nie pokazał wcześniej, że nie uczono w kościele o stuleciach antysemickiej teologii. Mówi jak rodzice odkrywali judaistyczne korzenie chrześcijaństwa i tak ważny w judaizmie indywidualizm.
Ta dziewczyna, będąca na drugim roku studiów, patrzyła ze zdumieniem, jak w maju po napaści Hamasu na Izrael, media społecznościowe zalała fala fałszywych oskarżeń o kradzież ziemi, apartheid i ludobójstwo. Patrzyła z niedowierzaniem na swoich kolegów z roku twierdzących, że Żelazna Kopuła, obrona przeciwrakietowa, daje Izraelowi nieuczciwą przewagę. Jest głęboko przekonana, że większość jej kolegów po prostu nigdy nie słyszała, nie zetknęła się z izraelskim głosem, z informacją o tym, jak ten konflikt wygląda z drugiej strony. Nie zastanawia się, dlaczego ci jej rówieśnicy nigdy nie mieli takiej okazji, podobnie jak jej rodzice, którzy póki sami nie dotarli do książek o historii, nie mieli okazji dowiedzenia się o pełnej nienawiści teologii własnej religii.
Czytając rozmowę z tą młodą kobietą zastanawiałem się, czy starczy jej sił, żeby bronić swojego człowieczeństwa, walcząc całymi latami nie tyle z wiatrakami, co z oblepiającą mazią poglądów ludzi ochoczo oddających się nienawiści w świecie fantazji.
Izraelski dziennikarz, Craig Dershowitz, pisze o fali nienawiści, jaka wylała się na brytyjskiego
aktora Eddiego Marsana, który zagrał rolę Żyda w brytyjskiej telewizji. To nieważne, że ten aktor nie jest Żydem, że grał rolę żydowskiego antyfaszysty, ważne, żeby wykrzyczeć swoją szlachetną nienawiść, żeby poinformować innych, że świat będzie sprawiedliwy, kiedy zabije się ostatniego Żyda. W dzisiejszym świecie, w którym wirtualne obrazy mieszają się z rzeczywistością, fikcyjny Żyd jest nawet lepszy niż żywy. Pojawia się w umysłach w swojej karykaturalnej postaci i żadna konfrontacja z rzeczywistością mu nie zagraża.
Żydzi, których jest na świecie około 15 milionów nie mogą być mniejszością. Pojawiają się w tej fikcji jako jakaś straszliwa panująca nad wszystkim masa. Nie tylko w Polsce słyszymy pełen przerażenia wrzask "Żydzi nas nie zastąpią", "Żydzi nie odbiorą nam naszego kraju".
Czy nieżydowscy syjoniści mogą się temu przeciwstawić? Zapewne nie zdołają odwrócić fali, nie przekonają dziennikarzy głównego nurtu, że warto przerwać to nieustanne powielanie fikcji. Mogą zaledwie pokazywać, że można inaczej, mogą próbować przekonywać tych, którzy gotowi są podjąć próbę wyrwania się z wirtualnego świata tak podniecającej nienawiści.
Gdzie są nieżydowscy syjoniści, którzy są naprawdę skuteczni? Wszystko zależy od definicji pojęcia "skuteczność", jeśli wiesz, że nie zmienisz świata, możesz mieć poczucie sukcesu, kiedy skłonisz do refleksji sąsiada. Warto również spojrzeć na działania tych, którym udaje się stosunkowo najwięcej.
George Deek jest ambasadorem Izraela w Azerbejdżanie. Często szokuje, ale jego samego raczej trudno zbić z tropu. W niedawno opublikowanym wywiadzie opowiada z rozbawieniem jak po przyjeździe do Baku tamtejszy polityk zaczął rozmowę od dumnego zapewnienia, że Azerowie i Żydzi od stuleci żyją pokojowo obok siebie. Izraelski dyplomata odpowiedział, że to piękne, dodając, że on akurat jest Arabem. Azerbejdżański polityk zmienił front i kolejne zdanie rozpoczął od "między nami muzułmanami…". "Och, nie – przerwał Izraelczyk – jestem chrześcijaninem".
Z Georgiem Deekiem kłopot, bo wszystko w jego życiu rozbija ukochaną przez antysyjonistów wirtualną wizję żydowskiego państwa. Na pytanie, kim jest, Deek musi wrócić do historii swojego dziadka, który przed powstaniem Izraela mieszkał w Jaffie, pracował w elektrowni i miał żydowskich przyjaciół. Dziadek (po którym trzydziestosiedmioletni dyplomata otrzymał imię), uciekł do Libanu na początku wojny o niepodległość, ale po kilku miesiącach doszedł do wniosku, że dał się oszukać arabskiej propagandzie i dzięki swoim znajomościom zdołał nie tylko wrócić do Izraela, ale odzyskał również pracę w elektrowni.
Nie wiem, czy Deek miał na myśli izraelskich Arabów chrześcijan, czy arabskich syjonistów, ale mówi o sobie, że jak najmniejsza matrioszka, należy do mniejszości w mniejszości, w kraju, który jest mniejszością. Jego własna historia jest spleciona z historią rodzinną, z której bodaj najbardziej charakterystycznym epizodem była rozmowa z ojcem, który był znanym działaczem arabskiej partii nacjonalistycznej. Kiedy George Deek już po studiach prawniczych i dodatkowych studiach w USA, powiedział ojcu, że zastanawia się nad karierą dyplomaty, ale boi się, że może to ojcu zaszkodzić, więc pyta o radę, usłyszał odpowiedź: "Ja bym na twoim miejscu tego nie zrobił, a ty zrób co uważasz za słuszne. Moim zadaniem było nauczyć cię jak myśleć, a nie co masz myśleć".
Mimo młodego wieku Deek ma już spore doświadczenie w kontaktach z antysyjonistami. W 2014 roku był zastępcą ambasadora w Norwegii. Wywołana przez Hamas wojna spowodowała tsunami nienawiści do Izraela w Oslo. "Może was to zaszokuje – mówił do dyszącej nienawiścią norweskiej publiczności George Deek – ale istnienie Izraela jest dla mnie, arabskiego chrześcijanina, przynajmniej równie ważne jak dla izraelskich Żydów. A to dlatego, że jeśli na Bliskim Wschodzie nie ma miejsca na żydowskie państwo, to na Bliskim Wschodzie nie ma miejsca dla nikogo, kto jest inny."
Być może temu akurat syjoniście nieco łatwiej wyjaśnić ludziom jak tak zwana nakba, będąca rzeczywiście dla kilkuset tysięcy Arabów humanitarną katastrofą, została zamieniona w broń polityczną. Sama data Dnia Nakby – 15 maja – pokazuje, że jako katastrofę traktuje się powstanie Izraela. "Innymi słowy – mówi George Deek – ta data pokazuje, że nie opłakuje się tego, iż moi kuzyni są Jordańczykami, a to, że ja jestem Izraelczykiem."
Ten arabski syjonista jest niesamowity i to nie tylko dlatego, że potrafi zapanować nad wyjącą publicznością niezależnie czy jest w Norwegii, czy w sali pełnej amerykańskich studentów, że nigdy nie traci panowania nad sobą, ale również dlatego, że nieodmiennie odsłania prawdziwą twarz zarówno tych rozwrzeszczanych, jak i tych niezwykle kulturalnych antysyjonistów.
Deek jest również dyplomatą w każdym calu. Na samym początku swojej kariery dyplomatycznej wylądował w Nigerii. Kiedyś w rozmowie z wodzem jednego z plemion Igbo słuchał jego skarg na tragedię, jaką stało się dla ludzi straszliwe zanieczyszczenie rzeki Niger. Początkujący dyplomata skontaktował się z izraelskim firmami i namówił je na projekt humanitarny. W ciągu kilku tygodni udało się wykopać szereg głębinowych studni i systemy irygacyjne dostarczające wodę do picia i wodę dla rolnictwa. Deek zarobił tytuł Nwanne di Namba (brata za granicą), a tego, że ta współpraca izraelskich firm irygacyjnych z krajami afrykańskimi trwa do dziś, nie zamierza wpisywać na swoje prywatne konto.
A jednak droga arabskiego syjonisty to samotność długodystansowca. Jak mówi, "nie wszyscy lubią, że robię to, co robię". To bardzo delikatnie powiedziane, bowiem po żydowskiej stronie wielu patrzy na niego podejrzliwie, a po arabskiej wielu uważa go za zdrajcę. On sam stwierdza spokojnie, że zupełnie dobrze się czuje na ścieżce, którą sobie wybrał.
Nieżydowski syjonizm ma bardzo wiele twarzy. Tu, nad Wisłą jest silnie spleciony z pamięcią 1967 i 1968 roku. Isabella Tabarovsky jest rosyjską Żydówką, zajmuje się w Wilson Center historią ZSRR i Rosji. Przyjechała do Ameryki trzydzieści lat temu i mając niespełna dwadzieścia lat zetknęła się po raz pierwszy z zachodnim antysyjonizmem. Po latach badań pisze, że nigdy nie spotkała na Zachodzie żadnego antysyjonistycznego argumentu, którego nie widziałaby wcześniej w literaturze radzieckiej lub rosyjskiej. To prawda, nieżydowski syjonista nad Wisłą, czy to czytając artykuły w gazetach, czy patrząc na wrzaski w mediach społecznościowych, nie ma kłopotów z zauważeniem, że już to widział. (Młodsi mogą nie pamiętać, a niektórzy starsi wolą nie pamiętać z innych ważnych względów państwowych.) Pamiętający nie ma również kłopotów ze zrozumieniem, że antysyjonizm to antysemityzm, ani z tym, że podobnie jak wszystkie wcześniejsze formy antysemityzmu antysyjonizm jest chorobą niszcząca człowieczeństwo swoich nosicieli.
Tak, syjonizm jest niezbywalną częścią humanizmu i jeśli dla tak wielu jest to trudne do pojęcia, to tym bardziej warto się przy nim upierać, pamiętając, że świata się nie zmieni, ale sąsiad może coś zrozumieć.
---
---