Elder of Ziyon
Tłumaczenie: Małgorzata Koraszewska
---
Human Rights Watch opublikował raport o majowych zamieszkach w Lod, oskarżając Izrael o "pełne przemocy traktowanie" Arabów przez policję i znacznie łagodniejsze traktowanie napastników-Żydów niż Arabów.
Human Rights Watch opublikował raport o majowych zamieszkach w Lod, oskarżając Izrael o "pełne przemocy traktowanie" Arabów przez policję i znacznie łagodniejsze traktowanie napastników-Żydów niż Arabów.
"Izraelskie władze zareagowały na majowe wydarzenia w Lod przez rozpraszanie siłą pokojowo protestujących Palestyńczyków, ale używając podżegającej retoryki i nie działając bezstronnie, kiedy żydowscy ultra-nacjonaliści atakowali Palestyńczyków – powiedział Omar Shakir, dyrektor Human Rights Watch ds. Izraela i Palestyny. – Ta dyskryminująca reakcja podkreśla rzeczywistość, że izraelski aparat państwowy uprzywilejowuje żydowskich Izraelczyków kosztem Palestyńczyków, gdziekolwiek mieszkają i niezależnie od ich prawnego statusu".
Jak zawsze propagandyści z HRW, prezentują swoje wnioski przed dokonaniem jakichkolwiek badań. (Shakir zbudował całąkarierę na swoich antyizraelskich uprzedzeniach zanim otrzymał pracę w HRW.) Uprzedzenie jest wyraźne już w tym, że HRW mówi o izraelskich Arabach jako o Palestyńczykach, chociaż większość z nich nie używa tego określenia.
W tym wypadku nie jest to nawet antyizraelskie uprzedzenie. Główne reakcje na arabskie rozruchy były reakcjami władz lokalnych, nie zaś izraelskiego rządu. To jest antyżydowskie uprzedzenie.
Dobrą wskazówkę nienawiści HRW do Żydów można zobaczyć w ogólnej informacji o tle wydarzeń:
Lod, miasto z mieszaną ludnością żydowsko-palestyńską, które leży w środkowym Izraelu, doświadcza narastających wpływów ultra-nacjonalistycznej grupy, Garin Torani, która stara się promować żydowską tożsamość miasta i długotrwałą dyskryminację palestyńskich obywateli kraju. W 2013 roku sympatyk Garin Torani, Jair Rewiwo z partii Likud, został wybrany na urząd burmistrza i służy nieprzerwanie od tamtego czasu.
Garin Torani nie jest grupą przemocy. Działają na rzecz wzmocnienia żydowskich społeczności w mieszanych miastach, ale służą także arabskim mieszkańcom. Otworzyli społeczny ośrodek dla wszystkich, a w nim, między inną działalnością, pomagają ludziom o specjalnych potrzebach – Żydom i Arabom.
Ale link, jaki podaje HRW do Garin Torani, nie prowadzi do ich strony internetowej ani do strony w Wikipedii. Nie, prowadzi do artykułu w "Haaretz", który traktuje jako oczywistość, że Garin Torani jest rasistowską, antyarabską grupą, a potem używa tego jako odskoczni do powiedzenia, że cały syjonizm jest "arogancką, niewrażliwą, protekcjonalną i zaślepioną przez rasizm ideologią".
Już to samo pokazuje, że HRW nie interesują fakty, ale używa wydarzeń w maju jako odskoczni do serwowania antysemickiej propagandy.
Oto jak HRW opisuje wydarzenia w poniedziałek wieczór, 10 maja:
Około 21:30 w dniu 10 maja grupa palestyńskich mieszkańców Lod zorganizowała protest przed meczetem al-Omari przeciwko spodziewanemu przejęciu palestyńskich domów we wschodniej Jerozolimie. Dwaj prawnicy społeczeństwa obywatelskiego powiedzieli, że policja zaaprobowała protest po wniesieniu podania o to około południa. Świadkowie mówili, że protestujący demonstrowali pokojowo, kiedy policja użyła gazów łzawiących, gumowych kul i granatów ogłuszających, by rozproszyć tłum po tym, jak jeden z protestujących zastąpił izraelską flagę na słupie elektrycznym flagą palestyńską.
Link do słów "demonstrowali pokojowo" pokazuje człowieka, który zawiesza palestyńską flagę podczas gdy tłum skanduje. Można jednak zobaczyć, że uczestnicy tego "pokojowego protest" wzniecili olbrzymi pożar, widać płomienie i dym.
Być może HRW uważa podpalanie za "pokojowy protest", ale dla mnie jest to dość znacząca przemoc. I zgadza się to ze skandowaniem, które wyraźnie słychać: "Wyzwolimy Al-Aksę krwią i ogniem".
HRW nadal ukrywa arabską przemoc w Lod:
Później wieczorem palestyńscy demonstranci podpalili pojemniki na śmieci i opony w pobliżu meczetu al-Omari i napaści rozgorzały w innych częściach miasta.
To jest cały ich opis arabskiej przemocy owego wieczoru.
Porównajmy to z "Times of Israel":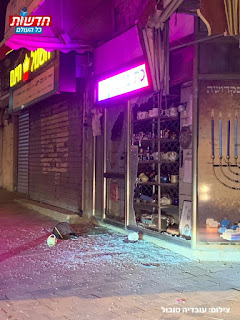 Rozbity sklep z żydowskimi przedmiotami religijnymi
Pełen przemocy protest, podczas którego arabscy uczestnicy wznosili flagi palestyńskie i flagi Hamasu, wzywali do "wyzwolenia Palestyny" i zaatakowali szkołę, synagogę, akademię dla młodzieży szykującej się do odbycia służby wojskowej i ratusz, był – według relacji Radio Izrael – jedną z wielu dużych demonstracji w arabskich społecznościach.
"To było jak Kristallnacht… w mieście w centralnym Izraelu" – powiedziała we wtorek dziennikarzowi Radia IDF żydowska mieszkanka miasta, Hadar Miller. Powiedziała, że wraz z rodziną mieszka w Lod od 12 lat i byli "dumni z współżycia" w żydowsko-arabskim mieście. Sytuacja pogarszała się jednak od miesięcy, a "wczoraj przekroczono wszystkie granice… Teraz mój przyjaciel jest aresztowany za to, że się bronił".

Tłum miejscowych Arabów zaatakował także personel medyczny w Assaf Harofeh, informowało Radio Izrael, wyłapywali arabski personel i piętnowali ich za pracę w izraelskiej służbie zdrowia. Personel medyczny musiał ewakuować kilku pacjentów, by obronić ich przed tłuszczą, powiedziano w radiowym reportażu.

Szlomo Lahjani, żydowski mieszkaniec miasta, powiedział, że tłuszcza zaatakowała synagogę i szkołę i przez wiele godzin rozruchów, rzucała kawałami betonu i kamieniami w miejscowych Żydów. "Przyszli z mordem w oczach – powiedział Radio Izrael we wtorek rano. – Wołali po hebrajsku: 'Jesteśmy terrorystami!'".

Powiedział, że miejscowi Żydzi wzywali policję, która pojawiła się na scenie po ponad godzinie. Tymczasem żydowscy mieszkańcy strzelali w powietrze, by powstrzymać arabskich napastników.
HRW celowo pomija kontekst: żydowskich mieszkańców obawiających się o swoje życie i brak policji, która by ich broniła.
Przez cały tydzień trwającej przemocy większości tej przemocy dokonywali Arabowie. Spalili kilka synagog, a także sklepów, których właścicielami byli Żydzi.
Wszystko to działo się w kontekście tysięcy rakiet, jakimi Hamas zarzucał Izrael, i ataków Arabów na Żydów w innych mieszanych miastach. HRW nie wspomina, że arabscy uczestnicy rozruchów skandowali pro-hamasowskie slogany i że dlatego można ich było postrzegać jako piątą kolumnę w wojnie, którą HRW ledwo wspomina (poza twierdzeniem, że Izrael naruszył prawa człowieka!)
HRW ignoruje cały ten kontekst. Choć jest logiczne, że policja powinna poświęcić więcej czasu na ściganie grupy odpowiedzialnej za większą część rozruchów, HRW ustawia to jako sprawę "obu stron". Ta grupa "praw człowieka" jest także oburzona na to, że burmistrz Lod określił ataki na żydowskie sklepy i synagogi jako podobne do Kristallnacht. Ich zdaniem "Ta wypowiedź ani nie jest poprawna, ani zrównoważona, w sytuacji kiedy, zarówno Żydzi, jak Palestyńczycy atakowali się wzajemnie".
Arabowie atakowali. Żydzi w Lod w większości bronili się.
Później do miast przybyła grupa bardziej agresywnych Żydów spoza Lod i pogorszyła sytuację. W czwartek wieczorem zaatakowali muzułmański cmentarz (po tym, jak spalono jeszcze jedną synagogę). Ci napastnicy nie byli z Garin Torani, jak sugeruje HRW. Burmistrz próbował zamknąć miasto przed outsiderami, którzy przybywali, by podsycać ogień. HRW o niczym z tego nie wspomina.
Jak zwykle, HRW najpierw napisał narrację, a potem przeprowadził "badania", by podeprzeć swoje uprzedzenia, podkreślając wszystko, co wydaje się popierać ich wersję i ignorując wszystko, co jej zaprzecza.
---
Elder of Ziyon – Amerykański bloger prowadzący bardzo wart śledzenia blog pod tym tytułem.
---
---