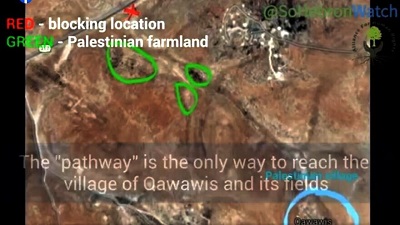 Zrzut z ekranu z wideo wyprodukowanego przez South Hebron Hills Watch.
Sheri Oz
Tłumaczenie: Małgorzata Koraszewska
---
South Hebron Hills Watch na swojej stronie Facebooka informuje, że jest "grupą amerykańskich wolontariuszy, która ujawnia wydarzenia na południowych wzgórzach Hebronu… by informować Amerykanów o codziennych skutkach Okupacji".
Region południowych wzgórz Hebronu Judei i Samarii (nazwanych przez Jordanię Zachodnim Brzegiem) pojawiał się w wiadomościach przez ostatnich kilka miesięcy z powodu nasilenia przemocy na tych terenach. Jako uzasadnienie twierdzenia, że Izrael popełnia zbrodnie wobec Arabów w tym regionie, ta grupa zamieściła na swojej stronie wideo, które jednak przy bliższym oglądzie pokazuje odwrotność tego, co próbują dowieść.
Na Facebooku członkowie piszą:
Izrael nasilił niszczenie (blokowanie) polnych dróg używanych przez palestyńskich wieśniaków, by dotrzeć do swoich pól w celu nawodnienia i zbiorów. Umyślne nękanie, które niszczy życie i powoduje straty ekonomiczne. Wypychanie Palestyńczyków z ich ziemi.
Wideo daje wskazówkę, dlaczego te drogi muszą być "zniszczone"" (zablokowane). Choć zniszczenie jest znacznie ostrzejszym słowem niż zablokowanie, prawdopodobnie woleliby dla celów propagandowych móc napisać tylko o zniszczeniu, ale wideo pokazuje, że droga jest tylko zablokowana. Jest to zbyt oczywiste, by dało się twierdzić, że jest inaczej, ale jest możliwe, że słowo "zniszczone" pozostanie w umysłach widzów.
Oskarżają Izrael o umyślne nękanie – z pewnością ludzie na całym świecie, którzy chcą sobie dobudować dodatkowy pokój lub garaż do swoich domów bez pozwolenia, budują płot wokół swojego podwórka, który przypadkiem obejmuje także 100 metrów przyległego parku publicznego, itd. wszyscy uważają, że władze nękają ich, kiedy nalegają, by powstrzymali się od takich działań lub zburzyli to, co już zbudowali. I sądzą, ż władze nękają ich umyślnie. Z pewnością nie jest wygodnie, kiedy trzeba się podporządkować lokalnemu planowaniu i prawom budowlanym.
Czy Izrael wypycha Palestyńczyków z ich ziemi? Nie, a ta odpowiedź wymaga pewnych wyjaśnień. Południowe Wzgórza Hebronu znajdują się na Obszarze C, który ma być pod pełną izraelską administracją. Kontrakt, który to ustalił został podpisany przez byłego przywódcę OWP, Jasera Arafata w imieniu palestyńskich Arabów żyjących w Judei i Samarii. Ten kontrakt znany jest pod nazwą Porozumień z Oslo.
Obszar C jest kłopotem zarówno dla Izraela, jak dla Autonomii Palestyńskiej, ponieważ wewnątrz tego obszaru są wysepki Obszaru B, który jest pod wspólną administracją Izraela i AP. Te wysepki Obszaru B są wsiami, dla których AP dostarcza miejskich i socjalnych usług, takich jak edukacja i opieka zdrowotna. Natomiast AP i Izrael dzielą odpowiedzialność za sprawy bezpieczeństwa.
Obszar A jest pod wyłącznym panowaniem AP.
Poza granicami tych wsi jest Obszar C, gdzie każda budowla, którą chcą tam stworzyć Arabowie, wymaga pozwolenia izraelskich władz. Istotnie, trudno je uzyskać. Jednak pouczająca mapa zagospodarowania ziemi pokazuje, że arabskie budowy na Obszarze C pokrywają 10 procent dostępnej ziemi, podczas gdy żydowskie budynki pokrywają tylko 7 procent. Na Obszarach A i B, gdzie AP jest odpowiedzialna za wydawanie zezwoleń, 63 procent ziemi jest dostępna do użytku. Dlatego argument, że budowanie na Obszarze C jest jedynym sposobem dostarczenia miejsca dla rosnącej arabskiej populacji po prostu jest nieprawdą.
W rzeczywistości, zarówno sama wieś, jak polna droga pokazana na tym wideo, są nielegalne. Każdy, kto próbuje budować drogę bez pozwolenia w jakimkolwiek innym kraju, będzie ją miał zablokowaną, a najbardziej prawdopodobne jest, że rzeczywiście zostanie zniszczona.
Wieś Kawawis pokazana na tym wideo, jest nielegalna, została założona przez dzikich osadników. Potwierdza to ich twierdzenie (zresztą nieprawdziwe), że cysterny z wodą nie mogą do niej dojechać. Gdyby była to legalna miejscowość, byłaby tam kompletna infrastruktura dostarczająca wodę, elektryczność, komunikację i transport. Ponadto w artykule jest potępienie zburzenia domu w Kawawis w 2018 roku z wyraźną informacją, że rodzina nigdy nie złożyła podania o pozwolenie na budowę, a godne zaufania źródło, które chce zachować anonimowość, twierdzi, że cała wieś jest nielegalną zabudową. Być może South Hebron Hills Watch rozważy zrobienie wideo z ujawnieniem, dlaczego izraelska administracja nie likwiduje nielegalnych wsi na Obszarze C, nawet kiedy izraelski Sąd Najwyższy wydał orzeczenia, że są one nielegalne i mają zostać zlikwidowane.
Co zabawne, zdjęcia w tym wideo są sprzeczne z jego tekstem. Mamy gołosłowne twierdzenie, że blokada drogi (czerwone X) nie dopuszcza farmerów z wsi Kawawis (niebieskie kółko) do ich pól (obrysowanych na zielono). Jednak X pojawia się w miejscu, gdzie polna droga zbiega się z szosą 317 i wyraźnie ani nie blokuje dostępu do wsi, ani do pól.
Scena na filmie pokazuje to właśnie – zablokowanie drogi tam, gdzie spotyka się ona z szosą. Niemniej w tekście mamy dalsze podkreślenia tego, jak blokuje to dostęp wieśniaków do ich pól, zmuszając Arabów do porzucenia pól, żeby Izrael mógł budować więcej osiedli na ich ziemi.
Kolejne zdjęcia mają pokazać, jak farmerzy nie mogą dostać się ze wsi do pól, ale zdjęcie jest zrobione w miejscu, w którym polna droga styka się z szosą – tj. gdzie jest czerwone X na zrzucie z ekranu powyżej. W rzeczywistości polna droga wiedzie od gaju oliwnego bez przeszkód aż do wsi widocznej na horyzoncie. Dlatego twierdzenie, że utrzymanie się wieśniaków z pracy na roli "jest zakłócone tym jednym posunięciem" jest jawnie fałszywe.
Tekst towarzyszący wideo twierdzi, że Palestyńczycy nie mogą posiadać ciężkich maszyn i z tego powodu "budowanie dróg jest długie i mozolne". Ponieważ region jest pod pełną władzą administracyjną Izraela, tylko administracja Izraela może autoryzować budowanie nowych dróg, a potem budować je. W każdym razie, mimo blokady na skrzyżowaniu tej drogi z szosą 317, cysterny z wodą i ambulanse mogą dojechać do wsi innymi drogami.
Końcowy tekst na wideo brzmi: "Jeden dzień okupacji. Dwie drogi zablokowane. Życie setek ludzi zakłócone". Widzom nie pokazuje się drugiej drogi. Może jest to jeden ze szlaków kurierskich wytyczonych między południowymi wzgórzami Hebronu a obszarem Arad, jak informuje "The Jewish Press":
Nielegalny szlak o długości około pięciu kilometrów przebiega w całości na ziemi państwowej i pozwala na stosunkowo wygodny przejazd samochodem osobowym. Koszt budowy ocenia się na ponad 850 tysięcy dolarów.
Unia Europejska dostarcza tych funduszy, a budowa tej drogi zadaje kłam temu, że palestyńscy Arabowie nie mogą budować (nielegalnych) dróg w inny sposób niż przez "długi i mozolny" proces. Zakłócone życie setek ludzi, jak powiada wideo, można było z pewnością całkiem dobrze wesprzeć, gdyby te 850 tysięcy dolarów skierowano na poprawę warunków życia w legalnych wsiach zamiast cynicznie używać Arabów jako pionki w aktywizmie, którego celem jest delegitymizacja Izraela.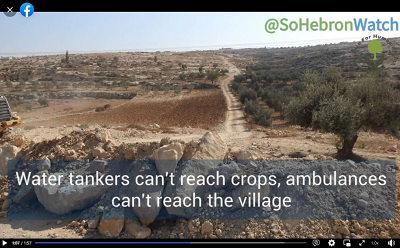 Konsumenci materiałów propagandowych, takich jak to wideo, powinni uważnie im się przyglądać i sprawdzać, czy tekst argumentów zgadza się z tym, co pokazują obrazy. Jest możliwe, że – jak w tym wypadku – materiały propagandowe dowodzą czegoś odwrotnego od tego, co organizatorzy chcieliby ludziom wmówić.
---

Sheri Oz – Urodzona w Kanadzie w 1951 roku, w wieku 26 lat wyemigrowała do Izraela, gdzie studiowała rolnictwo, po studiach wróciła do Kanady, studiowała psychologię. W 1986 wróciła do Izraela zajmując się psychoterapią rodzin. Autorka książki Overcoming Childhood Sexual Trauma: A Guide to Breaking Through the Wall of Fear for Practitioners and Survivors
---
---