Amir Taheri
Tłumaczenie: Andrzej Koraszewski
---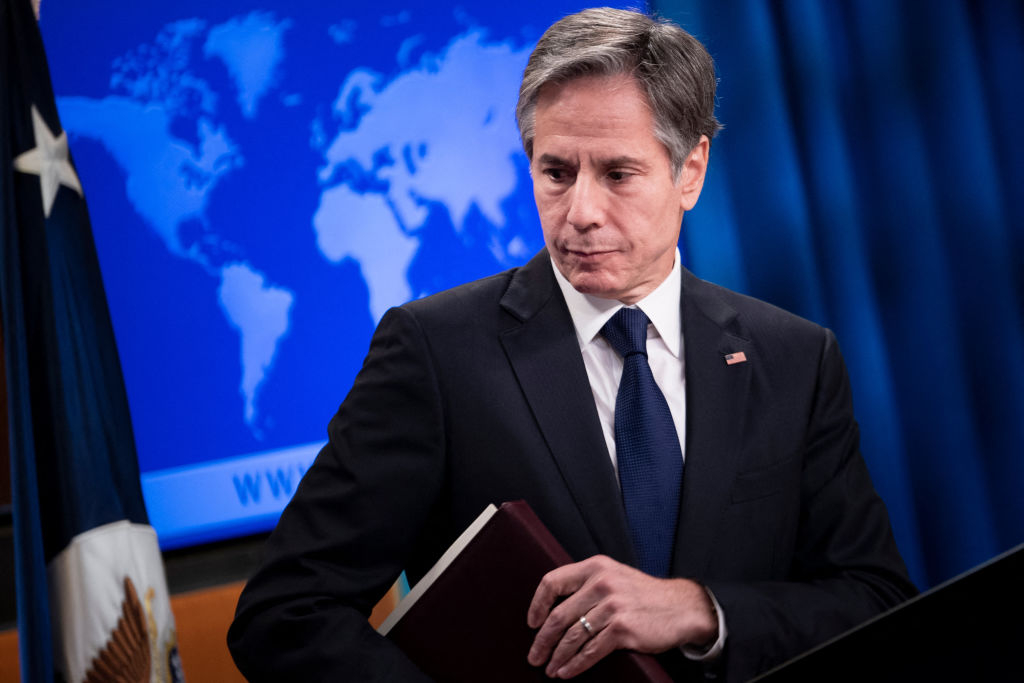 Teza, że dawanie irańskim mułłom wszystkiego, czego chcą, w nadziei, że mogą zmienić swoje postępowanie, była wielokrotnie testowana i zawsze okazywała się błędna. Na zdjęciu: amerykański sekretarz stanu Antony Blinken, w Departamencie Stanu w Waszyngtonie, 2 sierpnia 2021, po wypowiedzi o "wspólnej odpowiedzi" Iranowi. (Zdjęcie: Brendan /Pool/AFP via Getty Images)
Czy dyplomacja i handel są skutecznymi narzędziami, za pomocą których demokracje zachodnie mogą przekonać państwa totalitarne do reform prowadzących ku demokracji?
To pytanie było przedmiotem debat od dziesięcioleci i powraca dziś przy głośnej kampanii ze strony tych co zawsze, przez ludzi zachęcających administrację prezydenta Bidena do dawania irańskim mułłom wszystkiego, czego chcą, w nadziei, że mułłowie mogą zmienić swoje postępowanie. Obecnie czyta się artykuły i pseudo-badawcze analizy przedstawiające Iran jako "potencjalny rynek o wartości 3 bilionów dolarów" i ostatni brakujący element na wielkim globalnym rynku.
Ta teza była testowana wielokrotnie i nigdy nie okazała się prawdziwa.
W latach dwudziestych XX wieku, gdy reżim bolszewicki w Rosji dociskał śrubę przeprowadzając masowe morderstwa, niektórzy Amerykanie, w tym naukowcy prowadzili kampanię na rzecz uznania "nowej rzeczywistości" i zaoferowania totalitarnemu reżimowi pakietu pomocy ekonomicznej.
Armand Hammer, amerykański biznesmen z ukraińskimi korzeniami, tak bardzo uległ urokowi Lenina, iż powiedział, że: "Gdyby Lenin poprosił mnie, żebym wyskoczył przez okno i się zabił, prawdopodobnie bym to zrobił".
Hammer, oczywiście, nie zamierzał zabijać się dla Lenina, zajął się przemytem ropy naftowej z Rosji, łamiąc tym zachodnie sankcje.
Nie był sam w dążeniu do uzyskania prywatnej korzyści z forsowania politycznej iluzji.
W długim artykule Edward Dana Durand, doradca prezydenta Herberta Hoovera, przekonywał, że "najszybszym sposobem na wprowadzenie pożądanych przez nas reform (w ZSRR) są inwestycje w tym kraju i handel".
Rada Duranda została zaakceptowana i Stany Zjednoczone pomogły Stalinowi wydostać się z trudnej sytuacji, którą sam stworzył przez dogmatyczne parcie do kolektywizacji w rolnictwie. W 1933 roku przyszły "partner" prezydenta Franklina D Roosevelta publicznie podziękował Stanom Zjednoczonym za udzieloną pomoc. W tym samym duchu po II wojnie światowej prezydent Harry S Truman zaproponował rozszerzenie planu Marshalla na ZSRR. Jednak Stalin stanowczo odmówił.
Iluzja została ożywiona w nowym formacie za pomocą słynnego "długiego telegramu" George'a Kennana, który położył podwaliny pod niesławne odprężenie Henry'ego Kissingera pokolenie później. ZSRR został usankcjonowany jako partner w światowym przywództwie i otrzymał hojne zastrzyki wsparcia od "pożerającego świat imperializmu".
ZSRR nie stał się demokracją, ale dzięki zachodnim złudzeniom, "inwestycjom i wymianie handlowej" zdołał opóźnić nieuchronną implozję o długie lata, jeśli nie dziesięciolecia.
Lenin i Stalin nie byli jedynymi despotami XX wieku, którzy uwiedli tak wielu w zachodnich demokracjach.
Benito Mussolini miał swoich amerykańskich apologetów i wielbicieli, wśród nich Waltera Lippmanna, który przekonany o "niezdolności wyborców do zrozumienia kwestii współczesnego sprawowania władzy", uległ urokowi retoryki "silnego państwa" Il Duce.
Anne O'Hare McCormack, korespondentka "New York Timesa" w Rzymie, i Richard Washburn Child, ambasador USA we Włoszech, poprowadzili całą orkiestrę głosów wychwalających Mussoliniego, podczas gdy niektóre uniwersytety amerykańskie włączyły do programu nauczania "Państwo etyczne" Giovanniego Gentile'a. Tysiące Amerykanów pochodzenia włoskiego pojechało nawet do Hiszpanii, by walczyć po stronie generała Franco, wspieranego przez Mussoliniego i nazistowskie Niemcy.
Kolejnym krwawym despotą, który przyciągnął zachodnich "znawców", był Adolf Hitler.
Wśród jego amerykańskich wielbicieli i apologetów byli Henry Ford, Thomas Watson, założyciel IBM i przyjaciel rodziny Rooseveltów, dziadek prezydenta George'a W. Busha, Prescott Bush i przez pewien czas bohater lotnictwa Charles Lindbergh.
Mao Zedong, reinkarnacja Kubilaj-chana, był kolejnym despotą, który uwiódł niektórych na Zachodzie. Dziennikarz Edgar Snow był jednym z amerykańskich intelektualistów, którzy przedstawiali "Wielkiego Sternika" jako azjatyckiego Mesjasza przybywającego, by ratować uciśnionych i zasługującego na wsparcie, w tym na "inwestycje i wymianę handlową".
Dekady później ta iluzja znalazła swoje biurokratyczne echo w raporcie jego asystenta, sekretarza stanu Roberta Zoellicka, dla prezydenta George'a W. Busha, w którym wzywał on do pomocy i handlu, aby pomogły komunistycznym Chinom w podjęciu reform i wyjściu z biedy.
Bush dał się nabrać na tę narrację, reklamowaną również przez Kissingera.
Co może się dalej stać z Chinami, nikt nie wie. Ale jedno jest jasne. Prognozy Zoellicka okazały się całkowicie błędne. Dziś, pod rządami prezydenta Xi Jinpinga Chiny coraz bardziej oddalają się od demokratyzacji i stają się rywalem, jeśli nie przeciwnikiem Stanów Zjednoczonych.
Irański despota ajatollah Ruhollah Chomeini miał swoich własnych amerykańskich lobbystów. Kiedy zabijał setki ludzi w Teheranie, "Time Magazine" w Nowym Jorku okrzyknął go "Gandhim islamu". Młody senator z Delaware, Joe Biden, powtarzał pobożne życzenia prezydenta Jimmy'ego Cartera o przyjaźni z "nowym Iranem". Doradca ds. bezpieczeństwa narodowego Zbigniew Brzeziński marzył o islamskim Iranie jako części "zielonego pasa islamu", który miałby odgradzać ZSRR, który, ze względu na swoje polskie pochodzenie, uważał za trwające i największe zagrożenie.
Henry Precht, szef biura Iranu w administracji Cartera, nazwał reżim chomeinowski "potencjalnym sojusznikiem", ponieważ pierwszy gabinet ajatollaha obejmował pięciu mężczyzn posiadających obywatelstwo amerykańskie i/lub pozwolenie na pobyt na podstawie "zielonej karty".
Przez lata następcy Chomeiniego cieszyli się poparciem amerykańskich lub amerykańskich apologetów, w tym Noama Chomsky'ego, George'a Sorosa, Richarda Falka, Louisa Farrakhana, Chucka Hagela, Olivera Stone'a i Seana Penna.
W swoim czasie Hitler używał stowarzyszenia Amerykanów niemieckiego pochodzenia Bund, jako konia trojańskiego w USA. Mussolini miał wtykę w Organizacji Włosko-Amerykańskiej. Podobną rolę dla ZSRR odgrywała Komunistyczna Partia Stanów Zjednoczonych. Islamska Republika Iranu używa tego samego przepisu poprzez irańsko-amerykańską grupę polityczną, finansowaną przez amerykańskich "miłośników" Islamskiej Republiki.
W mniejszym stopniu politykę dopieszczania despotów stosowano w stosunkach z Muammarem al-Kaddafim w Libii, Saddamem Husajnem w Iraku, Hugo Chavezem w Wenezueli; i Manuelem Noriegą w Panamie, dopóki nie przekroczyli granic utrudniających tolerancję nawet zachodnim "gorącym sercom". I nie zapominajmy o miłości i podziwie Johna Kerry'ego dla Baszara al-Assada w Syrii.
Zachodnie upiększanie odrażających reżimów nigdy nie doprowadziło do zmiany trajektorii, by despota dołączył do tego, co Amerykanie nazywają "demokratycznym światem". Reżimy, które gnębią swoje własne społeczeństwa, nigdy nie mogą zmienić się w godnych zaufania przyjaciół, ani tym bardziej nie zmienią się w państwa respektujące prawa człowieka i mające rządy zatwierdzone przez wyborców.
Następnym razem, kiedy usłyszysz śpiewkę "pomóżmy mułłom we wprowadzaniu reform", pamiętaj o historii Stalina, Mussoliniego, Hitlera, Mao i innych.
Oczywiście w relacjach z despotycznymi reżimami nie jesteśmy skazani na wybór między miłosnym uściskiem a krwawą wojną. Istnieją inne możliwości, na przykład "niech się duszą we własnym sosie" lub przynajmniej nie musimy im raz za razem pomagać w wydostawaniu się z kłopotów, których sami są autorami.
---
---