Przemysław Batorski
---
79 lat temu, 11 stycznia 1943 roku, brytyjski wywiad przechwycił telegram nadany z Lublina przez majora SS Hermanna Höflego. Brytyjczycy potrafili odczytywać wiadomości szyfrowane przez Niemców z użyciem Enigmy, ale nie rozumieli treści dokumentu. Dopiero w 2000 roku, gdy telegram został odtajniony, wyszło na jaw jego znaczenie dla dziejów Zagłady.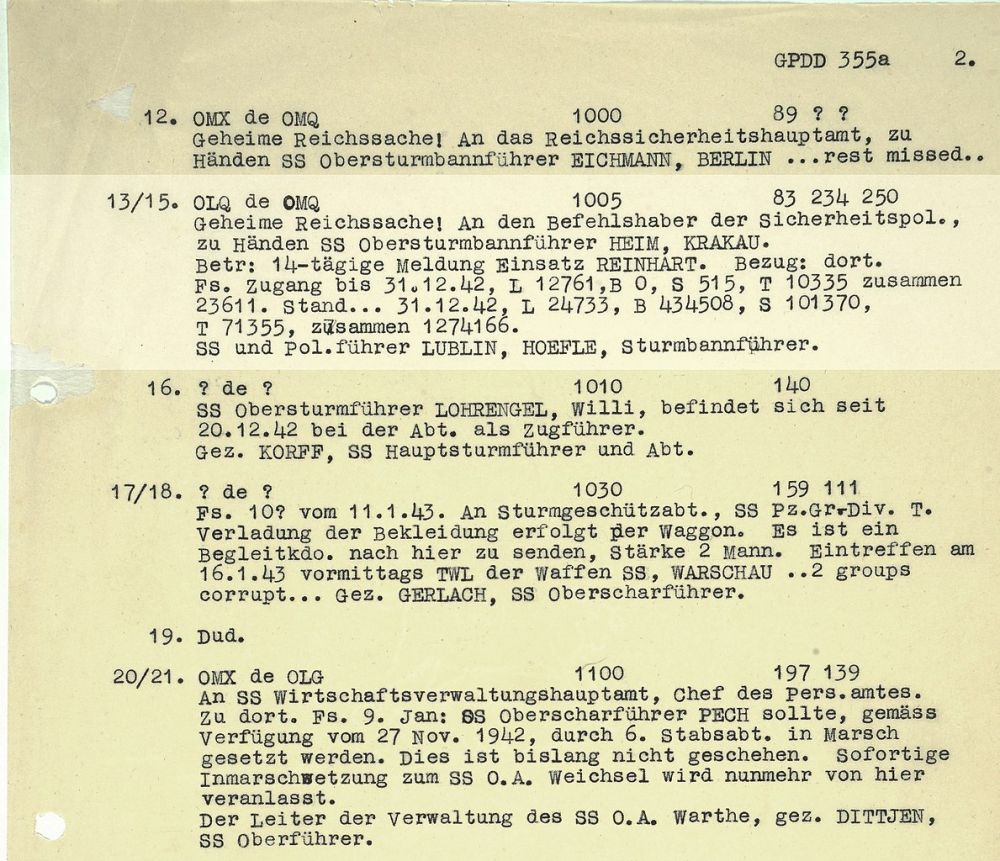 Telegram Höflego z 11 stycznia 1943 roku. Wyróżniony fragment dotyczy Zagłady Żydów w ramach operacji "Reinhard" w 1942 roku. The National Archives, Wielka Brytania, domena publiczna
Ściśle tajne! Do Głównego Urzędu Bezpieczeństwa Rzeszy, do wiadomości SS Obersturmbannführera Eichmanna, Berlin
Ściśle tajne! Do dowódcy Policji Bezpieczeństwa, do wiadomości SS Obersturmbannführera Heima, Kraków.
Dotyczy: 14-dniowy raport Operacja Reinhard.
Zarejestrowane przyjazdy do 31 grudnia 1942, L 12761, B 0, S 515, T 10335 łącznie 23611. Stan na 31 grudnia 1942, L 24733, B 434508, S 101370, T 71355, łącznie 1274166.
Dowódca SS i policji w Lublinie, Hoefle, Sturmbannführer.
Adolf Eichmann był kierownikiem biura IV B 4 Gestapo odpowiedzialnego za "sprawy żydowskie", Franz Heim – zastępcą szefa Policji Bezpieczeństwa i wywiadu SS w Generalnym Gubernatorstwie w Krakowie, a Höfle – szefem sztabu wspomnianej w telegramie operacji "Reinhard". Osobiście koordynował pociągi zmierzające do obozów zagłady. 22 lipca 1942 roku ten "tęgi, łysy jegomość" – jak go opisał świadek Marcel Reich-Ranicki – przyjechał do siedziby warszawskiego Judenratu, by obwieścić Adamowi Czerniakowowi, że w Warszawie jest "za dużo Żydów".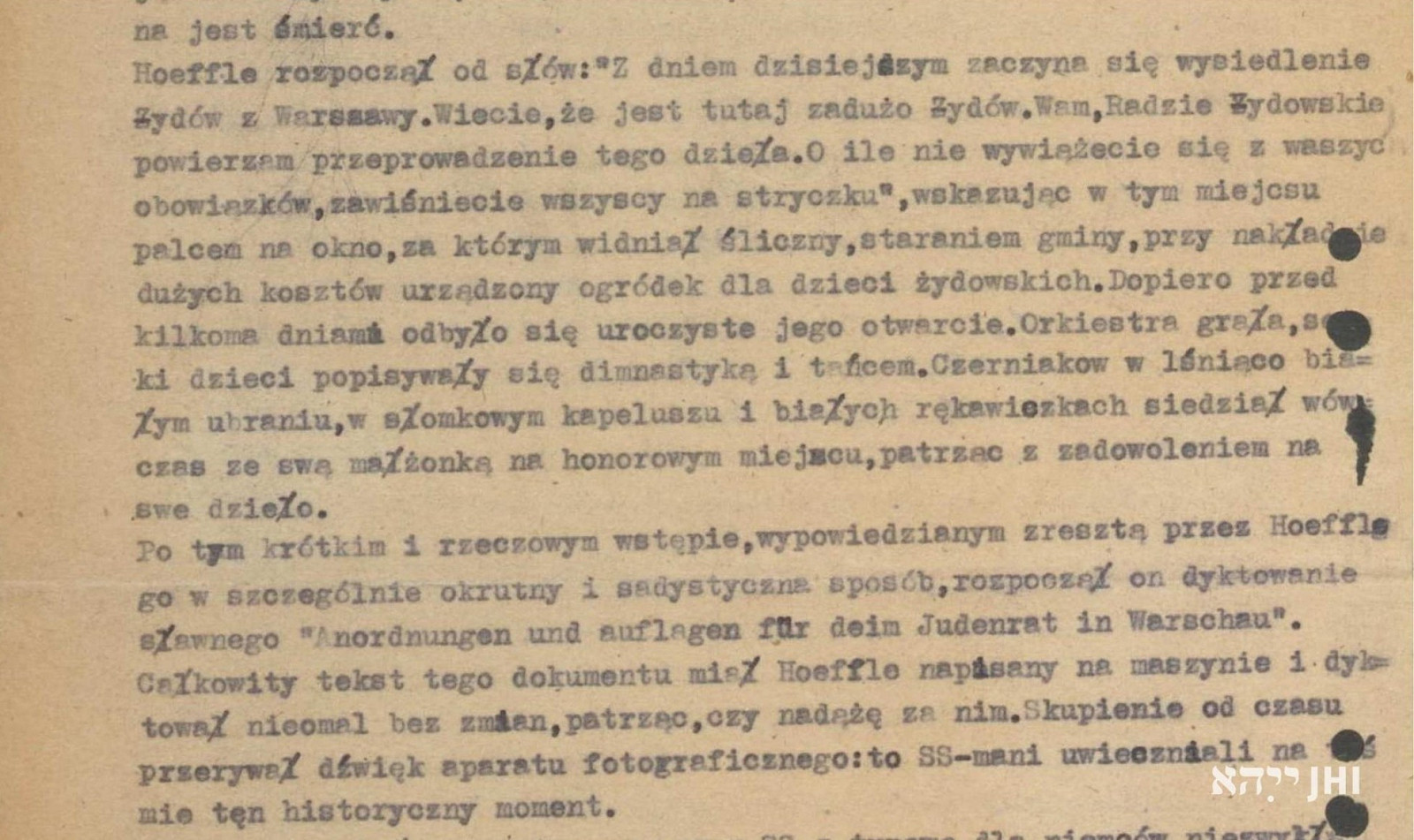 em>Fragment relacji Marcela Reicha (Marcela Reicha-Ranickiego), tłumacza Judenratu, z początku wielkiej deportacji z getta warszawskiego, w której wspominany jest Hermann Höfle. Zbiory Archiwum ŻIH
Pierwsze pięć liczb z telegramu dotyczy statystyk z ostatnich dwóch tygodni 1942 roku. "L" – to Lublin, czyli obóz na Majdanku, "B" – Bełżec, "S" – Sobibór, "T" – Treblinka. W tym okresie do obozów przewieziono 23 611 Żydów. Druga seria liczb przedstawia, ilu Żydów Niemcy deportowali w toku akcji "Reinhard" przez cały 1942 rok:
Lublin/Majdanek – 24 733 osoby
Bełżec – 434 508 osób
Sobibór – 101 370 osób
Treblinka – 713 555 osób
Łącznie – 1 274 166 osób
W oryginalnym telegramie w liczbie ofiar Treblinki brakuje jednej cyfry 5. Tylko po jej uzupełnieniu otrzymujemy sumę 1 274 166, która pokrywa się z liczbą Żydów "przepuszczonych" ("durchgeschleust") przez obozy w Generalnym Gubernatorstwie, którą statystyk SS dr Richard Korherr podał w raporcie dla Heinricha Himmlera w marcu 1943 roku.
Trzeba podkreślić, że liczby te oznaczają prawdopodobnie wywiezionych, a nie zamordowanych, chociaż oczywiście niemal wszyscy deportowani zginęli w komorach gazowych albo – jak w Majdanku – podczas pracy przymusowej lub z głodu. Nielicznym Żydom udawało się wyskoczyć z pociągów. Często jednak wracali do gett, z których zostali wywiezieni, i trafiali do ośrodków zagłady w kolejnych transportach.
Rok 1942 nie przyniósł końca operacji "Reinhard". Deportacje trwały aż do jesieni 1943 roku, kiedy po powstaniu w Sobiborze Niemcy rozstrzelali wszystkich Żydów pozostałych w dystrykcie lubelskim.
---
W roku 2022 będziemy przypominać o 80. rocznicy rozpoczęcia operacji "Reinhard", czyli planu eksterminacji polskich Żydów. W sposób szczególny będziemy upamiętniać Żydów z Warszawy, Mazowsza i wielu mniejszych miejscowości, którzy zostali zamordowani w Treblince.
Mogą Państwo uczestniczyć w naszych staraniach o zachowanie pamięci o ofiarach Zagłady. Zachęcamy do przeglądania relacji ocalałych, które udostępniamy regularnie na portalu DELET:
https://delet.jhi.pl/pl/library/relacje-ocalalych-z-zaglady
Całą relację Marcela Reicha-Ranickiego znajdą Państwo tutaj:
https://delet.jhi.pl/pl/library/item/1281611
---
---